"Is it something possible to download tracks from Amazon Music Prime to my PC local? My subscription is about to expire, and I'm in desperate need of assistance."
Amazon Music, renowned for its outstanding audio quality, is a rather popular music streaming service. The premium service of Amazon Music can simply be classified into two categories: Prime & Unlimited membership. Amazon Prime users will have access to nearly 2 million songs in HD/Ultra HD audio quality, while users with an Unlimited account can listen to all 90 million songs – they can even enjoy Spatial Audio if they have a headphone or smart speaker.
Amazon Music's offline streaming service is also among the best in the world. When the internet is blacked out, Prime/Unlimited users can still enjoy their favorite songs – a convenient function as it is, but the real downloads in common audio formats are never stored on your local. For people who want to play Amazon Music on other apps/devices, what should they do? Is it possible to save Amazon Music to a local drive on your PC? You might need the two most frequently-used methods listed below.
---
If you've used Amazon Music before, you're probably aware that the Download button in the app is merely decorative. Using the Amazon Music app to stream songs offline allows you to listen to Amazon Music whenever you want, even if you don't have access to the internet. However, when it comes to finding the files, you'll just come across a slew of digital caches.
Amazon Music, in this scenario, provides a paid option for users to obtain MP3 versions of music. If you only need a few downloads for some uncommon events or whatever, this service is quite cost-effective, but we recommend TuneCable Amazon Music Recorder if you need to download Amazon Prime Music on a regular/large basis.

---
TuneCable Amazon Music Recorder is a dependable tool that may assist you in downloading and storing Amazon Music on your computer. It can convert Amazon Music to a playable format, such as MP3/AAC/WAV/AIFF/FLAC/ALAC, so you may transfer and listen to it on other devices and apps.
TuneCable uses the most advanced audio technology available today, resulting in a near-perfect Amazon Music conversion. It supports preserving 100% of the Amazon audio's acoustic integrity - the converted tracks' HD/Ultra HD audio quality is retained losslessly. After conversion, you can save several common ID3 tags that you wish automatically or manually, which saves you a lot of time and effort.
You can download and try it for yourself, as appealing as it seems. For your convenience, we've included a step-by-step guide on downloading Amazon Prime Music to your PC below. Let's take a look at a few of TuneCable's best features prior to reading the tutorial.
Key Features of TuneCable Amazon Music Recorder:
Convert Amazon Music files to MP3/AAC/WAV/FLAC/AIFF/ALAC
Record Prime Music & Music Unlimited at a fast speed
Convert Amazon Music with lossless sound quality
Retain the ID3 Tags information after audio conversion
Enjoy free updates and technical support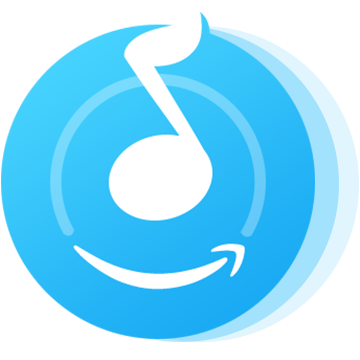 Tutorial: Store Amazon Music on PC
Step 1: Download and Install TuneCable Amazon Music Recorder
TuneCable is compatible with both Windows and Mac operating systems. You can download the one you require and install it on your PC or Mac. Installing and logging into the Amazon Music app is also required ahead of time.
Note: When you launch TuneCable, Amazon Music will open automatically at the same time. We recommend that you do not use Amazon Music while the conversion is in progress, as TuneCable requires full access to assure lossless output audio quality.
Step 2: Configure the Output Options
Please double-check the settings before downloading Amazon Music. You may verify if the Output Format/Output Quality/Output File Name/Output Organized are in the mode you want them to be by opening the Settings icon in the navigation bar. You can alter them to whatever you want if you need.
Output Format: MP3, AAC, WAV, FLAC, AIFF, ALAC
Bit Rate: 128kbps, 192kbps, 256kbps, 320kbps
Sample Rate: 44.1kHZ, 48kHZ, 96kHZ, 192kHZ
Output File Name: Track Number, Title, Artist, Album, Playlist Index
Output Organized: None, Artist, Album, Artist/Album, Album/Artist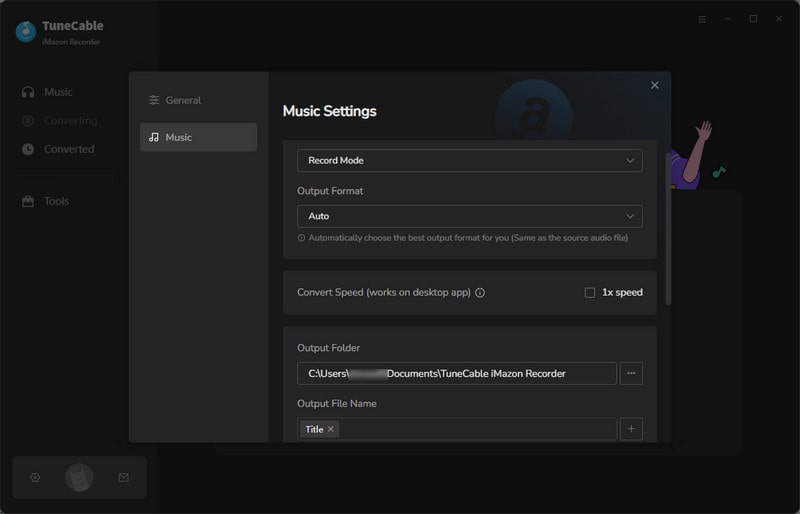 Step 3: Import Amazon Music to TuneCable
Choose the song/playlist/album that you want to download, then use one of the two below ways to add Amazon Music to TuneCable.
① Drag and Drop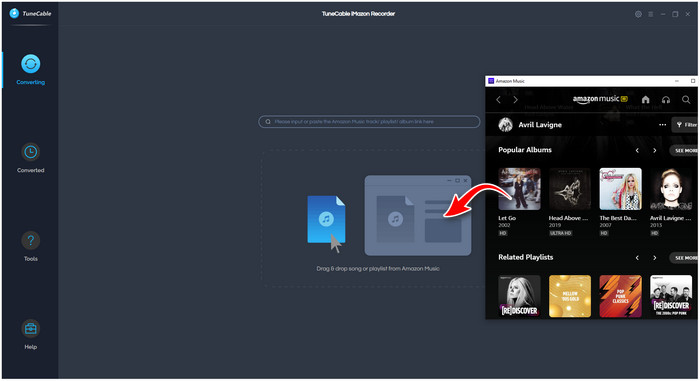 ② Copy and Paste
Locate the songs/playlists you want to convert and click "Share Song/Playlist", there will be a link for you to copy. Paste the link to the rectangular box of TuneCable and click "Parse", then you will be able to select songs to convert.
Step 4:Start Downloading Amazon Music
TuneCable Amazon Music Recorder will begin saving Amazon Music to your computer as soon as you click the "Convert" button. Because the program supports high-speed conversion, the entire process will be completed quickly.
Step 5:Check Converted History
When the conversion is complete, you can simply inspect the downloaded files. Please navigate to the "Converted" section, move your cursor closer to the downloaded songs, and a folder icon will appear to allow you to track down the location of downloaded Amazon Music.
Now you've successfully downloaded songs from Amazon Prime Music to the local drive on your PC. And you can transfer them to whatever apps/devicesyou want.
---
Summary: If you wish to store Amazon Music on your PC locally, TuneCable Amazon Music Recorder should be a top priority. The program manages to keep Amazon audios in their original sound quality, so you can get the same satisfaction from your offline downloads as you did from listening to your Amazon tracks online.
Without further ado, we've demonstrated how to download and save Amazon Music locally on your PC. You can try TuneCable by downloading and installing it on your computer.
Note: TuneCable offers a 3-minute free conversion for each song to trial users. Please purchase the full version of TuneCable to gain access to all features.
---