Avril Lavigne, a renowned Canadian singer and songwriter, has shown great musical talent at the age of 15. By merely 16, she had signed a two-album recording contract with Arista Records worth more than $2 million. Her most famous debut studio album, Let Go (2002), is the best-selling album of the 21st century as a Canadian artist. In professional words, Avril's talent can be explained as having a soprano vocal range, which is naturally attractive to the human, thus making her music magically sought-after. Themes in her songs always convey deep messages – either the inspiring self-empowerment from broken love or the utmost mirth of courage to be reborn.
"Songs are about being yourself no matter what and going after your dreams even if your dreams are crazy and even if people tell you they're never going to come true."
As the "Pop Punk Queen", Avril has many popular songs, like Complicated, Sk8er Boi, My Happy Ending, etc. And most of these songs can be found online on Amazon Music, one of the most well-known music streaming platforms in the world. Anyone familiar with the use of Amazon Music knows that the directly downloaded Amazon music is somehow protected. They are saved on a default folder as cache files that can only be accessed on the Amazon Music app. So if you want to freely enjoy the charisma of the "Pop Punk Queen" on other devices or audio players, you have to download Avril's songs as MP3.
So here comes a question: is it possible to transfer online Avril's songs to local, so that they can be freely played on other devices? Quite simple. As long as you follow this article, it will show you the way to unlimitedly enjoy and download Avril's songs from Amazon Music.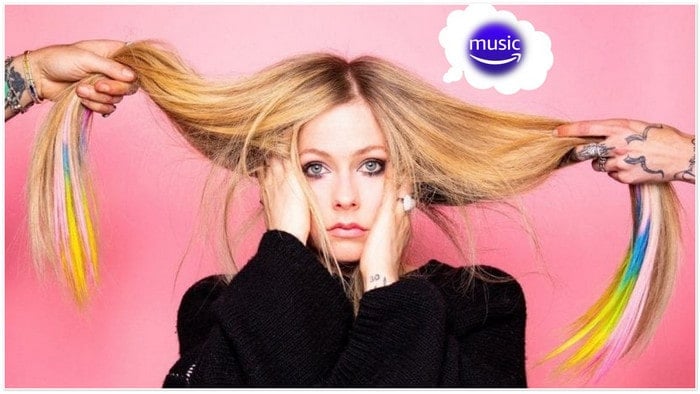 Tool Required: TuneCable Amazon Music Recorder
Before heading into the tutorial, let's get to know this magical tool first – TuneCable Amazon Music Recorder. This is currently the most popular Amazon music converter in the market, which simply speaking helps you record Amazon Music as MP3. Its unique technology allows it to perfectly convert albums, playlists, and podcasts from Amazon Music to playable format like MP3, AAC, WAV, FLAC, AIFF and ALAC. Besides, the keeping of a full range of ID3 tags is quite a sought-after function of the program. Putting the downloaded songs in order is at your disposal, so you don't have to worry about the songs would be in chaos.
Finally, the most critically acclaimed feature of TuneCable Amazon Music Recorder is that it completely remains the same audio quality with the original music. If you happen to have a high demand for sound quality, then this program is exactly what you need! You are lucky enough to save Avril's songs in amazing Ultra HD voice, which will definitely be a good and enjoying expirence! Also, you are able to keep Amazon Music playable when subscription expires.
Take a look at the features of TuneCable Amazon Music Recorder ( Windows / Mac ) :
Key Features of TuneCable Amazon Music Recorder:
Convert Amazon Music files to MP3/AAC/WAV/FLAC/AIFF/ALAC
Record Prime Music & Music Unlimited at fast speed
Convert Amazon Music without loss in audio quality
Retain the ID3 Tags information after audio conversion
Enjoy free updates and technical support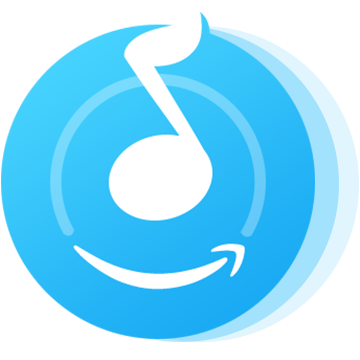 Tutorial: Download Avril Lavigne's Songs from Amazon Music as MP3
First of all, please download and install TuneCable Amazon Music Recorder and Amazon Music app on your computer for preparations.
Step 1: Launch TuneCable Amazon Music Recorder
Launch Amazon Music Recorder, and the main interface will show as the screenshot below.
Step 2: Set up Your Preferable Output Parameters
Before selecting songs to convert, please click

(Settings) icon from the menu bar. Choose 'MP3' as the Output Format. TuneCable supports converting Amazon music to MP3, AAC, WAV, FLAC, AIFF, ALAC. Then other settings are at your choice. Close the window then the settings will function.
Output Format: MP3, AAC, WAV, FLAC, AIFF, ALAC
Bit Rate: 128kbps, 192kbps, 256kbps, 320kbps
Sample Rate: 44.1kHZ, 48kHZ, 96kHZ (exclude from the MP3 format)
Output File Name: Track Number, Title, Artist, Album, Playlist Index
Output Organized: None, Artist, Album, Artist/Album, Album/Artist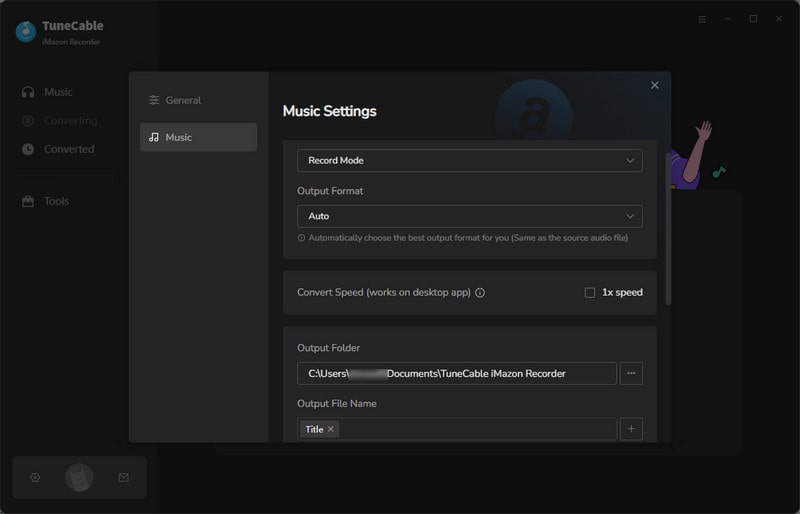 Step 3: Single out Avril Lavigne's Songs
Now you can go to the Amazon Music app and find songs/albums of Avril Lavigne. There are two methods for you to add Avril's songs to TuneCable Amazon Music Recorder, both of which are listed below.
① Drag and drop music from Amazon Music to TuneCable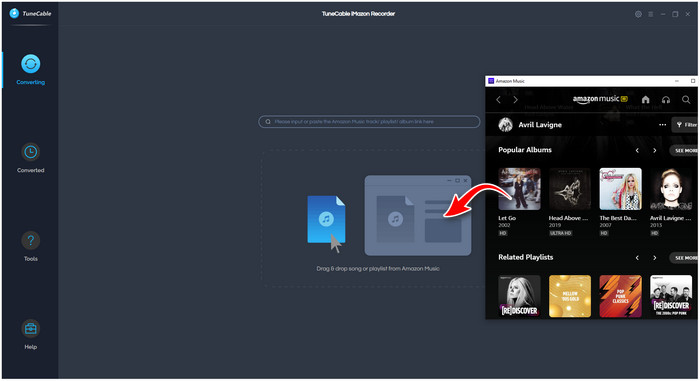 ② Copy the link from Amazon Music and paste it to TuneCable
Open Amazon Music and find the songs/playlists you wanna convert and click "Share Song/Playlist", then copy the link and paste it to TuneCable.
Click 'Parse' for link analysis. Finally, click 'OK' to confirm your selection.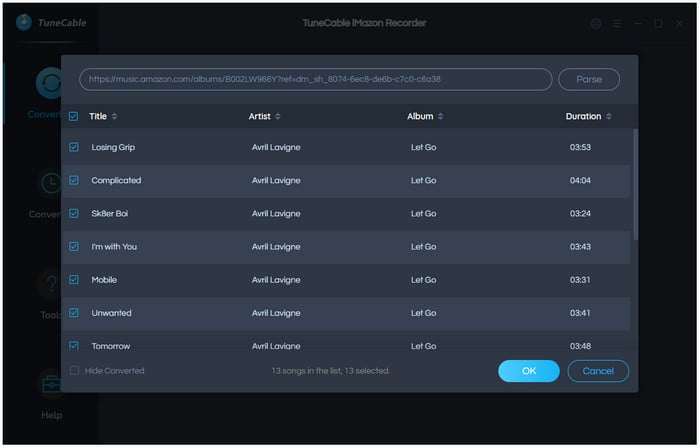 Step 4:Convert Avril Lavigne's Songs
Click the "Convert" button and TuneCable would soon start transferring online Avril's songs to local.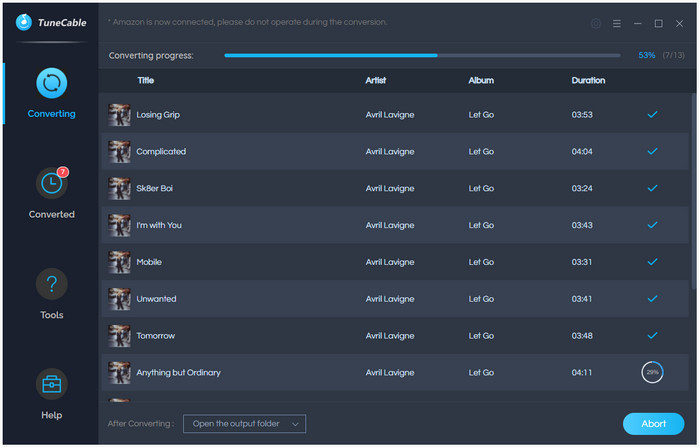 Step 5:Check Downloaded MP3 Avril's Songs in the Folder
After conversion, simply tap the "Converted" icon to view the downloaded songs of Avril Lavigne. Or you can choose to open the output folder directly if you want.
As of now, you've successfully downloaded Avril Lavigne's songs as MP3, which means you can save them on your computer or USB permanently and enjoy them freely. No matter your Amazon Music account gets expired or not, you can always be surrounded by Avril's beautiful voice.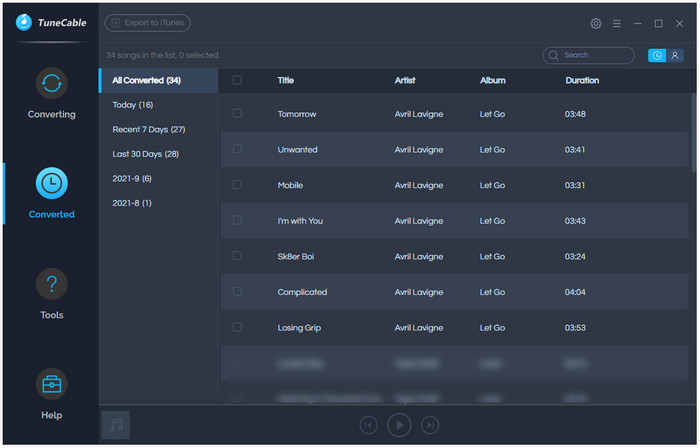 ---

Other Options:
If you are not an Amazon user but a Spotify or Apple Music user, we still have options for you. You can transfer Avril Lavigne's songs and playlists from Spotify or Apple Music to local.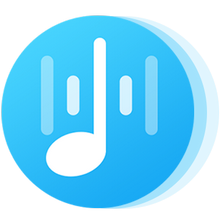 This Spotify Music Downloader can download any track, album or playlist from the Spotify Music app. It supports converting music into the plain format so that you can enjoy Spotify music offline on any other devices.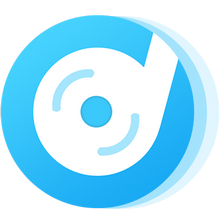 This is specially designed for Apple Music users to convert any audio which can be played in iTunes, such as Apple Music files, audiobooks or iTunes music to MP3, AAC, WAV, FLAC, AIFF or ALAC format on both your Windows and Mac computer.
---
Summary: As one of the most popular music stars, Avril Lavigne incredibly produces fewer works than most of the famous singers, while she achieves to accomplish so many classical and evocative songs. TuneCable Amazon Music Recorder can help you convert Amazon Music to plain format, thus you can freely download Avril Lavigne's songs from Amazon Music then enjoy them without any other limitation. It's certainly worth a try!