Speaking of Amazon Music, many people know it is currently one of the most prevailed music streaming platforms in the world, owning nigh 75 million songs & podcasts and over 68 million subscribers to its Premium service in Q2 2021. With such a large music database, Amazon Music naturally has the most complete playlists of various music styles for different occasions, including a whole set of wedding playlists.
"My boy and I are getting married tomorrow, and he asks me to choose the wedding songs then download them to the SD card. But how can I download wedding playlists from Amazon Music?"
Downloading wedding playlists from Amazon Music is not a simple case. Anyone familiar with Amazon Music knows that the directly downloaded songs would be saved on a default folder as cache files. In other words, once your Amazon account get expired or you don't open them via Amazon Music app, they are nothing more than a bunch of computer junk. So how can we exactly convert Amazon Music as the plain format like MP3? So that we can permanently save them and play them in whatever players we want. The wedding ceremony is a big-time occasion over your whole life, and little regrets should be left in this memory. So follow this article, and it will teach you how to transfer online wedding playlists to local and add romance to your wedding.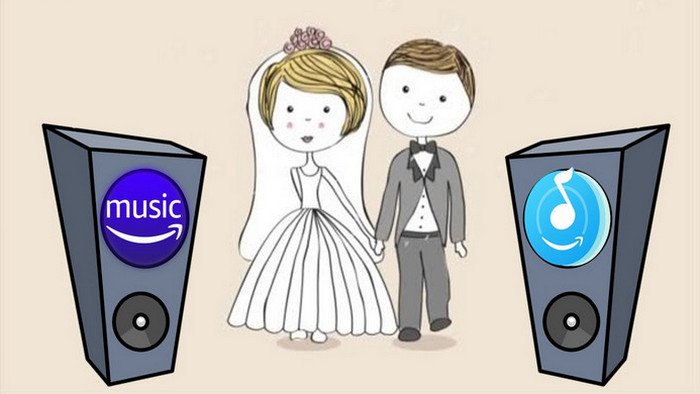 Tool Required: TuneCable Amazon Music Recorder
Before the real practice, let's get familiar with this program first. TuneCable Amazon Music Recorder is one of the most popular music converters in the market. Renowned for its fast conversion speed and the keeping of original audio quality, TuneCable Amazon Music Recorder is also doing well at retaining the complete ID3 tags, which is a convenient function for you to keep the downloaded songs in order.
With TuneCable Amazon Music Recorder, you can freely listen to wedding playlists offline on any devices that support playing the plain format (MP3/AAC/WAV/FLAC/AIFF/ALAC). Without the concern of expiring account and device restrictions, you can surely enjoy the romantic playlists from Amazon Music at your wedding.
TuneCable Amazon Music Recorder offers both Windows & Mac versions. Now let's take a look at the main features of the program:
Key Features of TuneCable Amazon Music Recorder:
Convert Amazon Music files to MP3/AAC/WAV/FLAC/AIFF/ALAC
Record Prime Music & Music Unlimited at fast speed
Convert Amazon Music with lossless sound quality
Retain the ID3 Tags information after audio conversion
Enjoy free updates and technical support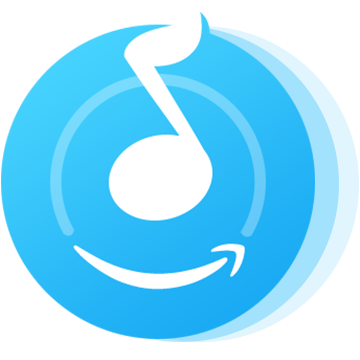 Tutorial: Download Wedding Playlists from Amazon Music
Firstly, please download and install TuneCable Amazon Music Recorder and Amazon Music app on your computer.
Step 1: Launch TuneCable Amazon Music Recorder
Launch Amazon Music Recorder, and the main interface will show as the screenshot below.
Step 2: Adjust Settings at Your Preferences
Before selecting songs to convert, please click

(Settings) icon from the menu bar. TuneCable supports converting Amazon music to MP3, AAC, WAV, FLAC, AIFF, ALAC. Other settings are also at your choice. Close the window then the settings will function.
Output Format: MP3, AAC, WAV, FLAC, AIFF, ALAC
Bit Rate: 128kbps, 192kbps, 256kbps, 320kbps
Sample Rate: 44.1kHZ, 48kHZ, 96kHZ (exclude from the MP3 format)
Output File Name: Track Number, Title, Artist, Album, Playlist Index
Output Organized: None, Artist, Album, Artist/Album, Album/Artist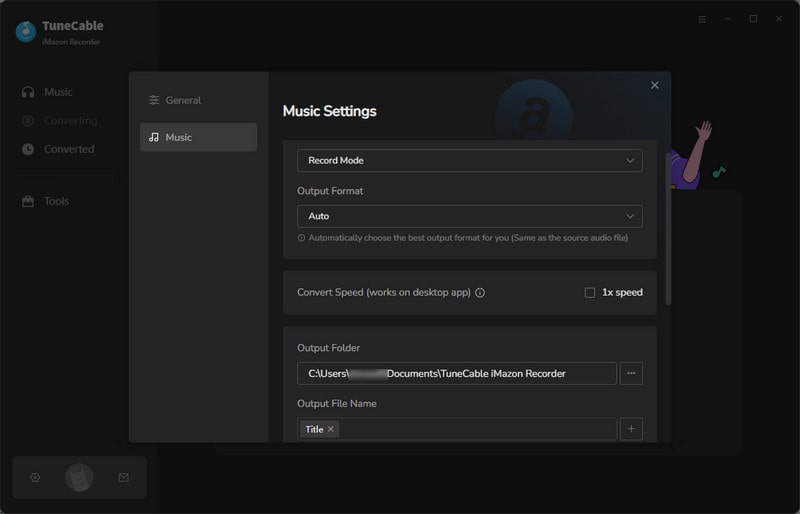 Step 3: Add Your Favorite Wedding Playlists to TuneCable
Now you can go to the Amazon Music app and choose your favorite wedding playlists. There are two methods for you to add songs to TuneCable Amazon Music Recorder, both of which are listed below.
① Drag and drop music from Amazon Music to TuneCable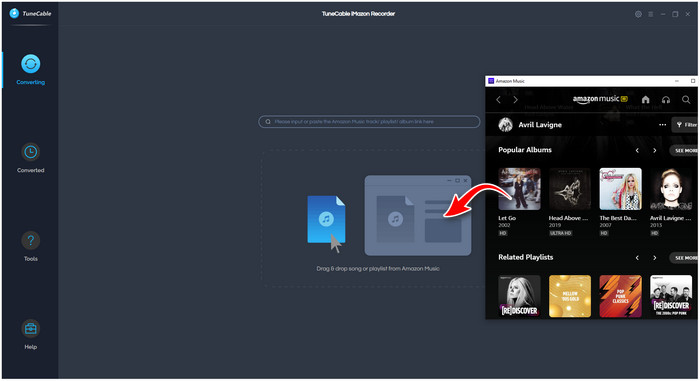 ② Copy the link from Amazon Music and paste it to TuneCable
Open Amazon Music and find the songs/playlists you wanna convert and click "Share Song/Playlist", then copy the link and paste it to TuneCable.
Click 'Parse' for link analysis. Finally, click 'OK' to confirm your selection.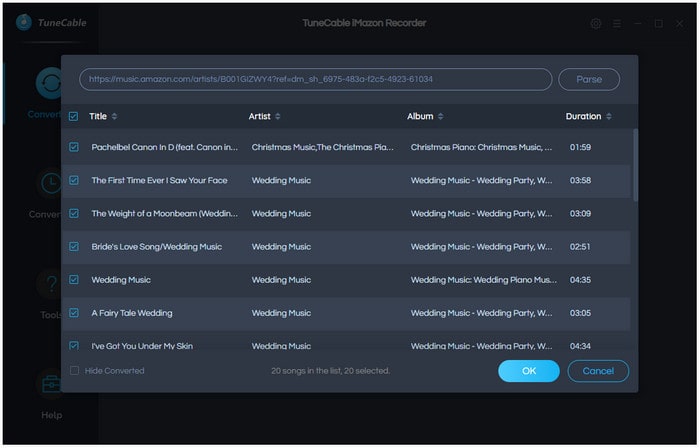 Step 4:Convert Wedding Playlists
Click the "Convert" button and TuneCable would soon start transferring wedding playlists from Amazon Music to local.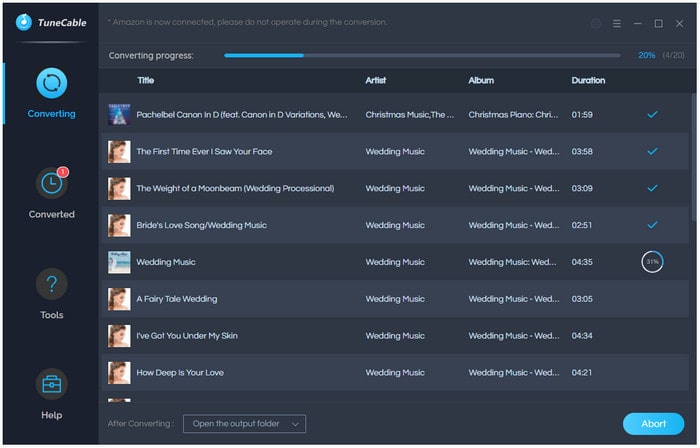 Step 5:Check Downloaded Wedding Playlists in the Folder
After conversion, simply tap the "Converted" icon to view the downloaded files. Or you can choose to open the output folder directly if you want.
As of now, you've successfully converted Amazon Music to the plain format, which means you can save them on your computer or USB permanently and enjoy them freely. No matter your Amazon Music account gets expired or not, you can always be surrounded by the joy of music.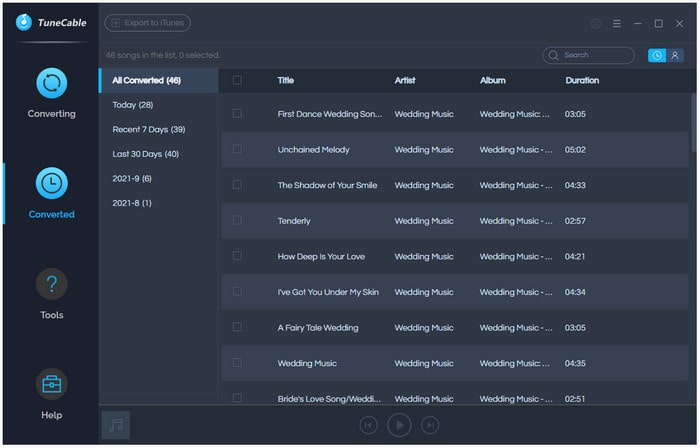 ---

Other Options:
If you are not an Amazon user but a Spotify or Apple Music user, we still have options for you. You can transfer wedding playlists from Spotify or Apple Music to local.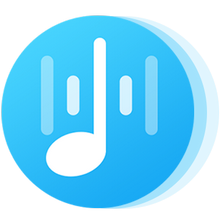 This Spotify Music Downloader can download any track, album or playlist from the Spotify Music app. It supports converting music into plain format so that you can enjoy Spotify music offline on any other devices.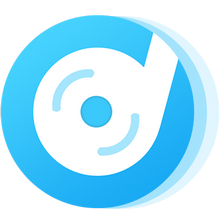 This is specially designed for Apple Music users to convert any audio which can be played in iTunes, such as Apple Music files, audiobooks or iTunes music to MP3, AAC, WAV, FLAC, AIFF or ALAC format on both your Windows and Mac computer.
---
Summary: The wedding ceremony is an occasion that you should fully immerse yourself in joy and happiness, and surely freely enjoying beautiful Amazon playlists will help you achieve the goal. TuneCable Amazon Music Recorder offers you solutions to perfectly convert Amazon Music as the plain format so that you don't have to worry about the music part of your wedding. Besides, you can save wedding playlists permanently, which might be able to remind you of the happiest day in your life in some moments. You have to try it! It's definitely worthy!