Tidal is one of the most popular music streaming services around the world, with a large music library of over 80 million songs. You can stream ad-free Tidal music and download them for offline listening after subscribing. However, the downloaded songs aren't saved as ordinary files on your computer. Instead, they are cache files in an encrypted format that can only play within Tidal. Once your subscription expires, you will not be able to decrypt and play them.
So here is the question, how to keep Tidal music forever? Sure you can subscribe to Tidal all the time. But it costs too much. Are there any easy and cheap ways? Of course, there are. In this article, we are going to show you cheap ways to download and keep Tidal music forever. In just up to five steps you can get rid of the trouble and achieve the purpose.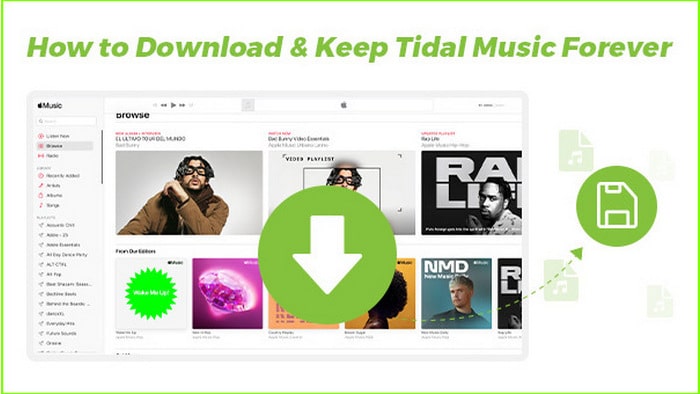 ---
TuneCable Tidal Music Downloader is a professional and full-featured tool for downloading and converting Tidal music. It supports downloading Tidal music under Tidal free, Tidal HiFi, and Tidal HiFi plus accounts up to MQA/HiFi audio quality, converting Tidal music to different formats such as MP3, ALAC, FLAC and preserving ID3 tags. More importantly, it can convert encrypted Tidal tracks to common audio files so that they can be forever kept on computer local drives.
Key Features of TuneCable Tidal Music Converter:

Download Tidal songs, playlists, and albums.
Extract songs with Tidal Free, HiFi and HiFi Plus plans.
Download Tidal tracks in MP3, AAC, FLAC, WAV, AIFF, ALAC formats.
Preserve the original audio quality and full ID3 Tags.
Download MQA/HiFi Tidal music without quality loss.
More tools: Format Converter, Edit Tag.



With such a powerful tool, let's learn how to use it for downloading Tidal music and keeping them on computers forever. Read the following steps carefully.
Step 1: Startup TuneCable iTadal Music Converter
First of all, you should download and install TuneCable iTadal Music Converter. Just click the button above or go to its official website to download the program on your computer. Install and launch it. Enable the software, followed by your Tidal desktop app launched. Then log in to your Tidal. (Please make sure you have installed the Tidal app on your computer.)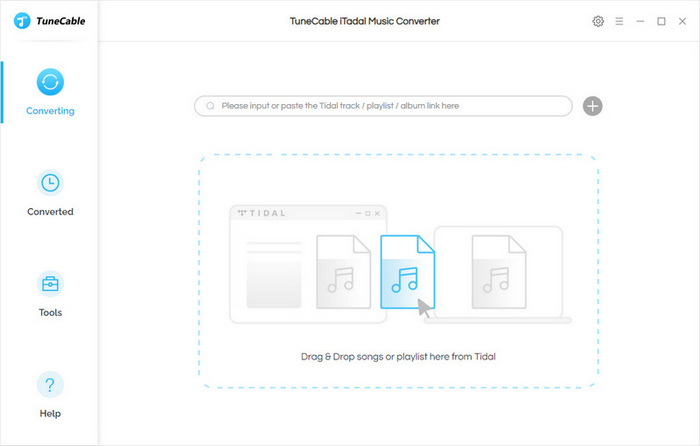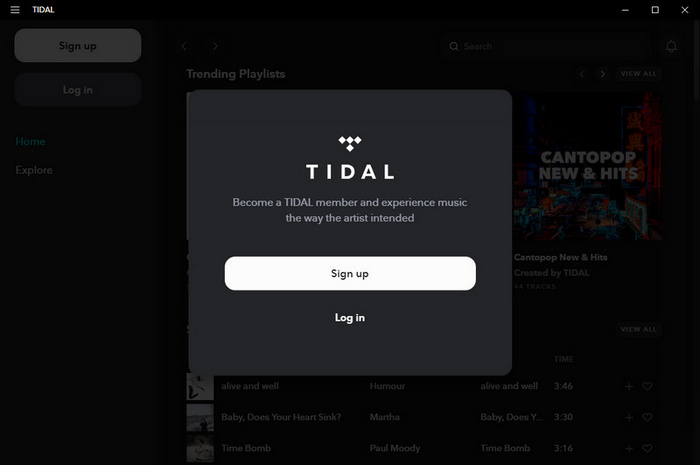 Step 2: Make Your Preference Settings on TuneCable
As we have mentioned above, TuneCable is a full-featured Tidal music converter. It offers a series of output options for users such as Output Format, Bit Rate, Sample Rate, Output Folder, Output File Name, and Output Organized. The followings are the details.
Output Format: MP3, AAC, WAV, AIFF, ALAC, FLAC, AUTO.
Bit Rate: 128 kbps, 192 kbps, 256 kbps, and 320 kbps.
Sample Rate: 44.1 kHz, 48 kHz, 96 kHz, 192 kHz.
Output File Name: Track Number, Title, Artist, Album, Playlist Index, Year.
Output Organized: Artist, Album, Artist/Album, Album/Artist, None.
Choosing "AUTO" of the Output Format means the program outputs Tidal music with the original audio quality. Don't forget to choose an output folder, in which the downloaded music is placed. The available options of Bit Rate and Sample Rate are up to the chosen format to decide. There is a slight difference.
With so many options provided, you can easily output your favorite Tidal music with your desired settings. It is also attainable to output the same Tidal track to several different audio files. Just do it in your style.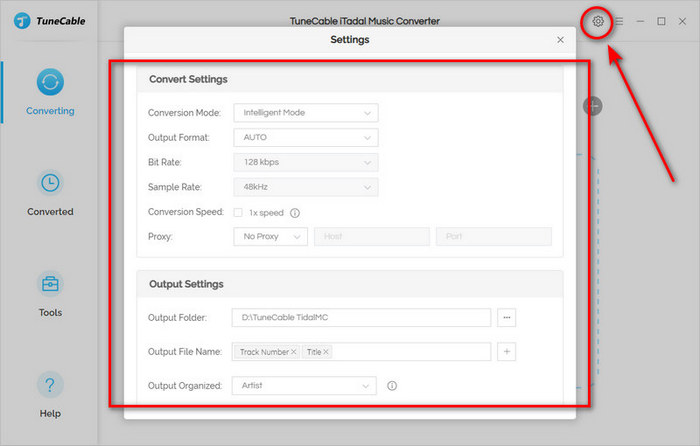 Step 3: Input Tidal Music to TuneCable
Now navigate your favorite song on Tidal. Drop the track into the specified box of TuneCable. The program will parse the path to find the song. A window then appears. Click the "OK" button to input the song.
TuneCable Tidal Music Converter supports downloading the entire Tidal playlist or album. You just need to directly drop it into the box. Choose the tracks you want to download on the window and click the "OK" button. Just do as you like.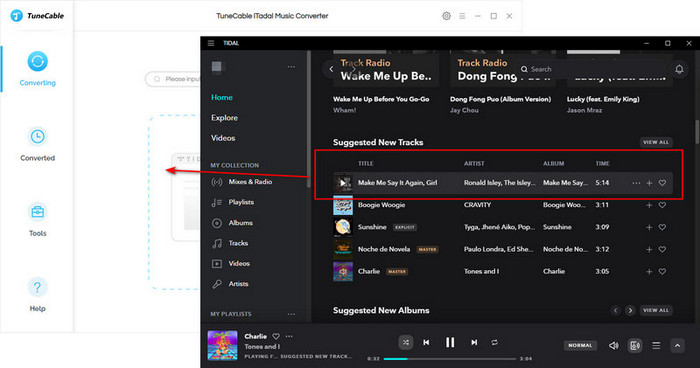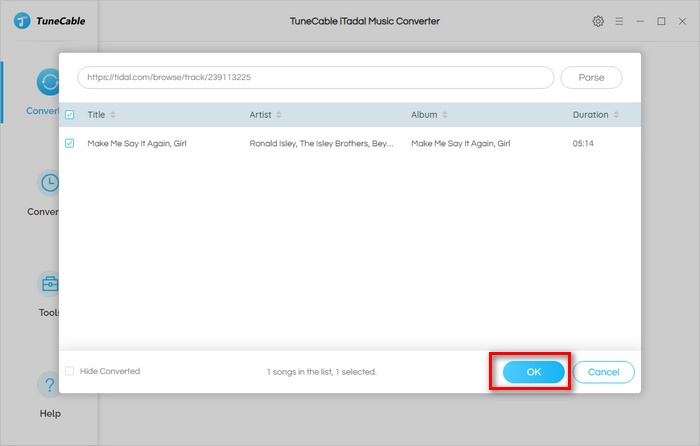 Step 4: Start to Convert Tidal Music
After adding Tidal music successfully, click "Convert" to start the conversion. Or you can click the button "+ Add" in the upper left corner to add more Tidal tracks to TuneCable and click "Convert" to convert all the selected Tidal tracks at once. Then wait for TuneCable to proceed with them. The conversion process is the process of decrypting Tidal music.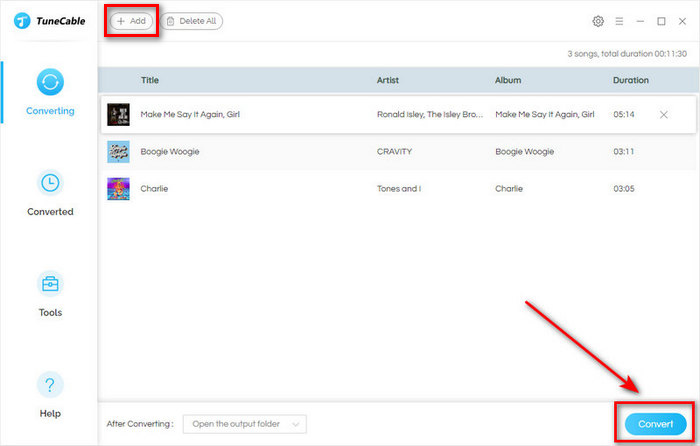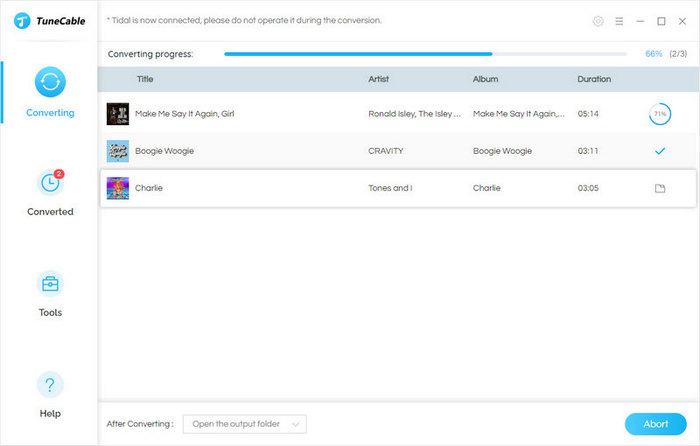 Step 5: Check the Converted Tidal Music on Computers
When the conversion is done, the window of the output folder will pop up by itself. Now check the properties of the converted Tidal music. You can find that all the tracks are output based on your settings on TuneCable.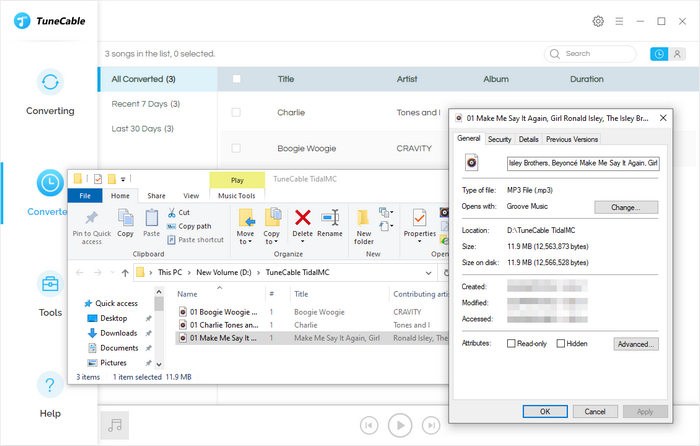 Up to this step, TuneCable has successfully decrypted the selected tracks. Thus, you can keep Tidal music forever on your computers, as they have been converted to common files. You can play them offline at any time even if you do not subscribe to Tidal anymore, and transfer them to other devices that are compatible with the audio formats.
Others: In addition to downloading and converting Tidal music, TuneCable is equipped with two more tools — Format Converter and Tag Editor. If you want to convert the format or edit the ID3 tags of a downloaded song, drag it to the specific area then choose another format or edit the tags on TuneCable. And click "Convert" or "Save" to save the changes.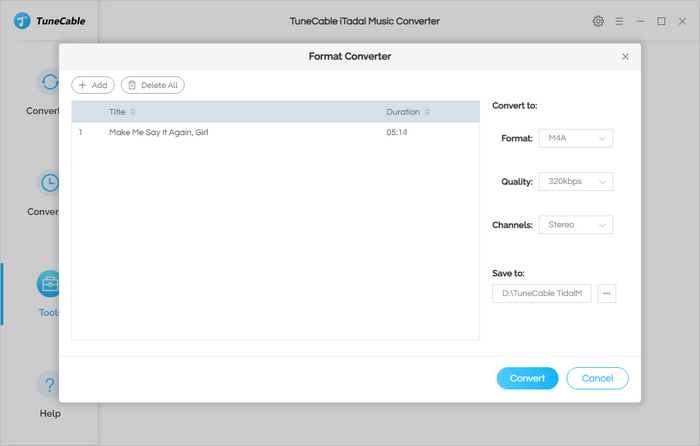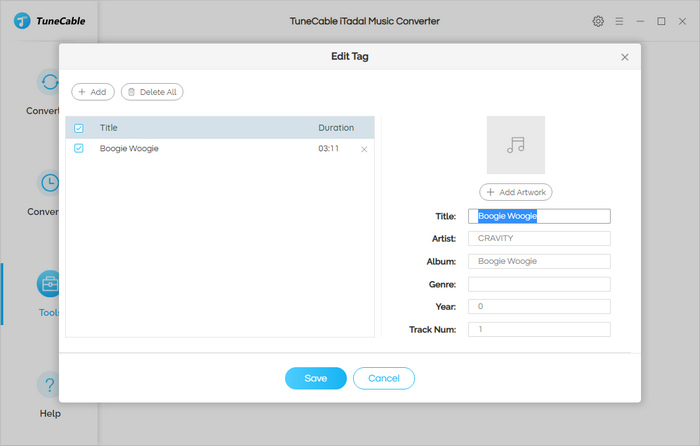 ---
Tidabie Tidal Music Converter is another pretty professional tool. It can download Tidal music to MP3/AAC/WAV/FLAC/AIFF/ALAC format and convert them to common files that can be stored on computers forever and be accessed at any time.
Key Features of Tidabie Tidal Music Converter:

Download Tidal music to computers.
Convert Tidal music to MP3/AAC/WAV/FLAC/AIFF/ALAC format.
Preserve Hi-Fi audio quality.
Keep ID3 tags information & 10X faster conversion speed.
No need to install Tidal app.
Step 1: Launch Tidabie Tidal Music Converter
Download and install the app first. Launch it. Click "Open Tidal Web Player". Then log in to Tidal.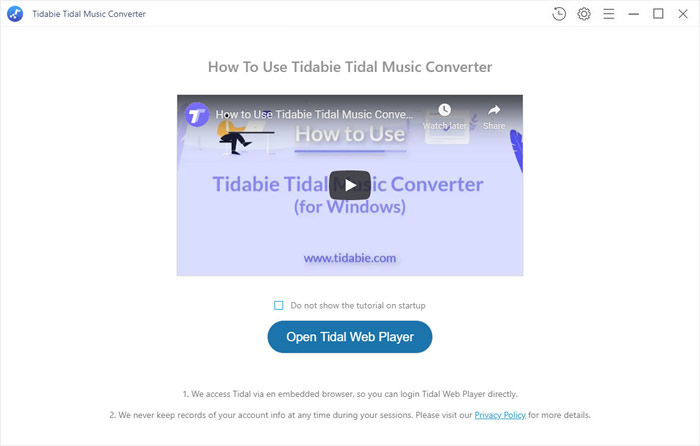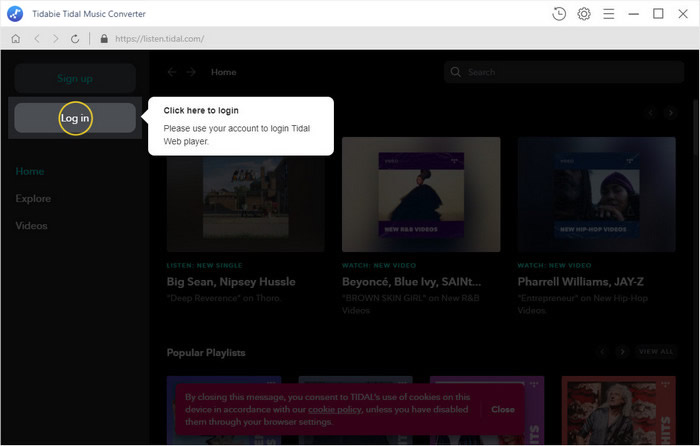 Step 2: Customize Output Settings
Click the "Settings"

button. On the pop-up window set the Output Format (MP3, AAC, WAV, FLAC, AIFF, or ALAC), Bit Rate, and Sample Rate, specify the output path, edit Output File Name, and organize the output files in your styles.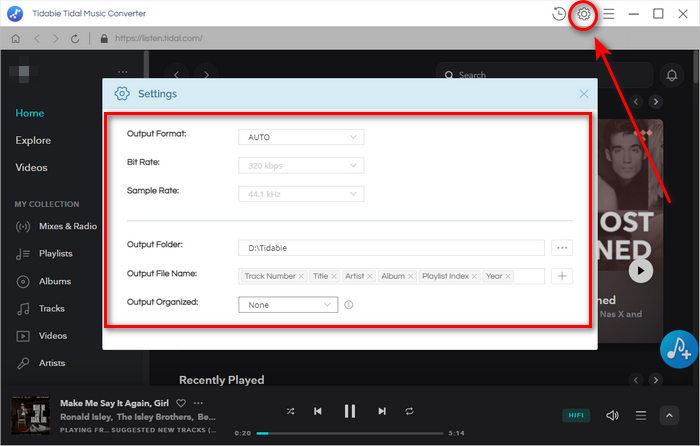 Step 3: Choose Tidal Music to Download and Convert
Open a playlist or an album. Click the "Add to list"

button to select the songs that you'd like to keep forever. And click "Convert". If you want to download more songs on other playlists, click "Save to list" and open another to add more, then click convert them all at once.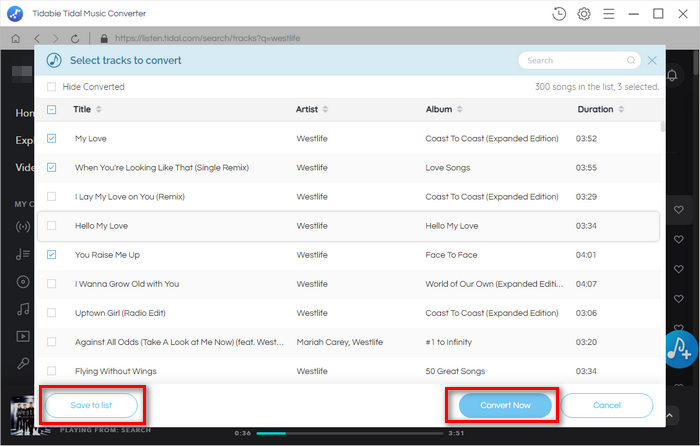 Step 4: Find the Tidal Downloads on Local Drive
Once the conversion is done, click the "History"

icon to find the downloaded Tidal music. Now you get Tidal music downloaded to your local computer and can keep the Tidal downloads forever.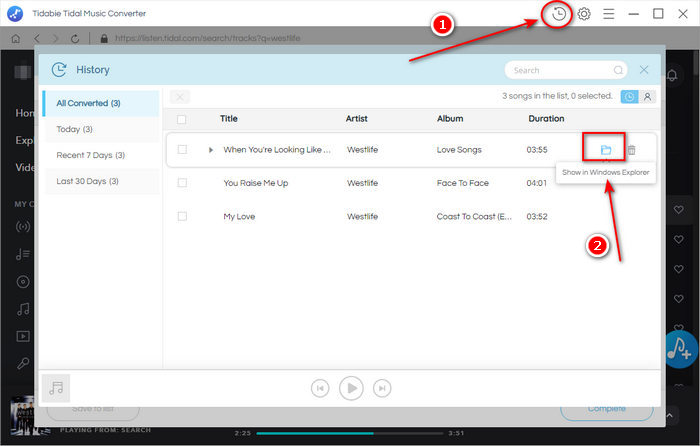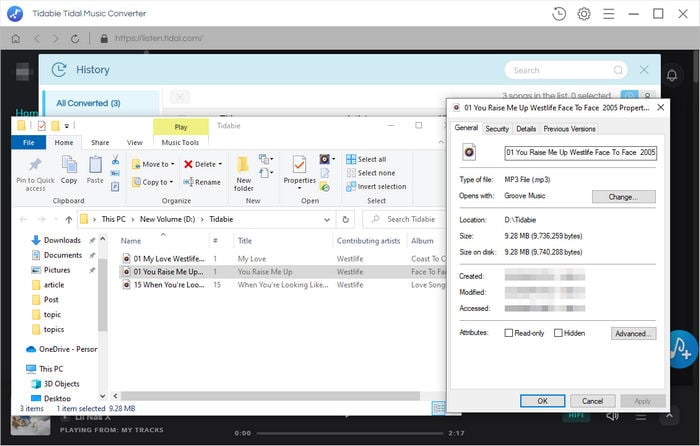 ---
Conclusion
Having read the two parts above, you must know how to keep Tidal music forever on your computers or other devices. Both TuneCable Tidal Music Downloader and Tidabie Tidal Music Converter are quite professional, powerful, safe, and clean tools. But there are a few differences between to two pieces of software. TuneCable supports download MQA/HiFi audio quality and is equipped with more tools. To some extent, it is more full-featured. But each one has its advantages. Just do what you like!