It's happened to all of us before- we're out and about, enjoying a nice day, when suddenly our music cuts out. Whether we're in a dead zone with no cell service or just trying to conserve data, there are moments when streaming music is not an option. That's where TIDAL's Offline Mode comes in handy. By downloading songs, videos, and other media to your device, you can listen to your favorite tunes even when you're not connected to the Internet.
However, TIDAL's offline mode still requires an Internet connection in order to stream the songs. Luckily, there is a way to download Tidal music to your iPhone and listen to it offline. By following these simple steps, you can easily download Tidal songs to your iPhone and enjoy them offline with MQA quality.
Part 1. Play Tidal Music on iPhone Offline [Tidal HiFi Only]
Tidal allows you to download songs to your phone and play them back anytime, even if you are in Airplane Mode or if you don't have Wi-Fi and would prefer not to use your cellular data plan to stream audio.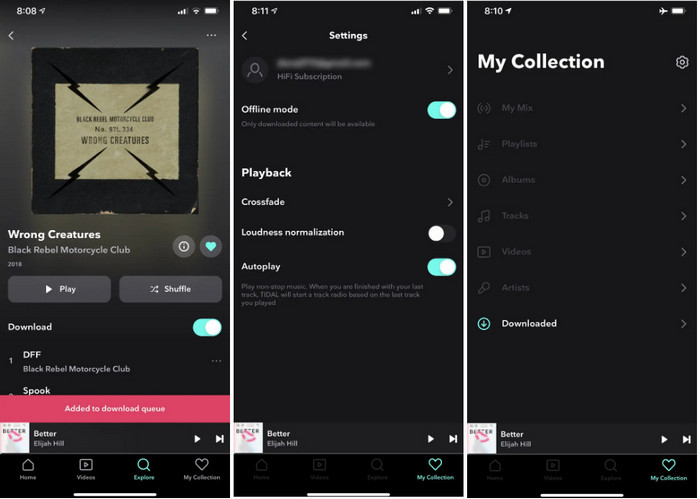 Step 1: Start the Tidal app on your phone.
Step 2: Find an album you want to download. Browse or search for an album you want to download. Open the album and confirm you see the tracklisting.
Step 3: Swipe the Download button to the right to turn it on. The songs on the album will be added to the download queue and stored on your phone.
Step 4: Go to My Collection > Settings, turn on Offline mode by swiping the button to the right.
Step 5: On the "My Collection" page, locate the "Downloaded" link and tap it. Choose the tracks you want to listen to and wait for it to begin playing automatically.
Note: There are a few limitations to downloading in Tidal, though. First, you can only do this using a mobile app on your phone – you can't download tracks to your computer. Second, you can only download entire albums or playlists, not individual tracks.
---
Part 2. Play Tidal Music on iPhone Offline [Tidal Free & HiFi]
Tidal provides three different plans: Tidal Free, Tidal HiFi, HiFi Plus. Offline mode requires HiFi or HiFi Plus subscription to download songs for offline playback. However, the downloaded songs are just cached files, so you can't use them on other players or devices. To break this limitation, you can use the TuneCable iTadal Music Converter.
TuneCable iTadal Music Converter brings you an offline playback of MQA Tidal music without limitations. This program decrypts the Tidal songs and downloads them to local files in common formats. It keeps the full ID3 tags (title, artist, album, track num, year, etc.) of the Tidal tracks and preserves 100% original quality of the Tidal songs.
Key Features of TuneCable Tidal Music Converter:
Download Tidal songs, albums, and playlists with master quality.
Download ad-free Tidal files for offline listening.
Convert Tidal music to MP3/AAC/WAV/FLAC/AIFF/ALAC formats.
Faster speed to batch convert several Tidal playlists.
Archive downloaded songs by artist/album.
Play downloaded Tidal songs on common media players.
Handy tools: Format Converter, Edit Tag.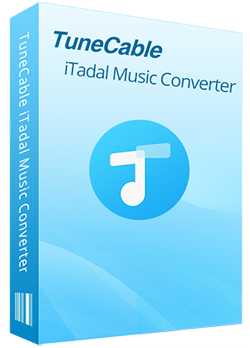 Step 1: Run TuneCable Tidal Music Converter and Tidal.
Check if you've installed both TuneCable TuneCable Tidal Music Converter and the Tidal Music app on your computer. Launch TuneCable, and therewith the Tidal Music app will start automatically.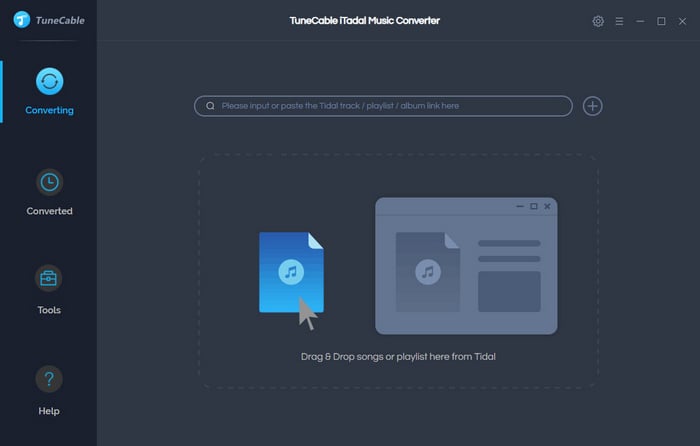 Step 2: Select Songs/Albums/Playlists from Tidal
On the Tidal Music app, simply drag and drop the song, album, or playlist to TuneCable for parsing. You can also copy and paste the song's link into the search box, then click on the + icon to load and add them. Soon afterward, TuneCable will load songs from the URL.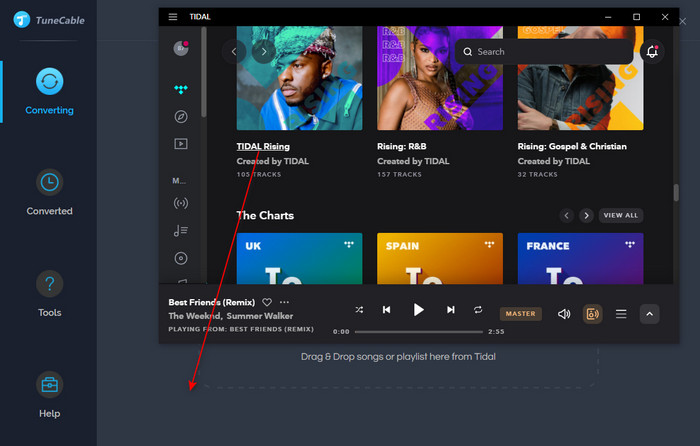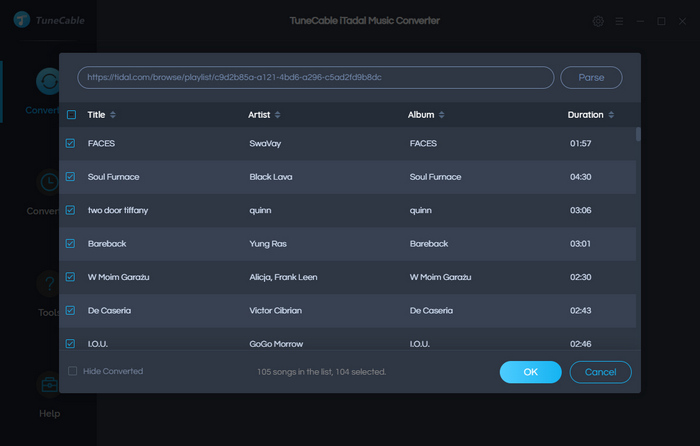 Step 3: Set Up the Output Parameters
On the main interface of TuneCable, go to the top right and click the "Settings" button. Soon after, a pop-up setting window appears. Set up the conversion mode, bit rate, sample rate, output folder, output file name, output organized way, and other parameters then close the window to take effect automatically.
⭐ Tips: To download Tidal tracks in master quality, you should select "Tidal Record" in the "Conversion Mode" setting, and choose "AUTO" in the "Output Format" setting. The "AUTO" option will help you extract songs from Tidal with the original quality kept.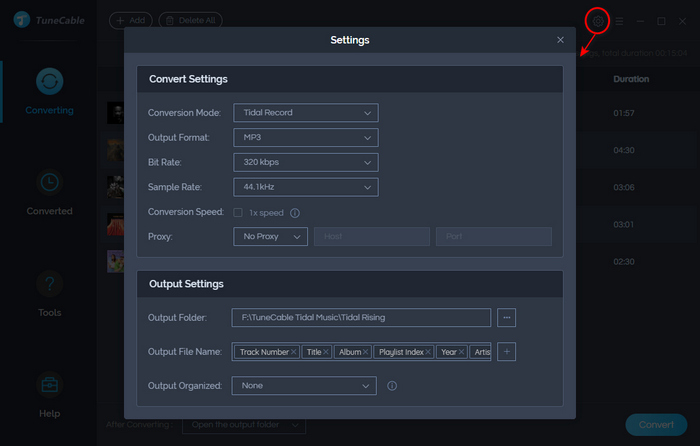 Step 4: Download Tidal Music to Local PC
Eventually, tap on the "Convert" button to proceed with a batch conversion instantaneously. The Tidal songs will be saved as local files in the common formats you've set before. You can check the downloaded Tidal tracks on the local computer after the conversion. The output folder will open automatically once the conversion is done. You may want to check the next step to move the Tidal files to your iPhone.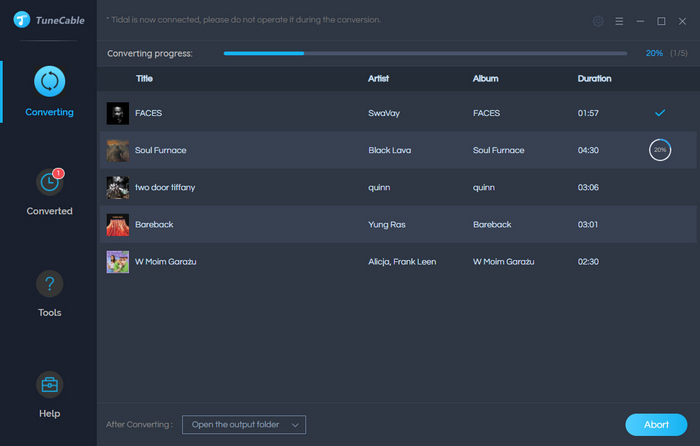 Sync Tidal Music to iPhone for Offline Listening
To get Tidal music on iPhone, please make sure that you have iTunes installed on your computer. Then, follow the steps below.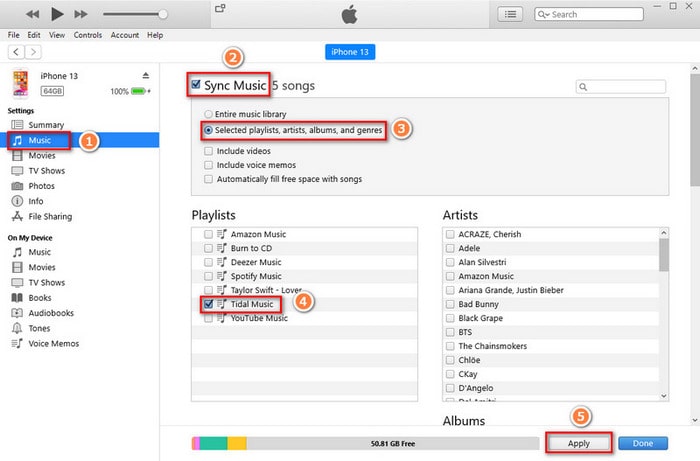 Step 1: Launch the latest iTunes on your computer and connect iPhone to it. Find the music files and drag to 'Music' option as the screenshot shows.
Step 2: Check the option "Sync music onto (your iPhone)".
Step 3: Then select "Selected artists, albums, genres, and playlists" to choose your downloaded Tidal music.
Step 4: Then click on "Sync/Apply" to process the uploading. A few minutes later, you can check whether these music files have successfully transferred to iPhone.
---
As any music lover knows, listening to tunes is a great way to relax and unwind. However, streaming music can often be interrupted by buffering or poor network connections. Thankfully, TIDAL offers an offline mode that allows users to download songs for uninterrupted listening. However, TIDAL songs are only cached files that are deleted when you exit the app. If you want to actually download TIDAL music on your iPhone for offline listening, TuneCable iTadal Music Converter is your best choice. It can download Tidal HiFi and MQA music up to 5 times faster. And the original sound quality and all metadata are fully preserved. Download TuneCable iTadal Music Converter and enjoy Tidal on iPhone or any other device!