Please pay attention, Tidal Music fans. Let's just generalize on why this post is helpful. What can you get after reading this article?
Download Tidal music to your local computer in master quality.
Convert the MQA Tidal songs, albums, and playlists to unencrypted FLAC formats.
Save Tidal songs to other common formats, such as MP3, AAC, WAV, AIFF, and ALAC.
Keep the MQA Tidal audio files forever even after canceling the Tidal subscription.
The MQA Tidal Music tracks can be played via common media players.
The MQA Tidal Music tracks can be transferred to portable devices.
The MQA Tidal Music tracks can be imported to various programs.
If any point above has captured your attention, you should step into this post to unveil more details.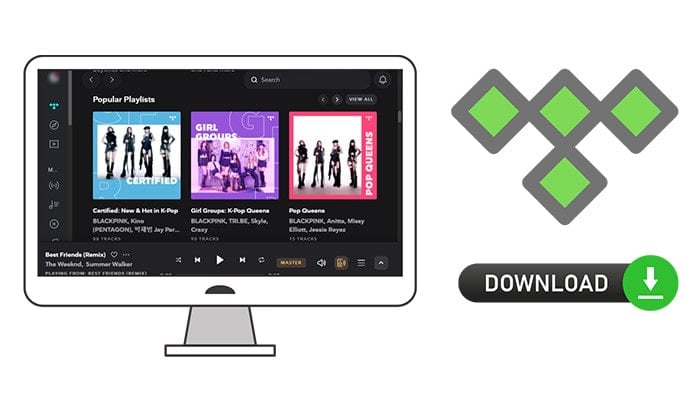 Detailed Steps to Download MQA Tidal Music to Local Computer
✅ What is Master Quality Authenticated Audio?
What exactly is MQA? In simple terms, MQA technology can compress 24bit/192kHz Hi-Res audio into 16bit/48kHz music files, and Hi-Res can still be heard under smaller sizes and smaller bitrate.
Most of the MQA-encoded FLAC music currently downloaded are 24bit/352.8kHz original sound files, and the size is only about 1/8 of the original size, which saves a lot of download time. TIDAL already provides CD-quality, 16bit/44.1kHz lossless music streaming service. Under the same bitrate and with supported players, 24bit/192kHz Hi-Res music can be streamed using MQA technology.
Also, Tidal offers not only the "compression" technology but also the guarantee of high sound quality. The most important step in the operation process of MQA is not encoding, but the original sound source, which is also the sound quality guarantee of MQA.
✅ How to access master-quality Tidal music?
5 different Tidal plans are included: Tidal Free, Tidal HiFi, HiFi Plus, Family HiFi, and Family HiFi Plus. Only becoming the Tidal HiFi Plus or Tidal Family HiFi Plus can get you the master quality audios on Tidal.
✅ Can MQA Tidal music be downloaded to a local computer?
Tidal offers an offline download option for users running Tidal Music on mobile phones. At current, when using a desktop Tidal Music, there is no option for you to carry out offline downloading officially. However, according to the instructions in this article, you are about to up for offline downloading of Tidal Music on a local PC without restrictions.
✅ How to download MQA Tidal Music files to a local computer?
TuneCable Tidal Music Downloader manages to convert the Tidal songs to plain formats, including MP3, AAC, FLAC, WAV, AIFF, and ALAC. The removal of the restraints on Tidal Music files contributes to further uses. For instance, you've got the liberty of playing the Tidal songs without the Tidal Music app or web player since then. You can get rid of frequently renewing subscriptions to Tidal Music after downloading Tidal tracks to local files.
Furthermore, TuneCable Tidal Music Downloader presents its super ability of batch downloading Tidal Music albums and playlists based on not losing any audio quality. Additionally, te the full ID3 tags (title, artist, album, track num, year, etc.) of the Tidal tracks will be perfectly preserved for a better experience of Tidal music offline playback.
Download Lossless MQA Tidal songs, albums, and playlists.
Support download music with Tidal Free, Tidal HiFi, and Tidal HiFi Plus.
Convert Tidal music to common MP3/AAC/WAV/FLAC/AIFF/ALAC format.
Faster speed to batch convert several Tidal playlists.
Permanently playback of the MQA Tidal music after the conversion.
The downloaded MQA Tidal songs are playable via common media players.
The downloaded MQA Tidal songs can be transferred to a phone, USB flash drive, SD card, etc.
The downloaded MQA Tidal songs can be used with various programs.

Step 1: Launch TuneCable Tidal Music Converter
According to the computer operating system, download and install the corresponding version of TuneCable Tidal Music Converter. The Tidal Music app should be installed in advance. The launch of the TuneCable converter will automatically trigger the Tidal Music app.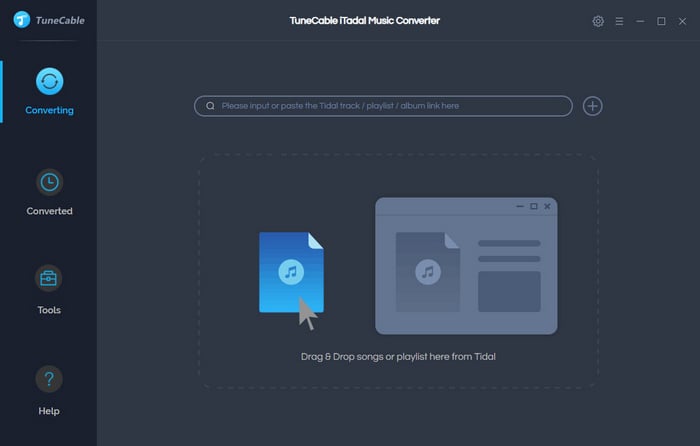 Step 2: Get the MQA Tidal Songs Ready to Download
On the Tidal Music app, quickly locate the preferred album or playlist. Then hold press on its title, and drag and drop it to TuneCable's working area for parsing. Otherwise, right-click on it, and choose "Share > Copy link address". Then put its link to the search box of TuneCable, and click on the "Parse" button to load all songs.
Every track on this album or playlist will be displayed soon. Pick the Tidal tracks you want and click "OK". To download MQA Tidal Music tracks, you should note if you've added the tracks tagged with "master".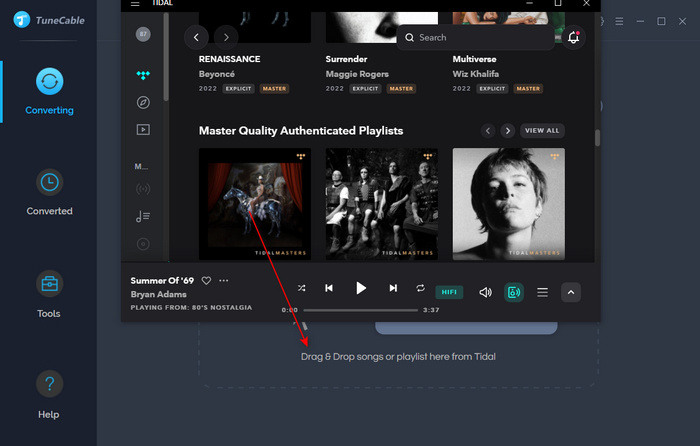 Step 3: Adjust the Parameters to Get MQA Music Downloaded
On the main interface of TuneCable, head over to the top-right corner, and click the "Settings" button. There will be a pop-up window where all changeable output settings are presented. Check the options of conversion mode, output format, bit rate, sample rate, conversion speed, output folder, output file name, and output organized manner, then select a wanted option.
Casual choices of the output parameters will not make an MQA Tidal music download. You should make changes to some specific settings accordingly. Firstly, you should choose "Tidal Record" in the "Conversion Mode" setting. Secondly, choose "AUTO" in the "Output Format" setting to ensure the output of the original audio quality and format of the Tidal songs.
For users tending to store all songs in one folder, go to "Output Organized", and select "None".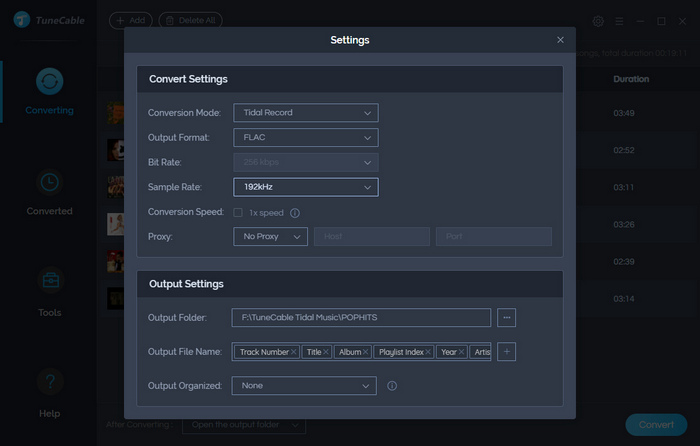 Step 4: Download MQA Tidal Music to Local Computer
To perform the conversion, simply click the "Convert" button. The songs from Tidal will be downloaded to the local computer in the original master quality and formats at a faster speed.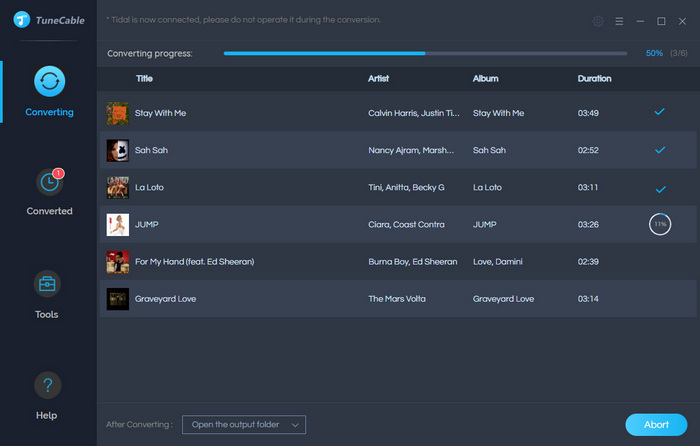 Step 5: Full Control of the Unencrypted MQA Tidal Music Files
Going through all steps above makes the perfect conversion. It takes a while to finish downloading all MQA Tidal Music tracks. After that, you are not prohibited from transferring these downloaded MQA Tidal tracks anymore. It's your time to unlock the full control of the Tidal songs in master quality. Moment Savored!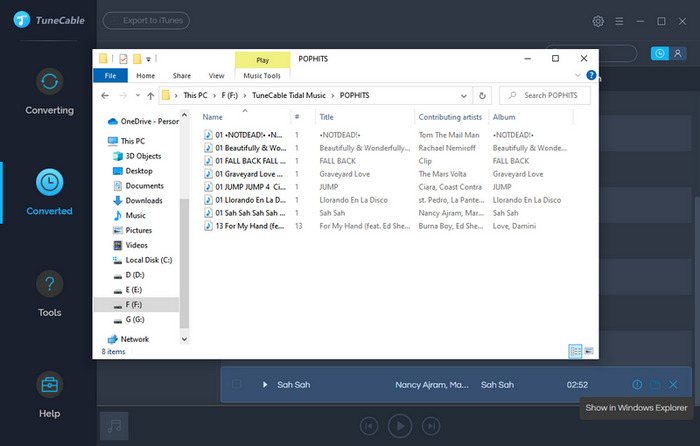 ---
Conclusion: Have you been impressed by the specialty of TuneCable Tidal Music Downloader? This professional converter sets you free from the strictly restricted Tidal Music rules and contributes to unlimited playback of the MQA Tidal music on a local PC or other portable devices. It's the right time to have a free trial to benefit from this fabulous converter.