Tidal is a music streaming service that is known for its high-quality audio and exclusive content. It offers lossless and high-fidelity sound quality, which means that the music you listen to on Tidal can sound much clearer and more detailed than on other streaming platforms that use compressed audio formats. This is especially important for people who value sound quality and want to hear music as it was intended to be heard by the artist.
Tidal has attracted the attention of a large group of people through its own charm, gradually becoming prominent in the streaming music industry. Similar to other similar products, in addition to playing music online, it also provides paid users with offline playback functions. This feature satisfies the user's need to play songs when the network is unstable.
But sometimes users need to know where these downloaded files are saved on the local disk for backup, transfer, or other purposes. In this tutorial, we explained in detail how to play offline downloaded songs through the Tidal Music app and where is the root directory of Tidal's downloaded files. What's more noteworthy is that here, you can further learn how to remove the restrictions on Tidal's downloaded songs, so as to achieve full control over Tidal songs.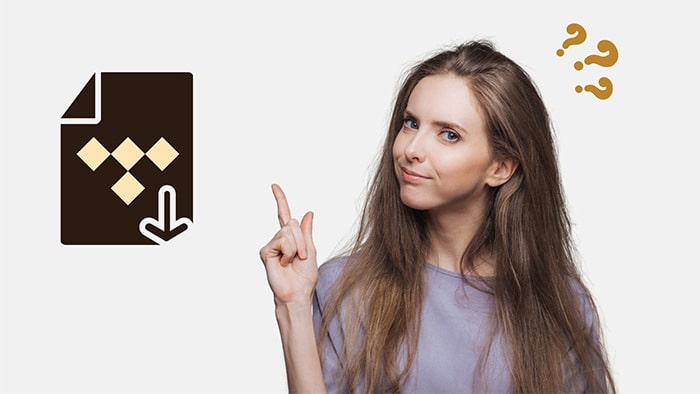 ✅ Part 1: How to Listen to Downloaded Tidal Songs Offline
When running the Tidal Music app on a computer, you can not find an option to download Tidal songs offline even if you are subscribed to Tidal already. Because it only supports offline downloading on mobile devices. If you consider downloading Tidal songs to a computer, you can follow Part 3 in this post. In this part, the detailed steps of how to play the downloaded Tidal songs on mobile devices will be presented.
Step 1: Get access to the Tidal Music app on your Android or iOS device. Make sure you've downloaded Tidal albums or playlists in advance.
Step 2: Under the "My Collection" section, click on "Downloaded". From here, you can view the downloaded Tidal albums and playlists. You can play them without a network connection now.
Step 3: When you are looking for a way to listen to Tidal music in an offline mode, go to the "My Collection" column, and then click the "gear" icon. Here you can enable the offline mode. After that, simply go to the "Downloaded" column and play the downloaded Tidal songs offline.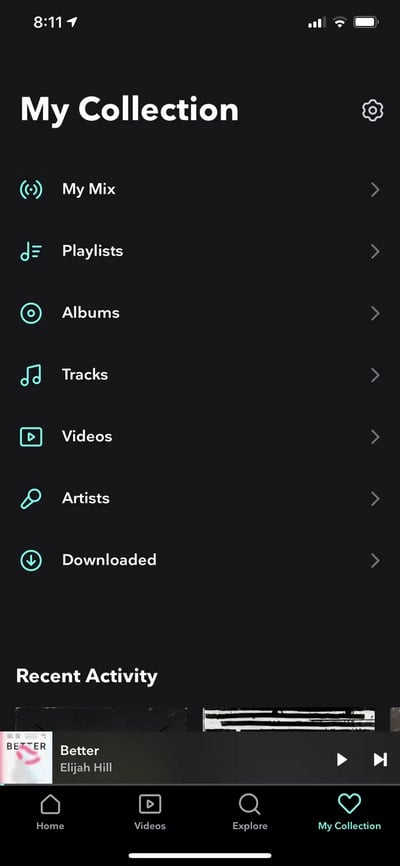 ---
✅ Part 2: Where Are Tidal Music Downloads Stored?
Tidal Music supports downloading music on mobile devices. Thus, you could not find the cached Tidal files on a computer. Additionally, on iOS devices, it's impossible to access root folders apart from photos. Here we orient to some general default locations for Tidal music downloads on an Android phone:
To find the cached file of Tidal Music on an Android phone, you can open the "File Manager" app, then open folders named: "Music", "Tidal", or "Android" to locate the related files. Typically, the downloaded files of Tidal Music will be saved in these folders.
If you have changed the default download location in Tidal settings, the downloaded files will be stored in the new location you specified. You can also check the download location in Tidal settings to confirm where your downloaded music is stored.
If you'd like to change the destination location of Tidal Music and save Tidal Music files to an SD card later, you can open the Tidal Music app, then go to "Settings > Music Playback > Download Destination" to open a new window. Then you will be prompted to make a choice between "Internal" and "Memory Card". Press on the "Memory Card" option directly to allow Tidal Music to cache files to the SD card later.
⁉ Why Do You Need to Know Where the Location of Tidal Music Files?
😀 Reasons:
The direct transfer of the downloaded Tidal songs between devices.
Back up the downloaded Tidal files in case of any loss.
Import the cached Tidal files to other programs for use or editing.
Share the Tidal Music files with your friends.
😞 Limits:
The downloaded Tidal songs are not allowed to play outside the Tidal Music app or web player.
The downloaded Tidal Music tracks are encrypted and protected, in which case you are not permitted to transfer them or use them freely.
The offline playback option is not provided when running the Tidal Music app on a desktop. You are not supported to download songs from Tidal Music to a computer.
Thus, knowing the location of the downloaded Tidal songs could not resolve the problem. Fundamentally, you need to shed the limits of Tidal Music and turn the downloaded Tidal songs, albums, and playlists into general local files. We will nail down the specifics in the next part.
---
✅ Part 3: How to Remove Restrictions on Downloaded Tidal Songs
TuneCable Tidal Music Downloader is a really useful tool that can effectively solve problems related to Tidal Music downloads. No matter what your purpose in finding downloaded files from Tidal Music is, this software can perfectly help you achieve your purpose.
It can download Tidal songs to a computer. And it can not only download an entire album and playlist at one time, but it also supports downloading songs one by one. You can customize the download path of Tidal songs as you like. When all favorite songs are downloaded to your designated destination, they can be kept permanently and played back for free.
Even better, the metadata of each song on Tidal will be completely preserved after downloading, such as artist, title, album, album cover, year, etc. TuneCable also provides a variety of output modes, which is beneficial for you to transfer the downloaded Tidal songs to different devices in the future.
If you are not a subscriber to Tidal Music, you can sign up for a Tidal Free plan to download songs with the help of this TuneCable Tidal Music Converter. If you are already a paid user of Tidal Music, you can download lossless music from Tidal. And even if you decide to stop renewing subscriptions to Tidal Music, you can forever keep your collected Tidal playlists after storing them on a local PC.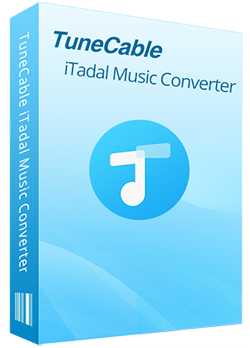 TuneCable iTadal Music Downloader

Download songs, albums, podcasts, and playlists from Tidal onto local computers.
Convert Tidal music to common MP3/AAC/WAV/FLAC/AIFF/ALAC format.
Preserve lossless Hi-Res/CD audio quality after conversion.
Retain the full ID3 tag information of Tidal songs like title, artist, album, etc.
Sort converted Tidal music files into folders by playlist, album, artist, etc.
Run at up to 10X faster speed to batch convert several Tidal playlists.
Offer handy tools of Format Converter, Tag Edit, etc. and save lyrics.
Save Tidal Music files offline with Tidal Free, Tidal HiFi, and Tidal HiFi Plus accounts.
Step 1: Launch TuneCable Tidal Music Converter
Install the TuneCable Tidal Music Converter app on your computer. Then launch this program. Select a download mode from the primary interface. The app mode requires the TIDAL app to work and can preserve Max quality (up to 24-bit/192kHz) Tidal songs at up to 5x conversion speed, while the web player mode works by accessing the built-in Tidal web player and can save High quality (16-bit/44.1kHz) Tidal songs at 10x fast speed. Pick a mode as needed.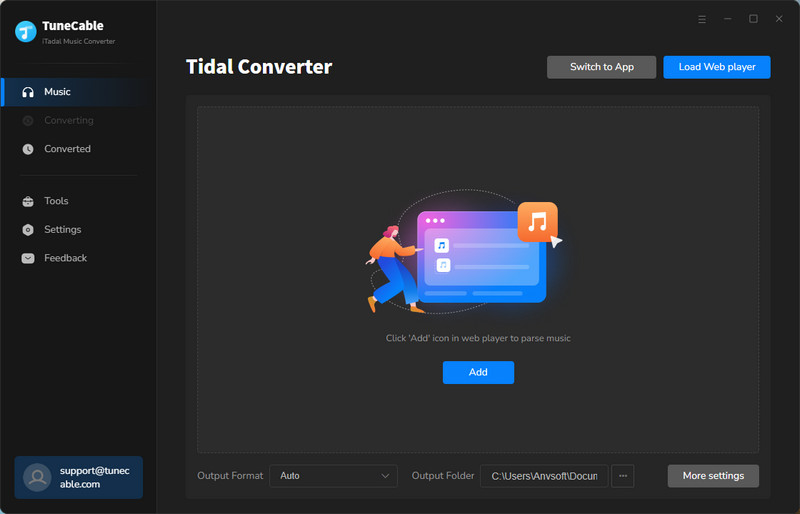 Step 2: Add the Wanted Tidal Songs to Task List
Log in to Tidal Music. Then go to an album or playlist you want. If you use the web player mode, open the playlist/album and hit on "Click to add" on the pop-up Tidal web player.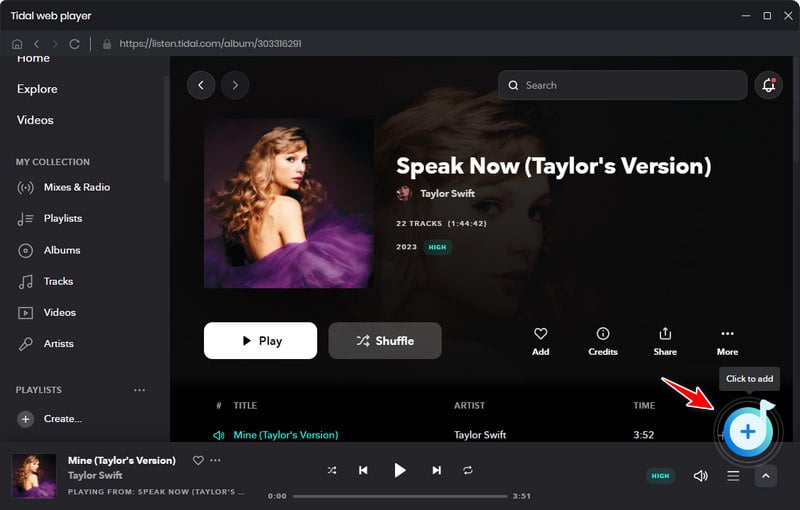 If you select the app mode, drag a playlist/album to TuneCable to parse, or right-click on it to copy its link, and then paste the link to TuneCable to parse.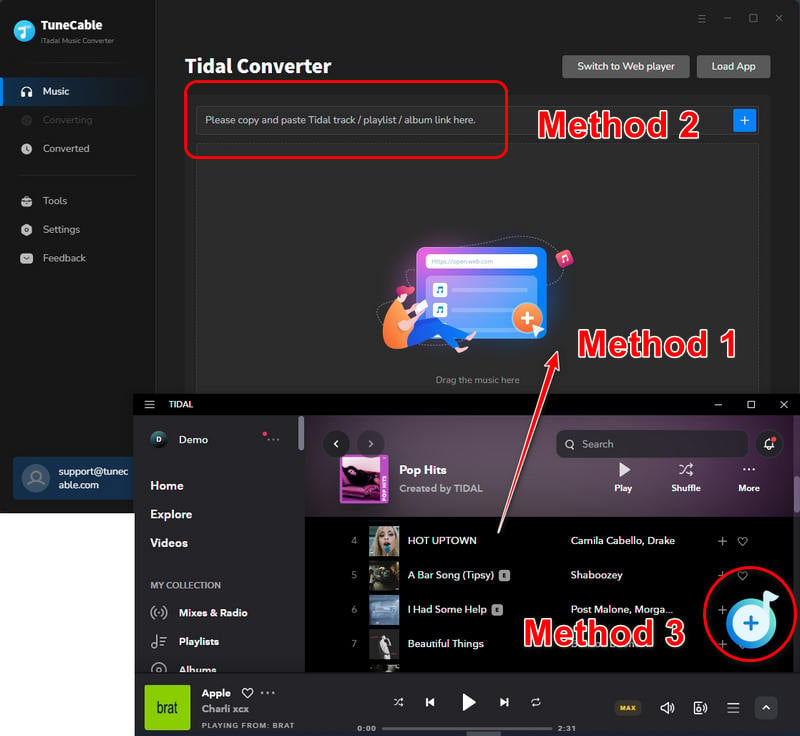 Once TuneCable loads all songs, you can select what you want and click on "Add".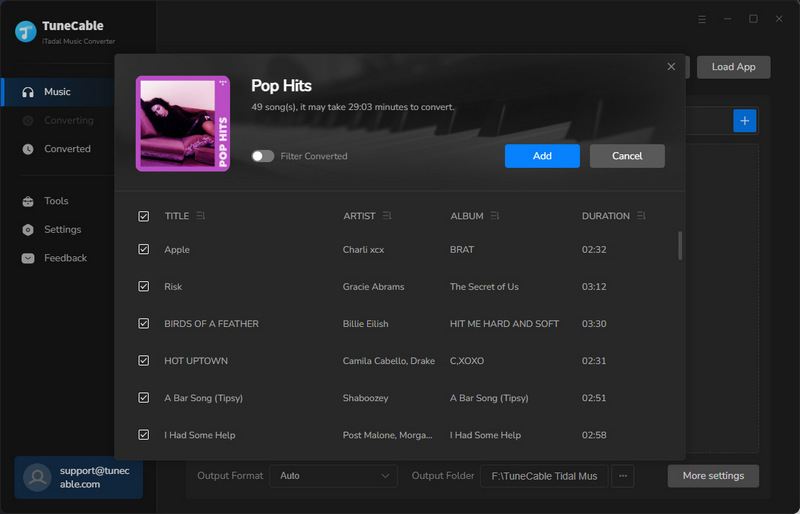 Step 3: Change the Output Settings before Downloading Tidal Songs
Hover over to the left bar, and click on "Settings". Set up the output format, bit rate, sample rate, conversion mode, output folder, output file name, and output organized way as you like.
Choosing "Auto" in the output format and "Tidal Record"/"Web Download" in the conversion mode setting mean that you let TuneCable download music from Tidal with the original format and quality kept.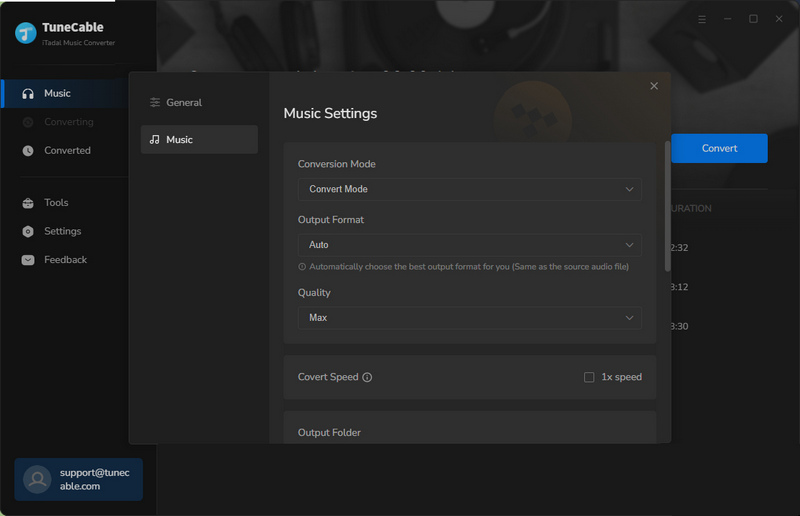 Step 4: Download Tidal Music to Unencrypted Songs
If you are going to add more songs from here, click on the "Add More" button in the upper right. If not, then click on the "Convert" button to perform the conversion instantly.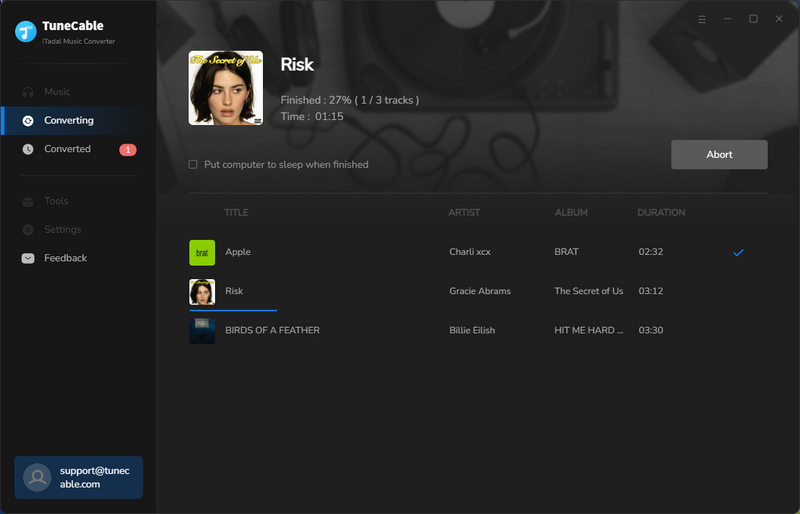 Step 5: Freely Use the Converted Tidal Songs
Once the conversion is finished, you can see them in the output folder on the local PC. And also, you can check the downloaded history by going to the "Converted" section on TuneCable. Under this section, you can select the downloaded Tidal tracks and export them to iTunes directly. There are more tools provided by TuneCable. You can go to "Tools" to use the format converter and tag editor.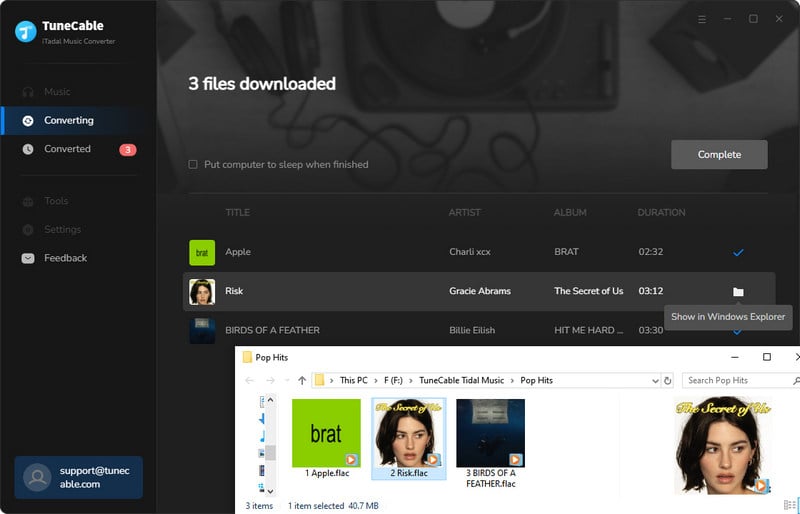 ---
The Closing Thoughts
That's all we have. Through this article, we shared how to play Tidal songs offline, how to find the path of Tidal downloaded files, and how to unblock Tidal Music. You will find that the most critical thing is to convert Tidal songs to non-encrypted files. This involves tool selection. Undoubtedly according to some Tidal Converters comparison articles, we would still prefer to choose TuneCable Tidal Music Downloader. It's the right time to have a free trial to benefit from this fabulous converter.