Virtual DJ is proved a great helper, hailed by most DJs, mixing and editing music and videos in a more professional aspect. It advocates online mixing and offline mixing by holding excellent support to add music from a local PC or use music from a variety of streaming music sources. Tidal Music is one of the options listed on the online music library of Virtual DJ.
As a DJ, the quality of music tops, which coincides with the concept of Tidal Music. That leads more and more DJs to choose Tidal Music over other streaming sources. Connecting Tidal Music with Virtual DJ contributes to more innovative projects. In addition to instructing you to use any Tidal Music track with Virtual DJ for mixing with or without a network connection, in this tutorial, we pave the path to complete control over Tidal music. Just follow our detailed steps.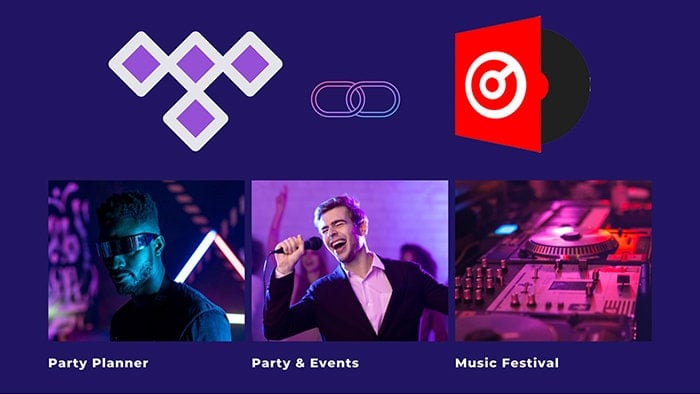 ✅ Part 1: Mix Tidal Music Online with Virtual DJ
What file format can be played on Virtual DJ?
>>🔊 Audio file: mp3, wav, cda, wma, asf, ogg, ogm, m4a, aac, aif, aiff, flac, mpc, ape
>>📺 Video file: avi, mpeg(mpg), wmv, vob, mov, divx, mp4, m4v, vix, mkv, flv, webm
What platforms are supported by Virtual DJ?
To establish the connection with Virtual DJ, you either get entry into the local music folder, or log in to available streaming music platforms, such as iDJPool (Pro Audio & Remixes), VJ'Pro (Pro Video), Digitax (Pro Karaoke), Deezer, SoundCloud, Beatport Link, Beatsource Link, and Tidal.
How do you mix Tidal Music online with Virtual DJ?
Since Tidal Music is available on Virtual DJ and can establish a direct connection, then you can mix your favorite Tidal songs without complicated steps. Simply have a look at the instructions below.
Step 1: Open the Virtual DJ app on your Windows PC or Mac. Then check the left menu bar. Click the "Online Music" tab to unfold more options.
Step 2: Choose "Tidal", then follow the prompt to log in to your Tidal Music.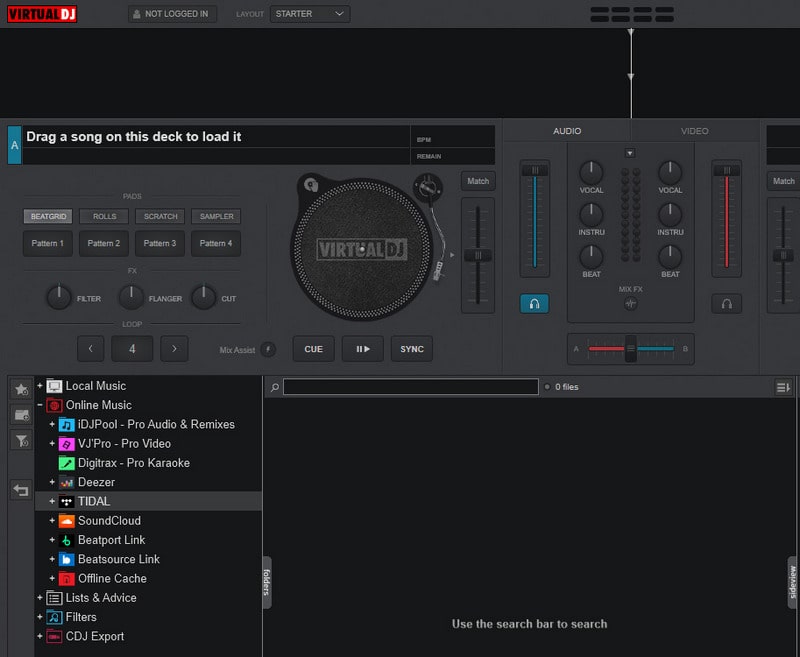 Step 3: Once you've logged in, you can search for any track you like from Tidal Music. There is a search box to locate your wanted track via keywords. And also, Tidal Music files have been simply classified by Virtual DJ. You can browse Tidal songs you want to mix by Favorite Tracks, Liked Playlists, Liked Albums, Genres, Trending, etc.
Step 4: Under a stable network connection, you can drag any track to the editing area for mixing.
Let's conclude the drawbacks and merits of this solution to avail you of choosing a suitable method of mixing Tidal music with Virtual DJ.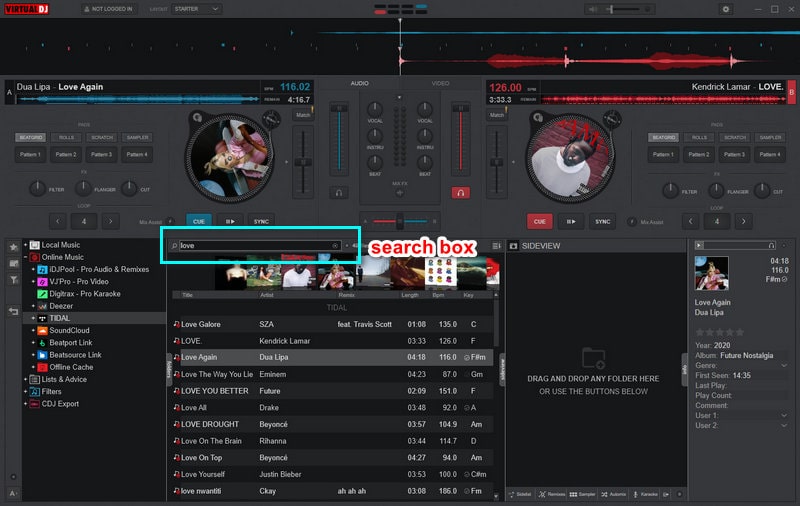 😀 Pro:
Direct connection between Tidal Music and Virtual DJ.
Search any Tidal track for real-time mixing.
😞 Con:
Need a stable network connection; can not mix music anytime and anywhere.
Hard to locate preferred Tidal Music tracks.
---
✅ Part 2: Mix Tidal Music Offline with Virtual DJ
Similar to other streaming music services, Tidal Music reins both online music sources and offline downloaded caches by strict rules in case any Tidal file is used for other purposes. You can hardly find a breakthrough once digital protection is imposed on these Tidal files even by upgrading to Tidal HiFi or Tidal HiFi Plus.
To remove the restraints, TuneCable Tidal Music Downloader is the only way out. TuneCable Tidal Music Downloader is particularly crafted for decrypting the Tidal songs and storing them in local space in common MP3, AAC, FLAC, WAV, AIFF, and ALAC formats. Once the protection is eliminated, these songs are free to use with various programs when there is no network connection.
The full ID3 tags (title, artist, album, track num, year, etc.) of Tidal tracks will be perfectly preserved after the conversion. And TuneCable supports lossless music ripping as it downloads songs from Tidal in the original quality. Furthermore, you can get rid of frequently renewing subscriptions to Tidal Music after downloading Tidal tracks to local files.
Download Tidal songs, albums, and playlists with the master quality preserved.
Support download music with Tidal Free, Tidal HiFi, and Tidal HiFi Plus.
Convert Tidal music to common MP3/AAC/WAV/FLAC/AIFF/ALAC format.
Faster speed to batch convert several Tidal playlists.
Permanently playback of Tidal music after the conversion.
The downloaded Tidal songs can be freely added to common media players, DJ software, and other programs.
The downloaded Tidal songs can be transferred to a phone, USB flash drive, SD card, etc.

Step 1: Launch TuneCable Tidal Music Converter
Do you run Virtual DJ on a Windows PC or Mac? TuneCable prepares both versions for you to choose from. Get this program downloaded via the downloading buttons displayed above. After the installation, start this converter. It runs together with the Tidal Music app.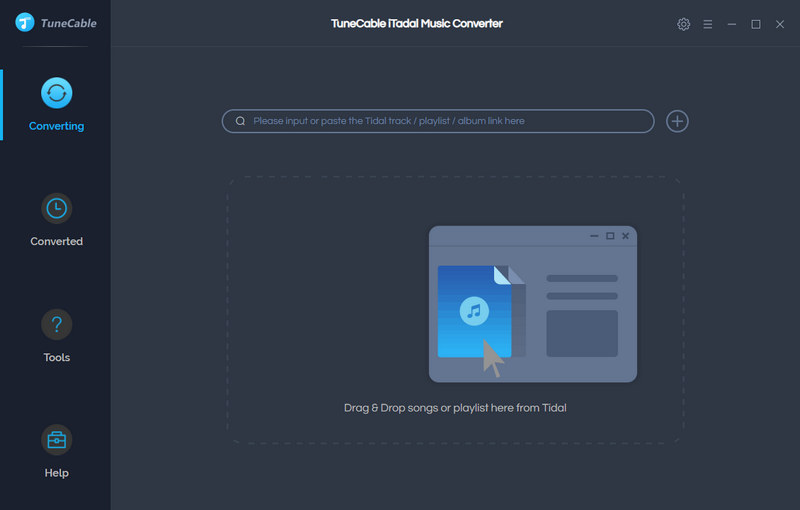 Step 2: Add the Wanted Tidal Songs to Task List
Log in to Tidal Music to get access to its music library. Through the help of TuneCable, Tidal Free users can download songs from Tidal for offline use. Next, we drop the wanted music tracks from Tidal to TuneCable. Navigate to the album or playlist you like, then move to its title and drag it to TuneCable for parsing.
TuneCable will load all songs from the playlist or album and make a list. You can select or deselect all songs by clicking the check box in front of "Title" in the upper left. Pick your desired tracks and tap on "OK" to add them to the task list.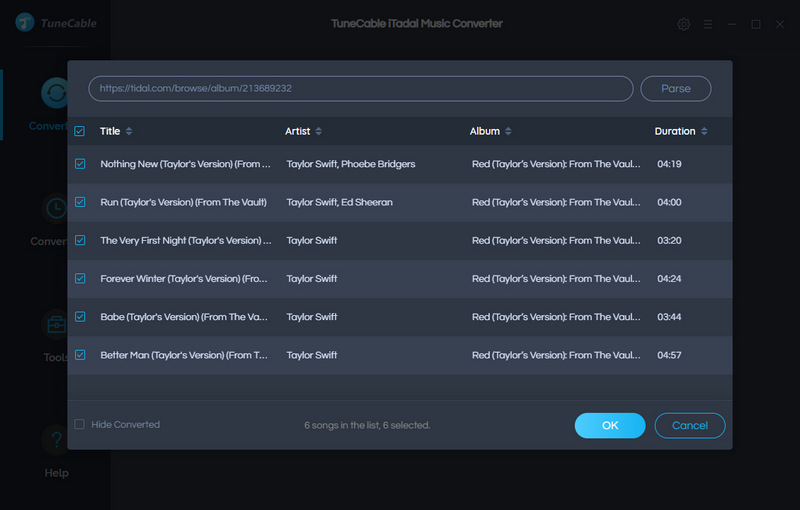 Step 3: Change the Output Settings before Downloading Tidal Songs
The "Settings" button is located at the top-right of TuneCable. Click it then a setting window appears. TuneCable provides multiple options including conversion mode, output format, bit rate, sample rate, conversion speed, output folder, output file name, and output organized manner.
The "AUTO" option in the Output Format setting represents that TuneCable is going to download songs from Tidal with the original format and quality preserved automatically.
When setting up the output format, you will see the changes taken in the bit rate and sample rate options. If you want to only download songs from the Tidal Music app, you can set the conversion mode as "Tidal Record".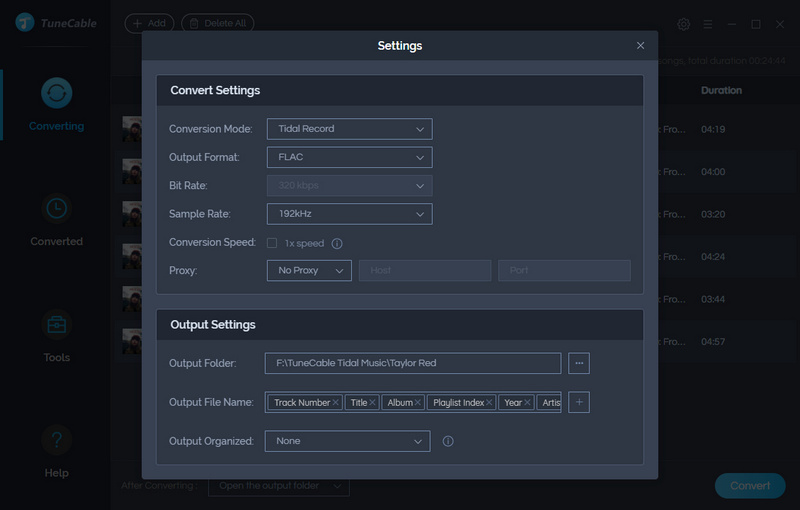 Step 4: Download Tidal Music to Unencrypted Songs
Your selected Tidal Music tracks are waiting for conversion. Once you finish the setup, you can click on the "Convert" button to perform the conversion mandate. TuneCable will conduct the conversion instantly at a faster speed.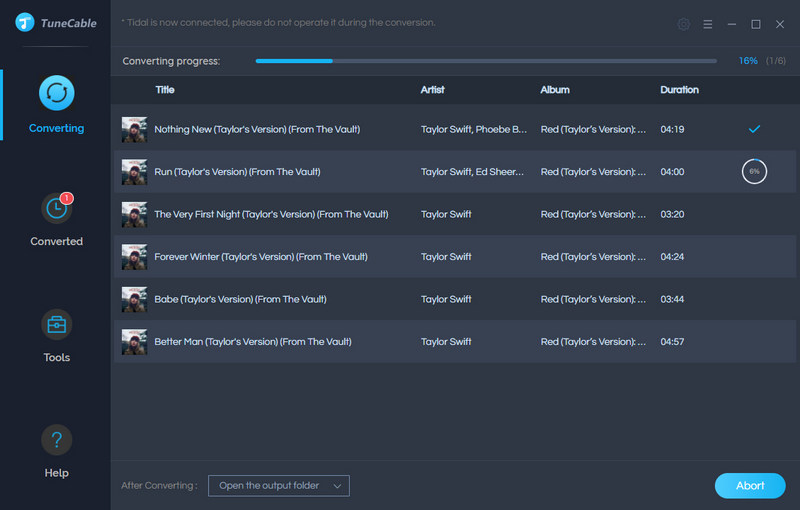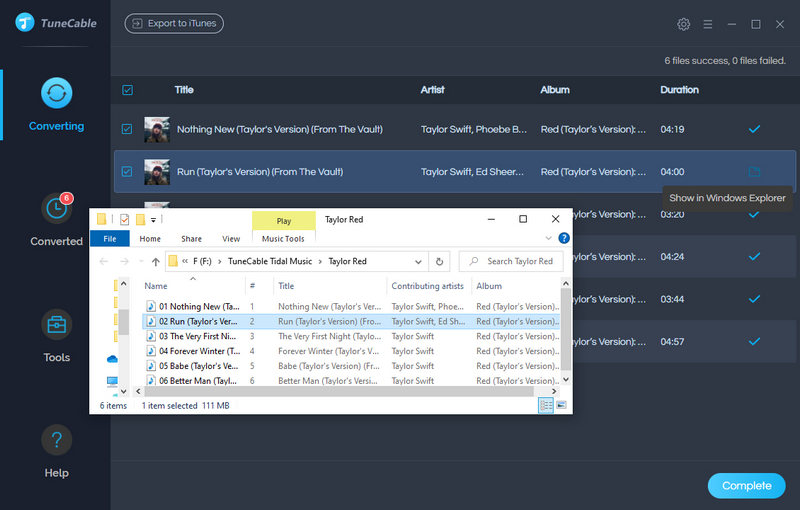 Step 5: Use the Converted Tidal Songs with Virtual DJ for Offline Mixing
The output folder will open automatically when the process is completed. You can find the converted Tidal songs well-organized by Playlist, Album, or Playlist on your local PC. Then you can use these songs freely with Virtual DJ for offline mixing.
1. Launch Virtual DJ on your Windows PC or Mac. On the left menu bar, choose "Local Music".
2. Go to "Desktop > This PC". Then you can navigate to the music folder where the converted Tidal songs are stored directly.
3. Click the Tidal Music folder, the songs in this folder will be displayed on Virtual DJ automatically.
4. Choose any track from the music list and drag it to the top editing area for creating remixes.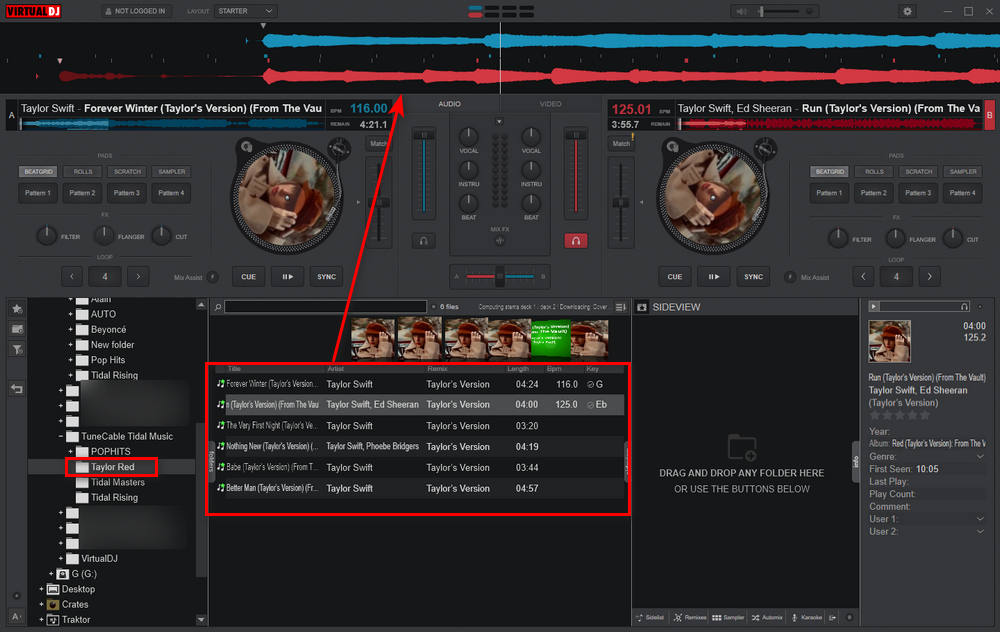 Have a look at the drawbacks and merits of this solution to avail you of choosing a suitable method of mixing Tidal music with Virtual DJ.
😀 Pro:
Can mix Tidal music offline anytime and anywhere.
Can simply download the collected Tidal playlists and then add them to Virtual DJ.
Can store the remixes in local space for permanent playback.
Can share the downloaded Tidal albums and playlists with your DJ friends.
Can freely use Tidal music even if you are not a subscriber to Tidal.
Can connect with other DJ programs.
Can use Tidal music with a Tidal Free account.
😞 Con:
Need to offline download Tidal songs first.
---
The Closing Thoughts
If you vote for the second method, then congratulate you, you've made a wiser decision in long term. In addition to Virtual DJ, TuneCable Tidal Music Downloader enables Tidal downloads compatible with a diversity of programs. For a professional DJ, you may not only use Virtual DJ. When switching to other DJ programs, like Serato DJ, or Traktor DJ, you may be failed to connect with Tidal Music directly. Therefore, TuneCable resolves this problem fundamentally by turning your collected Tidal Music playlists into unencrypted Tidal songs. It's the right time to have a free trial to benefit from this fabulous converter.