Streaming music online has been prevalent these years. Streaming music services offer individually matched recommendations, well-organized playlists, popular albums, top-rising tracks, and other audios. In order to differ from other streaming music platforms, Spotify features ample music resources, Apple Music bonds with Apple products to capture users who running on Apple OS, and Tidal Music reaches out to a group of people fascinated with high-fidelity audios.
Tidal chooses FLAC as its official audio format since files in the FLAC format ensure uncompressed audio quality in a smaller size. And for a better user experience of lossless-CD quality music, Tidal has launched two Tidal HiFi subscription options - HiFi ($9.99/month) and HiFi Plus ($19.99/month). Becoming one of the paid members permits you to cache songs in FLAC formats. However, they are technically encrypted files restrained from transferring or playing once the Tidal subscription ends. To make full use of the Tidal Music tracks, you should follow this article to download Tidal songs to DRM-Free FLAC in lossless quality, up to master quality. This guide depicts the best method of removing the limitations on the Tidal part and achieving a perpetual offline playback on multiple devices.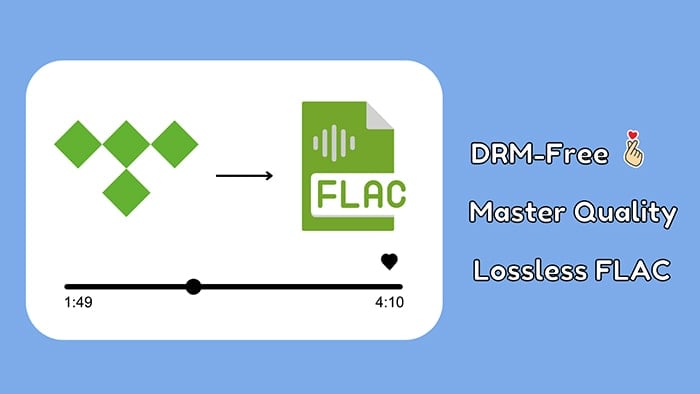 ✅ Part 1: Why Convert Tidal Music to FLAC?
Compare with the FLAC format, the MP3 format is more common-used in various fields as it's flexibly compatible with almost all programs and devices. That's why most users favor converting music to an MP3 format over a FLAC format. From the analysis below, you will get more details regarding the difference between the two formats.
💡 Why Choose FLAC over MP3:
Different sound quality. FLAC format does not destroy any original audio information whilst MP3 format uses MPEG audio layer 3 technology to compress music into small files of 1:10 or even 1:12.
Different encoding methods. After the audio is compressed by FLAC encoding, no information will be lost. The human ear is not sensitive to high-frequency sound signals. It converts a time-domain waveform signal into a frequency-domain signal and divides it into multiple frequency bands. The MP3 format uses different compression ratios for different frequency bands, increases the compression ratio for high frequency (even ignoring signals), and adopts a smaller compression ratio for low-frequency signals to ensure that the signal is not distorted.
Different compression ratios. FLAC is a compression mode specially designed for PCM audio characteristics. You can use the player to play FLAC compressed files directly. Compared with cd, the highest parameter mp3 (320kbps) has less difference in sound quality between FLAC and APE lossless compression formats. Its advantage is that it takes up less space after compression, and is suitable for storage and use of mobile devices.
➜ Here come my closing thoughts. Notwithstanding the MP3 format is more flexible, the FLAC format preserves the best quality of each track while reducing its file size as possible. That benefits Tidal HiFi or HiFi Plus users to store songs in the original quality.
💡 Why Convert Tidal Songs to DRM-Free FLAC:
Tidal HiFi and HiFi Plus users are available to relish offline listening whereas the downloaded files are encrypted. Only by carrying out decrypting with the solution introduced in the next part, you can use and transfer the downloaded Tidal tracks freely. You will explore more usages of the Tidal songs.
📲 Offline playback of the Tidal music on multiple musical gadgets.
🔗 Easy to move the collected Tidal playlists when switching devices.
🎧 Never lose the Tidal tracks after canceling the Tidal subscription.
📤 Import Tidal Music albums or playlists to various FLAC-supported programs.
🌐 Get joy from anytime playback of Tidal songs without a network connection.
💑 Share the melodious Tidal songs with your friends or family.
💾 Store the Tidal songs to a local PC, USB Flash Drive, or SD Card in case of urgent need.
---
✅ Part 2: Convert Tidal Music to Unencrypted FLAC in Master Quality
TuneCable Tidal Music Downloader is considered a reliable music converter since its launch. It supports ripping music from Tidal in popular formats, such as MP3, AAC, FLAC, WAV, AIFF, and ALAC. You are enabled to adjust the output format, bit rate, and sample rate for importing the Tidal Music files to different programs.
With TuneCable, you will not be deprived of accessibility to the Tidal Music library including the downloaded tracks after the cancelation of your Tidal subscription.
This program executes converting in batches with the full ID3 tags kept. And the rapid conversion speed will not reduce any audio quality, even when extracting songs in master quality.
Now, let's check the detailed guide on how to convert Tidal Music tracks, albums, and playlists to unencrypted local files in lossless FLAC formats.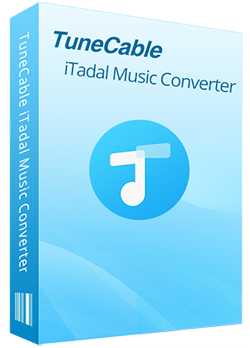 TuneCable iTadal Music Converter

🔹 Download songs, playlists, albums, and podcasts from Tidal.

🔹 Convert Tidal tracks to MP3, AAC, FLAC, WAV, AIFF, and ALAC.

🔹 Preserve original Hi-Res/CD audio quality and full ID3 tags.

🔹 Proceed with Tidal songs in bulk at up to 10x fast speed.

🔹 Sort Tidal music files by playlist, artist, album, etc.

🔹 Offer tools (Format Converter, Tag Edit) & save lyrics.

🔹 Extract songs with Tidal Free, HiFi, and HiFi Plus accounts.

🔹 Enable permanent playback and free transfer of Tidal music.
Step 1: Initiate TuneCable Tidal Music Converter on PC
Run TuneCable TuneCable Tidal Music Converter after the installation. At the moment, you are greeted with the primary interface and two download options. The app mode requires the installation of TIDAL app and retains up to the Master/Max quality (up to 24-bit/192kHz) at up to 5x conversion speed. Here the app mode is recommended, since the web player mode mainly focuses on saving Tidal HiFi/High quality (16-bit/44.1kHz).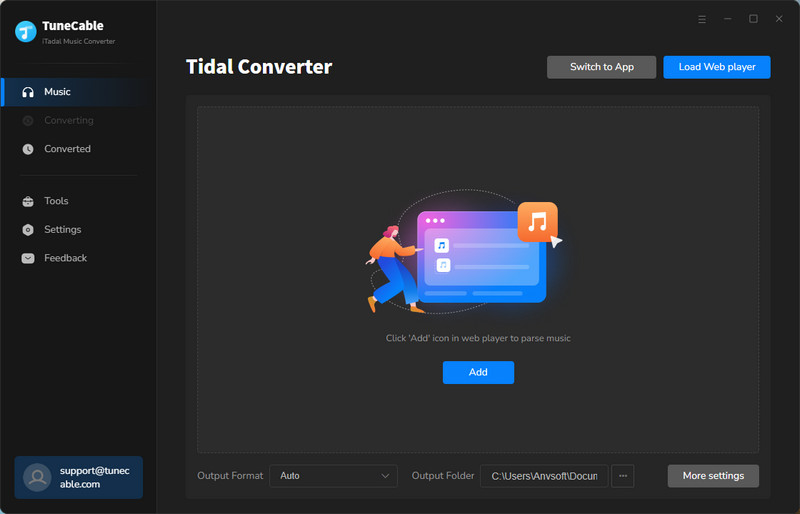 Step 2: Add the Wanted Tidal Tracks to TuneCable
Log in to Tidal Music. All Tidal plans, including the free package, are feasible. But it's known that the audio quality varies for different subscription tiers. To get the MQA Tidal music downloaded, you should be a HiFi Plus member. For other kinds of users, you can also download Tidal songs with the original quality preserved. Just check out the highest audio quality you can get based on your Tidal subscription plan.
Under the app mode, to choose a preferred Tidal song, album, or playlist, you may hold press on its title to drag it to TuneCable for parsing. TuneCable will load the song(s) immediately. Deselect the tracks you don't want, then click "Add".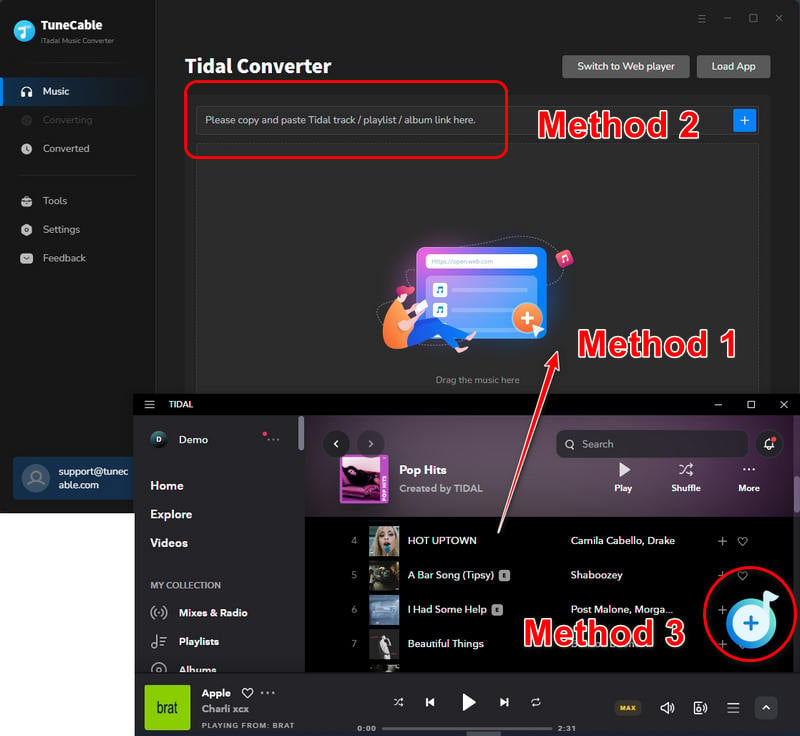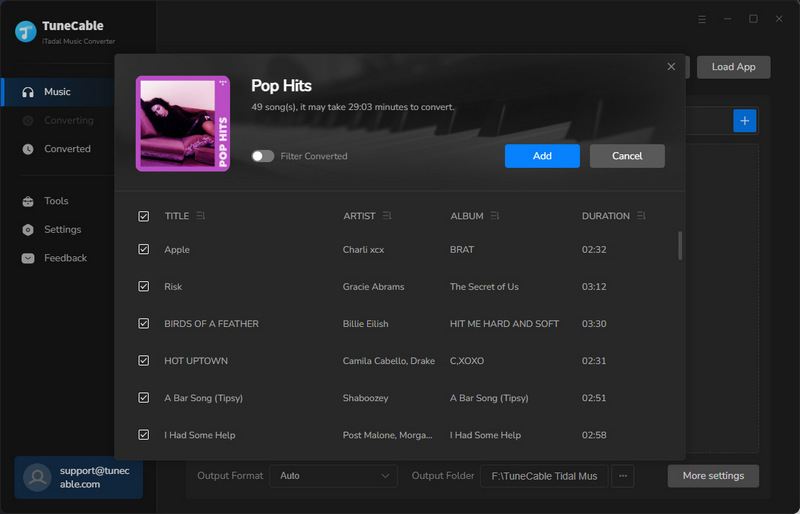 Step 3: Alter the Output Parameters
Before performing a conversion, we'd better make an adjustment to the output parameters. Click the "Settings" tab in the left bar of TuneCable. Soon afterward, you will see the settings interface.
Conversion Mode: Intelligent Mode, Tidal Record, YouTube Download
Output Format: Auto, MP3, AAC, WAV, AIFF, ALAC, FLAC
Bit Rate: 128kbps, 192kbps, 256kbps, 320kbps
Sample Rate: 44.1kHz, 48kHz, 96kHz, 192kHz
Output Folder: To your preference
Output File Name: Track Number, Title, Artist, Album, Playlist Index, Year
Output Organized: None, Playlist, Artist, Album, Artist/Album, Album/Artist, Playlist/Artist, Playlist/Album
Note: If you want to convert Tidal Music tracks to FLAC formats in master quality, you should choose "Tidal Record" in the Conversion Mode setting. Then go to the "Output Format" setting, and choose "Auto" or "FLAC". This "Auto" option helps you save the Tidal tracks in the original formats and original quality. The original format of Tidal music is FLAC, albeit it's encoded. Do not worry, TuneCable decrypts the Tidal songs to DRM-free FLAC formats. There is another tip you should follow to download MQA Tidal music. You should select the master-quality Tidal songs to download.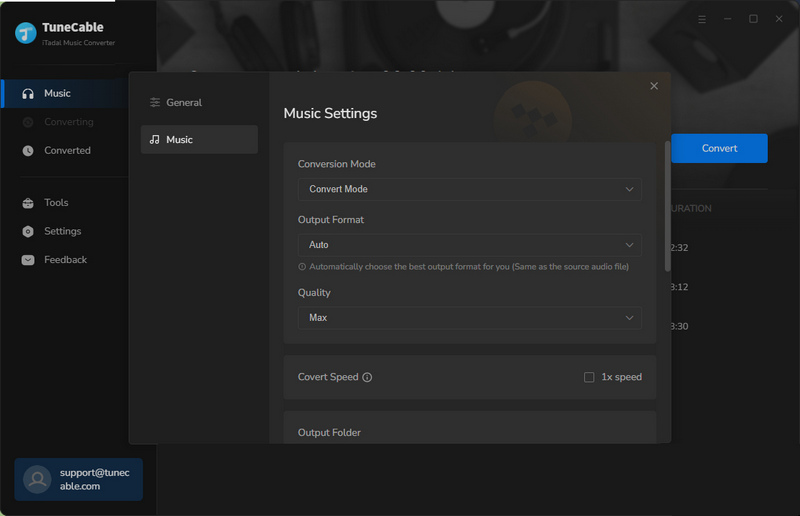 Step 4: Download Tidal Music to Local Files in Lossless FLAC
Followed by all steps above, simply start the conversion by tapping on the "Convert" button. TuneCable will launch a fast conversion instantaneously.
When the Tidal songs are downloaded successfully, you can find the download record under the "Converted" column. Or you can directly navigate to the output folder on the computer to find the downloaded Tidal Music files.
The Tidal songs will be converted to unencrypted FLAC files in master quality if you've followed our instructions. The unrestricted Tidal playback is available right now.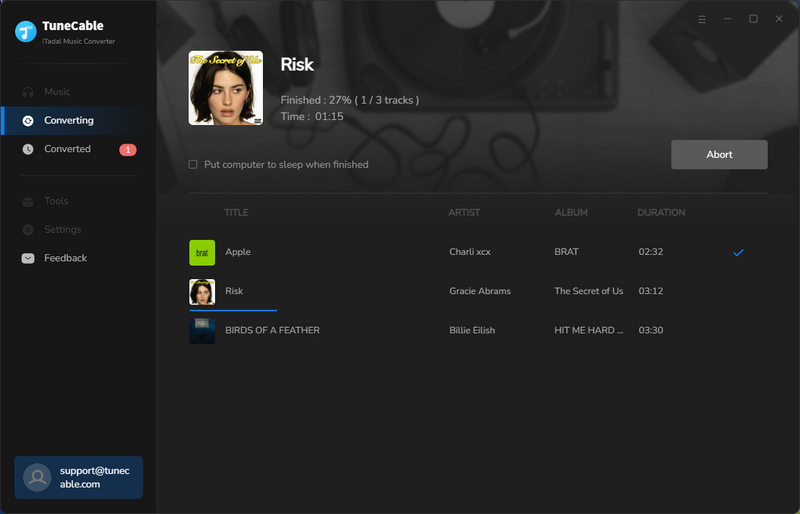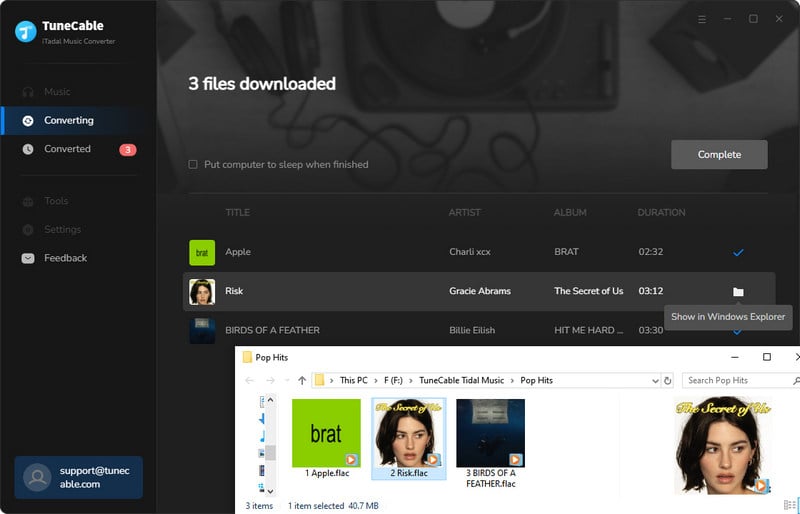 ---
✅ Conclusion
Only by a professional tool, you can extract songs from a streaming music source like Tidal to local space in ordinary formats. TuneCable Tidal Music Downloader is designed to convert Tidal Music files to popular formats with top-rank conversion technology. Unlike other Tidal converters, it is capable of downloading MQA music from Tidal to a local PC in a lossless FLAC format easily. Give a free try to embrace the joy of free playback of master-quality Tidal music right now.