If you want to stream music, Spotify is your best bet with 381 million monthly active users worldwide, more than 70 million songs, and a variety of innovative features that cater to all of your listening preferences. For example, you may search for music by artist or album or by a specific genre of music. Both Free and Premium Spotify accounts are available. Spotify Free is ad-supported, yet anybody may use it for free. It's also easy to improve Spotify streaming audio quality from the settings.
If you are trying to set Spotify music quality on a computer, then you have come to the right place. In this article, we are going to provide you step by step guidelines in this topic. You'll also be able to learn how to get Spotify Premium on a computer. We'll also give you the best way to export Spotify music with 320kbps audio quality. Let's begin with the details below.
Part 1: How to Set Spotify Music Quality on Computer?
Music is a very subjective art form. The hard-hitting bass of electronic dance music appeals to some, while others prefer the crystal-clear vocals and glistening guitar notes. There is one thing everyone agrees on: audio quality does essential (to a certain extent). Music streaming service Spotify has a configurable "Automatic" option and four preset playback rates: 24 kbps (Low), 162 kbps (Normal), 160 kbps (High), and 320 kbps (Ultra-High) (Very High).
Even though 320 kbps is little in the grand scheme of current video streaming, you may expect Spotify to ramp up to 320 kbps when using Automatic mode with a good Wi-Fi connection. Still, from what I can determine, the service will only go as high as 160kbps when utilizing this option. Keep in mind that only Premium subscribers have access to the 320 kbps option.
The best way to enjoy your favorite music is to play it in the highest quality setting available. If you want to preserve your mobile data, though, you may have to tone it down. Spotify has a feature that enables you to set Spotify music quality on a computer you listen to. On the Spotify desktop app, we will teach you how to adjust audio quality with easy steps.
In Spotify, you may modify the choice to the highest possible level if you want the most excellent audio quality. It is also possible to reduce the quality of the broadcast to conserve mobile data while streaming. Spotify's desktop app allows you to change the audio quality in a few clicks. Using the instructions below, you can learn how to improve Spotify streaming audio quality without any hassle –
Step 1: Log in to your Spotify account using the desktop app.
Step 2: Select Settings from the menu by clicking your profile symbol in the upper-right corner of the screen.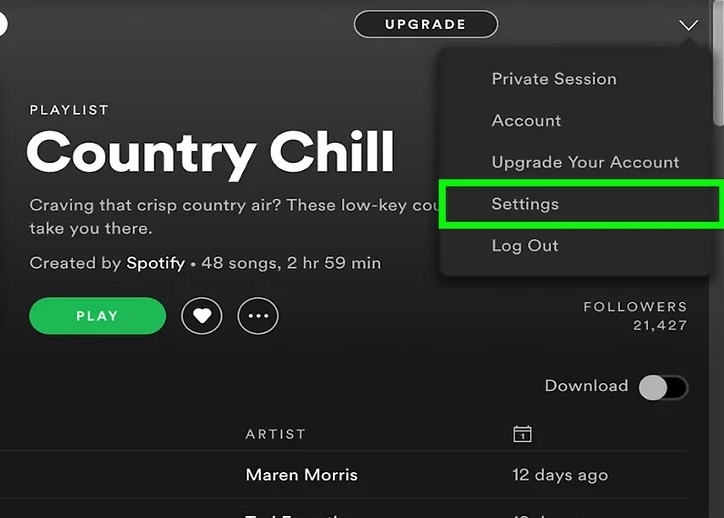 Step 3: Change the Streaming Quality in the Music Quality area to your liking. Premium customers have access to a 320kbit/s option called "Very High."

Step 4: Also, you may disable Auto adjust quality, so that your bandwidth will not be a factor while playing music. It may, however, disrupt your listening experience if you have a sluggish internet connection.
Step 5: You may set the Download option to Very High if you want to download songs of the best possible quality. When downloading large playlists, keep in mind that the greater the quality of the music, the more storage space it takes up.
For some reason, Spotify's online player does not allow you to change the quality of the audio stream. Free users can only listen to music at 128 kbps on their browser, while Premium customers may listen to music at 256 kbps.
---
Part 2: How to Get Spotify Premium on a Computer?
There are different approaches available to this part. If you want to improve Spotify streaming audio quality and legally use the Spotify Premium with your own money, then the first approach is suitable for you. Otherwise, if you want to use Spotify Premium for free, you can do so at your own risk. We will show you both methods below.
Get Spotify Premium on a Computer with Payment Details:
Step 1: First you need to download, install and run the Spotify app on your PC. From the homepage, click on the START FREE TRIAL option.
Step 2: Now provide your log-in details, or click on the LOG IN WITH FACEBOOK option to move forward. Then click on LOG IN.
Step 3: Next you need to select a payment option by clicking on the Credit card thumbnails or on the Paypal logo. Enter your payment information.
Step 4: Finally you can scroll down and click on START 30-DAY TRIAL NOW button. Thus you get to use Spotify Premium up to 30 days for free. You can cancel the subscription at any time.
---
Extra Tips: How to Export Spotify Music to MP3 with High Quality 320kbps
In this part, we are going to give you an extra tip that can basically change your whole Spotify music experience. If you want to export Spotify music with 320kbps audio quality then you need to start using TuneCable Spotify Music Downloader. It's an amazing and perfect solution to download Spotify music on your computers local storage for free. Besides downloading songs from Spotify, it can help you to convert songs, playlists, podcasts, and radios to MP3, AAC, WAV, FLAC, AIFF, ALAC formats. You will also get the full quality of the song after downloading or converting. With no compromising the music quality, powerful conversion speed and various other advanced features, this software is definitely the best thing for downloading Spotify music with high quality.
Features:
Allows users to download and convert Spotify music to MP3, WAV, FLAC, AAC, AIFF & ALAC


It can maintain 100% music quality after conversion.


All the downloaded songs will keep ID3 Tags Information intact.


This software can download songs with 10X faster speed and lossless quality.


Supports latest Windows 11.


Step by Step Guide to Extract Audio from Spotify on Windows/Mac Computer:
Step 1: Download and Launch TuneCable Program
Download and launch the program on your computer, and you will see the main interface show as below.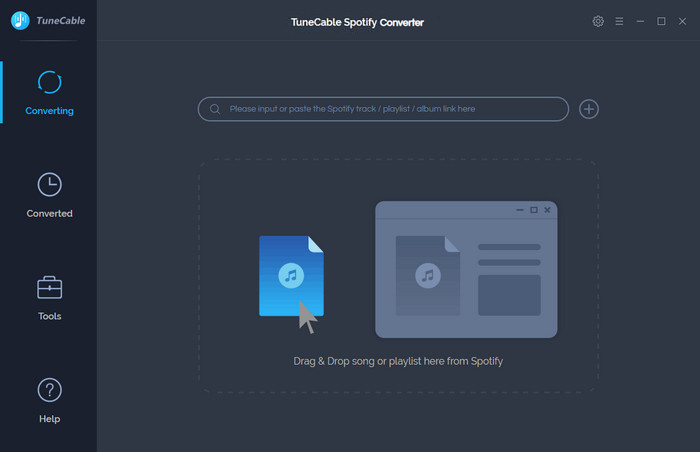 Step 2: Add Spotify Music
Next, you can either add single music tracks or an entire playlist from Spotify to the Spotify Downloader main interface. Here, you can easily drag and place the playlist or tracks to the main interface. Otherwise, you can "copy + paste" the playlists link and click on the "Parse" button.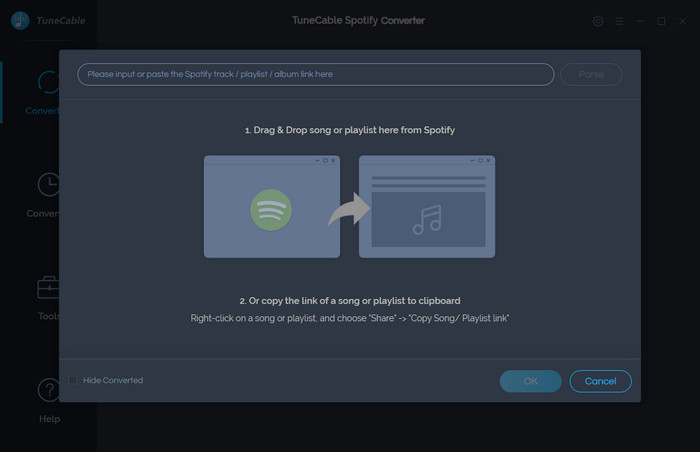 Step 3: Set Output Settings
In the next step, set your output settings for music conversion. Just click on the "Setting" button and you'll get a pop-up window where you can set the output format, output folder, file name, output quality, speed, etc. Customize the settings according to your choice and move forward to the next step.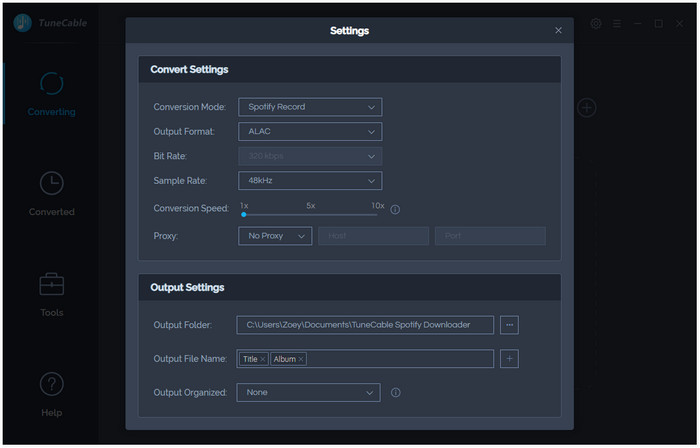 Step 4: Convert and Download Music
After you have set all the output settings according to your needs, now you'll get to convert the Spotify music files into MP3/AAC/WAV/AIFF/FLAC/ALAC. Directly click on the "Convert" button to start the conversion.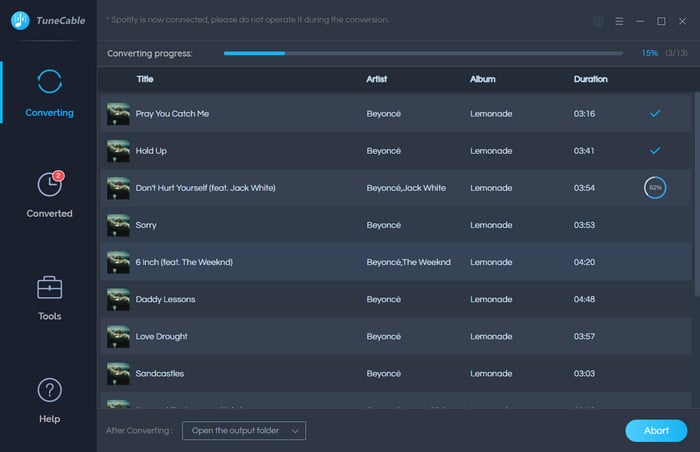 Step 5: Check Downloaded Music
Finally, after the conversion process is done, click on the "Converted" option from the menu bar. This will get you to a window where you can find your converted Spotify music files.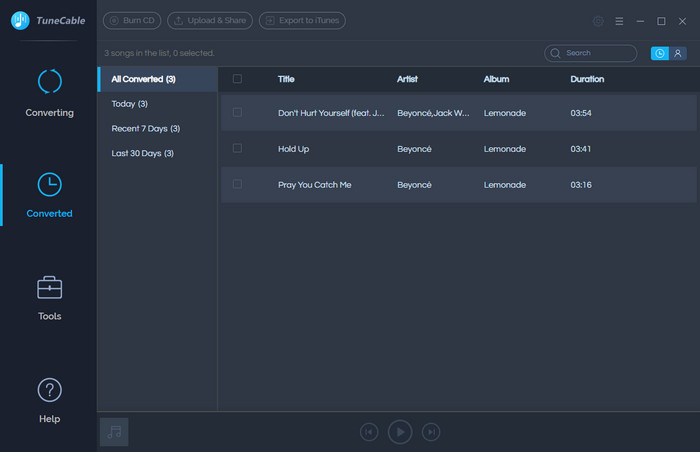 ---
N.B. – TuneCable Spotify Music Downloader is a one-of-a-kind tool that can get your favourite Spotify music on your personal device for free! You can download, convert and enjoy your favorite Spotify music with the help of this tool even if you are not a Premium user.
---
Conclusion: You will need an Internet connection to listen to your music on Spotify since it is a streaming service. Is it possible to listen to music via Spotify if you are traveling, on the subway, or exhaust your mobile data? If so, you will need to download it first. Spotify has continually improved its services, allowing us to experience our music in new and exciting ways. In addition to a wide range of entertainment options, there are other methods to enhance your enjoyment of them. Keep an eye out. To get the most out of your listening experience, check your system's settings so that you can improve Spotify streaming audio quality. Also if you want to export Spotify music with 320kbps audio quality, use TuneCable Spotify Music Downloader. This should definitely solve your problems with adjusting Spotify audio quality and exporting Spotify music.