"I am a podcast fan and would like to listen to Spotify podcast offline, how can I download Spotify podcast without premium? So I can still enjoy my favorite episodes even when account expires."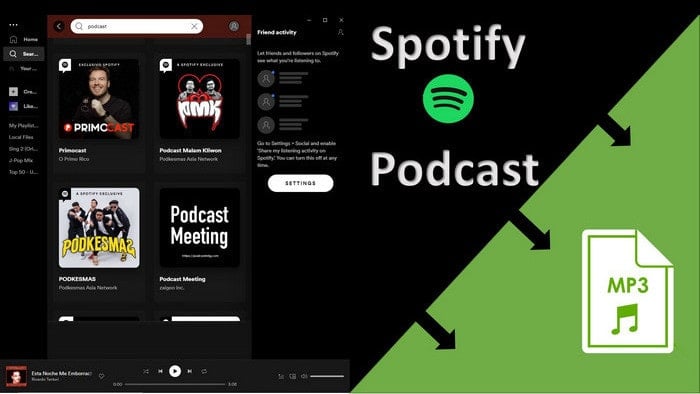 As a summary of 2021, Spotify Music Official recently has published a list to announce the most popular podcasts in the past year. The list includes 20 episodes and has already gained 49,581 likes as of December 31st, 2021. These podcasts may take you nearly 16 hours in total to enjoy, which, however, is worthy. Without further ado, let's view the Top 5 of the hottest Spotify podcasts in 2021:
Top 1 F Your Water Fountain – Gimlet
Top 2 Rachel Hollis Part 1: Hashtag Relatable – Aubrey Gordon & Michael Hobbes
Top 3 Listener Stories – LAist Studios
Top 4 Blind Guy Travels: Noodle Arms No More – Radiotopia
Top 5 Moving Beyond the Gender Binary w/ALOK – iHeartPodcasts and Shondaland Audio
"Our favorite podcast episodes that made us feel all the feels." What Spotify Music Official described in the list is indeed a true thing. Listening to beautiful, hilarious and even sometimes philosophical podcasts enables our souls to grab the familiar-turn-strange tranquility. However, many Spotify users may encounter the issue we mentioned in the beginning. How can we download Spotify podcasts without Premium and listen to them at any time and anywhere we are in the mood? Don't worry, the following passage is going to show you the easiest way to do that.
Convert Spotify Podcasts: TuneCable Spotify Music Downloader
If you happen to be a Spotify Premium subscriber, you can try downloading some podcasts on your computer and check if you can play them somewhere else. But the answer is clear and regretful: you can't play them on any device other than Spotify Music. Moreover, the cache that you once downloaded will instantly disappear when your subscription expires – which has been proved by many Spotify subscribers in multiple forums. To resolve this, the best way is to download Spotify podcast to MP3 with TuneCable Spotify Music Downloader.
TuneCable Spotify Music Downloader is one of the best Spotify tools to download Spotify without Premium. With its advanced audio technology, TuneCable can help you download Spotify songs/albums/playlists/podcasts to popular plain format – MP3/AAC/WAV/FLAC/AIFF/ALAC. It can keep the original sound quality of the Spotify audio in fast conversion, and retain all the ID3 tags information.
With the help of the program, you can easily save Spotify podcast on PC, or transfer it to any other devices you want. TuneCable also supports outputting the music/podcasts in the originally same order, thus rejecting the chaos around. If you are not a very tech-minded person, there is nothing you have to worry about, in that the program is very user-friendly and TuneCable Support provides free technical support.
Let's take a look at its features: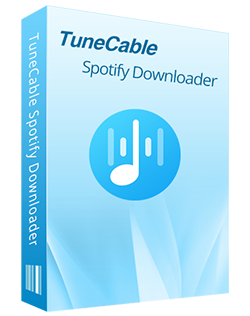 TuneCable Spotify Downloader

🔹 Download Spotify songs, playlists, albums, and podcasts.

🔹 Convert Spotify's music to MP3/AAC/WAV/FLAC/AIFF/ALAC.

🔹 Retain full ID3 tags & Spotify original audio quality.

🔹 Run at 10x faster conversion speed & batch download.

🔹 Sort Spotify music files by playlist, artist, album, etc.

🔹 Offer tools (Format Converter, Tag Edit, etc.) & save lyrics.

🔹 Activate the permanent playback of Spotify music.

🔹 Support Spotify Free or Spotify Premium account.
Tutorial: Download Spotify Podcast to MP3
Step 1 Launch TuneCable Spotify Music Downloader
The interface of TuneCable Spotify Music Downloader will appear as below once you double-click the program. You are provided two download modes. The app mode requires the Spotify app while the web player mode works by accessing the Spotify web player. You should not worry about the output audio quality, since both modes can save the original Spotify audio, up to 320kbps. Pick a mode and log in to your Spotify account.
Note: Please do not operate Spotify Music while in conversion, in that TuneCable needs the full access to keep the high audio quality in downloaded Spotify Music.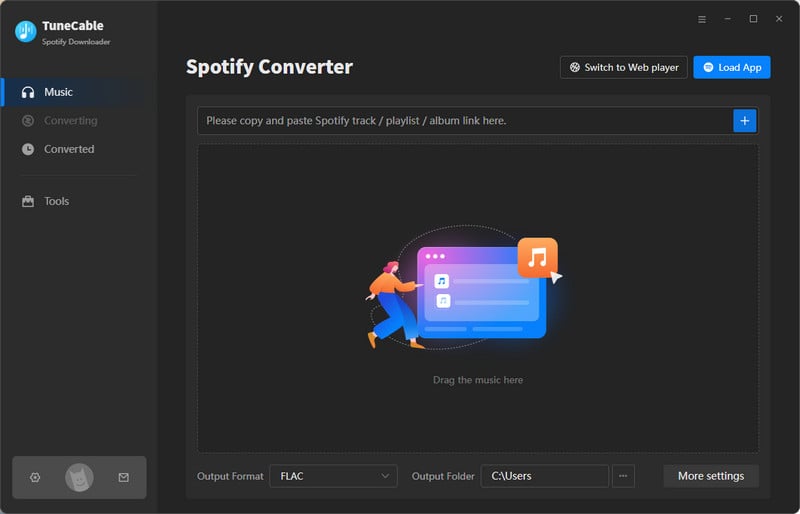 Step 2 Personalize the Output Settings
Click the Setting tab, and you will be able to personalize your output settings. You can choose MP3 as the output format, while other settings are also at your choice. If you do not have a special demand for bit rate/sample rate, please keep them in default settings.
Conversion Mode: Intelligent Mode, Spotify Record/Web Download, YouTube Download
Convert Speed: Can be adjusted from 1x to 10x under Spotify Record conversion mode
Output Format: Auto, MP3, AAC, WAV, AIFF, ALAC, FLAC
Bit Rate: 128kbps, 192kbps, 256kbps, 320kbps
Sample Rate: 44.1kHz, 48kHz, 96kHz, 192kHz
Output Folder: To your preference
Output File Name: Track Number, Title, Artist, Album, Playlist Index, Year
Output Organized: None, Playlist, Artist, Album, Artist/Album, Album/Artist, Playlist/Artist, Playlist/Album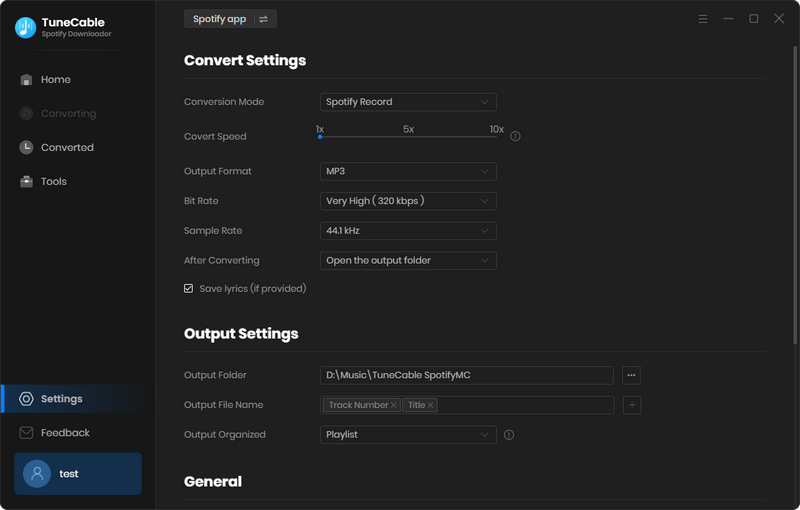 Step 3 Add Spotify Podcasts to TuneCable
If you are using the web player mode, simply open the podcasts and hit on "Click to add".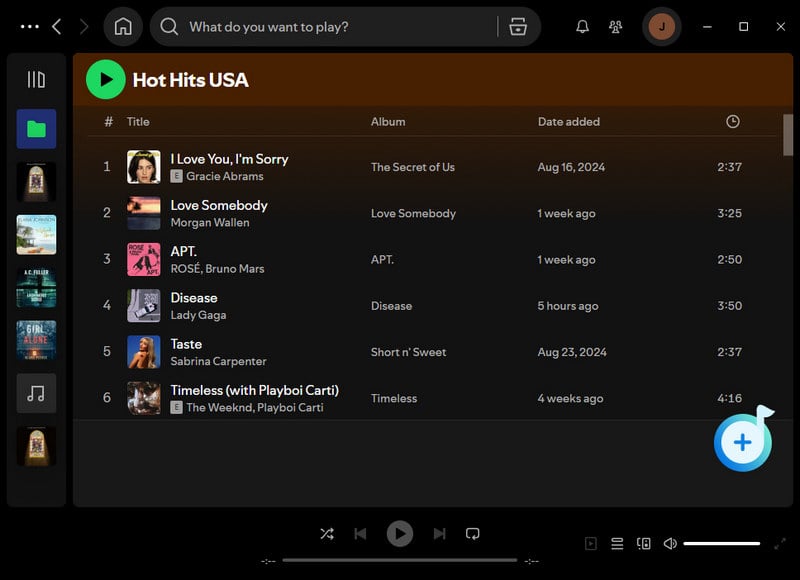 If you use the app mode, you have three ways to add Spotify songs. Search your favorite Spotify podcasts, then you can use one of the methods below to add them to TuneCable. You can drag and drop Spotify podcasts to TuneCable. You can copy the link from Spotify (Right-click on the tracks and choose 'Share' - 'Copy Link'/'Copy Spotify URL') then paste it to the input box in TuneCable. Press 'Enter', then the link will be parsed automatically. Besides, you can open the target podcast on the Spotify app and hit on "Click to add".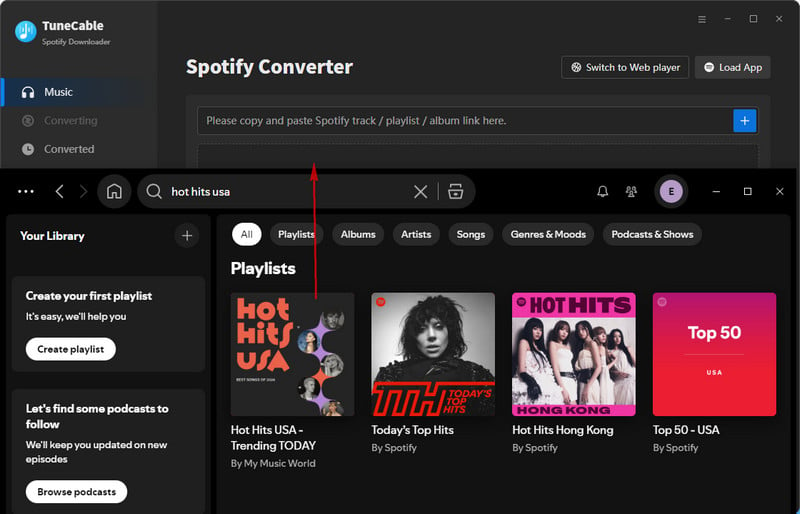 The podcasts will then be loaded on a popup. Click on "Add" after your selection.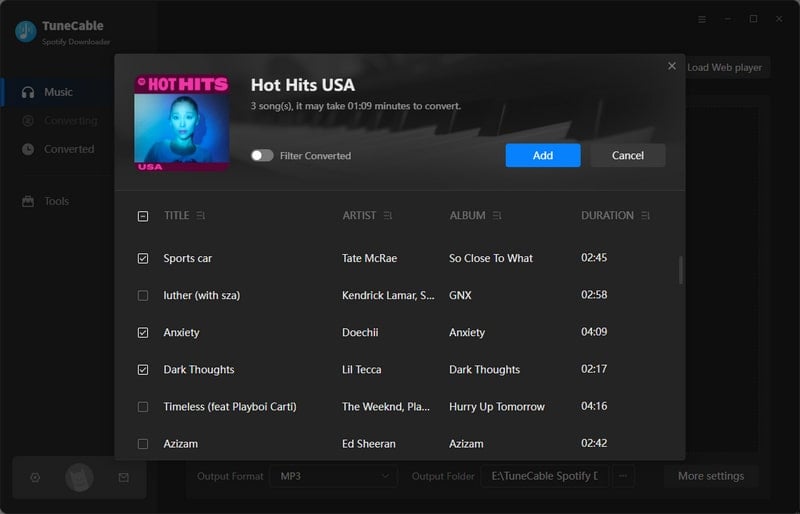 Step 4 Save Spotify Podcasts on PC
Click 'Convert', then you can start downloading Spotify podcasts to MP3. You can simply click the 'Add More' button if you need to convert more podcasts at one time. TuneCable supports up to 10X conversion speed (1x for the app mode on Mac), so it won't take a while to process the downloading.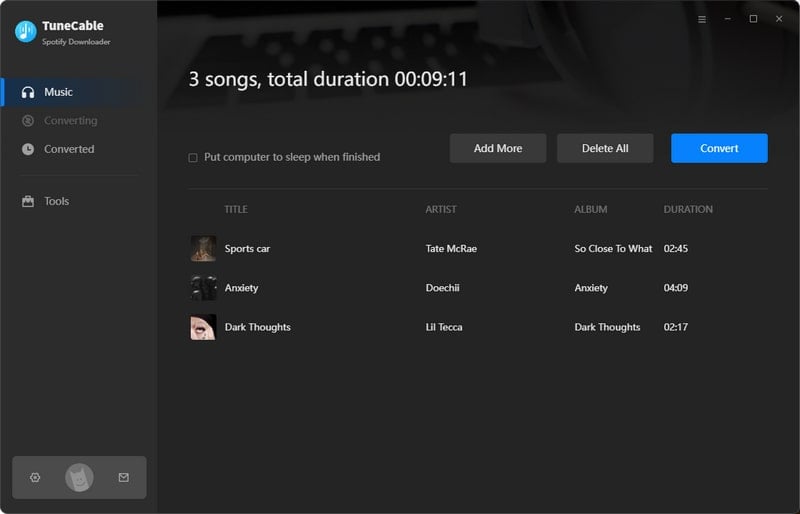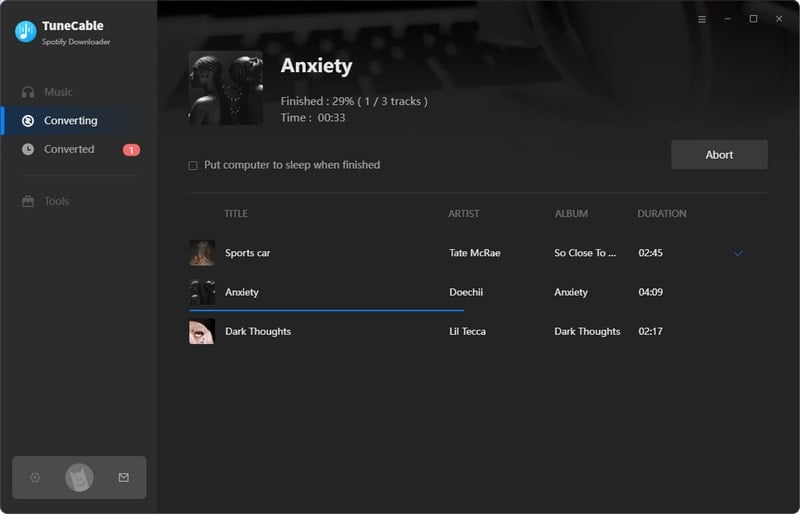 Step 5 Check the Downloaded Spotify Podcasts
Move to the 'Converted' section and click the file icon, then you will be directed to the folder you specify in Step 2.
Now you've successfully finished the conversion, and you can listen to Spotify podcast offline!
---
Summary
TuneCable Spotify Music Downloader can be the best tool to help you download Spotify tracks without Premium. Now you can forever save your favorite Spotify music/podcasts and enjoy them freely, even share them with your family members/friends. TuneCable is made to fix all your concerns about music techniques – let TuneCable clears the path for you, and all you need to do is to enjoy your favorite episodes!