✅ Part 1: Where to Find Downloaded Songs on Spotify for PC & Mobile Devices?
Spotify permits Premium users in downloading music offline. This feature is especially useful for those who may not have reliable internet access or wish to make better use of their data plan by avoiding streaming. With Spotify's convenient download option, users no longer need to worry about missing out on their favorite songs even when there is no network connection. But how do you locate the downloaded songs on Spotify and offline play them if needed? There are several steps that can be your guidance.
⇢ For iOS &Android Users: Play the Downloaded Songs on Spotify
Step 1: Unlock your device and start Spotify. Then on the main interface, navigate to "Your Library > Music".
Step 2: Here you can see a "green download icon" next to the downloaded playlists or albums. Now, you can play them when you are offline.
Step 3: If you want to listen to music without consuming any data, you can turn on the offline mode. Go to the main interface of Spotify, under the "Home" column, click on "Settings" and then choose "Playback". Then you can switch "Offline" on. After that, when you are playing songs on Spotify, the songs you haven't downloaded will be grayed out.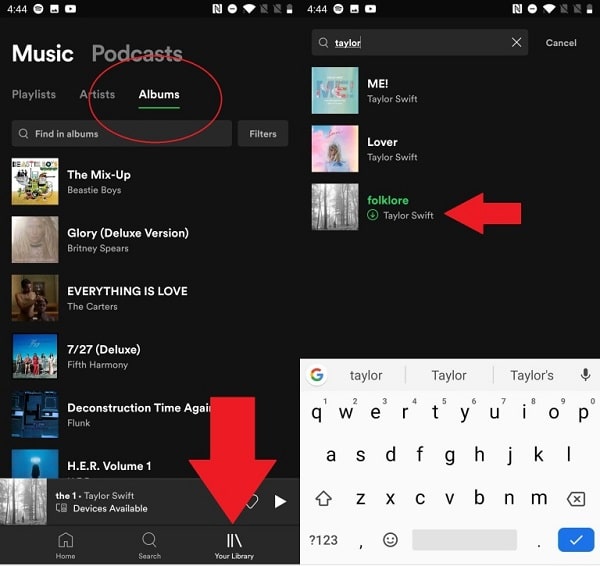 ⇢ For Mac &Windows PC Users: Play the Downloaded Songs on Spotify
There is no such option for you to filter the downloaded songs on the Spotify desktop app, but you can locate the Spotify downloads via offline mode.
Step 1: On your computer, start the Spotify app. Then go to the upper left, and click on the "three dots".
Step 2: In the pull-down list, choose File > Offline Mode. Then you can go to choose a playlist on the left sidebar to play offline. The songs you haven't downloaded will be unavailable.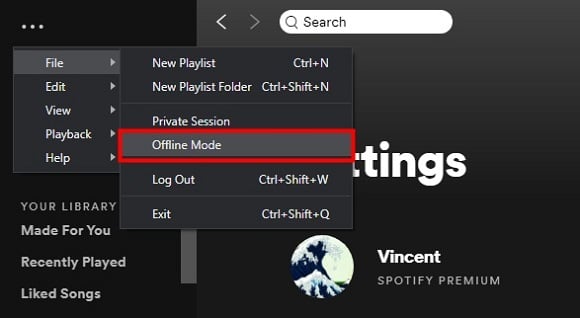 ---
✅ Part 2: Where Are Spotify Downloads Stored on PC & Mobile Devices?
It's important to note that Spotify does not store any downloads in the cloud - all content is only accessible via the device or PC it was downloaded on. Additionally, downloads are not transferred if you upgrade to a different device. If you want to know the exact location of your songs, follow us to have a quick overview of where Spotify downloads are stored on both PC and mobile devices.
⇢ Find the Downloaded Spotify Files on iOS &Android
You can only check the downloaded songs on Spotify and listen to them on an iOS device.
By default, on an Android device, the Spotify downloads will be saved in a folder called com.spotify.mobile.android.ui, and under this folder, you can go to Android/data/com.spotify.mobile.android.ui/files/spotifycache/Storage/ to locate the saved files. Also, you can check the saving path of Spotify downloaded songs via the Spotify app.
Step 1: Start Spotify on your Android device, then go to "Settings > Other > Storage".
Step 2: Under this section, you will see the storage location. Then you are enabled to find the Spotify downloaded files by following the path.
⇢ Find the Downloaded Spotify Files on Mac &Windows PC
On PC, Spotify downloads are stored in the local app data folder. This is usually located at: C:\Users\[User Name]\AppData\Local\Spotify\Storage. A simple way to locate this folder is to open "File Explorer" and then type %appdata% into the address bar and press enter. All of your downloaded music, playlists, and albums will be stored in this folder.
On macOS, you may find the cached Spotify files in this directory: /Users/ username/Library/Application Support/Spotify/PersistentCache/Storage.
If you still want to find the storage location via Spotify, please check the steps below:
Step 1: On the Spotify app, go to "Profile > Settings".
Step 2: Scroll down then you will see the "Storage" option, under this tab, click on "Offline songs storage". Now you can see where the downloaded files will be stored and you are allowed to change the saving path.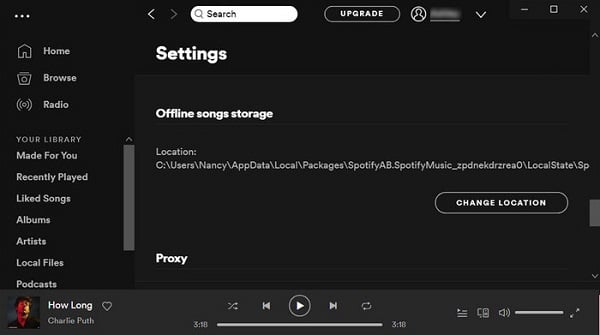 Note: Now you know where all of your downloaded Spotify files are stored. By knowing how to find the folder where your downloaded Spotify songs are stored, you can easily access and manage your music library. Unfortunately, it is not possible to transfer Spotify Downloaded songs from one device to another. Downloaded songs on Spotify are encrypted to ensure the security and privacy of your music library. However, there may be times when you want to remove this encryption from a single song or album so that it can be shared with others or transferred freely. To do this, you will need to use a third-party application that has the ability to remove Spotify's protection from downloaded songs. This type of application will provide a quick and easy way to remove the encryption and allow you to access your music without any restrictions. Let's nail down the specifics in the next part.
---
✅ Part 3: How to Remove DRM from Spotify Downloaded Songs
You need to back up your Spotify music library. This ensures that all of your playlists and songs will remain intact, even if something goes wrong with the local storage folder. However, it's important to note that these files are not meant to be accessed directly. You should always use the Spotify app or programs while trying to play the downloaded songs.
Even though you know the exact location of Spotify downloaded files, the recurrent auto-renewal to Spotify Premium could not be ended if you want to get access to the downloaded songs. What's more, the restrictions on Spotify downloading songs are not only reflected in offline listening, but also in not allowing these files to be transferred between different devices and used with other programs.
Diversified Spotify tools, such as TuneCable Spotify Music Downloader, will be available to resolve the problem. It helps download songs from Spotify and convert them to common local files with the full ID3 tags preserved perfectly, such as the title, artist, album, year, genre, track number, cover art, etc. When the conversion is completed, you have the right to move the local Spotify songs to any device and add them to other programs for editing or offline listening relish. More importantly, even if you are not subscribed to Spotify, signing up for a Spotify free plan is feasible too.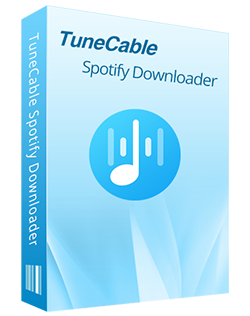 TuneCable Spotify Downloader

Download Spotify songs, albums, playlists, audiobooks, and podcasts to local computers.
Convert Spotify Music to plain MP3, AAC, WAV, FLAC, AIFF, and ALAC formats.
Retain the full ID3 tag information of Spotify songs like title, artist, album, etc.
Preserve 100% audio quality after conversion & save up to 320kbps sound quality.
Proceed conversion at up to 10x faster speed & export playlists in bulk.
Download ad-free Spotify songs with Spotify Free or Spotify Premium account.
Step 1 Run TuneCable Spotify Music Downloader
Prior to the installation of the TuneCable program, have a look at what OS you are running. The Window version and Mac version are available via the downloading buttons above. Choose the right one to install. After running TuneCable, select a download mode on the primary interface, you can use the Spotify app or the Spotify web player. The biggest difference is that the app mode can save 320kbps audio at 1x (for Mac) or 10x the speed, while the web player mode saves up to 320kbps at up to 10x fast speed. Then follow the tips to log into your Spotify account.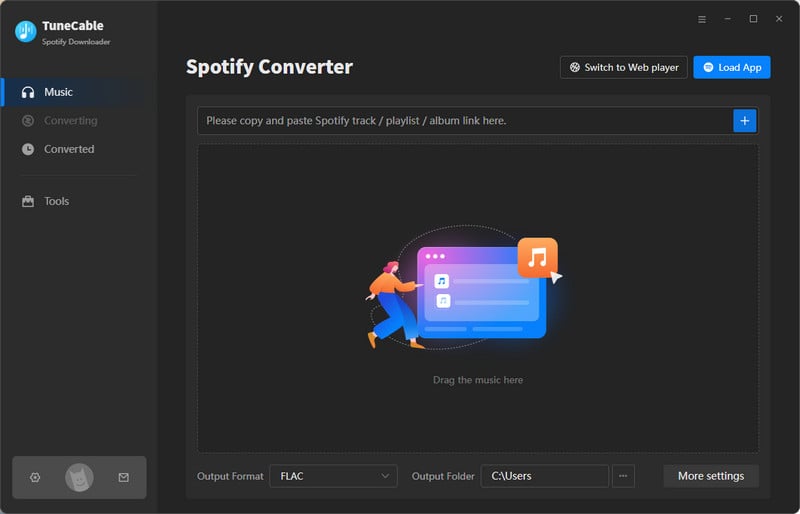 Step 2 Change the Output Parameters
Customization to the output settings is critical to download Spotify songs in the way you prefer.
Move to the "Settings" section, you will see available output settings. Adjust the parameters according to your need before entering a conversion.
To better organize the Spotify playlists, we can choose to export all songs in one playlist to one folder. Set "Playlist" in the "Output Organized" setting. Then the songs you download in this batch will be stored in one folder on the local PC.
To make sure the songs you've downloaded can be organized in the same order as the original playlist, you can add the "Playlist Index" option in the "Output Organized" setting.
The "AUTO" option in the "Output Format" ensures you can download songs from Spotify in the original format and quality. Since Spotify stores songs as MP3 files originally, the original format should be MP3. Or you can change the Output Format to MP3 manually.
Conversion Mode: Intelligent Mode, Spotify Record/Web Download, YouTube Download
Output Format: Auto, MP3, AAC, WAV, AIFF, ALAC, FLAC
Bit Rate: 128kbps, 192kbps, 256kbps, 320kbps
Sample Rate: 44.1kHz, 48kHz, 96kHz, 192kHz
Output Folder: To your preference
Output File Name: Track Number, Title, Artist, Album, Playlist Index, Year
Output Organized: None, Playlist, Artist, Album, Artist/Album, Album/Artist, Playlist/Artist, Playlist/Album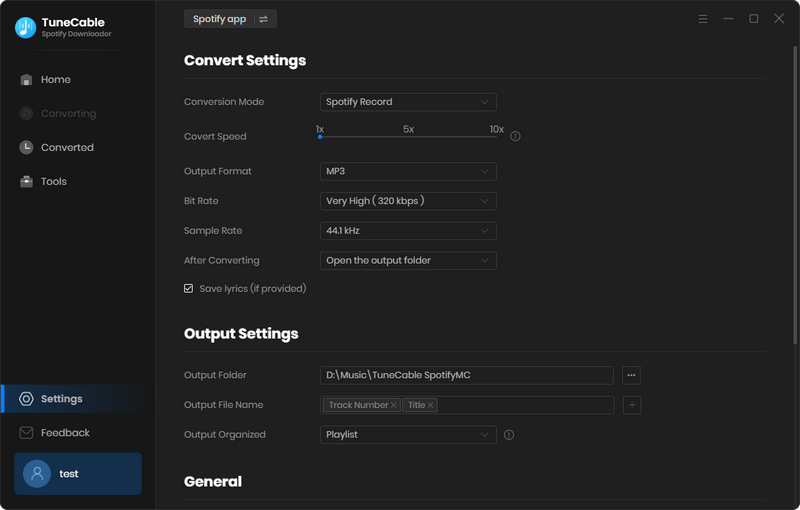 Step 3 Add the Wanted Spotify Playlists to Download
Except for downloading the Spotify playlists, you are also supported to download the desired individual track, album, or other audio files. If you use the Spotify app to download songs, to export a Spotify playlist, just open it and move the pointer cursor to its title, then drag it to TuneCable for parsing. If you use the Spotify web player, open the playlist, and click on the "Click to add" icon. The songs in the Spotify playlist will be loaded. Select what you need and click Add.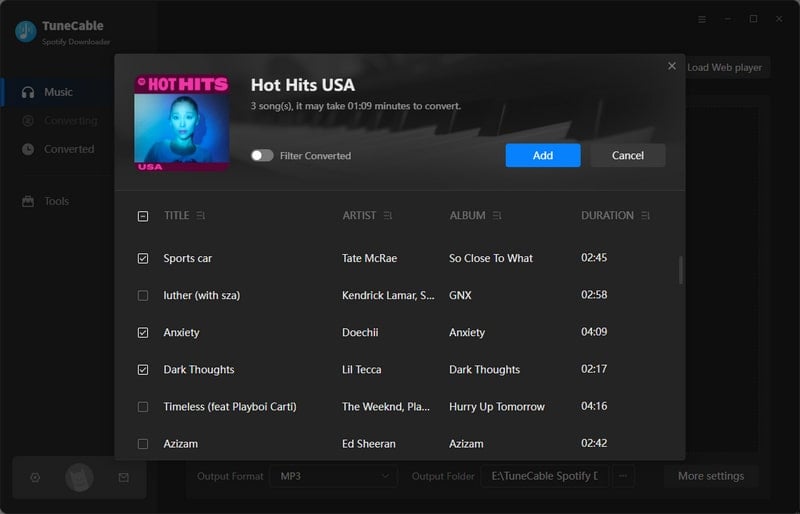 Step 4 Export the Spotify Playlists to Local Songs
There is still an option to download more songs from other Spotify playlists at once. Click the "Add More" button on this interface, you are enabled to add more songs. But if you tend to export one Spotify playlist in one batch for better sorting, you should stop adding more tracks. Finally, start the conversion by clicking on the Convert button. It will trigger a fast conversion instantly. Just repeat the steps until you get all preferred Spotify Playlists exported successfully.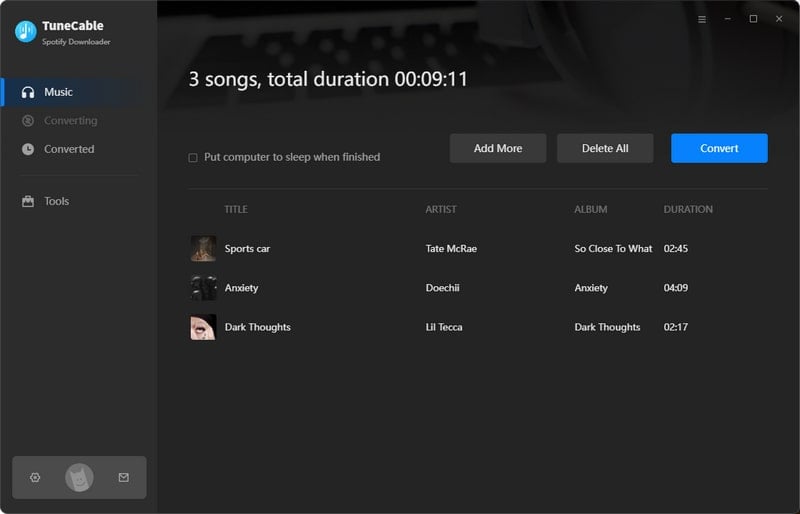 Step 5 The Spotify Playlists Are Stored Permanently
When it completes the conversion, the output folder will pop up. You will see all songs in your favorite Spotify playlists are stored as DRM-free MP3 songs with the title, artist, album, year, genre, track number, cover art, and other track information retained. Another way to check your download is go to the "Converted" module on TuneCable and click on the file icon within the item.
---
✅ Part 4: More Tips About Spotify Downloads
After downloading Spotify songs as local files through the help of TuneCable in the previous part, you have more options. TuneCable Spotify Music Downloader is more than just a converter, it provides Spotify users with more embedded tools. There are a few things you may want to follow:
⇢ How to Burn the Downloaded Spotify Songs to CDs?
Open TuneCable Spotify Music Downloader, then go to Tools > Burn CD. Then you just need to add songs from the local PC and burn them into a CD.
⇢ How to Edit the Tags of the Downloaded Spotify Songs?
Open TuneCable Spotify Music Downloader, then go to Tools > Tag Edit. Afterward, you can import a song from the local PC and edit the artwork, title, artist, album, genre, year, and track number.
⇢ How to Upload the Downloaded Songs to iTunes?
Open TuneCable Spotify Music Downloader, then tap on "Converted". In this section, you will see the recently converted Spotify songs. Tick off the tracks you want, then click on "Export to iTunes" after hitting on the four-square menu icon above the items. Then follow its on-screen instructions.
⇢ How to Upload the Downloaded Songs to Spotify?
Find the converted Spotify songs on your computer, then open Spotify. On Windows: Click the "..." at the upper left corner, and choose "Edit > Preferences". On Mac: Click "Menu" in the upper right corner, and choose "Spotify > Preferences". Then scroll down, and turn on the 'Show Local Files' option. Then tap on the 'ADD A SOURCE' button to import songs to Spotify. You can follow more detailed steps here>>.
---
✅ The Verdict
Knowing the exact location of your songs can be helpful if you ever need to troubleshoot or back up your music library. But Spotify only caches the songs with encryption on your device or computer. There is another solution to download songs from Spotify. That's to export the Spotify playlists to common formats with TuneCable Spotify Music Downloader. After that, you can make full use of the downloaded Spotify songs and unlock unrestricted offline playback. Give TuneCable a free trial and see what will surprise you the most. If this tutorial is helpful, please share it with people around you.