Final Cut Pro is a professional video-editing tool produced by Apple and commonly used by editors and filmmakers around the world. Editing audio is a strong point of Final Cut and this software comes with a library of royalty-free sound effects and supports many plug-ins. But the downside is that it only available for Mac users and it's very hard to add streaming music, such as Spotify music and Apple Music.
If you think that adding a music soundtrack and editing in your video project isn't that difficult, you probably haven't tried adding music from Spotify to Final Cut Pro. Because all Spotify music files are strictly controlled by the platform. Even paid users can't take the downloaded songs and playlists outside of its apps. Paying for a streaming service doesn't mean you own the music and can use the downloaded music in your video project. If you have tried to import Spotify music to your video project on Final Cut Pro but no success, then it's time to troubleshoot it. In this article, we would let you know how to add Spotify music to FCP in a fast and hassle-free way.
How to Download Spotify Music and Keep up to 320kbps Audio Quality?
What's the easiest way to import music from Spotify to Final Cut Pro? Is there a way to use Spotify audio in FCP by downloading Spotify music to MP3 format as well as keep the extreme audio quality (320kbps)? To do that, you can use a reliable Spotify Music downloader. Since there is plenty of software out there, we'll highlight a reliable Spotify Music converter we think you'll love.
TuneCable Spotify Music Converter (For Mac | For Windows) is a tool that enables you to convert Spotify playlists, music, albums, podcasts, and radios to a variety of formats, including MP3, AAC, WAV, FLAC, AIFF or ALAC. With this program, you can quickly download Spotify music for burning to your CD or uploading Spotify music to iTunes. It enables you to download Spotify music files to plain audio format with just a few mouse clicks. Even if you are Spotify Free users, you can use this program to easily extract the MP3 audio from Spotify songs for offline playback.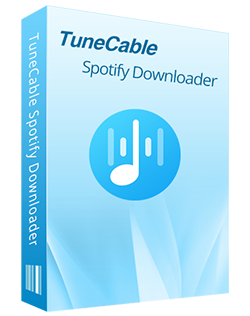 TuneCable Spotify Downloader

🔹 Download Spotify songs, playlists, albums, and podcasts.

🔹 Convert Spotify's music to MP3/AAC/WAV/FLAC/AIFF/ALAC.

🔹 Retain full ID3 tags & Spotify original audio quality.

🔹 Run at 10x faster conversion speed & batch download.

🔹 Sort Spotify music files by playlist, artist, album, etc.

🔹 Offer tools (Format Converter, Tag Edit, etc.) & save lyrics.

🔹 Activate the permanent playback of Spotify music.

🔹 Support Spotify Free or Spotify Premium account.
Step-by-Step Tutorial: Download and Add Spotify Music to Final Cut Pro
Let's start with the six steps to importing Spotify music to the FCP. 
Step 1 Launch TuneCable Spotify Music Downloader on Mac
For the first beginning, please make sure you have downloaded and installed TuneCable Spotify Downloader on your Mac. When you launch the TuneCable Spotify Music Downloader, you will be greeted with the main interface and two download modes, app mode and web player mode. The app mode needs the Spotify app to work and saves up to 320kbps audio quality at 1x to 10x the speed, while the web player mode works via accessing the built-in Spotify web player and can keep the original quality of Spotify songs at up to 10x fast speed. Just select a mode to your preference, and then log in to your Spotify account.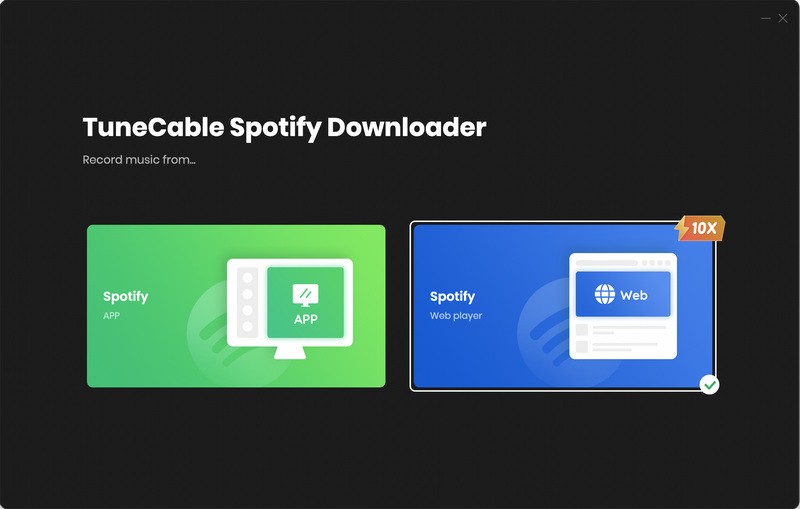 Step 2 Add Spotify Tracks to TuneCable
Next, add your target Spotify songs to TuneCable. If you are using the web player mode, open the target playlists/albums, and click on "Click to add".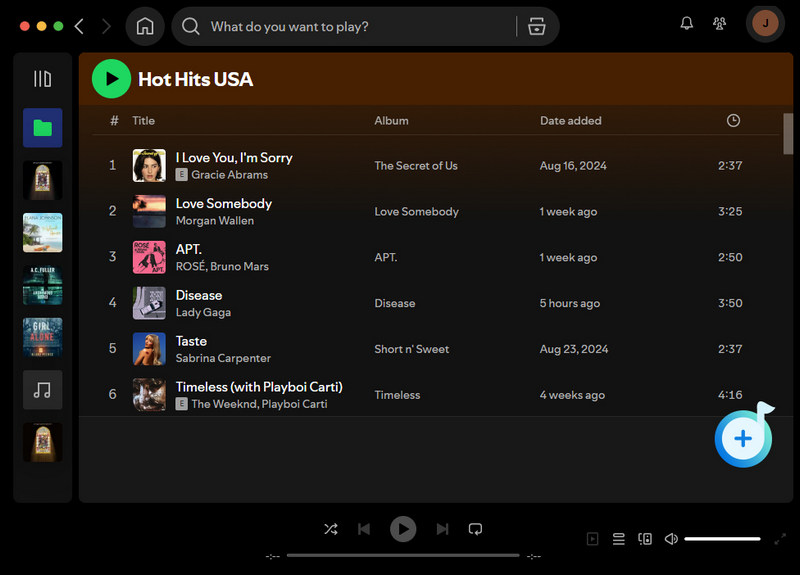 If you are using the app mode, directly drag & drop a Spotify track or playlist to the TuneCable Spotify Downloader.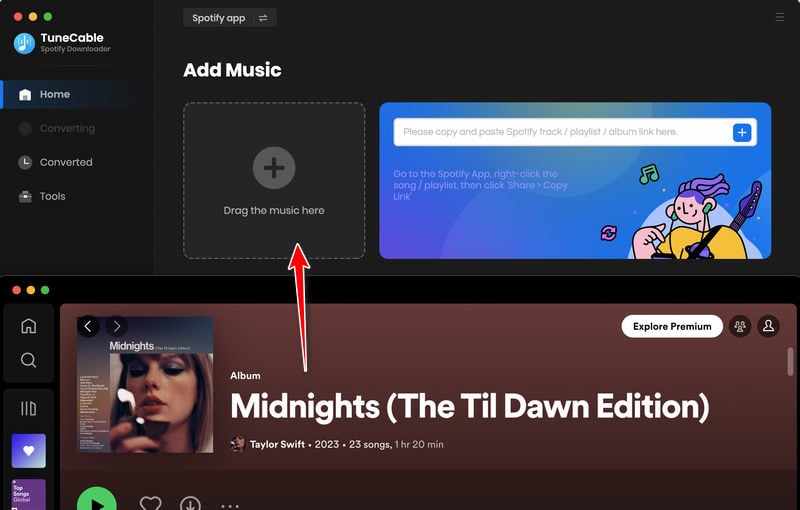 TuneCable will load the songs on a popup. Pick your songs and click the "Add" button to confirm your selection.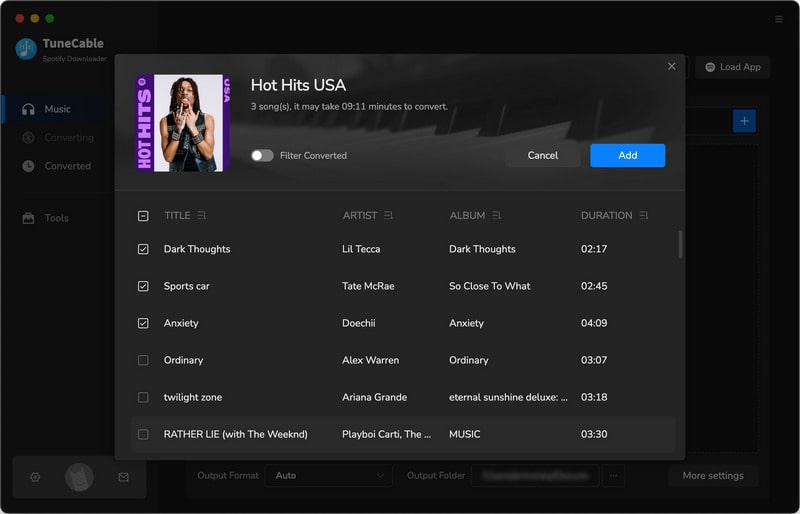 Step 3 Customize Output Settings
Click the "Setting" tab from the left bar to customize output settings. TuneCable offers MP3/AAC/WAV/FLAC/AIFF/ALAC as the conversion format, choose one of them. Customize other output settings such as conversion mode, output quality, name the output file name if needed. Then close the window directly to apply the settings.
Conversion Mode: Intelligent Mode, Spotify Record/Web Download, YouTube Download
Output Format: Auto, MP3, AAC, WAV, AIFF, ALAC, FLAC
Bit Rate: 128kbps, 192kbps, 256kbps, 320kbps
Sample Rate: 44.1kHz, 48kHz, 96kHz, 192kHz
Output Folder: To your preference
Output File Name: Track Number, Title, Artist, Album, Playlist Index, Year
Output Organized: None, Playlist, Artist, Album, Artist/Album, Album/Artist, Playlist/Artist, Playlist/Album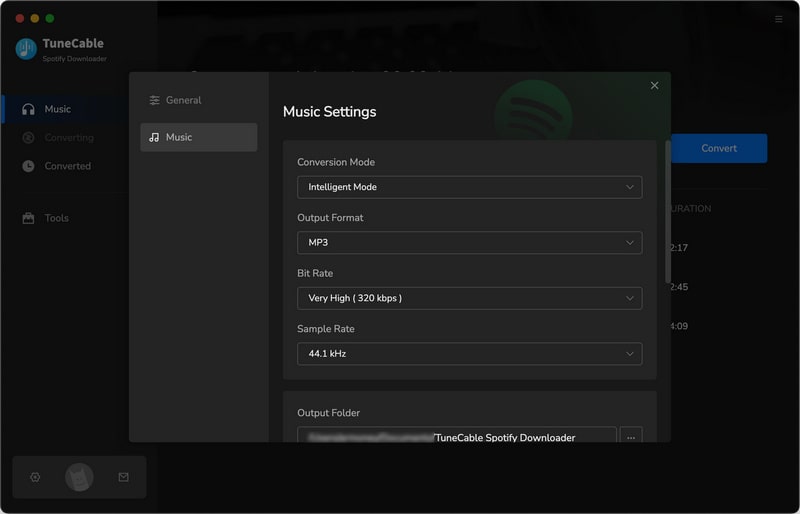 Step 4 Start Converting Spotify Songs
And now, you can click on the "Convert" button to download Spotify Music to your Mac.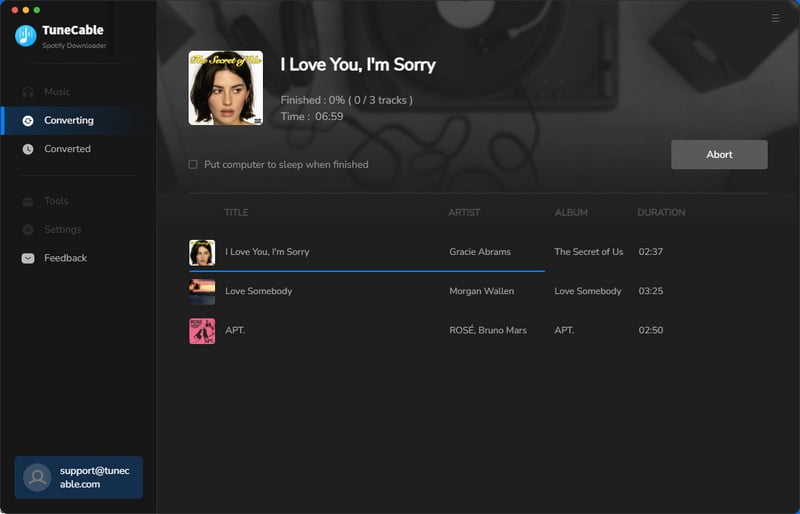 Step 5 Find Well-Converted Files
When finished, navigate to the "Converted" panel to view the downloaded Spotify music files. Here you can play these songs in TuneCable directly.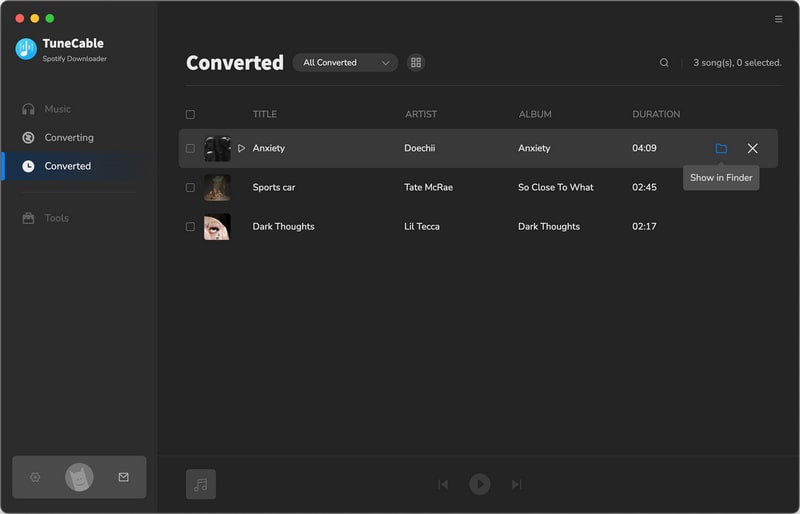 Step 6 Add Spotify Music to Final Cut Pro
Now it's time for you to import the converted Spotify music to your video clips in Final Cut Pro. After launching your Final Cut Pro, You can quickly add those as background music by dragging them into the timeline you've created.
That's it. What seemed impossible, just a few minutes back, is now possible. By using a reliable Spotify music downloader like TuneCable Spotify Downloader, you can easily convert music from Spotify and save them as an MP3 file for use in your Final Cut Pro. This method works all the time!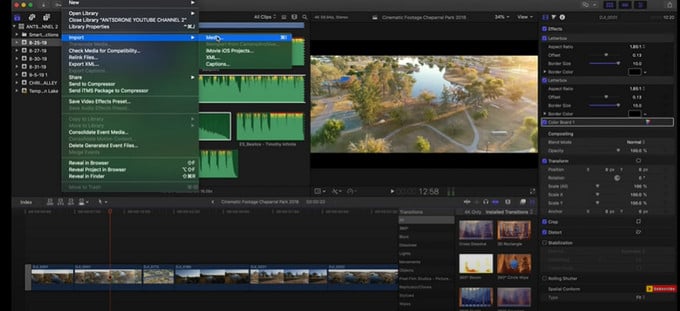 ---
Summary
This is the easiest way you can find for helping you add Spotify songs to Final Cut Pro. TuneCable Spotify Downloader enables you to download batches of Spotify tracks and playlists. Besides that, you can download the whole Spotify playlist and export it with the original order. Downloaded Spotify files can be used in your Final Cut Pro as background music for your project.