Notwithstanding being interrupted by ads from time to time, Spotify proposes streaming online merely with a Free Plan. However, it's overt that you need to join the Premium group before unlocking the offline playback of more than 3.25 million tracks, as claimed by the Spotify official.
The Android phone become a necessity for a large proportion of people around the world. It's seen everywhere. Combining a portable Android phone with Spotify will be a great experience for music fans. The enjoyment of music dispels stress and upset when off from their daylong work.
However, during the commuting period, the only thing missing is a stable network connection. Offline playback of Spotify music via your carry-on Android phone ensures the quality of the pastime. This post targets a crowd of people who relish offline listening to Spotify music on their Android phones as it depicts how to download songs, albums, and playlists from Spotify Music to an Android phone for perpetual playback even in the case of being unconnected to WiFi or data.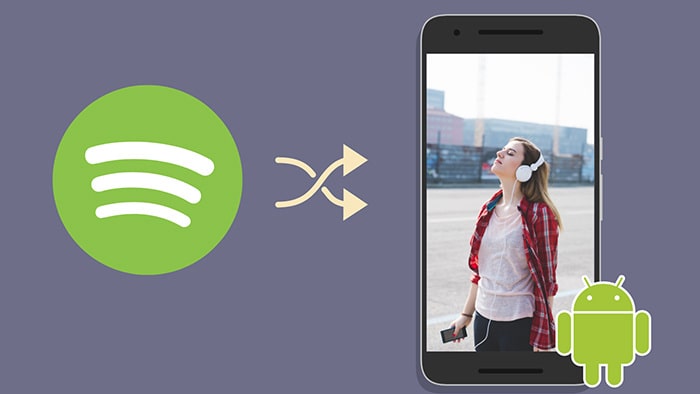 ✅ Part 1: Download Spotify Music to Android with Premium
You are supported to download your preferred songs, albums, playlists, and podcasts from Spotify to your Android phone for offline listening as long as you have an active Premium account. Check the detailed steps below.
Step 1: Get physical access to your Android phone and open the Spotify Music app.
Step 2: Move to the "Library" section in the bottom right corner. Then simply open any album or playlist you want to download.
Step 3: For Android users, tap the "Download" toggle to trigger the process. (For iOS users, tap the "clear arrow".)
Step 4: Immediately, you will see a green arrow that indicates successful downloading.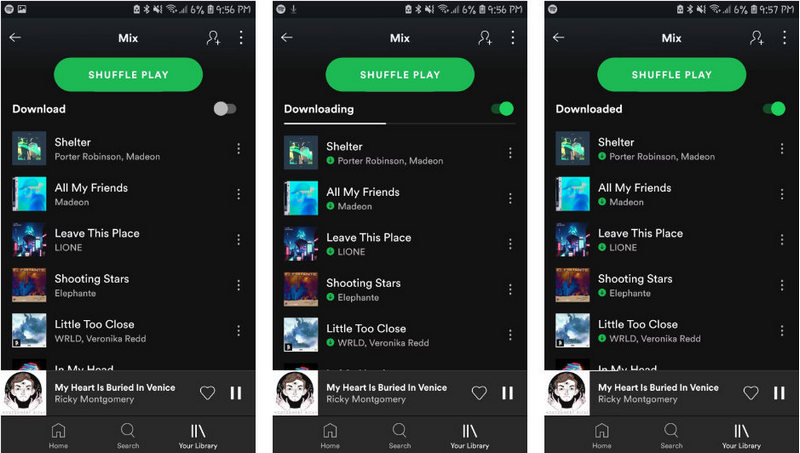 ⁉ Spotify Download Limitations:
When downloading Spotify music to an Android phone by using the solution above, there are two other conditions to be aware of.
1. To keep your downloaded music playable, you have to go online at least once every thirty days. Otherwise, Spotify will think of your account as an inactive account then you may lose the Premium access when missing the deadline. Therefore, Syncios will remove the songs from your device by default.
2. There's also a 10,000 song download limit across a maximum of five devices. Provided that you get Spotify Music tracks downloaded on the sixth device, you will be deprived of prior downloading. Especially, Spotify will delete the downloads from the device that hasn't been used for the longest period.
No more limitations, next, let's skip to unrestricted offline playback of Spotify music on your Android phone.
---
✅ Part 2: Download Spotify Music to Android for Offline Playback Forever
To get rid of Spotify download limitations, to acquire offline downloading even without a Spotify Premium plan, and to make offline playback available forever on the Android phone, we look into another possibility.
Is there any way to rip songs from Spotify and decrypt them? The full score answer sheet is handed over by TuneCable Spotify Music Downloader. This converter is crafted for downloading any track and playlist from Spotify in the common MP3/AAC/WAV/AIFF/FLAC/ALAC format without losing the original quality.
The converted Spotify Music tracks can be transferred to any portable device or used with most programs. Moreover, you will get the liberty of playing Spotify music on any device at any time. Even without the Spotify Music app, you can easily play them via other common media players.
Furthermore, the comprehensive converter completely preserves the full ID3 tags of the downloaded Spotify Music tracks, including title, artist, album, year, track number, genre, etc. You will never need to waste a lot of time navigating to the wanted Spotify track after transferring to a portable device, for instance, your Android phone.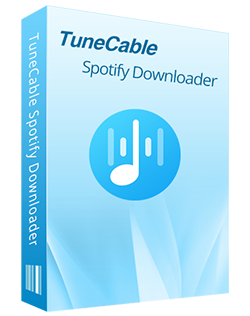 TuneCable Spotify Downloader

Download Spotify songs, albums, playlists, audiobooks, and podcasts to local computers.
Convert Spotify Music to plain MP3, AAC, WAV, FLAC, AIFF, and ALAC formats.
Retain the full ID3 tag information of Spotify songs like title, artist, album, etc.
Preserve 100% audio quality after conversion & save up to 320kbps sound quality.
Proceed conversion at up to 10x faster speed & export playlists in bulk.
Download ad-free Spotify songs with Spotify Free or Spotify Premium account.
Step 1 Run TuneCable Spotify Music Downloader
Download and install this handy TuneCable Spotify Music Downloader via the downloading buttons above. After running this program, you can choose a download mode - app or web player. The largest difference between them is that the app mode can save 320kbps quality at 1x (for Mac) or 10x the speed, while the web player mode can save the original quality at up to 10x the speed. Then follow the instructions to log in to your Spotify account.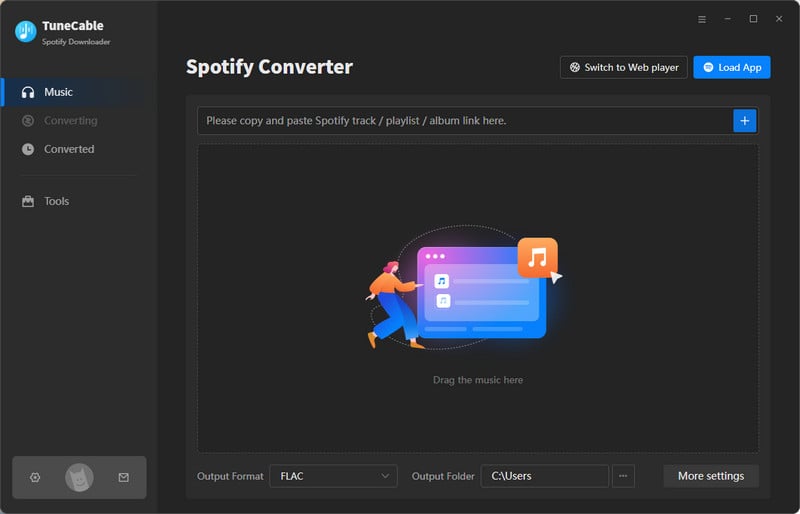 Step 2 Change the Output Parameters
Look up to the "Settings" interface to check the available output settings, where you are enabled to change the conversion mode, output format, bit rate, sample rate, conversion speed, output folder, output file name, and output organized manner.
For organizing all songs from a playlist into one music folder, you can choose "Playlist" in the Output Organized setting. Other settings can be changed according to your request. After downloading the songs from Spotify via TuneCable a few times, you will understand how to customize the parameters in a preferably.
Conversion Mode: Intelligent Mode, Spotify Record/Web Download, YouTube Download
Output Format: Auto, MP3, AAC, WAV, AIFF, ALAC, FLAC
Bit Rate: 128kbps, 192kbps, 256kbps, 320kbps
Sample Rate: 44.1kHz, 48kHz, 96kHz, 192kHz
Output Folder: To your preference
Output File Name: Track Number, Title, Artist, Album, Playlist Index, Year
Output Organized: None, Playlist, Artist, Album, Artist/Album, Album/Artist, Playlist/Artist, Playlist/Album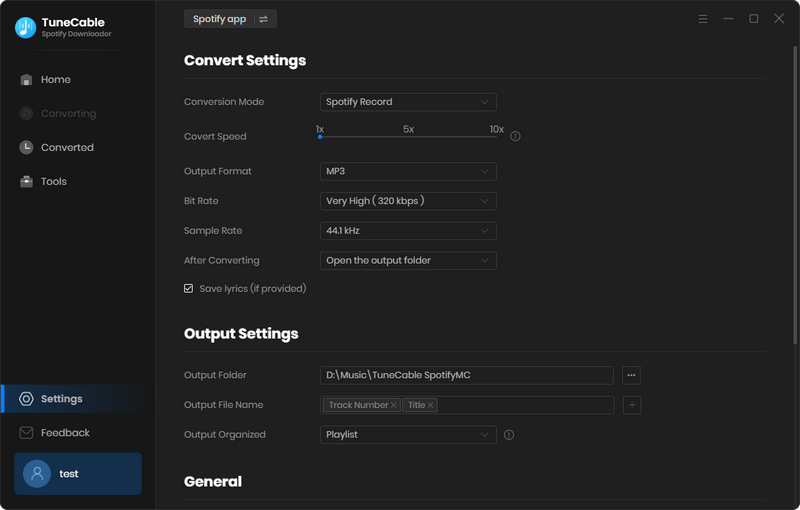 Step 3 Add the Wanted Spotify Songs to TuneCable
If you use the Spotify Music app, have a look at your desired individual track, album, or playlist, move the pointer cursor to its title, then drag it to TuneCable for parsing. If you use the web player mode, open your wanted songs and hit on "Click to add". It will show you a list of the parsed Spotify songs on TuneCable waiting for your selection. Select the wanted options then click Add.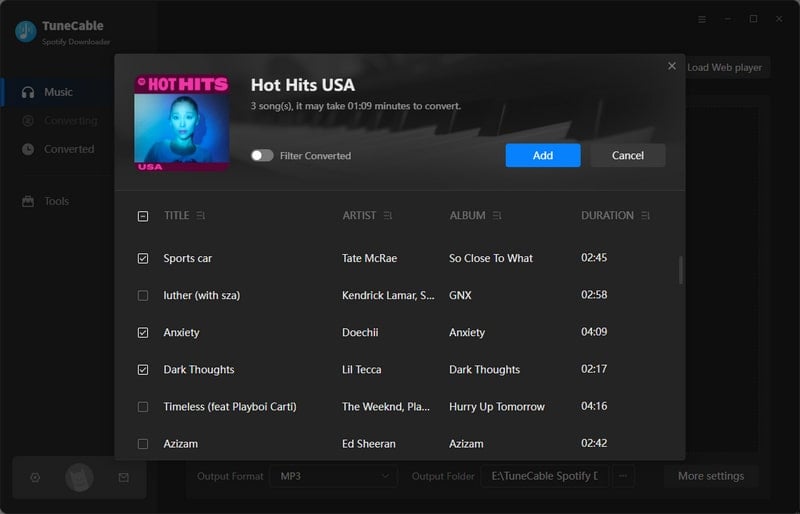 Step 4 Start Converting Spotify Tracks to Local Songs
For converting more songs from other playlists in bulk, click the Add button in the interface. If you end up adding more songs, start the conversion instantly by hitting on the Convert button. A stable network connection enhances the chance of a faster conversion.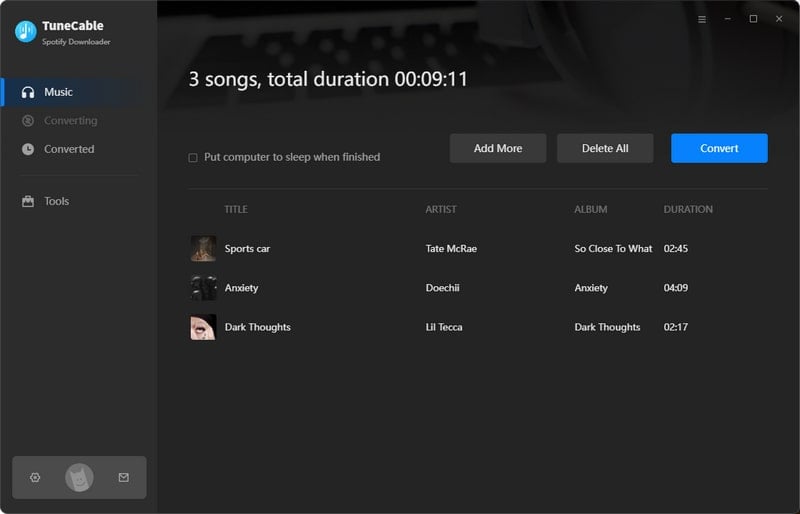 Step 5 Import the Spotify Songs to Android Phone
Once TuneCable finishes the conversion, you can navigate to the "Converted" tab and the output folder and check the downloaded Spotify songs on the local computer.
Connect your Android phone to the computer. On the phone's main screen, swipe down from the top, then go to the "Connection mode / Settings" and change the connection mode to "Transfer File or MTP".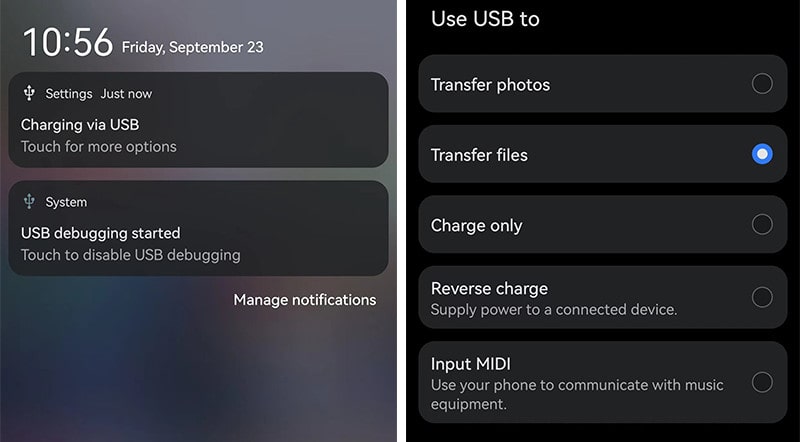 After the Android phone is connected well, simply go to "This PC" then open the "internal storage" of the Android phone and open its "Music" folder. Then copy the Spotify Music folders from the computer to the "Music" folder. Then you can disconnect your phone from the computer and enjoy the free playback of Spotify music on your Android phone.

---
✅ Part 3: How to Offline Play Spotify Music on Android
After importing the converted Spotify songs to your Android phone, you may wonder where to locate these newly imported Spotify tracks and listen to them freely. Let's walk through it.
Step 1: Open any Music app or media player on your Android phone. Then go to its Library, and choose "All songs" or "Local songs" section.
Step 2: By default, the newly imported Spotify songs will be loaded on the music list. If not, go to the top menu, then tap an option like "Scan local songs" to load songs from the local space.
Step 3: After a while, the music list will be refreshed. Then you can offline play the newly added Spotify songs.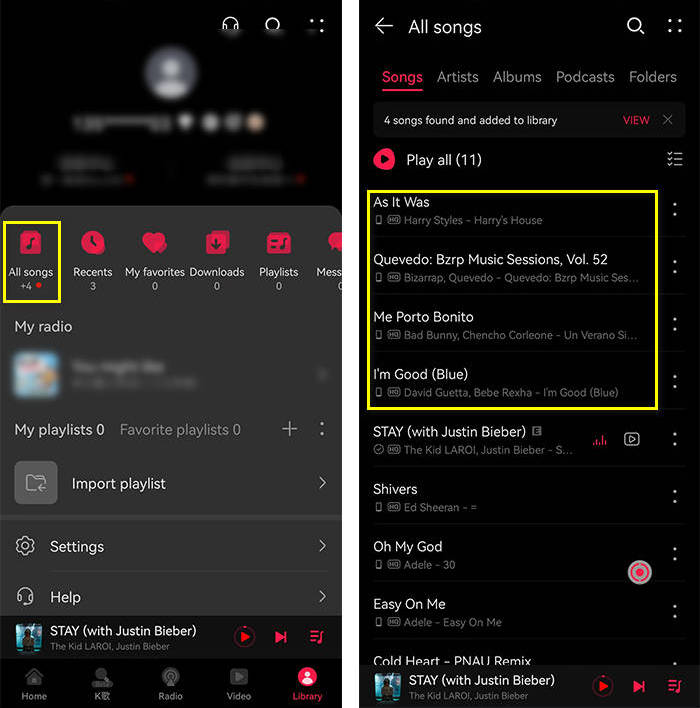 ---
The Verdict: The Android phone keeps company with you all day and plays a significant role in your life. In this post, we try to store your favorite Spotify songs on your Android phone and make it more entertaining to spend time with your phone. TuneCable Spotify Music Downloader does you a favor regarding extracting songs from Spotify and keeping them for a permanent offline playback. If you haven't used it before, you may test it out for a free trial! If this tutorial is helpful, please share it with people around you.