Top 5 Free Spotify MP3 Converter in 2022
What to do with your Spotify music if you cancel your Spotify Premium in 2022? Instead of turning to other streaming music brands, choose to convert your Spotify music as MP3 files, so that you can still free enjoy your Spotify music offline with no extra payment at all. With so many good ways and tools recommended to convert Spotify as MP3 format, I still compliment on TuneCable Spotify Music Downloader as your priority choice, for its seamless conversion and effective process. Below I will describe the specific steps of each method, you can read carefully, choose one of the methods to practice.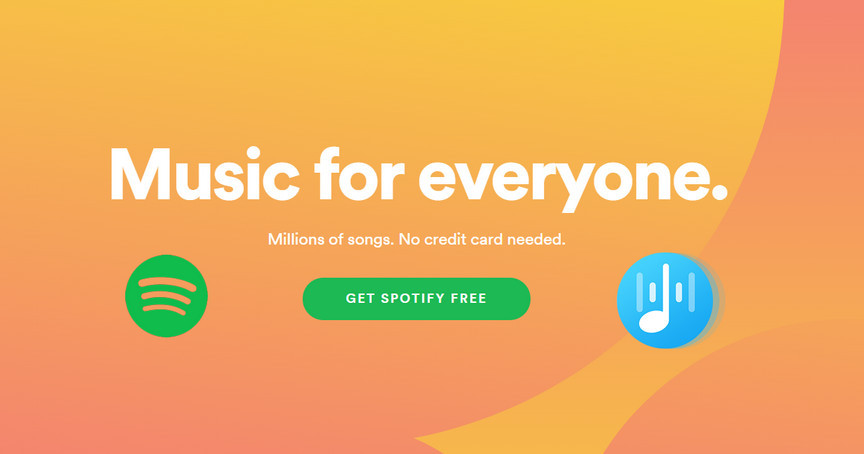 ---
Method 1: Spotify Music Downloader
TuneCable Spotify Downloader is a professional music converter. And it also allows you to filtrate the ads with ease. This tool make it possible to convert your Spotify playlists to MP3/WAV/AAC/FLAC/AIFF/ALAC formats and automatically download them into your PC offline. Now let's go and practice the steps:
Step 1:Download and install TuneCable Spotify Downloader. Then have it run when the main interface firstly indicates messages to "Drag & Drop" Spotify song or playlist to TuneCable" or "Copy and paste" the playlist links to add the music tracks into the Spotify Music Downloader. Just do as the TuneCable insturcts. And then TuneCable Spotify Music Downloader will load your desired Spotify playlists as the converting target.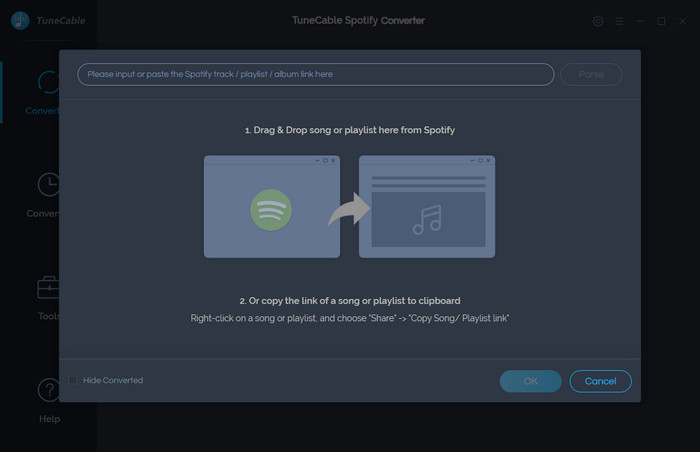 Step 2: After adding your playlists from Spotify to TuneCable, please navigate to Settings section upper right the main interface. Here, you are able to tailor the Output Format like MP3, AAC, WAV, FLAC, AIFF, ALAC format. To convert songs to MP3, check the box in front of MP3 option. To minimize your waiting time of conversion, choose 1*Speed option to fasten the process in necessary. If you have a requirement for naming conventions of the exported songs. Output File Name setting provides an easy way to remember the converted songs. Songs can be named in Track Number, Title, Artsts, Album order.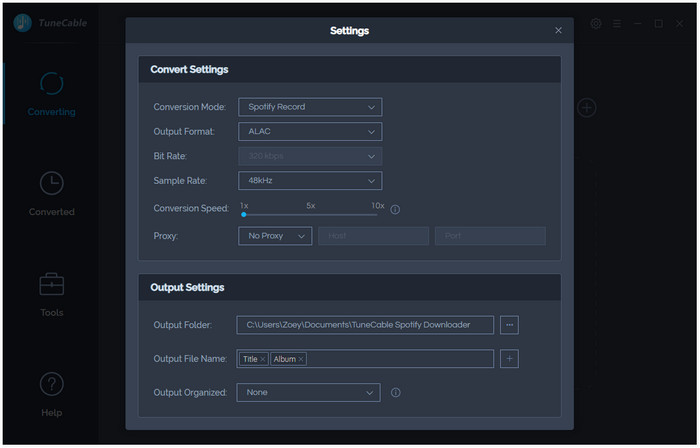 Step 3: Now put the settings into effect by tapping on the Convert button. Any time spent by a conversion is up to how many songs are to convert at a time.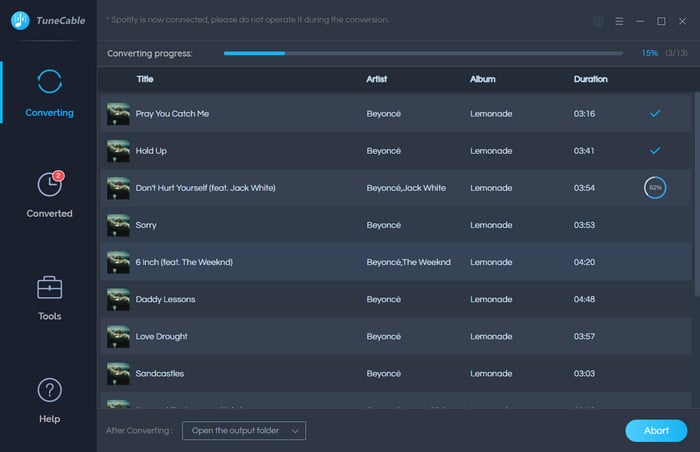 Step 4:At present, you can guide yourself to converted to preview completed music. By kicking on the folder icon to enter the local files on PC. TuneCable as well builds in a transfer function so you can tap the "Upload & Share" command to sync the converted music to your iTunes or OneDrive .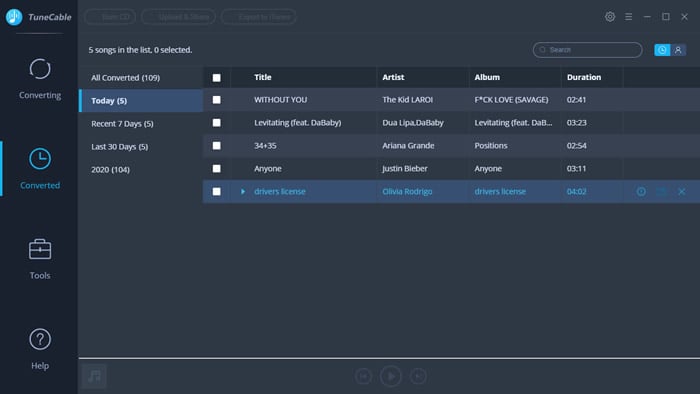 1. Ads are totally filtrated when you get the newly converted songs, so you can better enjoy listening to music uninterruptedly. When you put the music into a certain music player, you can freely change the play track as you want.
2. You can use TuneCable Spotify Downloader to one-click upload the converted songs to iTunes, burn them into CD, or sync them to your cloud storage like OneDrive.
Cons: For trial users, TuneCable only allows to convert the first 3 minutes of each song. To enjoy the complete Apple Music tracks for offline listening, please buy the full version!
---
Method 2: Chrome Deezify
If you have known the extension of Chrome, you will be more comfortable using this tool--- Deezify is able to match and download any track from your favorite streaming music service from a host of websites inclusive of Deezer, Xbox, and Spotify. The Spotify music you downloaded can be stored as MP3 format seamlessly. So it is as well quite convenient for you to play it on the computer or your mobile phone without limits.
Step 1:Select Tools > Extensions on the very end of the Location Bar in the Chrome browser and click on "Chrome Web Store".
Step 2:Next, go to the Chrome Web Store and google Deezify aimed to install it on your Chrome browser.
Step 3:Run Spotify in the browser and play your favorite music, then Deezify will automatically recognize the playlists tracks and get them converting to MP3 format files.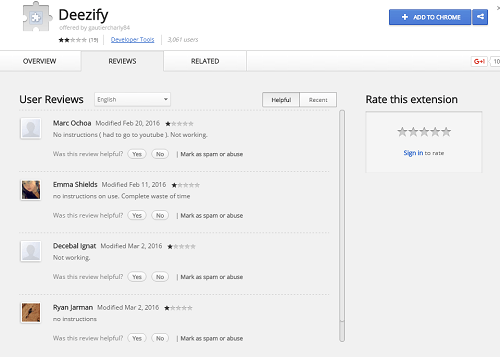 Pro: It is a totally free charge web application on Google Chrome, so you don't need to subscribe or pay for it.
Con: Sometimes works. Sometimes it does not work as expected.
Method 3: Spoty-mp3.com
This is a direct website providing online video formats conversion. So is your Spotify music to MP3 format. And learn the easy step below to have your MP3 Spotify music.
Step 1: Copy the Spotify music links, whatever on your Spotify web player or on the application on your computer.
Step 2:Guide to Spoty-mp3.com on a browser, and then paste the URL which you have just copied to the blank box in the middle.
Step 3:Tap on the key "Search" button to instruct Spoty-mp3 to analyze the URL of the music, and then make a list of music relative.
Step 4:Choose the song you want and click the "Download" button on the music list, so you can get the music download in just a few minutes.
Note: Spoty-mp3.com is current no available because of server issues. If it comes back online, we will keep you updated.
Method 4: Playlist-converter.net
Playlist-converter.net is a free online app allows you to convert Spotify playlists and other services like Deezer, YouTube, etc. It enables you free convert Spotify music to MP3 format without installing any extra software.
Step 1:Firstly open the website and then click Spotify panel. You'll be asked to log into the Spotify account firstly.
Step 2: Next choose a playlist you created in your Spotify account and begin to convert it to MP3 format.
Step 3:Then it will generate the converted playlist with the Download button. You only need to click the Download button to access the converted Spotify music without hassle.
Pro: 1. A free online Spotify converter MP3 tool; 2. Support different music streaming sites.
Cons: 1. It takes much time to download and convert the Spotify playlist; 2. Output quality could be poor.
Summary: This is hard for us to clearly rank the first and the last. For my experience, I have been a loyal of TuneCable Spotify Music Downloader. With it, I can not only convert my desired music to MP3 effectively. But also smoothly upload these songs to any cloud storage like iTunes or OneDrive. Every time it gave a satisfying result even though a long list of Spotify songs. So if you want my high recommendation, choose TuneCable Spotify Downloader absolutely.
Tool 5: Streaming Audio Recorder
Want to save audio files from streaming music site in an easy way? AudiCable provides the best solution to record audio with best quality, supports to keep audio files in different formats so that you can save on devices without any limitation.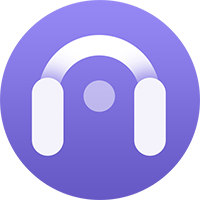 AudiCable records and converts songs from kinds of streaming music apps to plain MP3/AAC/WAV/FLAC/AIFF/ALAC format, including Spotify, Amazon Music, Apple Music, Line Music, Deezer, Tidal, YouTube Music, Pandora and etc. Learn More →
Main Features:
Download music from Spotify, Amazon Music, Tidal, Line, Deezer, YouTube, Pandora and etc.
Record and save premium music to MP3, AAC, WAV, FLAC, AIFF, ALAC
Fully support for kinds of streaming music apps.
Keep Hi-Fi audio quality after conversion
Record all songs with ID3 tags retained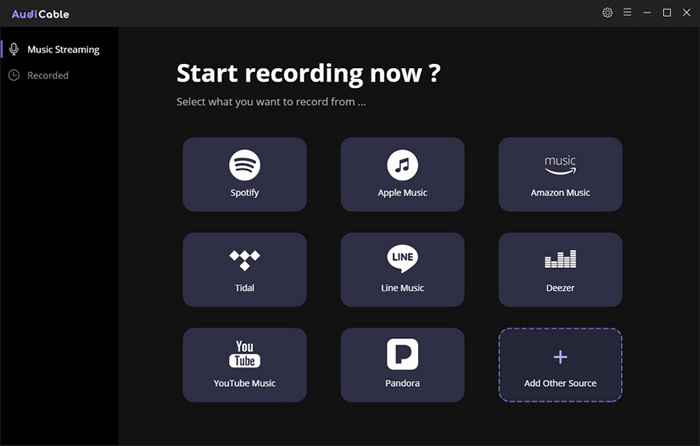 Why choose TuneCable Spotify Music Downloader?
The free version of Spotify lets you listen to songs on demand, but many playlists and albums can only be listened to on shuffle. By downloading them locally in your PC or any music player, so now you can control playback through the infotainment system as you please.
With all the cool features on a Spotify music converter, you can take TuneCable as the great option to lower overall cost of being a Spotify music user. Besides, TuneCable Spotify Music Downloader lets you seamlessly transfer Spotify music to iTunes or OneDrive. Or you can put the converted songs into a handy music player, then you are able to play Spotify music everywhere you go without consuming mobile data. And further to no cause additional charge. It is really a relief for being able to permanently own Spotify music on your local storage. And you will never worry about songs removal on the platform or download limits. So many advantages add to convert Spotify music into MP3 files with TuneCable!
---
What's next? Download Spotify Music Downloader now!
---