"I love to listen to Spotify music but I cannot listen to it without the Spotify account. Can anyone tell me how can I convert Spotify music to MP3?"
Listening to our favorite music is such a meditation. Good Music turns our bad time into a good time. Many people prefer different music streaming sites to listen to their favourite music or some prefer offline listening from their personal device. Among all the streaming sites, Spotify is really popular. Suppose you are trying to download Spotify music on your device and play them, but your device doesn't support the file format. Or maybe you don't know how you can get all your favourite Spotify music tracks into your device.
This is where we want to introduce you with a software that can convert your favorite Spotify track into MP3, AAC, WAV, FLAC, AIFF and ALAC file formats to make an offline playlist. It's an incredible music converter tool named TuneCable Spotify Music Converter. It is a music downloader software, which can convert all your Spotify music into an MP3 file and let you listen to Spotify music on any device. There are a lot of devices where you cannot play Spotify music because of the unsupported file format. But if you use the TuneCable Spotify Music Converter tool, you can download the music anywhere and make your playlist. Aren't you excited to know the features of TuneCable Spotify Music Converter software? So, instead of wasting any time, let's dig into the details.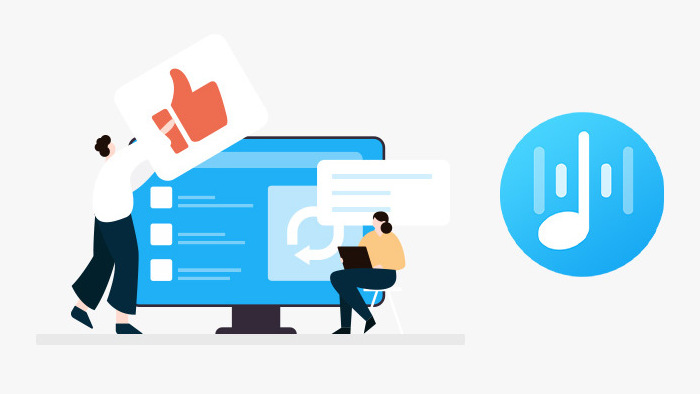 ---
As we already told you that, TuneCable Spotify Music Converter is an amazing software that can convert all your Spotify music into an MP3 or other supported track. This amazing converter is one of the best software for Windows and MacBook without any doubt. Well, like your mobile or another device, sometimes you can't play Spotify music properly for some kind of error or network issue. So to get rid of this problem, TuneCable Spotify Music Converter is offering you to play all your favourite Spotify Music easily. Let's, learn about the features of this amazing music converter.
A great software always provides Premium user experience to everyone with a smooth and attractive user interface. TuneCable Spotify Music Converter has not disappointed it's users in this matter. It has a very friendly, simple and intuitive user interface. It doesn't matter if you are an experienced user or a newbie, anyone can handle this software on their own. The functions and full system of this tool never makes things complicated for any user. Rather, it helps users to easily understand how to work through the whole music downloading and conversion process, so that they can enjoy their favourite Spotify music without any hassle.
Download the Music without Premium:
By using TuneCable Spotify Music Converter, you can download Spotify music without the premium version. It means, you can download the music for free but for conversion, you need to purchase it. You can download the same quality as the original Spotify track. Besides this, you listen to your downloaded Spotify music on your iPod, iPhone, Zune, PSP, MP3 player, Walkman, DJ software, etc. offline.
TuneCable Spotify Music Converter tool also keeps 100% original quality of podcast, radio, and playlist. The audio/music quality never drops even a little bit, if you use this tool to download and convert them directly from Spotify. It's tested and millions of users around the world can vouch for the amazing audio quality they get after converting songs using it.
Convert Song, Playlist, Podcast, Radio to MP3, AAC, WAV, FLAC, AIFF and ALAC:
Many converters can convert songs but it takes forever for the conversion process. But the TuneCable Spotify Music Converter makes it easier. TuneCable Spotify Music Converter can convert the huge music collection into MP3, AAC, WAV, FLAC, AIFF and ALAC format for offline playing.
This software is fully safe and secure for your computer. It doesn't harm your computer at all. It's fully tested by experts and millions of users have been using this tool for converting Spotify music without any problem. There is no virus or malware issue. There is no information stealing issue with TuneCable Spotify Music Converter.
Get Lossless Music at 10x Conversion Speed:
TuneCable Spotify Music Converter has been built with innovative encoding technology. It can download and convert any playable Spotify music at up to 10x faster speed. You can download and convert multiple playlist in batch which can save you a lot of time. Besides this, you can get 100% lossless music quality after download and conversion.
Easy to Use and Keep ID3 Tags Information:
TuneCable Spotify music converter tool is easy to use and convert the music files to other music formats. With TuneCable Spotify Music Converters retain all the information like title, artist, album, artwork, track number, disc number, etc. after finishing the conversion.
You can enjoy the full height of advanced features with this Spotify Music Converter, if you buy a monthly, yearly subscription license or a lifetime license from its official website. And you will get the key code of your subscription in your email within minutes. With auto renew and anytime cancellation offer, you can avail this software with –
14.95 USD for 1 month,
59.95 USD for 1 year,
129.90 USD for lifetime (one-time fee).
Free upgrade and technical support:
Once you purchase this amazing converter tool, you don't need to pay for its upgrade version. You can get free updates to the latest version, every time when the officials release an update. You can enjoy free technical support service when you use this program. Also, there is refund policy available acceptable circumstances.
When it comes to compatibility, TuneCable Spotify Music Converter is compatible with Windows 11/10/8/7 and macOS 10.11-12.
There is no trial limit of how many days you can use the free version of the program. But you can only convert the first 3 minutes of each audio with the free trial version. If you want to remove this kind of limitations, you need to purchase the premium subscription of this program. Don't worry, your money will never go to waste with such a powerful and useful music converter in your hand.
---
After all these amazing features and systems, you should know how to install, register and use our TuneCable Spotify Music Converter tool. You can handle it smartly if you follow the guidelines step by step.
Step 1: First, you need to download the TuneCable Spotify Music Converter on your window. You can download it from the official website of TuneCable.
Step 3: For registration, you need to provide your email address and key code. You can copy your mail address and paste it on the registration tab.
Step 4: After entering the mail and code, now your account is ready to download and convert your favorite Spotify songs.
After all the installation and registration process, it's time to convert your favorite Spotify music from the Spotify Music app.
After downloading the TuneCable Spotify Music Converter, run the software on windows. You will get the interface of the TuneCable Spotify Music Converter.
After importing music files to the TuneCable Spotify Music Converter, it's time to convert the music. First click the Settings button to choose the converting format like MP3, AAC, FLAC, WAV, AIFF, ALAC, and the quality. The quality will show as 320kbps, 256kpbs, 192kpbs, and 128kpbs. Now, click on the "convert" button and start the conversion. After finishing the conversion, click "converted" to get your converted Spotify music.