How to Set a Sleep Timer for Spotify on iPhone/Android
If you are overwhelmed after a hectic busy day, using Spotify at night is a good idea to relax your mind. But there can be one issue that your phone battery can be drained if you fell asleep while listening to Spotify music. So, you have the option of setting a sleep timer that puts the app on hold and it stops operating. If you are a Spotify addict, you should know everything about its useful features. Whether you are using an Android device or an iPhone, you have the option to set a Spotify sleep timer. The procedure is simple and this is no rocket science. Just follow the steps given in this post and you are ready to get the desired results. We are going to provide you with the steps for how to set a sleep timer on Spotify iPhone/Android without breaking a sweat.
---
While you are enjoying using Spotify at bedtime, you are likely to doze off after a while. Spotify shouldn't continue playing because it is going to drain the battery of your phone and you will find it empty in the morning. The best idea is to have a sleep timer so that the app does not keep running all night. It should stop when you are not using it anymore.
If your Spotify app is updated, you can turn it off after five minutes to an hour. It will give you the option of ending the listening sessions in six increments. If you are fast to sleep, you should choose 'End of track'. If you have already set a timer but have not fallen asleep, you can go back and tap 'turn off timer' or select more time. No need to panic.
The features are also available for podcasts. Rather than going to the settings button, you will have to tap the little moon in the bottom corner. You can choose the same time intervals or "End of episode". Now you know why to set a sleep timer on Spotify. It will not let you drain the battery of your phone while playing. It will end the listening session and you will have a sound sleep.
---
If you enjoy listening to music before going to sleep at night and forget to turn off the app, you should consider activating a sleep timer. It will close the app and your phone's battery will not get empty in the morning. So you should have a sleep timer Spotify iPhone.
If you are wondering about how to set a sleep timer for Spotify on iPhone, you have come to the right place. Here you will learn how to do it in a simple and piece of cake kind of way. Make sure you follow the steps carefully, and as mentioned here. For iPhone, you can use the built-in timer in iOS to have the same result. Here are the steps –
Step 1: First of all, open the iOS Clock. Tap on the Timer at the bottom of the screen.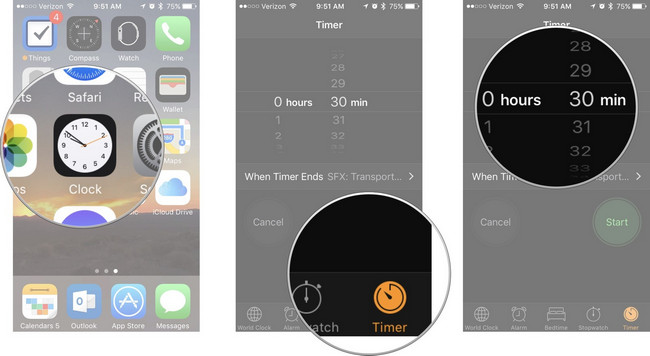 Step 2: Now set the desired duration of your sleep timer.
Step 3: Tap on the option: When Timer Ends.
Step 4: Scroll down to the bottom. Tap Stop Playing and then tap Set at the top right corner.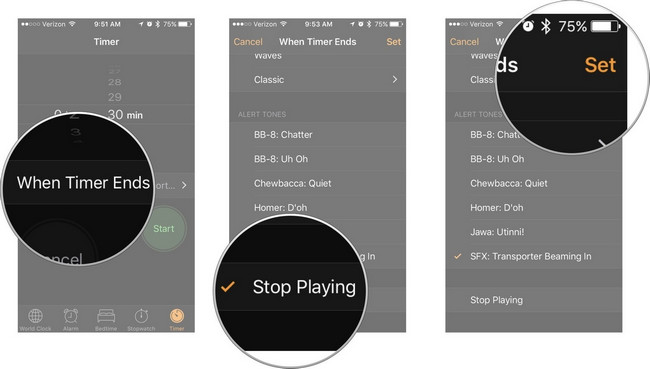 Step 5: In the end, tap Start to activate the timer.
When the timer lapses. All music files playing on your iPhone will automatically close. Your device will be locked as well.
Another method is to use a Sleep timer in Spotify. The app finally got a sleep timer. You can choose the duration of the music session, and end it automatically. These are the instructions –
Step 1: Open the Spotify app on your iPhone and play any podcast or music.
Step 2: Select the Now Playing screen to access all the controls and artwork.
Step 3: For music, tap the three dots on the top right corner. If it is a podcast, tap on the moon icon at the bottom right.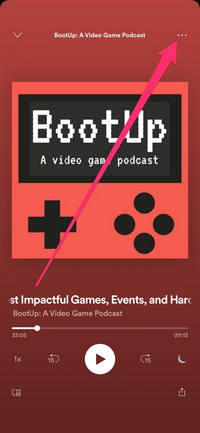 Step 4: Select Sleep Timer from the options.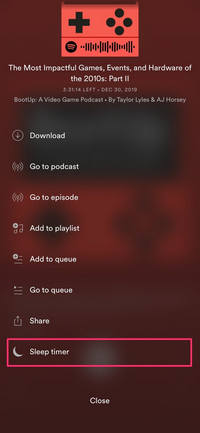 Step 5: Choose timer duration. There are six increments in total. These are five minutes to one hour. Select anyone from them that suits your requirements. Choose End of Track or End of Episode if you fall asleep fast.
This is the procedure to enable the Sleep timer in Spotify app on your iPhone. You can also switch the time frame from the same options according to your sleep schedule. The procedure in the iPad is also the same.
As an Android phone user, you don't need to use a third-party app. The Spotify app can allow you to set a sleep timer if you fall asleep. Android is known for having convenience and ease of use. Mostly, its apps have simple options that even a newbie can do in a hassle-free manner. The same is true for the Spotify app.
If you don't want to keep the music or podcast playing all night or when you fall asleep, you have the option to automatically shut them down. This is how you can do it:
Step 1: Start the playlist or the track you want to listen to and go to the Now Playing screen.
Step 2: Tap on the three-dot menu on the top right corner of the screen.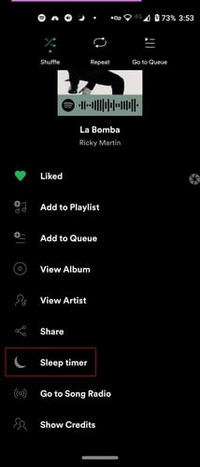 Step 3: Scroll down and go to the Sleep Timer option from the list. Tap on it.
Step 4: You will be asked for the duration of the listening session. There you can choose for how long you want to play the music in the app.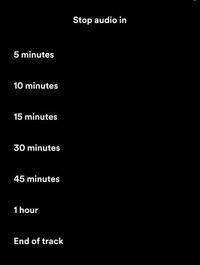 Step 5: If you are unable to find the option in the setting. You must update the program from the Play Store or clear cache/cookies of the app from app data function.
If you are sure that you fall asleep quickly, you should choose a small duration for the music session. When you have enabled the sleep timer in Spotify, it will turn off the music or the podcast at the time you have selected. This will save you the battery of your phone.
Extra Tips: How to Extract Audio from Spotify on Windows/Mac Computer
The good news is that you can extract audio from Spotify on Windows and Mac computers. If you are a music lover, you can enjoy podcasts and songs on Spotify. Whether you are using a Windows PC or a Mac, you can extract audio from Spotify. The process is simple and handy, so even if you are a newbie, you can handle it like a pro. So we are going to introduce you TuneCable Spotify Music Downloader.
As the name suggests, TuneCable Spotify Music Downloader allows you to download music from Spotify. You can listen to your favorite songs any time after getting them on your computer. Use any music player of your choice. You can always access them anytime offline. It is good when you don't have Wi-Fi or don't want to use it.
Using TuneCable Spotify Downloader is simple. You have to choose the conversion option for your song. Within a few seconds, it will be downloaded to your hard drive. There are five popular audio formats that are supported by this powerful software. These are – MP3, AAC, WAV, AIFF and FLAC. Before converting, you can also adjust the metadata for any song.
Feature:
Allows users to download Spotify songs without a Premium subscription.
You can convert Spotify songs, playlists, podcasts, radios to MP3, AAC, WAV, FLAC, AIFF & ALAC audio formats.
Provides lossless 10 times faster conversion speed of Spotify music.
Simple, elegant user interface with proper guidelines.
Keeps music ID3 tags including title, artist, album, artwork, track number, disc number and year, etc. intact after conversion.
Step by Step Guide to Extract Audio from Spotify on Windows/Mac Computer:
Step 1: Download and Launch the Program
First, you need to download and install the program on your computer. Then, launch the TuneCable program on your computer.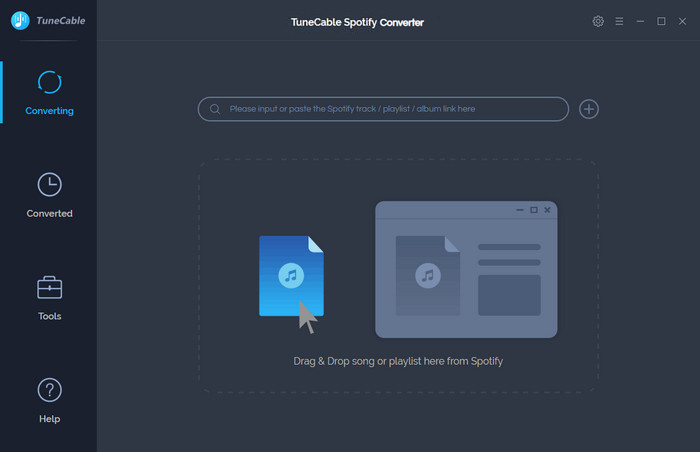 Step 2: Add Spotify Music
Next, you can either add single music tracks or an entire playlist from Spotify to the Spotify Downloader home page. Here, you can easily drag and place the playlist or tracks to the main interface. Otherwise, you can "copy + paste" the playlists link and click on the "Parse" button.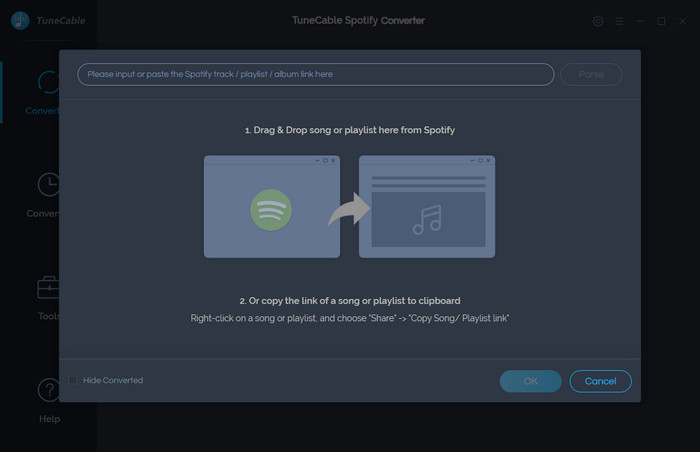 Step 3: Set Output Settings
In the next step, set your output settings for music conversion. Just click on the "Setting" button and you'll get a pop up window where you can set the output format, output folder, file name, output quality, speed, etc. Customize the settings according to your choice and move forward to the next step.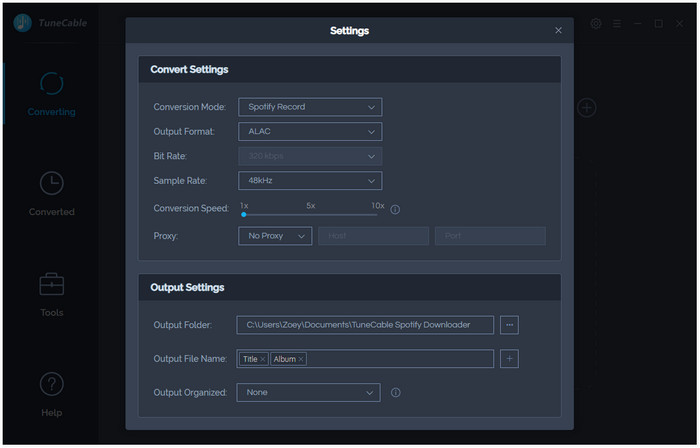 Step 4: Convert and Download Music
After you have set all the output settings according to your needs, now you'll get to convert the Spotify music files into MP3/AAC/WAV/AIFF/FLAC. Directly click on the "Convert" button to start the conversion.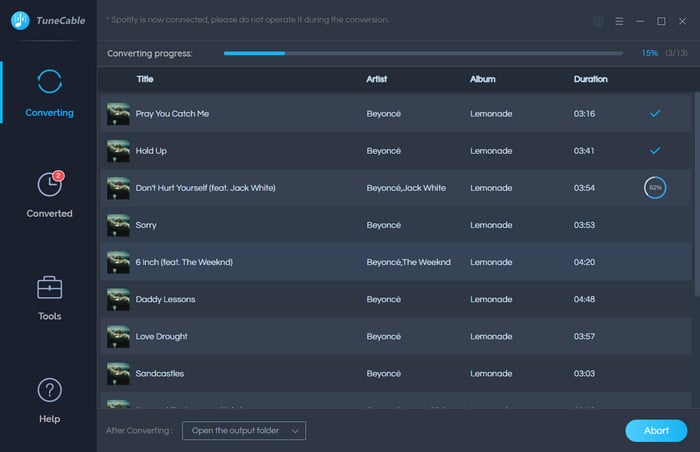 Step 5: Check Downloaded Music
Finally, after the conversion process is done, click on the "Converted" option from the menu bar. This will get you to a window where you can find your converted Spotify music files.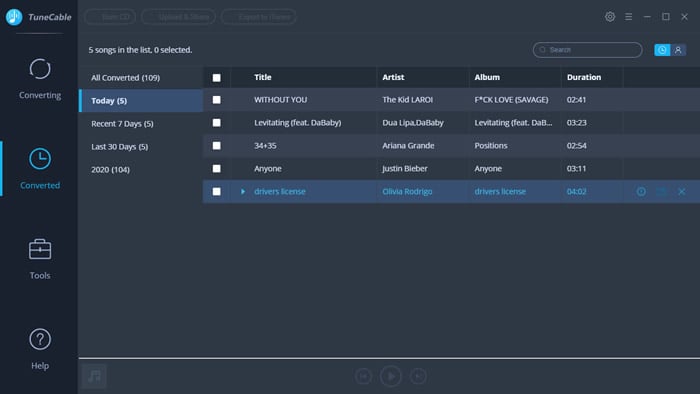 N.B. – TuneCable Spotify Music Downloader is a one-of-a-kind tool that can get your favorite Spotify music on your personal device for free! You can download, convert and enjoy your favorite Spotify music with the help of this tool even if you are not a Premium user.
But one thing you need to keep in mind is that, the free version of this software will only allow you to convert and save the first 1 minute of any song. If you want to get access of the full songs and full features of the tool, you need to buy the paid version of the program.
Final Thoughts:
As a Spotify lover, you can use the Sleep Timer feature when you enjoy music before bedtime. It will turn off the song automatically when you fall asleep. Whether you are using an android or an iPhone, you can enable the Sleep Timer by following our guidelines. The procedure is simple and is mentioned in the post for both of the OS. When you activate the sleep timer and Spotify shuts off, it will save your phone's battery from draining.
The best thing is that you can also download or extract audio from Spotify music for Windows and Mac computers. It can be done in a few steps and if you are a newbie you don't have to panic. You can do it easily with the help of TuneCable Spotify Music Downloader. Now you can access songs any time after downloading them to your computer.
---
What's next? Download TuneCable Spotify Music Downloader now!
---
---