5 Tools to Free Download Streaming Music Offline
Community worldwide has shifted to streaming music as the most accepted way people listen to tunes, Spotify, Apple Music, YouTube Music, Google Play Music and Amazon Music are in the game. They each are worthy options for users with specific needs or requirements. No matter how distinctive is the chargeless fashion that every platform offers, it can't be denied that a subscription service still lags behind the premium services. With the premium version, you can stream any song from the catalog on demand, plus listen to songs offline. But here today, we check out some of offline streaming music downloaders so even if you don't want to pay for the premium version you can still get a full experience without any commercials, including listening to music in the background while they tool around in other apps and the ability to download music.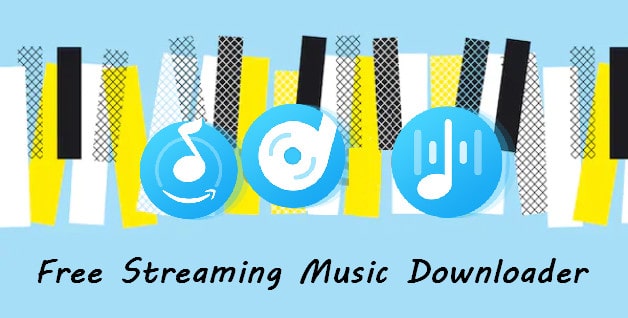 ---
Tool 1: Spotify Music Downloader
First comes to our top choice—TuneCable Spotify Downloader. With a fun, easy-to-use interface, Spotify wins an extensively large fans around the world. And people love to upload and download the songs from this stream platform. While they are restricted to enjoy songs within the application. It makes difficulties for users to play Spotify music locally on their Android, iPhones or PC. Especially when they run out of the mobile data. It is, therefore, TuneCable Spotify Downloader that helps convert Spotify songs or playlists as MP3/WAV/AAC/FLAC/AIFF/ALAC and automatically download them into your PC offline.
Preparation: To add music from Spotify to TuneCable Spotify Downloader, you can either log in via Spotify's web player or Spotify application in advance. On you Spotify App, you can get the music links by: Click on the playlist option with 3 dots >>>"Share" >>> "Copy playlist link".
Step 1:Run TuneCable Spotify Music Downloader on your PC. Once you have it open, you might be prompted to "Drag & Drop" Spotify song or playlist to TuneCable" or "Copy and paste" the songs links to add songs into TuneCable. Just do as the downloader insturcts. And then TuneCable will load your desired Spotify playlists as the target to convert.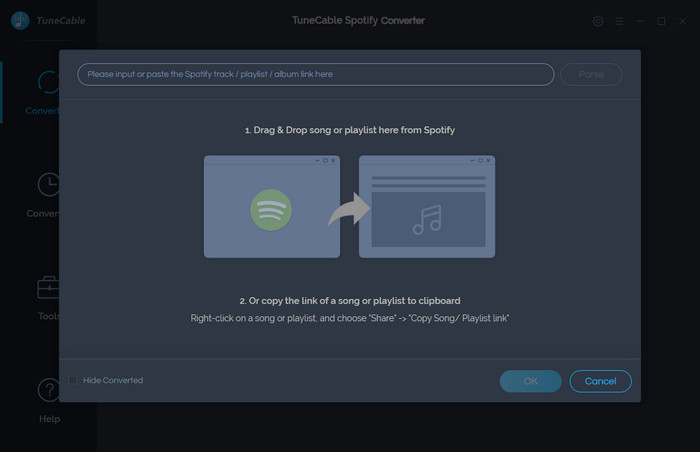 Step 2: Access to Settings upper right the TuneCable interface. You can tailor the Output Format like MP3, AAC, WAV, FLAC, AIFF, ALAC format. Check on 1*Speed option to quicken the conversion in neccessary.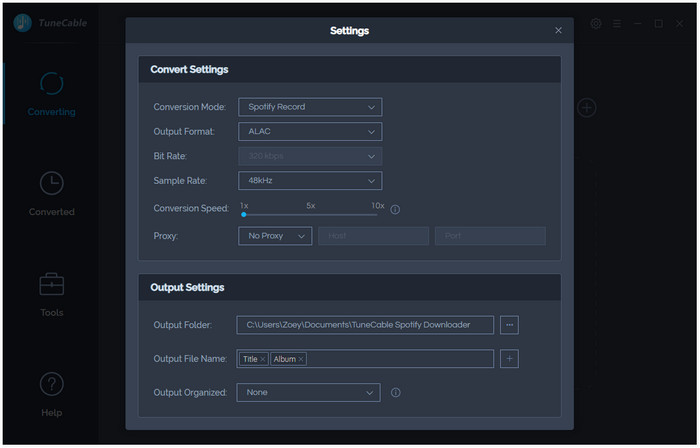 Step 3:Now perform the key function by tapping the Convert button. It can be a while to complete based on how many songs you put it on to convert.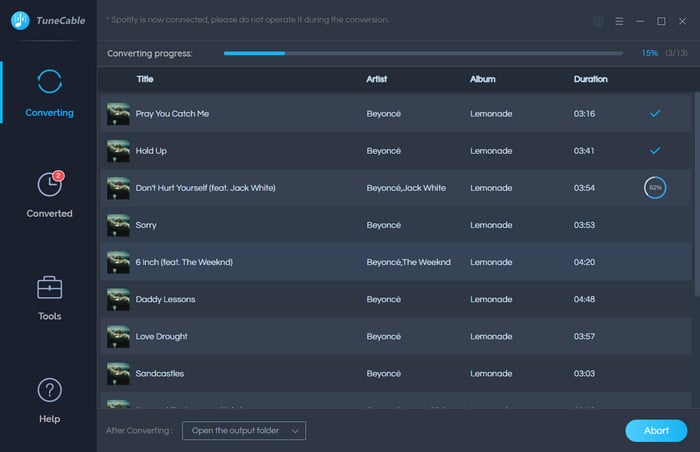 Step 4: Now you can jump to Converted section to preview completed music. By kicking on the folder icon to enter the local files on PC. TuneCable as well builds in a transfer function so you can tap the "Upload & Share" command to sync the converted music to your iTunes or OneDrive.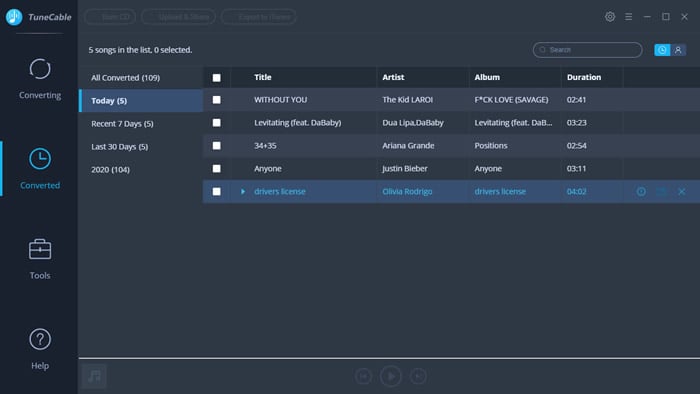 The free version of Spotify lets you listen to songs on demand, but many playlists and albums can only be listened to on shuffle. By downloading them locally in your PC or any music player, so now you can control playback through the infotainment system as you please.
---
Tool 2: Free Apple Music Converter
In terms of stream quality, Apple Music streams 256kbps AAC files. But this stream format is hard to suit your preferences if you want to play Apple Music outside of the app. Unless you're signed in with your Apple ID and keep internet available all the time, you probably won't notice much difficulties to access to your Apple Music, let alone listen your music offline. TuneCable Apple Music Converter enables you to listen to the Apple Music as local files. And things become pretty easy to transfer local Apple Music to any one of your iOS devices like iPhone,iPad or iPod.
Step 1:Add Apple Music from iTunes Library to TuneCable Apple Music Converter
Manually download and install TuneCable iMusic Converter as provided below with Windows and Mac version. Then navigate to the toolbar where has a Plus icon. You can click on it to add the Apple Music to TuneCable automatically. Just follow the on-screen instructions to select those you wish to play offline in the near future. And tap "OK" to go to next step.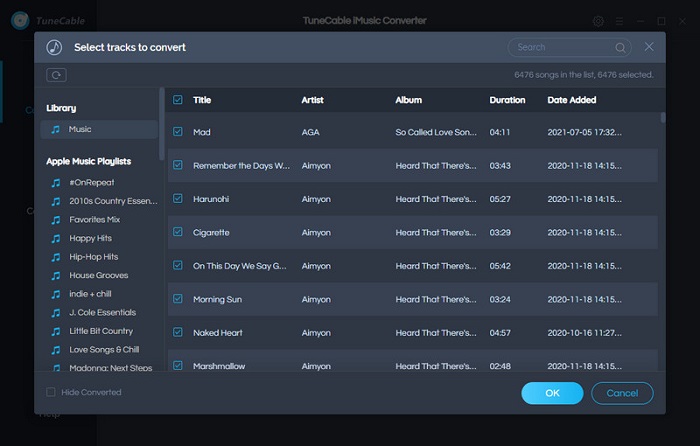 Step 2:Output Format Setting
Similar insruction to customize the output format under the Setting menu. In this step, click on the Settings button on the upper right then customize the Output Path, Conversion Mode, Output Formats (MP3, FLAC, AAC, WAV ), Output Quality, and etc. In this matter, keep free to choose the format.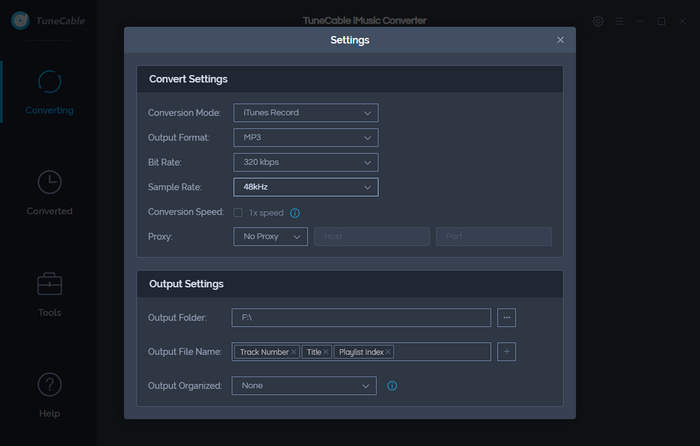 Step 3: Start to convert the selected Apple songs
After the settings, you now start converting the selected Apple songs by tapping the button Convert, then TuneCable will convert the music to the format based on your output settings ( MP3 format in this case). When songs finished converting, you can jump to the "Converted" where you can check for the completed files.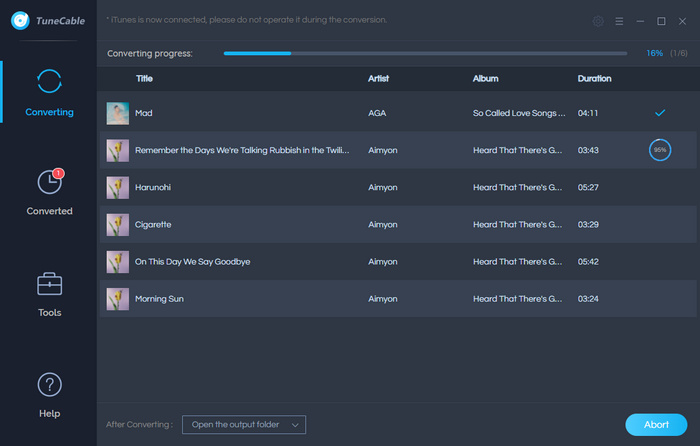 Tool 3: Free Amazon Music Recorder
Rather than focusing on the cutting edge of music as some others here do, Amazon Music features recommended playlists and radio stations that are grouped around artists you've already listened to. And if you are neither an Amazon Prime Music subscriber nor Amazon Music Unlimited user, how do you offline play these tunes outside the application? That is to record it. TuneCable iMazon Recorder works to record your Amazon Music and convert into different music formats rapidly. You can also write these music into your video-making backgrounds unless it is for commercial purpose.
Step 1: Launch Amazon Music Converter
Just download and open TuneCable iMazon Recorder. And the Amazon Music app will be opened automatically.
Step 2: Set up Amazon Music Output Format
Tap on 'Settings' icon on the top right menubar to personalize output formats, output quality, and the path saving the converted songs.
Output Format: MP3, AAC, FLAC, WAV
Output Quality: 128kbps, 192kbps, 256kbps, 320kbps
Output Organized: None, Artist, Album, Artist/Album, Album/Artist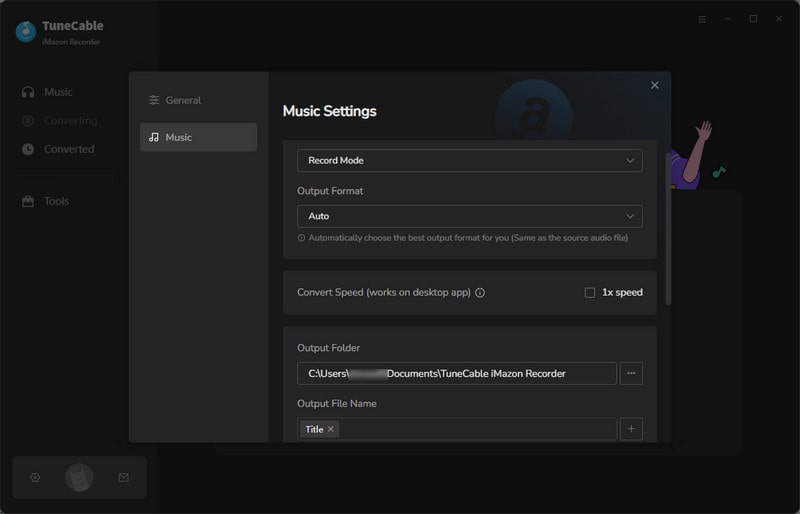 Go to Amazon Music app, and drag & drop the Amazon playlist to Tunecable. To select all songs from a playlist at once, simply tick the "Title" option above all songs. After that, click on Convert to start the conversion right now.
Step 4:Conversion starts
It may take some time to record and convert Amazon Music, if you want to check these converted music directly after conversion, please select 'Open Output Folder' option.
Step 5: View Converted History
To check the converted ones, you can click on "Converted" button to open the local saving path.
Reminder: For trial users, TuneCable only allows to convert the first 3 minutes of each song. To enjoy the complete Amazon Music tracks for offline listening, please buy the full version!
Tool 4: YouTube Video & Music Downloader
YouTube has provided its Spotify-like YouTube Music unveiled in October 2015. YouTube is the internet's biggest video site, with more than 1.8 billion accounts tuning in every month. Much of that "viewing" is actually music listening, as music videos consistently rank among the most popular clips on YouTube, making it one of the biggest single sources of music listening worldwide. Positioned as competitor of Spotify and Apple Music, YouTube Music is still available free with advertising. To make YouTube video or music available offline, you can use Syncios Manager to free download the YouTube music to get a full experience without any commercials, including listening to music in the background while they tool around in other apps and the ability to download music.
Step 1:Free to download and install Syncios Free YouTube Downloader on your PC and update it to the latest version.
Step 2:Launch Syncios Manager into YouTube Downloader on the top menu bar, where you can first to view the tips. So you firstly paste the previous video URL into the input box. If you want to put several URLs at one time, you should put each URL on a new line.
Step 3:Select the music or video quality you want to download. (Manually, Best Quality or Smallest quality).Set up a folder on computer in order to store the downloaded videos to somewhere safe.
Step 4:Click on Start Download. You can let it download while doing other things. Download YouTube video while playing game yourself.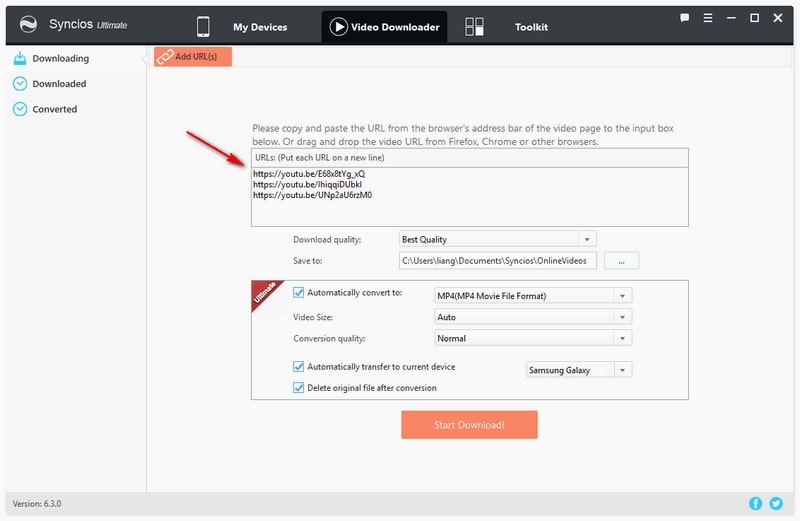 Tool 5: Streaming Audio Recorder
Want to save audio files from streaming music site in an easy way? AudiCable provides the best solution to record audio with best quality, supports to keep audio files in different formats so that you can save on devices without any limitation.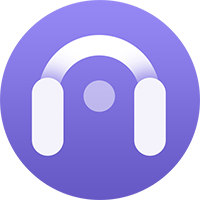 AudiCable records and converts songs from kinds of streaming music apps to plain MP3/AAC/WAV/FLAC/AIFF/ALAC format, including Spotify, Amazon Music, Apple Music, Line Music, Deezer, Tidal, YouTube Music, Pandora and etc. Learn More →
Main Features:
Download music from Spotify, Amazon Music, Tidal, Line, Deezer, YouTube, Pandora and etc.
Record and save premium music to MP3, AAC, WAV, FLAC, AIFF, ALAC
Fully support for kinds of streaming music apps.
Keep Hi-Fi audio quality after conversion
Record all songs with ID3 tags retained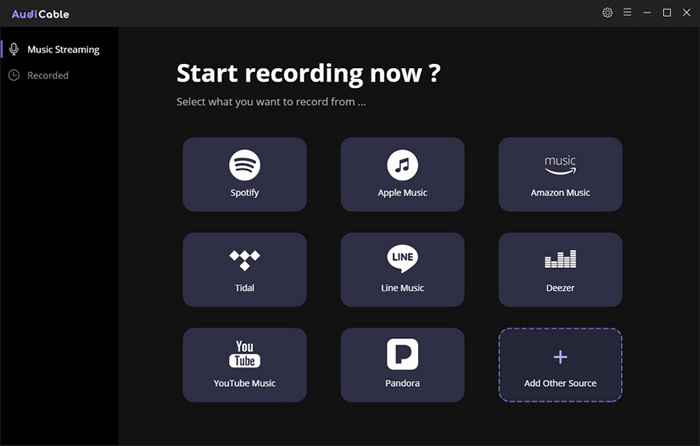 ---
Bonus: Free iPhone and Android Music Manager
Last,we have a bonus to you. If you have downloaded YouTube music or video via Syncios Manager, you can still be easy to manage your downloaded Spotify music, Apple Music, Amazon Music via Syncios Manager. It is notably offering instant music transfer between PC and devices like iOS and Android phones. Let's go for the detailed step.
Step 1:If you have already installed Syncios Manager, Run it. If not, get to download it below for free. Then connect the devices that you want to put music in, like iPhone, iPad, iPod or any one of your Android phone.
Step 2:Data manager on the left presents specific mobile files like Media (including music and video), Photos, Contacts, Messages, Apps and more. Click a data icon in the toolbar, a menu appears to get you right to the information you need. In this matter, we click on Media to manage the music file
Step 3:Previous music files on your devices will be loaded and showed in program. Just above the informatin is some functional keys to manage your music files. Tag Import button to browse and pick the songs on your PC into Syncios Manager. It will automatically sync into your device.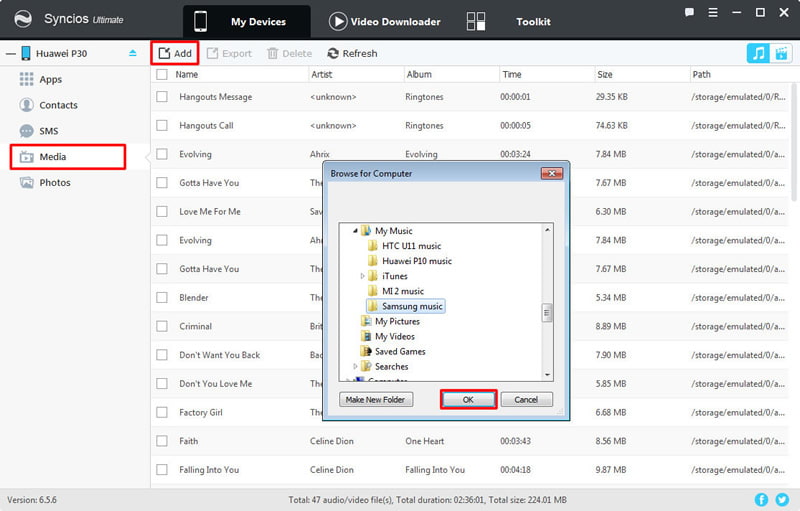 With Syncios iOS & Android Manager, you can transfer files and information effortlessly between your device and your computer, and experience a new way of browsing your photos, videos and music on PC.
What's next? Download Spotify Music Downloader now!
---