⚽ Part 1: Where to Find 2022 Qatar World Cup Hot Songs?
The 2022 Qatar World Cup officially released five soundtracks, named Hayya Hayya (Better Together), Arhbo, The World Is Yours to Take, Light The Sky, and Tukoh Taka. Apart from the official soundtracks, other songs also quickly became popular in just a few days, for example, Shakira's Waka Waka has exceeded hundreds of millions of plays.
Spotify qualifies as the main leader in the streaming music industry as it concludes all mainstream European and American pop music, comprehensive album information of each artist, and even a lot of rare albums. When Qatar World Cup kicked off, Spotify compiled a series top ranking playlists relevantly. If you're looking for World Cup hits, Spotify is definitely the place to go. For example, this list of "World Cup Songs, Qatar 2022" has all the official soundtracks and top songs regarding the 2022 Qatar World Cup complied.
After browsing through where to find 2022 Qatar World Cup hot songs, we are prepared to move to the next part. Let's read how to download World Cup songs from Spotify and make them customized ringtones on iPhone or Android.
If you are subscribed to Tidal Music, Amazon Music, or Apple Music, you can also follow the same steps to get the songs downloaded and set them as ringtones freely.
---
⚽ Part 2: Download 2022 Qatar World Cup Hot Songs to Local Files
If you are not subscribed to Spotify, then a Spotify Free account is feasible to download songs by using the method in this part. What we need is help from TuneCable Spotify Music Downloader. Though Spotify caches songs for Premium users and enables offline playback within the Spotify Music app, removing the encrypted formats makes it possible to apply Spotify songs in more cases. That's why a specifically crafted Spotify Music Converter is essential. To unlock the protection, you have to eliminate the restraints and turn the Spotify songs into unprotected files.
TuneCable Spotify Music Downloader specializes in batch downloading Spotify playlists at fleet conversion speed. And the downloaded songs will be ad-free even though you are using Spotify Free plan.
With the assistant, you can freely download the tracks, albums, and playlists related to the 2022 Qatar World Cup to a local PC in MP3, AAC, WAV, FLAC, AIF, or ALAC formats. The various options of the output formats make the downloaded Qatar World Cup hot songs compatible with iPhone and Android devices, which contributes to customizing available ringtones.
Note: For subscribers to Tidal Music, Amazon Music, or Apple Music, you can get the corresponding music converter downloaded from TuneCable's Download Center and then follow the same steps below. Here we only take Spotify as an example.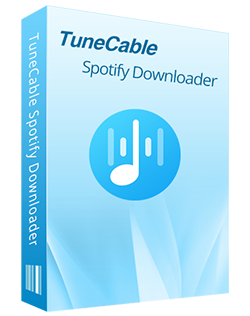 TuneCable Spotify Downloader

🔹 Download Spotify songs, playlists, albums, and podcasts.

🔹 Convert Spotify's music to MP3/AAC/WAV/FLAC/AIFF/ALAC.

🔹 Retain full ID3 tags & Spotify original audio quality.

🔹 Run at 10x faster conversion speed & batch download.

🔹 Sort Spotify music files by playlist, artist, album, etc.

🔹 Offer tools (Format Converter, Tag Edit, etc.) & save lyrics.

🔹 Activate the permanent playback of Spotify music.

🔹 Support Spotify Free or Spotify Premium account.
YouTube Video: Download 2022 Qatar World Cup Music as Local MP3
Step 1 Run TuneCable Spotify Music Downloader
Considering users running on different OS, TuneCable offers both Windows and Mac versions. From the downloading buttons above, choose the right one and click it to install this program. After running this program, you are greeted with the primary interface and two download modes - app mode and web player mode. The former needs the Spotify app to work while the latter works via accessing the Spotify web player. Both modes can retain the original quality and proceed with Spotify songs at up to 10x the speed. Pick a mode as needed. Log in to Spotify with a Free or Premium account.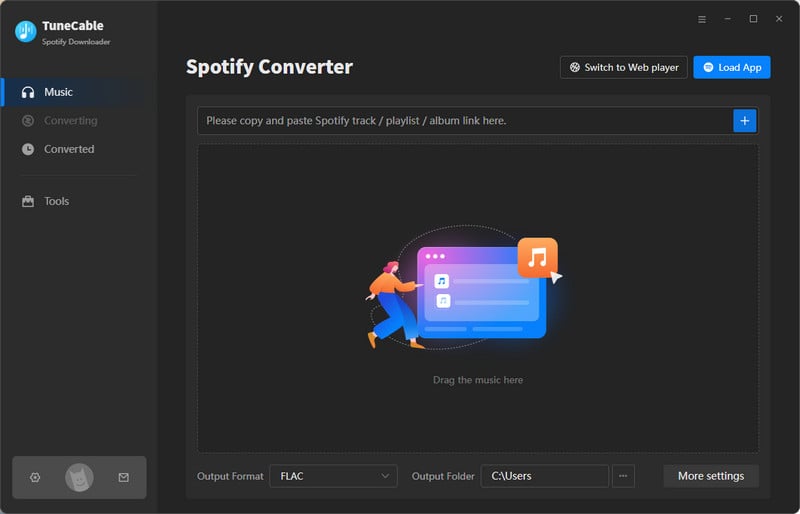 Step 2 Add Spotify Music Playlist(s) to Download
To download Qatar World Cup music, you can input "World Cup" in the search box directly. Soon after, you will see the most recommended tracks and playlists appear in the search results.
Under the web player mode, open the Qatar World Cup playlist on the Spotify web player and hit on the "Click to add" button.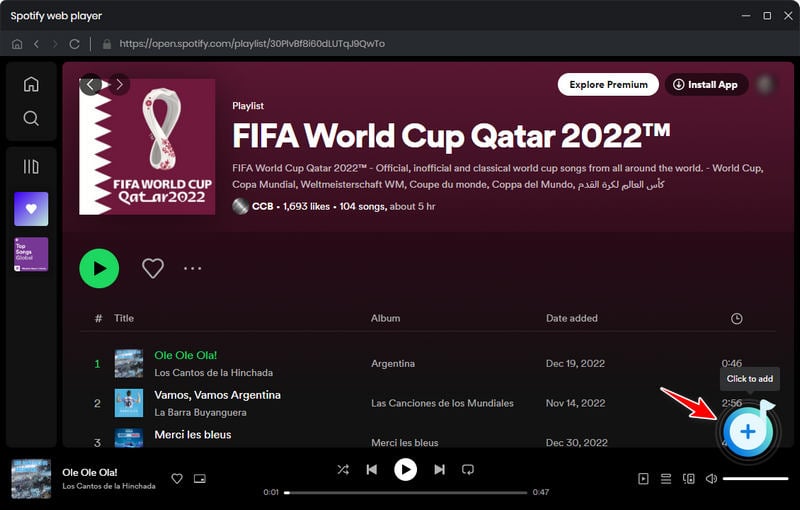 Under the app download mode, drag and drop the playlist you want to TuneCable. For instance, go to the playlist, then move the cursor pointer to its album cover or the title, and then hold press on it and drag it to TuneCable. Or copy its share link to TuneCable for parsing. Click the "three dots" behind a song, album, or playlist, then go to "Share > Copy the Song/Album/Playlist link". Then go back to the main interface of TuneCable and navigate to the search box to input the share link.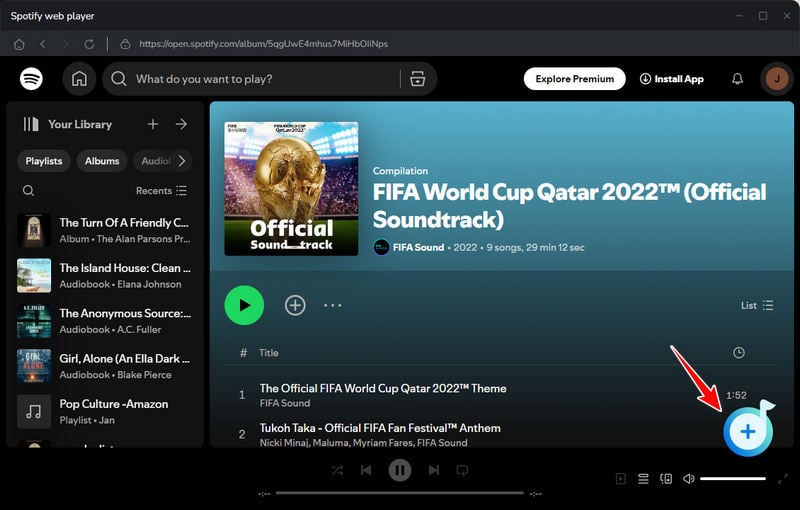 In a short time, TuneCable will extract the songs and make a list for you to choose from. Deselect the tracks that are useless to you, then tap on the "Add" button to get the rest added to the task list waiting for downloading later.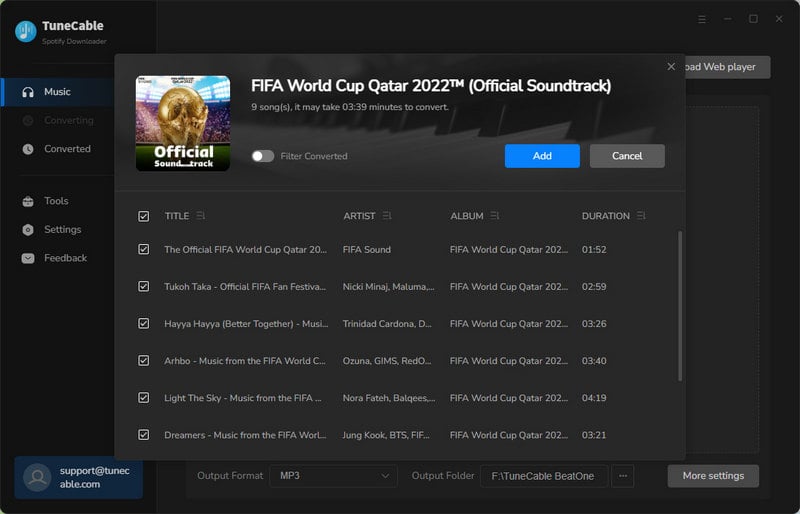 Step 3 Set Up Output Settings
Presetting output parameters is critical to store Qatar World Cup hot songs in the way we prefer. Go to the left bar and hit on the "Settings" tab. On the setting interface, we should carefully check every option.
Setting up a proper output format is fundamental for making compatible ringtones. "MP3" could be the optimum choice in case you can't import the downloaded tracks to your phone.
You'd better select a proper saving path and decide the way you need to organize the converted songs. For instance, choose "Playlist" in the "Output Organized" setting, and you can store songs by playlist. After finishing all settings, simply close the setting window to apply all changes.
Conversion Mode: Intelligent Mode, Spotify Record/Web Download, YouTube Download
Convert Speed: Can be adjusted from 1x to 10x under Spotify Record conversion mode
Output Format: Auto, MP3, AAC, WAV, AIFF, ALAC, FLAC
Bit Rate: 128kbps, 192kbps, 256kbps, 320kbps
Sample Rate: 44.1kHz, 48kHz, 96kHz, 192kHz
Output Folder: To your preference
Output File Name: Track Number, Title, Artist, Album, Playlist Index, Year
Output Organized: None, Playlist, Artist, Album, Artist/Album, Album/Artist, Playlist/Artist, Playlist/Album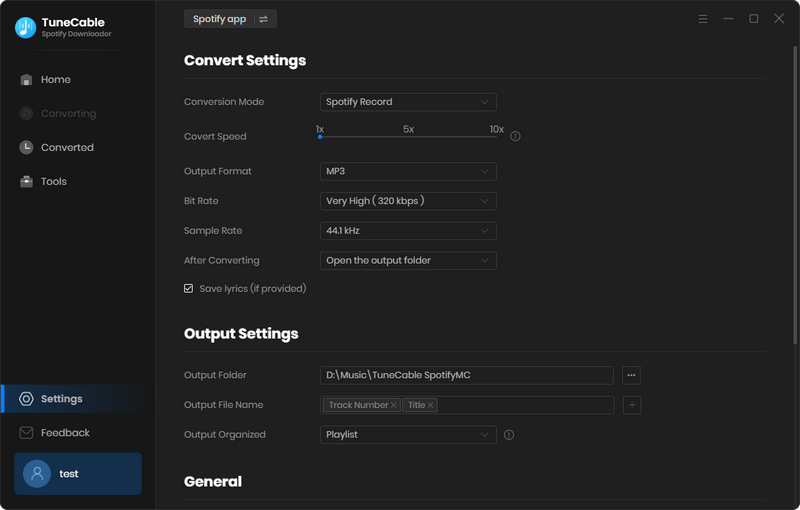 Step 4 Start Converting Spotify Tracks to Local Songs
There's also a hidden little feature here that you might not have noticed. That is, an "Add More" button is placed in the upper right. This button comes into play when you still need to convert more songs at once. Of course, you can also click the "Delete All" button to delete the songs you don't need.
When you have completed all the steps, you just need to click the "Convert" button to start the conversion. All the converted songs will be saved to the output folder you set before. These World Cup tunes truly become yours, you can use them to burn a CD, add to a video, or follow us to the next section to make your personal ringtones.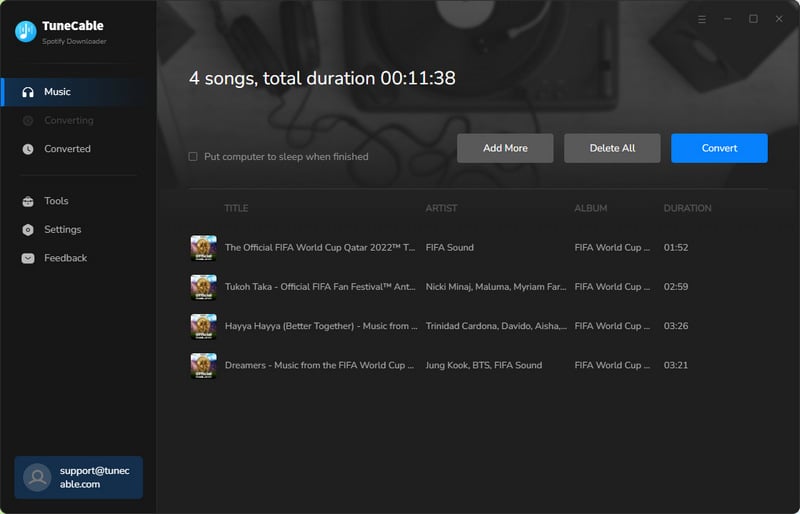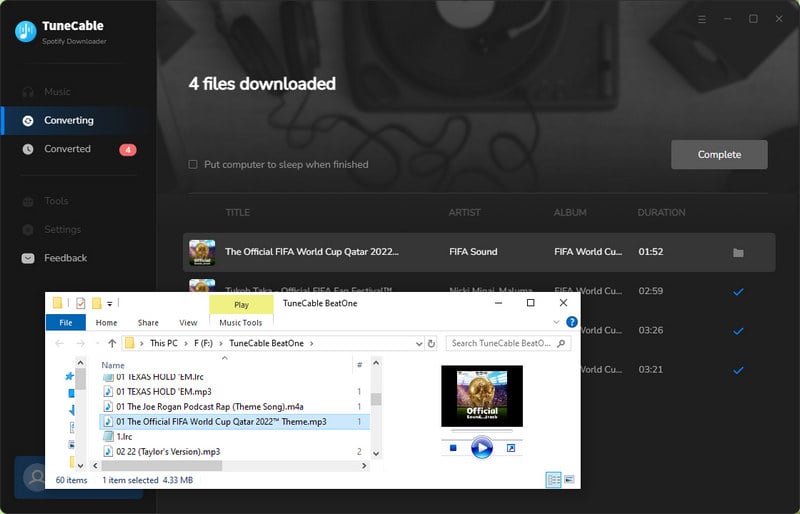 ---
⚽ Part 3: Set Qatar World Cup Music as Ringtones
This part is divided into two subsections, and you can jump to the subsection you need according to your phone's operating system. Also, if you switch between Android and iOS, you might want to bookmark this article for future reference.
⇢ Part 3.1: Set Qatar World Cup Music as Ringtones on Android
If you are using an Android phone, then things would be much easier since there are fewer limitations on the Android system. We can import the downloaded Qatar World Cup Songs to Android and then set them as ringtones directly.
Firstly, follow the simple steps to import the Qatar World Cup Songs to Android.
Import the Qatar World Cup Songs to Android Phone
Step 1 Connect your Android phone to a computer. Unlock your Android phone, On the phone's main screen, swipe down from the top, then go to the "Connection mode / Settings" and change the connection mode to "Transfer File or MTP".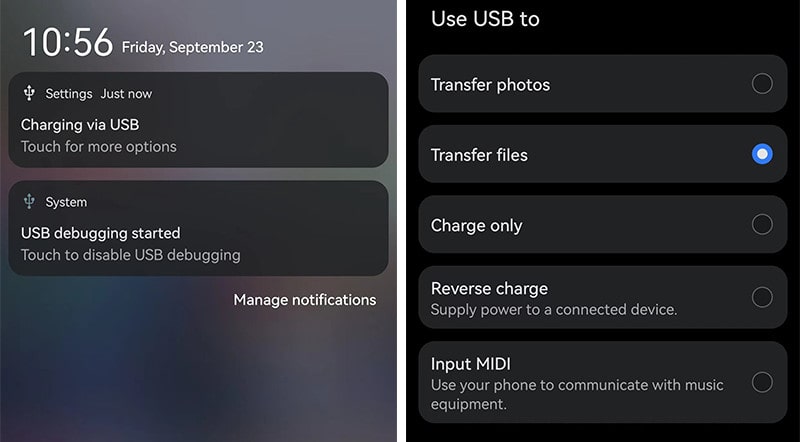 Step 2 Go to "This PC" and find the connected Android device. Enter the Internal Storage disk, then go to the "Music" folder.
Step 3 Copy the Qatar World Cup Songs to this folder. Then disconnect your Android phone.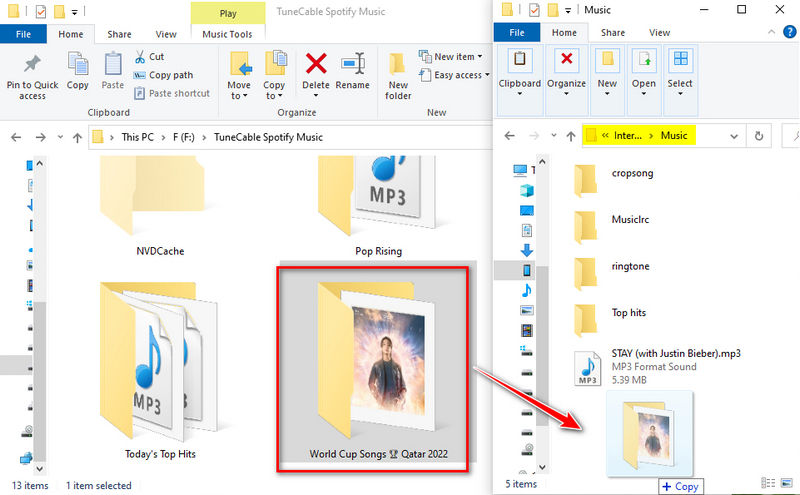 Apply the Qatar World Cup Songs as Ringtones on Android Phone
There are two methods to set the downloaded Qatar World Cup Music as ringtones on Android. Follow us to learn how to make it.
【Method 1:】
Step 1 Unlock the Android phone, then open any music app. Then go to the music library and find the local songs. The newly imported songs should be updated automatically and displayed on the music list. If it's failed to activate an automatic update, then go to the top menu and choose an option like "Scan songs from local disk". After a while, the newly imported songs will be loaded on the list.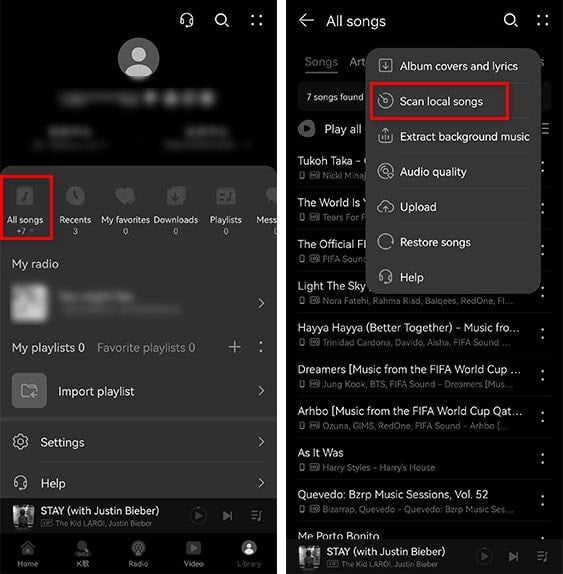 Step 2 Go to the track you want, and click the "three dots" to display more options. Choose "Set as Ringtone" to enter the embedded ringtone maker. Customize the song and set it as your new ringtone.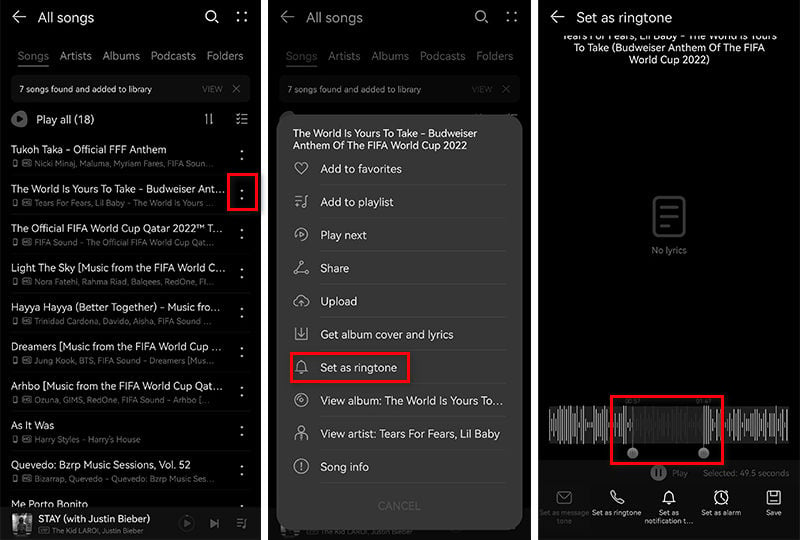 【Method 2:】
Step 3 Go to the "Settings" app on your Android device and scroll down to the "Sounds and vibration" section, then choose the "Ringtone" option to access the menu.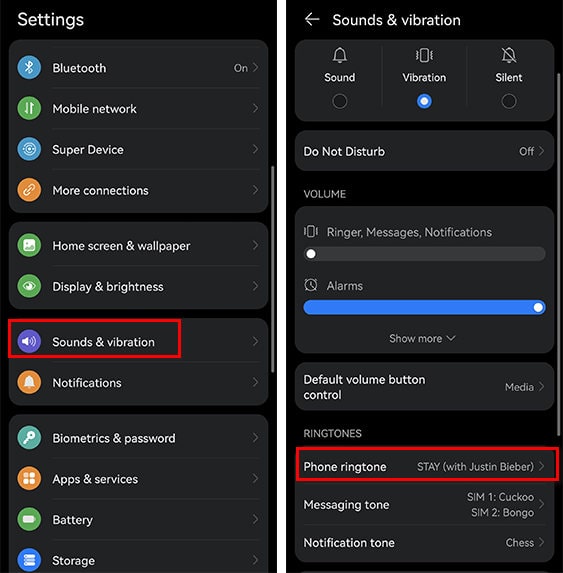 Step 4 Here you are allowed to choose the local song as the ringtone. Just set the newly imported Qatar World Cup song as your new ringtone.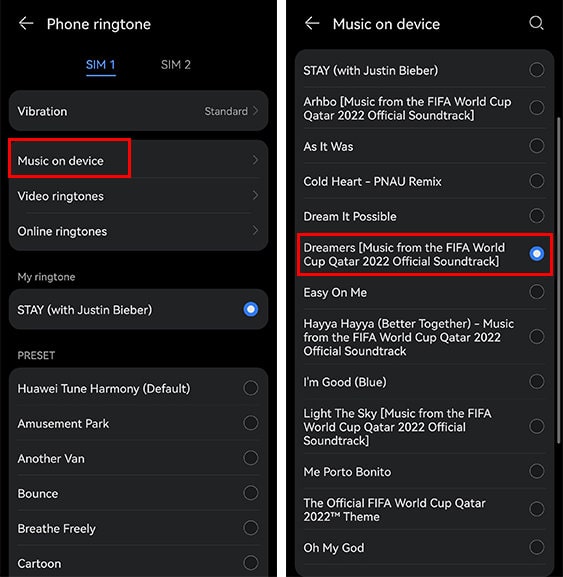 ⇢ Part 3.2: Set Qatar World Cup Music as Ringtones on iPhone
If you are using iPhone, then you should turn the downloaded World Cup songs into .m4r files that iPhone supports. According to Apple company, only the .m4r files can be set as ringtones on iOS devices. It will inevitably take more steps to apply the downloaded songs as ringtones. However, you can't avoid the limits on Apple's part. Let's be patient and take a few minutes to go through the detailed instructions.
Step 1 Start the iTunes app on your computer. Or start the Music app on your Mac.
Step 2 Go to the top-left corner, click "File", then choose "Add File to Library". In the pop-up windows explorer, navigate to the downloaded Qatar World Cup songs and import them to iTunes.
Step 3 Once the songs are imported to the iTunes library, click the album cover and then right-click the wanted track. Go to "Song info > Options". Under the Options section, set the start and the end of the song, then click on "OK".
Note: The final track should not be longer than 40 seconds.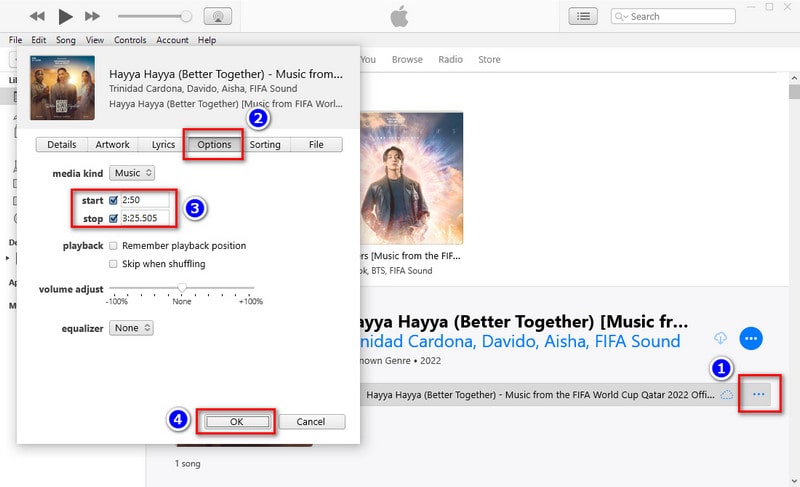 Step 4 Then go to the top-left corner of iTunes again, and navigate to "Files > Convert > Convert AAC Version".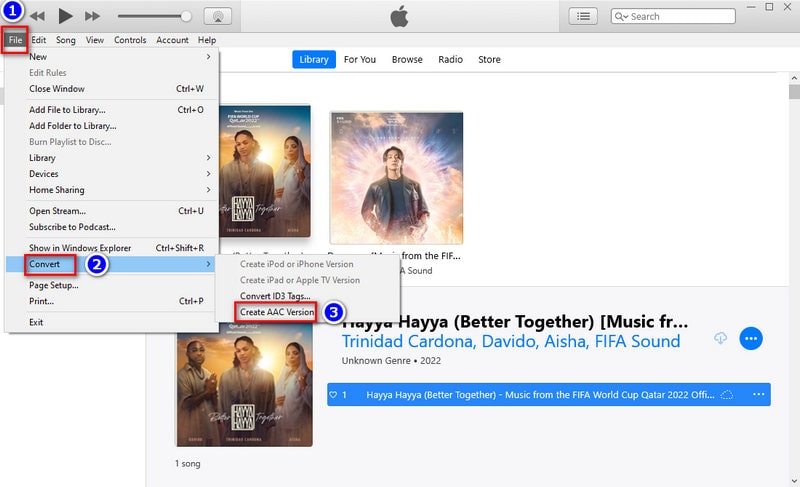 Step 5 After a short while, you'll hear a "Ding from iTunes to let you know that the AAC version of the song has been successfully copied. Right-click on the AAC version, then choose "Show in Windows Explorer" in the pop-up menu.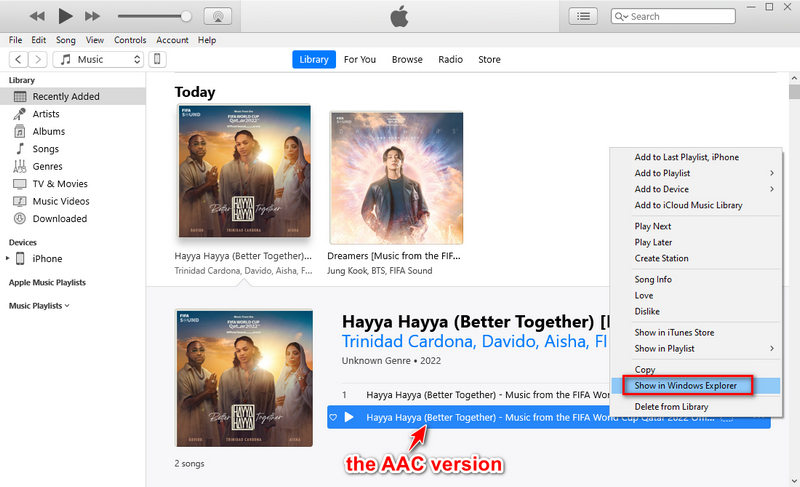 Step 6 Change the file extension from .m4a to .m4r, so iTunes will recognize it as a ringtone file.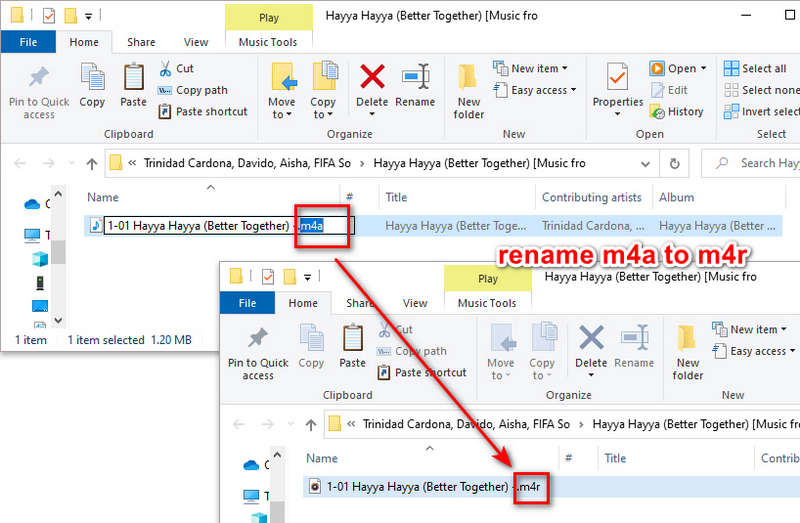 Step 7 Connect your iPhone to your computer. In iTunes, go to the "device icon"

that appears to the left of "Library" on the navigation bar. Then tap on "Tones", and directly drag and drop the newly customized ringtone (the .m4r file) to the "Tones" section in iTunes. iTunes will sync the ringtone to your iPhone after that.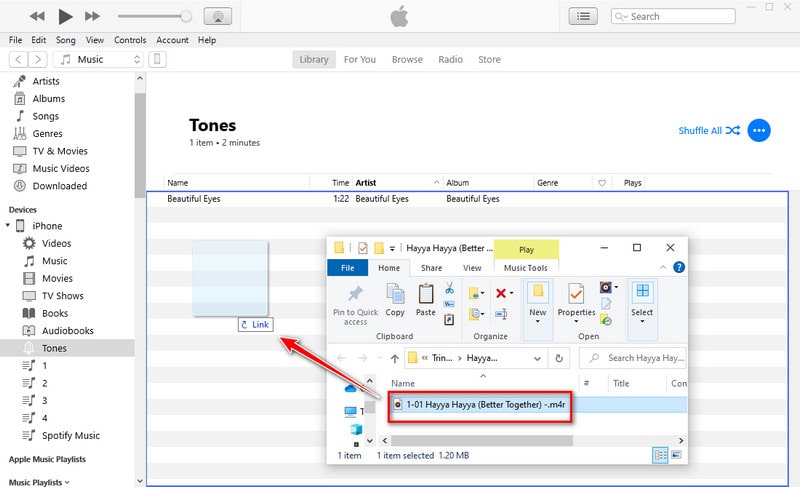 Step 8 Open your iPhone, and open the "Settings" app. Then go to "Sounds > Ringtone". Here the newly imported ringtone appears at the top of the ringtone list. Choose the custom Qatar World Cup music ringtone and tap it to apply it as your new ringtone.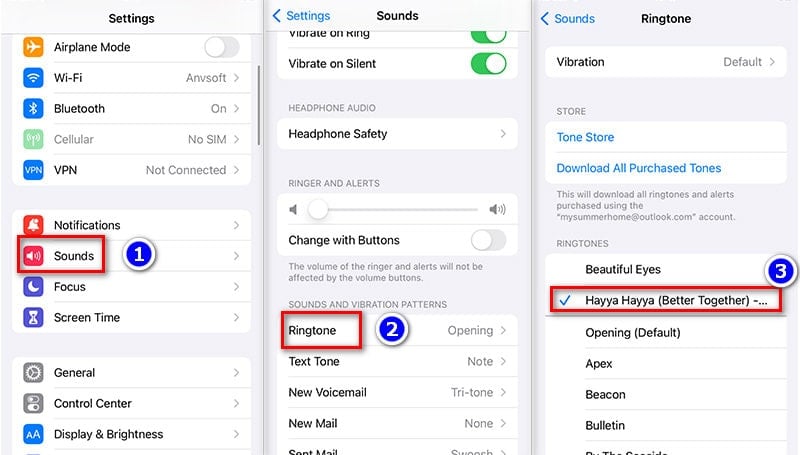 ---
⚽ Conclusion:
The above text shows the detailed steps of downloading Qatar World Cup Music tracks and playlists to a local PC as unencrypted songs. And you can get a specific tutorial regarding how to make these Qatar World Cup music your personal ringtones. All you need to do is to download and install this TuneCable Spotify Music Downloader to make it come true. Having a free trial is the best way to prove everything. Let's get started!