Spotify provides two primary subscription options: free and paid. Both tiers include access to a library of over 100 million songs, albums, playlists, and podcasts on the platform. As the most widely utilized music streaming service worldwide, Spotify prioritizes its subscription plans. Among the four paid plans - Individual, Duo, Student, and Family - all enjoy the same premium benefits. However, the Student plan is the only one that offers a discounted rate of $4.99 per month. This is an incredibly favorable deal for students looking to take advantage of Spotify's premium offerings.
Therefore, in this article, we will show you how to navigate the process of getting a student discount from Spotify, allowing you to access Spotify premium content at a 50% reduced rate. Don't miss out on this fantastic opportunity - if you're both a student and a music aficionado, capitalize on this deal now!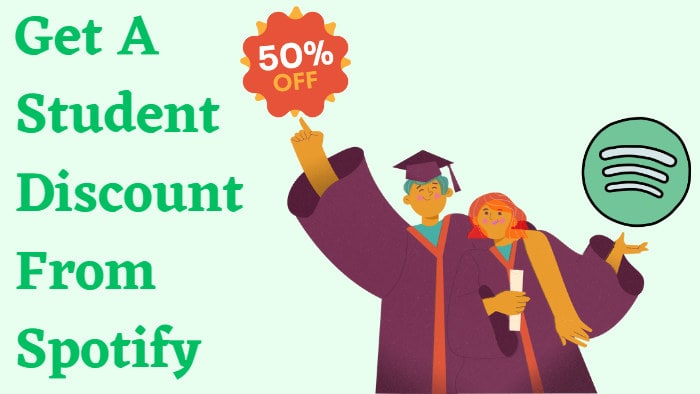 ✅ Part 1: Who Is Eligible for Spotify Student Discount?
Spotify offers a great deal for students who love music. Students who are currently enrolled in a college or university for which they can earn credits toward a diploma, degree, or professional license are eligible for Spotify student discounts. They can be undergraduate, graduate, and post-graduate students. Additionally, the students must be at least 18 years old and be able to provide proof of enrollment, such as a valid student ID or a transcript.
The discount is available in selected countries and is valid for up to four years, as long as the student remains eligible. The students are required to renew each year to confirm their student qualifications. Besides, the Spotify Student Discount is still available even if you study abroad. Students who graduate from school and leave school for any reason are not entitled to get a student discount from Spotify.
---
✅ Part 2: How to Get a Student Discount from Spotify?
In this section, we will provide a step-by-step guide on how to get a student discount from Spotify. The entire process is relatively simple and straightforward, and it involves only a few steps.
Step 1 Sign Up for Spotify
To acquire a student discount from Spotify, first of all, you must first have an account. To register for a Spotify account, go to the login page on Spotify's website. You can create a Spotify account using your email address, or log in with your Facebook or Google credentials. Once you have created an account, log in to the Spotify app or website. Locate the subscription page, and select the Spotify Premium Student Plan.
Step 2 Verify Your Student Qualification
After selecting Spotify's student plan, you will be redirected to a new page where you must verify your student status. Spotify utilizes SheerID, a professional verification company, to confirm the enrollment status of its users. You must provide your personal information, such as your name, university/college name, and date of birth. Once you confirm your information, SheerID will begin the automatic or intelligent verification process. If the automatic verification fails, then you need to select "Manually verify" on this page and take the next step.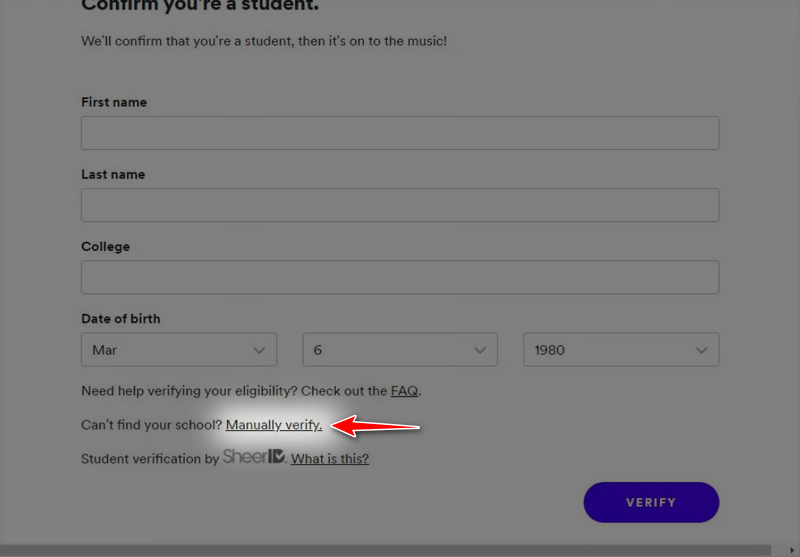 Step 3 Submit Student Enrollment Proof
After selecting manual verification, you will be required to provide your enrollment verification manually. Enter your basic information here and click on "Next Step". On the new page click on the "Choose File" button and select your enrollment proof from your local computer. These enrollment proofs may be your issued student ID card, class schedule, tuition receipt, or official enrolment letter. Finally, click on "Upload Document".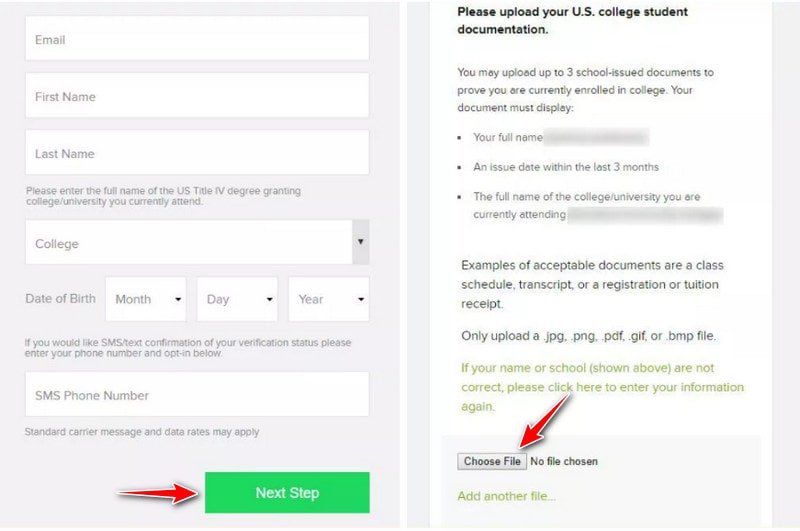 Step 4 Subscribe to Spotify with a Discount
Once you've signed up and been verified (which may take several days), you will be granted a 50% discount on your Spotify Premium account right away. This means that the user will only have to pay $4.99 per month instead of the usual $9.99 per month. You'll get all the premium features, like ad-free listening, unlimited skips, and even the ability to download songs for offline listening. The whole process is easy and quick, and you'll be enjoying your favorite tunes in no time.
In conclusion, getting a student discount from Spotify is an easy process. All that is needed is an active student email address and some personal information, and the user can start enjoying their favorite music at a reduced rate. It is a great way to save some money while still enjoying all the benefits of a Spotify Premium account.
However, it is important to note that the 50% discount offered by Spotify is only available to eligible college students. Once you have graduated from university or college, you will no longer be entitled to the student discount. In this case, if you want to continue enjoying the benefits of Spotify Premium, such as playing 320kbps songs and the offline mode, you will have to pay the full monthly subscription fee of $9.99. Is there a way to keep Spotify 320kbps songs forever so that you can play Spotify high-quality songs even without a student account? Definitely yes. Read on.
---
✅ Extra Tip: Play Spotify 320kbps Songs Without a Student Account
To keep Spotify high-quality playlists forever and play your Spotify 320kbps songs without a student account, you need a professional tool. TuneCable Spotify Downloader is efficient and easy to use, enabling you to download songs, albums, playlists, and podcasts from Spotify to your Windows or Mac computer. TuneCable also allows you to convert Spotify music to six plain format files, including MP3, AAC, WAV, ALAC, AIFF, and FLAC, while maintaining lossless sound quality and preserving the important ID3 tag information. In this way, you can keep your favorite Spotify 320kbps music forever, without worrying about losing access to Spotify high-quality playlist that is created under your student account.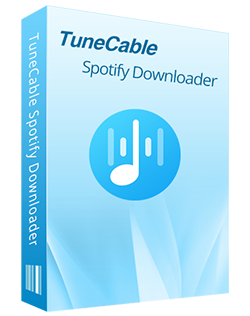 TuneCable Spotify Downloader

🔹 Convert Spotify's music to MP3/AAC/WAV/FLAC/AIFF/ALAC.

🔹 Download Spotify songs to local Win and Mac computers.

🔹 Retain the full ID3 tags and keep original audio quality.

🔹 Run at 10X faster conversion speed & batch download.

🔹 Enable Spotify songs to transfer to USB and programs.

🔹 Support Spotify Free or Spotify Premium account.

🔹 Activate permanent playback of Spotify music.
Step 1 Start TuneCable Spotify Downloader
First of all, you need to download and install the TuneCable program on your computer. It is free to download the program, and as a student, you can feel released. Then start TuneCable, followed by the Spotify app launched. Please sign in to your Spotify student account on the app.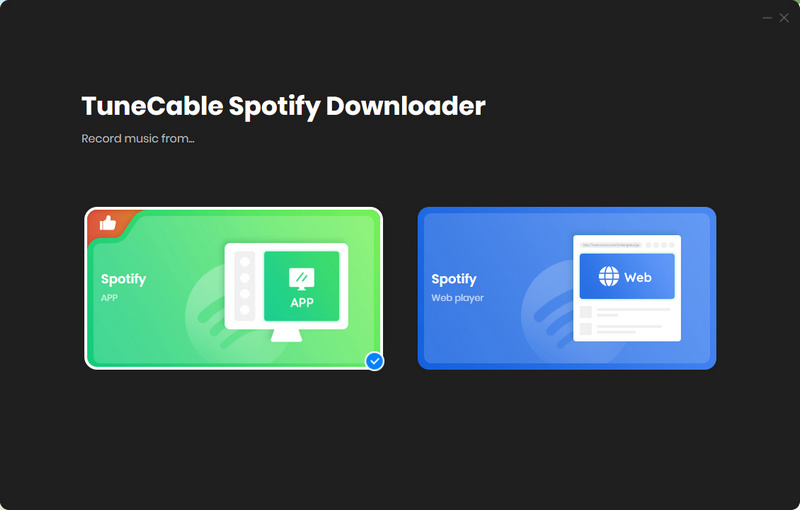 Step 2 Add Spotify Songs to TuneCable
Head to the songs, playlists, albums, or podcasts you want to download, click and hold the title, then drag and drop it to TuneCable Spotify Downloader. And TuneCable will load and show the tracks on a pop-up window where you can pick specific songs. Click the "OK" button to confirm. Student accounts are allowed to enjoy the full music library of Spotify, so you can choose any track you would like to save.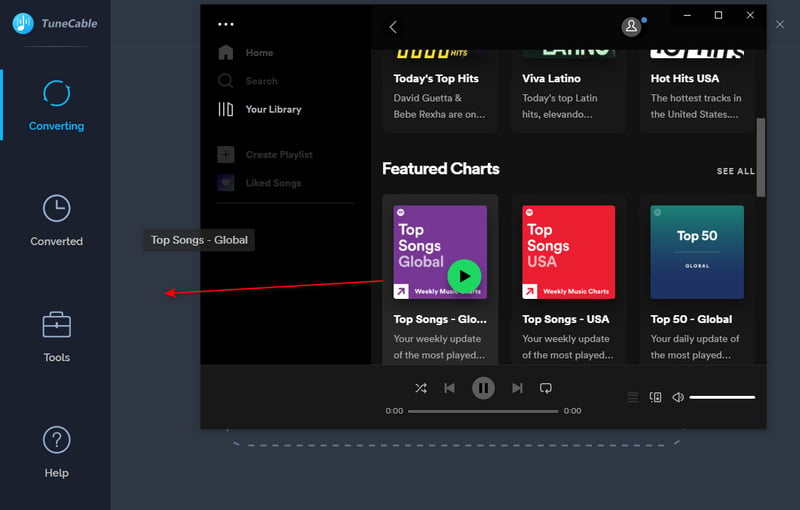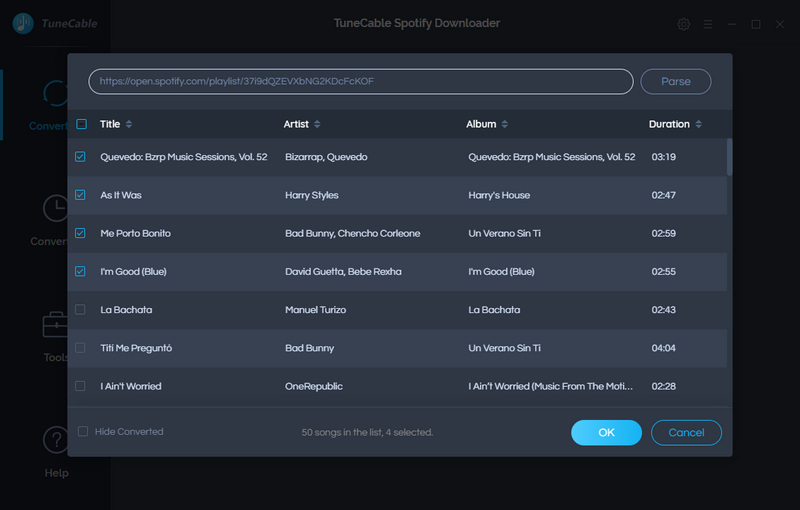 Step 3 Adjust Output Parameters
To download Spotify music to your preferences, you need to adjust some parameters before conversion. Simply click on the "Settings" icon at the top right corner. Choose Spotify Record in the Conversion Mode section, select MP3 as the output format, and set the bit rate to 320kbps. Alternatively, opt for AUTO in the output format, and TuneCable will download Spotify songs with the original sound quality. Also, choose an output folder, edit the output file name, and select a way to organize the output files under Output Organized.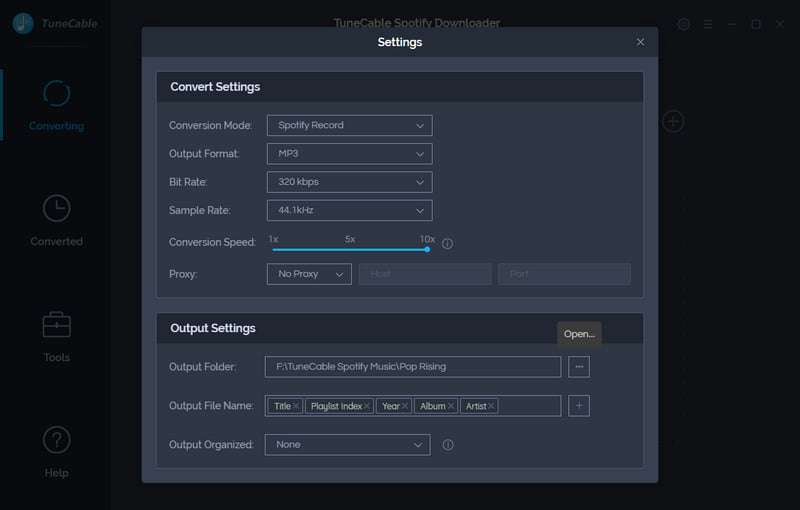 Step 4 Start Downloading Spotify Music
After you close the settings window, click on the "Convert" button to initiate the downloading process. This process won't take long, and the output folder window will pop up soon after, which means Spotify is successfully downloaded to your local computer with your student account and you can play Spotify songs forever without a network connection, even though you are not entitled to the Spotify student discount. Just enjoy high-quality Spotify music!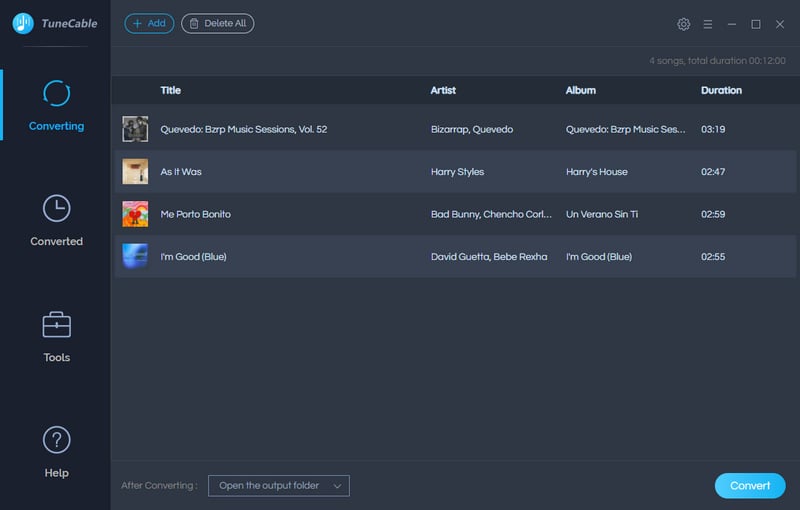 ---
✅ Summary
After reading this article, you can conclude that Spotify Student Discount is a 50% discount for eligible college students to subscribe to Spotify Premium, and the discount can be easily acquired once you have a student qualification. With some basic information filled in and the verification complete, you are allowed to subscribe to Spotify for only $4.99 per month, while enjoying the same premium benefits, like ad-free listening, 320kbps sound quality, offline mode, on-demand playback, and so on.
It is important to note, however, that the Spotify student discount is only available for four years. Once you graduate from university, you will need to pay the standard fee of $9.99 per month to continue accessing Spotify Premium. To keep your Spotify downloads forever and play Spotify 320kbps songs anytime a student account, we recommend using TuneCable Spotify Downloader, a powerful program to solve all Spotify download issues once and for all. If you need such a tool, why not have a try? Download TuneCable now!
---