✅ Part 1: Downgrade Spotify Music App and Disable Automatic Updates
In the following, we'll explore the process of returning to an earlier version of the Spotify app. Oftentimes, we upgrade to a newer version with the expectation of enjoying improved features, among other benefits, only to be let down. Follow the detailed instructions below to go back to an old version of the Spotify app according to different operating systems.
# Downgrade Spotify Music App on Windows PC and Disable Its Automatic Updates:
Step 1: Go to the "Start" Menu and search for Spotify. Click on "Uninstall" and you will be directed to the "Control Panel" page.
Step 2: Take note of the app's version number. From the list, select the app and click on "Uninstall".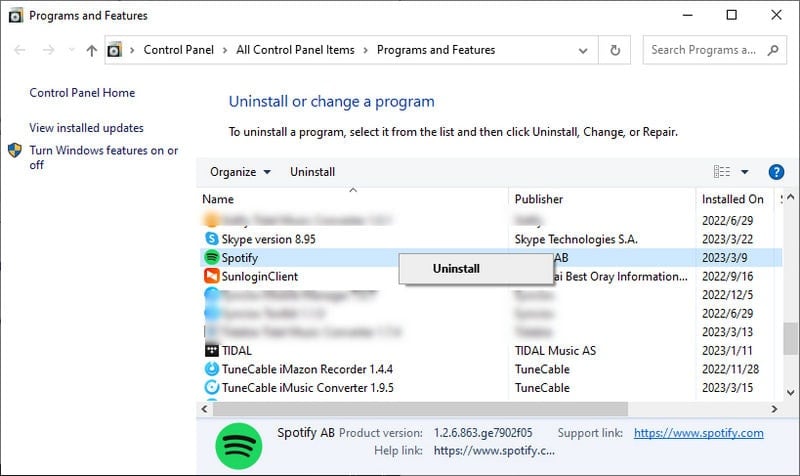 Step 3: After the app has been successfully removed, download its older version from this Spotify Windows old version download center.
Step 4: Install the app but do not launch it. Instead, open PowerShell as an administrator. Copy and paste the text below and press "Enter" to execute the command to disable automatic updates:
[Net.ServicePointManager]::SecurityProtocol = [Net.SecurityProtocolType]::Tls12; Invoke-WebRequest -UseBasicParsing 'https://raw.githubusercontent.com/amd64fox/Rollback-Spotify/main/Upd_Block.ps1' | Invoke-Expression downgrade spotify
If you want to unlock the auto updates next time, you just need to execute the command again.

These steps will allow you to downgrade Spotify and prevent it from updating automatically on your Windows PC.
# Downgrade Spotify Music App on Mac:
To downgrade Spotify on your Mac, follow these steps:
Step 1: Open the Finder window and navigate to the Applications folder.
Step 2: Locate the Spotify app and uninstall it by dragging and dropping it into the bin.
Step 3: Download an older version of Spotify from this Spotify Mac old version download center once the uninstallation is complete.
Step 4: Run the setup file and click "Open" when prompted to confirm.
Step 5: The installation process for the previous version of Spotify will commence. Once completed, you should have the older version of Spotify installed on your Mac.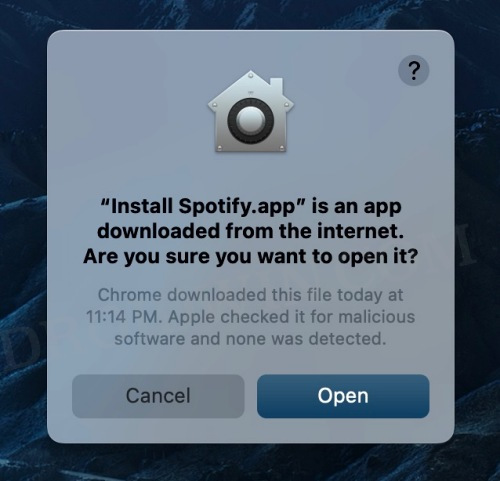 # Downgrade Spotify Music App on Android and Disable Its Automatic Updates:
If you want to downgrade Spotify and disable automatic updates on your Android device, follow these steps:
Step 1: Go to "Settings > Apps > See All Apps" and select Spotify.
Step 2: Scroll down to the bottom and note down the current version number.
Step 3: Tap on "Uninstall > OK" to confirm and uninstall the app.
Step 4: Download the older version of Spotify from this Spotify Android old version download center after uninstalling. In order to install an APK, you need to activate the "Unknown sources" on your device.
Step 5: Install the older version but do not launch it. Instead, go to Play Store, and then search for the Spotify app in the store's search engine. Open its page.
Step 6: Tap on the overflow icon at the top right and uncheck the "Enable auto-update" option to stop updating automatically.

Step 7: By following these steps, you have successfully downgraded Spotify and disabled automatic updates on your Android device.
# Downgrade Spotify Music App on iOS:
"Is there a way to revert to the previous version of Spotify for iOS that was released before the latest one?" I don't advise doing this as there isn't a legitimate method to do so. Instead, I suggest submitting your issue to their technical support team and waiting for them to address it. Because you should notice that you are not permitted to install any app from unknown sources on an iOS device.
---
✅ Extra Tips: Convert Spotify Music to Local MP3 Files for Permanent Backup
To avoid any data loss after downgrading the Spotify Music app, making a full backup of Spotify songs and playlists in advance is a wiser option. Instinctively, you figure out the location of the Spotify downloads and make a copy. However, a more reliable way is to convert the collected Spotify songs and playlists to MP3 files and store them on a local disk.
TuneCable Spotify Music Downloader is applied to download Spotify Music tracks, albums, playlists, podcasts, and audiobooks offline and decrypt them as common formats, such as MP3, AAC, WAV, FLAC, AIFF, and ALAC.
All Spotify plans, including Spotify Free, are available for downloading songs from Spotify through TuneCable Spotify Music Downloader. The completion of converting Spotify music to MP3 stands for eternal playback and unrestricted use of Spotify downloads.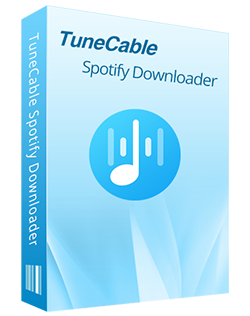 TuneCable Spotify Downloader

🔹 Download Spotify songs, playlists, albums, and podcasts.

🔹 Convert Spotify's music to MP3/AAC/WAV/FLAC/AIFF/ALAC.

🔹 Retain full ID3 tags & Spotify original audio quality.

🔹 Run at 10x faster conversion speed & batch download.

🔹 Sort Spotify music files by playlist, artist, album, etc.

🔹 Offer tools (Format Converter, Tag Edit, etc.) & save lyrics.

🔹 Activate the permanent playback of Spotify music.

🔹 Support Spotify Free or Spotify Premium account.
Let's follow the instructions below to back up Spotify files to a local PC in common MP3 formats.
Step 1 Download and Install TuneCable Spotify Downloader
To begin, you must first acquire access to your computer and install the TuneCable Spotify Music Downloader, which is compatible with both Windows and Mac operating systems. After the installation process is finished, open the program, and you will see the main interface with two download modes. The app mode needs the Spotify app to work and saves up to 320kbps audio quality at up to 10x the speed, while the web player mode works via accessing the built-in Spotify web player and can keep the original quality of Spotify songs at up to 10x fast speed. Pick a mode as needed, and then enter your login details to access your Spotify account and start using the downloader.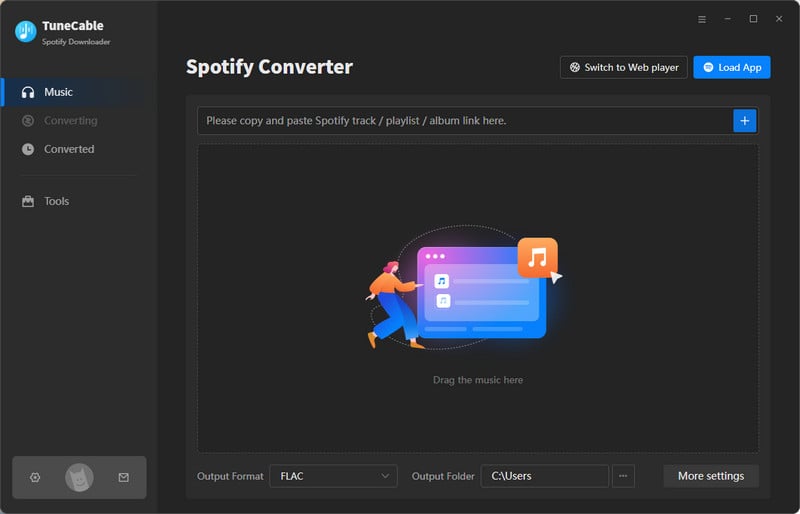 Step 2 Select Spotify Audio Files to Download
If you use the built-in web player to download your preferred Spotify songs, albums, playlists, or other audio files with TuneCable, open a playlist/album on the Spotify web player and hit on "Click to add".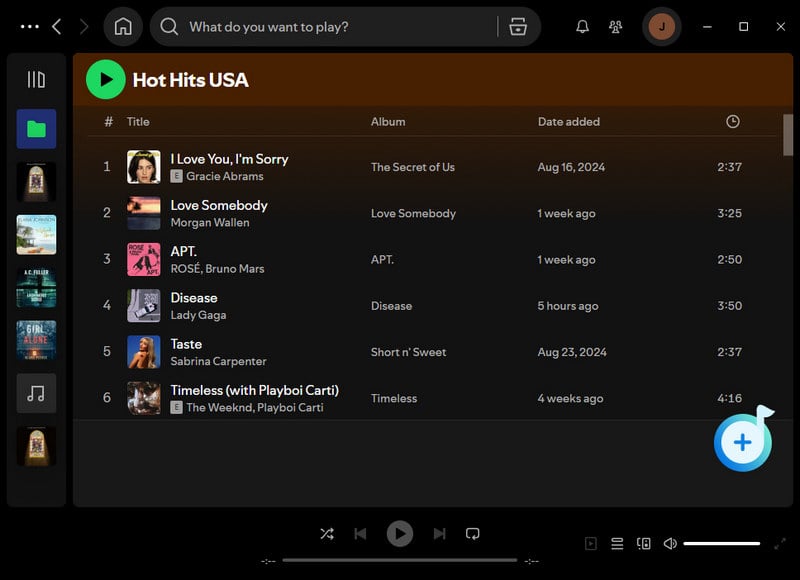 If you use the app to download music, you can search for the desired item and either drags its title directly into TuneCable or copy the link by clicking on the three dots and then paste it into TuneCable. Besides, you can hit on the "Click to add" icon floating in the bottom right of the Spotify app.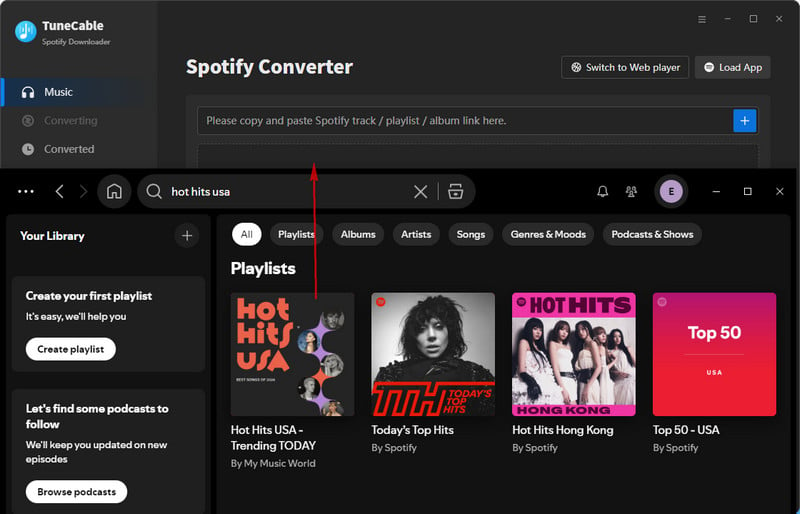 After a brief waiting period, TuneCable will load the newly added Spotify songs. Simply select the items you wish to convert, and click on the "Add" button to move on to the subsequent step.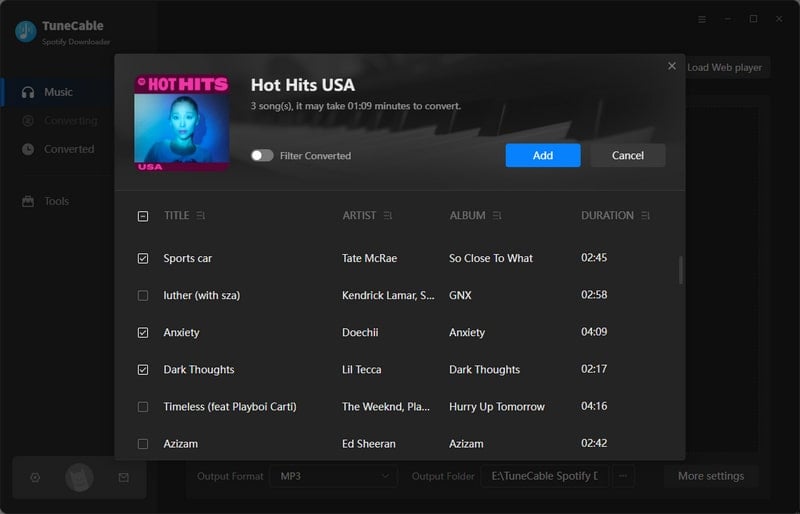 Step 3 Customize the Output Settings of Spotify Files
Prior to downloading any Spotify songs, it is crucial to customize the output parameters, particularly the output format, to guarantee compatibility with the device or software to which you intend to transfer the songs. In order to download Spotify songs in MP3 format, simply select "MP3" as the output format. Additionally, for those who wish to download Spotify songs in their original quality and format, there is an "Auto" option available.
Conversion Mode: Intelligent Mode, Spotify Record/Web Download, YouTube Download
Convert Speed: Can be adjusted from 1x to 10x under Spotify Record conversion mode
Output Format: Auto, MP3, AAC, WAV, AIFF, ALAC, FLAC
Bit Rate: 128kbps, 192kbps, 256kbps, 320kbps
Sample Rate: 44.1kHz, 48kHz, 96kHz, 192kHz
Output Folder: To your preference
Output File Name: Track Number, Title, Artist, Album, Playlist Index, Year
Output Organized: None, Playlist, Artist, Album, Artist/Album, Album/Artist, Playlist/Artist, Playlist/Album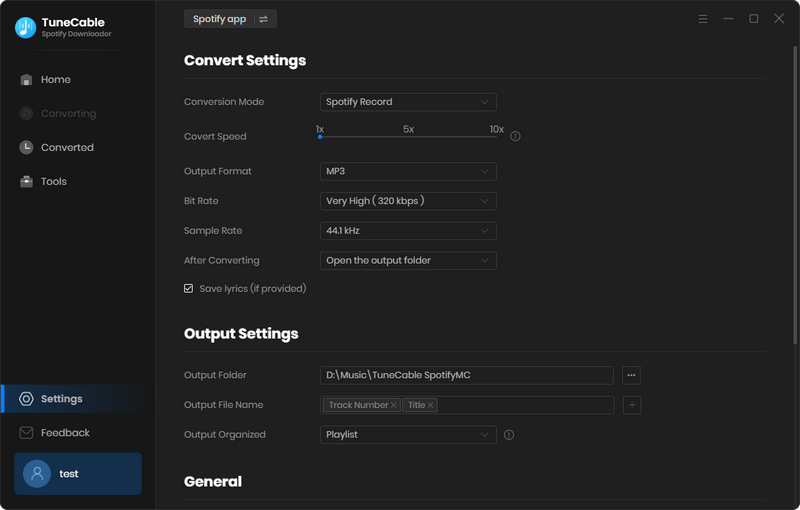 Step 4 Convert Spotify Files to Local MP3 Files
If you want to convert more Spotify songs from other albums or playlists simultaneously, you can do so by clicking on the "Add More" button located at the top right of the screen. After adding all of the desired Spotify songs, hit on the "Convert" button to begin the conversion process. The Spotify songs will be swiftly converted into standard MP3 formats.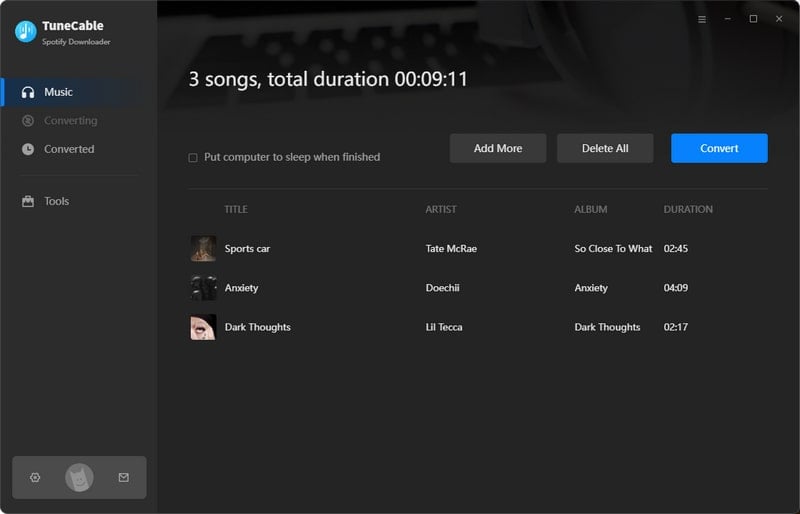 Step 5 Unlimited Playback of the Downloaded Spotify Songs
After the conversion process is complete, the downloaded Spotify songs will be saved in the assigned output folder. These selected Spotify songs will be saved in a straightforward MP3 format while preserving all ID3 tags. You are now free to utilize and transfer these songs as desired, without encountering any limitations.
---
✅ The Final Words:
From the post here, in addition to focusing on how to downgrade Spotify and disable its automatic updates across Android, Windows, and Mac, it surprises you by offering the optimum approach to perfectly backing up your collected Spotify tracks and playlists in case of any data loss. TuneCable Spotify Music Downloader.
Utilizing this software, you have the ability to procure unencrypted MP3 versions of songs from Spotify. Moreover, you can save other audio files from Spotify to your local computer in formats of your choice. As a result, you will be able to access and play your local Spotify music offline, wherever you are. This converter is both user-friendly and efficient, allowing for a hassle-free experience when downloading and enjoying your preferred Spotify tracks offline on any device. Don't hesitate to give it a try today!