🏆 Part 1: The 65th Annual Grammy Winners List
Here's the list of the 65th Annual Grammy Awards night's top winners:
Record of the Year: "About Damn Time" Lizzo
Album of the Year: "Harry's House" Harry Styles
Song of the Year: "Just Like That" Bonnie Raitt
Best New Artist: Samara Joy
Best Pop Solo Performance: "Easy on Me" Adele
Best Pop Duo/Group Performance: "Unholy" Sam Smith & Kim Petras
Best Traditional Pop Vocal Album: "Higher" Michael Bublé
Best Pop Vocal Album: "Harry's House" Harry Styles
Best Dance/Electronic Recording: "Break My Soul" Beyoncé
Best Dance/Electronic Music Album: "Renaissance" Beyoncé
Best Contemporary Instrumental Album: "Empire Central" Snarky Puppy
Best Rock Performance: "Broken Horses" Brandi Carlile
Best Metal Performance: "Degradation Rules" Ozzy Osbourne featuring Tony Iommi
Best Rock Song: "Broken Horses" Brandi Carlile
Best Rock Album: "Patient Number 9" Ozzy Osbourne
Best Alternative Music Album: "Wet Leg" Wet Leg
Best Alternative Music Performance: "Chaise Longue" Wet Leg
Best R&B Performance: "Hrs & Hrs" Muni Long
Best Traditional R&B Performance: "PLASTIC OFF THE SOFA" by Beyoncé
Best R&B Song: "CUFF IT" Beyoncé
Best R&B Album: "Black Radio III" Robert Glasper
Best Rap Performance: "The Heart Part 5" Kendrick Lamar
Best Melodic Rap Performance: "WAIT FOR U" Future featuring Drake & Tems
Best Rap Song: "The Heart Part 5" Kendrick Lamar
Best Rap Album: "Mr. Morale & the Big Steppers" Kendrick Lamar
Best Country Solo Performance: "Live Forever" Willie Nelson
Best Country Duo/Group Performance: "Never Wanted to Be That Girl" Carly Pearce and Ashley McBryde
Best Country Song: "'Til You Can't" Matt Rogers and Ben Stennis
Best Country Album: "A Beautiful Time" Willie Nelson
Best Roots Gospel Album: "The Urban Hymnal" Tennessee State University Marching Band
Best Gospel Album: "Kingdom Book One Deluxe" Maverick City Music and Kirk Franklin
Best American Roots Performance: "Stompin' Ground" Aaron Neville with the Dirty Dozen Brass Band
Best American Roots Song: "Just Like That" Bonnie Raitt, songwriter
Best Música Urbana Album: "Un Verano Sin Ti" Bad Bunny
Best Latin Rock or Alternative Album: "Motomami" Rosalía
Best Improvised Jazz Solo: "Endangered Species" Wayne Shorter and Leo Genovese
Best Latin Jazz Album: "Fandango at the Wall in New York" Arturo O'Farrill and the Afro Latin Jazz Orchestra featuring the Congra Patria Son Jarocho Collective
Best Musical Theater Album: "Into the Woods (2022 Broadway Cast Recording)" Sara Bareilles, Brian d'Arcy James, Patina Miller and Phillipa Soo
Best Compilation Soundtrack for Visual Media: "Encanto"
Best Score Soundtrack for Visual Media: "Encanto"
Best Global Music Album: "Sakura" Masa Takumi
Best Traditional Blues Album: "Get On Board" Taj Mahal and Ry Cooder
Best Contemporary Blues Album: "Brother Johnny" Edgar Winter
Best Folk Album: "Revealer" Madison Cunningham
Best Historical Album: "Yankee Hotel Foxtrot (20th Anniversary Super Deluxe Edition)" Cheryl Pawelski and Jeff Tweedy
Best audio book, narration and storytelling recording: "Finding Me" Viola Davis
---
🏆 Part 2: Where to Find 2023 Grammy Awards Music/Album
It's conspicuous that streaming music services will do something seeing the 65th Grammy coming, such as Spotify, Tidal, Amazon Music, and Apple Music, etc. They jumped at that chance and put together some playlists related to the winners of the 65th Annual Grammy Awards just in time, which helps develop a huge following. We are going to check how to find the 65th Grammy Awards Music for subscribers to some popular streaming music services.
✅ 2023 Grammy Awards Music on Spotify Music:
Spotify, the most popular streaming music service in the world, allows billions of fans to enjoy music and be inspired by it. On Spotify Music, you can discover and manage over 100 million tracks and 5 million podcast titles. Even with a free tier, you are entitled to relish music online. Spotify creates an ultimate Grammy playlist with your favorite 2023 nominees. There are 125 songs from the 65th Annual Grammy Awards compiled into this playlist and who knows if will it keep updating from time to time.
If this playlist is not what you want, you can search for songs or albums you need on Spotify, such as Beyoncé's music albums. Your favorite songs and albums of the 65h Grammy Awards will pop up after putting keywords into the search box.
✅ 2023 Grammy Awards Music on Tidal Music:
Tidal has been followed by a large group of audiophiles since its launch in 2014. For so many years, Tidal's prime task is to bring users higher-quality music. It stands out for its excellent listening experience, and even the high monthly subscription fee hasn't deterred its loyal fans. Curated playlists, exclusive albums, video content, and master-quality audio make the service a stellar choice for audiophiles.
During this February, Tidal specially compiles Grammy's songs into a playlist called "The Grammy Nominees 2023" (https://tidal.com/browse/playlist/e1a14744-e38d-41ab-963f-4015fe460e0a). There are 88 tracks available. You can play and download these 2023 Grammy Awards songs conveniently through this playlist. Or you may be looking for other 2023 Grammy songs on Tidal by quick searching.

✅ 2023 Grammy Awards Music on Amazon Music:
As a member of Amazon Music, you can get access to millions of songs and dozens of stations in its catalog. Here you can even find some obscure musical offerings, for example, video game soundtracks and fan covers. Amazon Music offers more than 7 million songs in Ultra HD quality (up to an absurd 3,730Kbps, 24-bit at 192kHz).
The 2023 Grammy Awards music is not hard to locate on Amazon Music. The music playlist "2023 GRAMMYs" (https://music.amazon.com/playlists/B08P3XMQKT) is curated by Amazon's Music experts, with 35 songs included. About Damn Time, Just Like That, The Heart Part 5, and other 2023 Grammy songs are available here. It also supports further searching for more 2023 Grammy songs and albums.

✅ 2023 Grammy Awards Music on Apple Music:
Apple Music has inherent advantages in entering the streaming music market. Because its background is the powerful Apple Corporation. The combination of Apple Music and Apple products can quickly occupy a place in the streaming music market. Coupled with Apple Music's large investment in lossless music over the years, it has won the popularity of many music enthusiasts. On Apple Music, the lossless tracks stream in ALAC format Up to 24-bit/192 kHz. As the second largest music streaming platform in the world, it is by no means a vain name. It has a great user interface, lossless audio, an impressive selection of music, and more. Although it doesn't provide free services, its high-quality music resources, and unique audiobook channel make many users flock to it.
Apple Music has created several music playlists for 2023 Grammy Awards songs, such as the 2023 Music Awards and the 2023 GRAMMY Nominees: Dance/Electronic Music Filed. Other Grammy Awards music can be also explored in its large music library by quick searching. It supports music downloading for offline listening as long as you are a subscriber.
---
🏆 Part 3: Download 2023 Grammy Awards Songs/Albums in Common MP3 Formats
After reading through the best places to find the 2023 Grammy Awards songs, albums, and playlists, You must be in a hurry to download these songs locally so that you can feel the charm of music anytime. That is the task of this part.
✅ Part 3.1 ➺ Why Should I Get A TuneCable Music Downloader?
Popular streaming music apps, like Spotify, Amazon Music, Apple Music, and Tidal Music, unlock offline downloading after you are subscribed to them with a monthly fee. However, as these downloaded tracks are encrypted and limited to playing within their corresponding music apps, you can never own these songs for further personal use, such as burning music to a CD, storing music into a USB flash drive or SD card, using music with DJ programs, add music to a video editor, play music with common media players, switch music playlists to another app, share music with friends who are not a subscriber, etc.
What should you do to fix it? By converting these encrypted songs into common MP3 formats. After that, you can unlock all limitations and get rid of the restrictions once and for all. You can transfer them and use them at will.
And we give all credit to music converters. Without their help, you are impossible to achieve decryption and forget the restraints. TuneCable works decades to craft helpers for removing the decryption and lead to a faster and more effective conversion, which contributes to extracting 2023 Grammy Awards music from popular streaming music apps and storing them as local MP3 files.
🔹 TuneCable Spotify Music Converter: Download songs, albums, and playlists from Spotify to a local PC and store them as common formats.
🔹 TuneCable Tidal Music Converter: Extract Tidal music in common formats at a fast speed and the master-quality music can also be preserved perfectly.
🔹 TuneCable Amazon Music Converter: Download HD or Ultra HD music and podcasts from Amazon Music in popular formats for unlimited use.
🔹 TuneCable Apple Music Converter: Not only download Apple Music to local files but also convert M4A/M4B/AA/AAX audiobooks, podcasts, and M4P music to MP3, AAC, WAV, FLAC, AIFF, and ALAC formats. It can be used as an all-in-one iTunes audio, Apple Music, and audiobook converter.
Key features of TuneCable Spotify/Tidal/Amazon/Apple Music Downloaders:
Download music with the original audio quality kept.
Convert music to common MP3/AAC/WAV/FLAC/AIFF/ALAC.
Faster speed to batch convert songs/albums/playlists.
Retain the whole ID3 Tags of each track, including cover art.
Permanently playback of the downloaded music.
For Spotify and Tidal users, even a free plan is feasible to download songs.
The downloaded songs can be transferred to any device and used with various programs.
✅ Part 3.2 ➺ Steps to Convert 2023 Grammy Awards Songs/Albums to MP3
Step 1 Download and Install TuneCable Music Downloader
TuneCable offers kinds of music downloaders. Choose the music downloader you need from the Download Center. Then follow our steps to convert Grammy Awards music to MP3. It takes similar steps to use Spotify, Tidal Music, and Amazon Music converters. For people who are meant to download songs from Apple Music, it will be a little different. You can follow this tutorial.
Next, we take TuneCable Spotify Music Downloader as an example to show you how to download Grammy Awards music in MP3 formats.
Firstly, get this TuneCable Spotify Music Downloader installed on your computer. Then launch the program. Meanwhile, you need to select a download mode - app mode and web player mode. The biggest difference is that the app mode needs the Spotify app to run and saves 320kbps audio at 1x to 10x the speed, while the web player mode works by accessing the Spotify web player and keeps the original audio quality at 10x fast speed. Pick a mode as needed. If you are not subscribed to Spotify, you can sign up for a free plan on Spotify. Spotify Free plan is feasible here to extract songs from Spotify.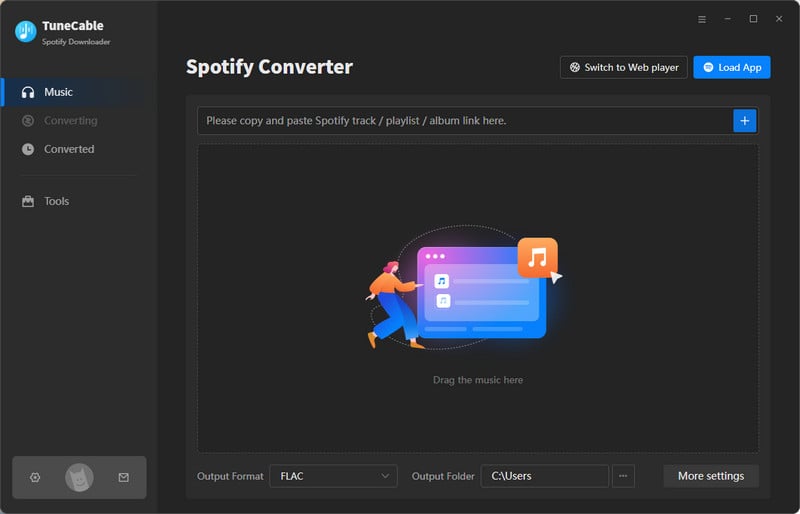 Step 2 Add the 65th Grammy's Songs/Albums/Playlists to Download
To download the 65th Grammy Awards music, you can go to the search box and enter the keyword. Then you can locate the targets in the search result fast. Navigate to the 65th Grammy Awards song or album, or just open an elaborately curated playlist, and then tap on it.
If you use the web player mode, open the playlist on the Spotify web player and hit on "Click to add".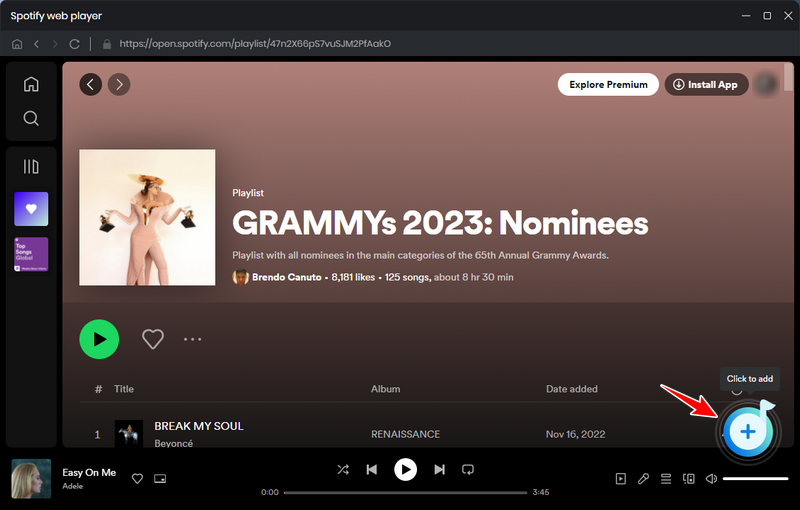 If you are using the app mode, you can choose to right-click on the "three dots" and copy its link by choosing the "Share > Copy Song/Album/Playlist link" option. After that, paste the shared link into the parsing box of TuneCable. There is another method to load the songs and make the conversion. Simply drag and drop the song, album, or playlist from the Spotify Music app to the main screen of TuneCable, then it will start parsing and loading the songs.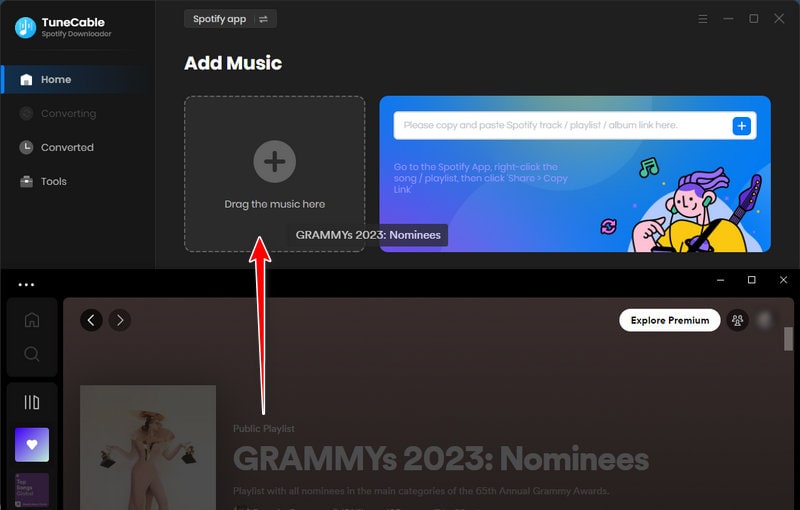 After the songs are loaded, choose the preferred tracks and deselect the rest. Then go to the "Add" button once you've made a decision.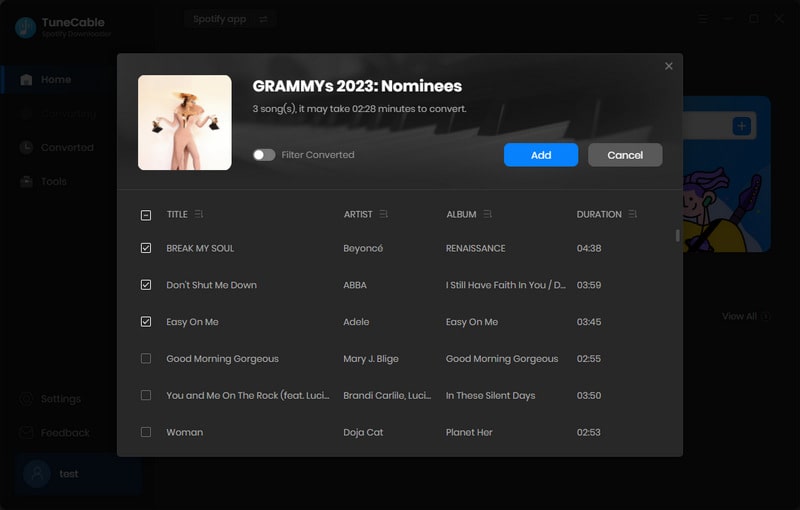 Step 3 Customize Output Settings before Conversion
The output settings will be updated as the tech support team puts in constant effort. Open the TuneCable downloader, then go to the left bar, and click on the "Settings" tab, you will see the latest available options for the output parameters.
In the setting panel, the output format can be set as "MP3" when planning to extract Grammy's songs from Spotify to a local PC as MP3 formats. The "Auto" option is prepared for users who are willing to download the Grammy's songs in the original quality and format.
Conversion Mode: Intelligent Mode, Spotify Record/Web Download, YouTube Download
Convert Speed: Can be adjusted from 1x to 10x under Spotify Record conversion mode
Output Format: Auto, MP3, AAC, WAV, AIFF, ALAC, FLAC
Bit Rate: 128kbps, 192kbps, 256kbps, 320kbps
Sample Rate: 44.1kHz, 48kHz, 96kHz, 192kHz
Output Folder: To your preference
Output File Name: Track Number, Title, Artist, Album, Playlist Index, Year
Output Organized: None, Playlist, Artist, Album, Artist/Album, Album/Artist, Playlist/Artist, Playlist/Album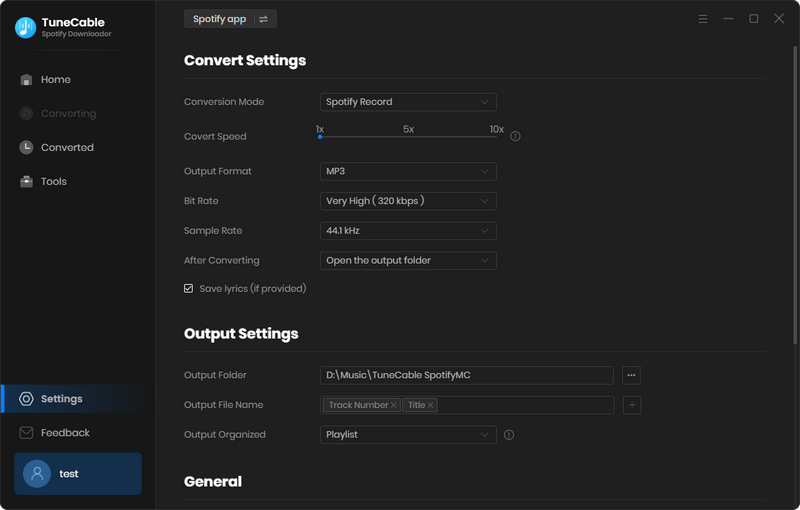 Step 4 Converting the 65th Grammy's Music to Local MP3 Songs
There is a secret function that could be ignored. You can click on the "Add More" button in the upper right when you need to add more songs right now.
To take an immediate conversion, hit on the "Convert" button. With a stable network connection, the Grammy Awards music can be converted to plain MP3 files at a faster speed.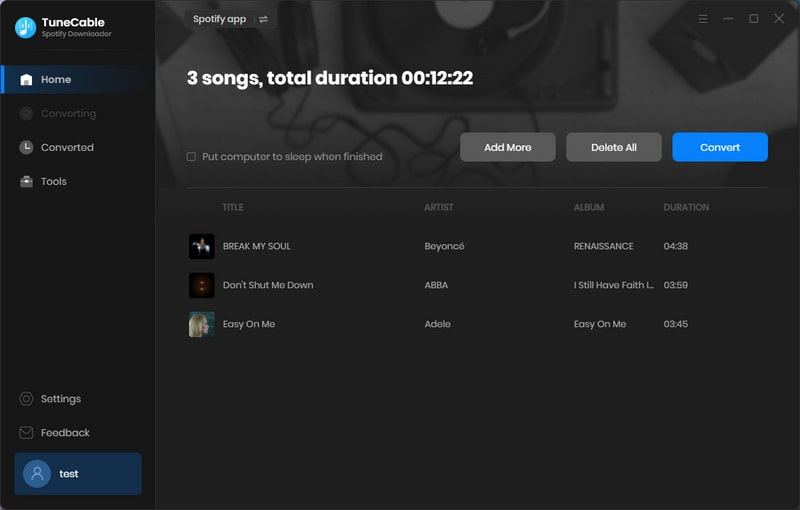 Step 5 Unlimited Playback of the 65th Grammy's Music
After completing the conversion, the downloaded songs are stored in the output folder. The 65th Grammy's songs are stored in the way you set before. And you can find all 2023 Grammy Awards songs are truly downloaded in plain MP3 formats with the ID3 tags (artist, title, album, etc.) retained. Now, you can freely use them and transfer them at will. It's time to relish the playback of the 65th Grammy's music anytime and anywhere.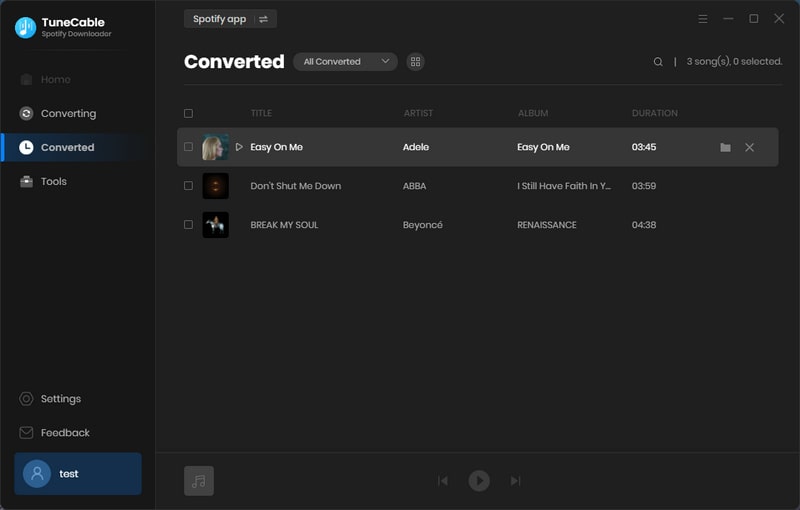 ---
✅ Conclusion
This article explains in as much detail as possible where to download the 2023 Grammy-winning songs and albums, and how to download these Grammy songs in MP3 format. We couldn't decide which streaming platform you'd prefer, so here are all the common options. You can download the TuneCable Music Converters you need on this page, and then follow our instructions to download the 65th Grammy Award-winning songs to your local computer in MP3 format. If you find this post helpful, please share it with the people around you. Start a free trial of TuneCable and have fun now!