Apple Music can run for one of the top best streaming music services as it gathers over 70 million curated music collections, irrespective of there being plenty of competitive music factories, such as Spotify, Amazon Music, Tidal, YouTube Music, and so on. Apple Music has fared overwhelming success especially after launching its long-rumored high-fidelity music service. The adoption of the ALAC format for Apple audio kind of performs a reformation in the music market. People since then value much more on audio quality instead of focusing on the file size. In this post, we also agree on this aspect. The gist of this post is to instruct you on how to download Apple Music tracks, albums, and playlists to local disk into lossless ALAC formats with 100% sound quality retained. What's more, we lay a plan to remove the restraints imposed on Apple songs and turn them into local songs genuinely.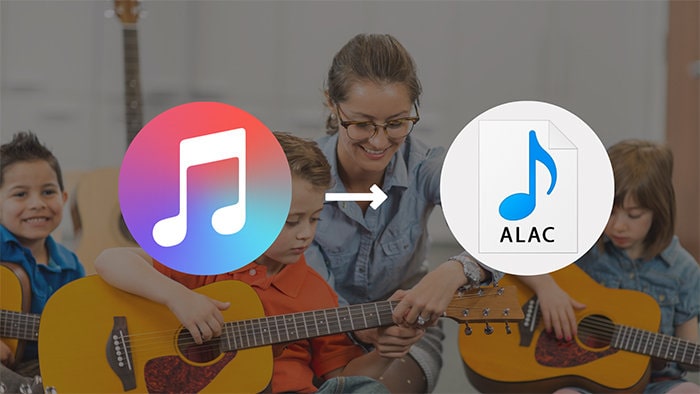 ---
Part 1: What is ALAC?
Apple company has revolutionized the music service field by developing an exclusive audio compression technique called Apple Lossless Audio Codec (ALAC). We can easily tell what is lossless audio and what is compressed audio. However, how can lossless audio at the same time feature compression technology? Briefly, lossless compression is a form of compression that preserves all of the original data.
To deliver an incomparable listening experience, Apple Music provides two tiers for their subscribers, lossless and hi-res lossless. Becoming part of them, you can listen to the songs encoded using ALAC in resolutions ranging from 16-bit/44.1 kHz (CD Quality) up to 24-bit/192 kHz. In addition to ALAC, you can also find audios in AAC (Advanced Audio Codec) formats which don't deliver the highest-quality recordings compared with ALAC. Still, it delivers audio that's virtually indistinguishable from the original studio recording.
To get access to the catalog encoded using lossless audio compression(ALAC), you don't have extra cost. Apple Music subscribers have the option to stream ALAC music easily, but you should check if your connected headphones or speakers are equipped with lossless playback support.
---
Part 2: Download ALAC Songs from Apple Music
To get an entry ticket to access the Apple Music catalog, firstly, you should be subscribed to Apple Music. Only $9.99/month brings you into the music library included over 70 million. For a college student, it's a $4.99/month deal. And for those fresh users, you can start a 1-month free trial, then $9.99/month. In addition to the individual plan, you may want to try $14.99/month for families (up to 6 users).
There are different combinations of Apple Music tiers. For all tiers, their users are allower for playing the entire music catalog encoded using ALAC. Next, let's get a glimpse at how to stream ALAC songs on Apple Music and how to download them for offline listening using the Apple Music app.
# How to Stream or Download Lossless Audio on iPhone/iPad?
Step 1: Start Apple Music on your iPhone or iPad.
Step 2: Navigate to "Settings > Music". Then press on the "Audio Quality".
Step 3: Tap on the "Lossless Audio" option to switch it on. Then you are enabled to stream or download audio from Apple Music in lossless or hi-res lossless quality.
# How to Stream or Download Lossless Audio on Android?
Step 1: Unlock your Android phone and open the Apple Music app.
Step 2: Go to the "More" button and tap on the "Setting" option in the pull-down menu list.
Step 3: Click on "Audio Quality" then turn on the "Lossless Audio" option. From now on, you can stream or download audio from Apple Music in lossless or hi-res lossless quality on the Android phone.
# How to Stream or Download Lossless Audio on Windows?
Step 1: On the Windows PC, start iTunes. Apple Music is built-in. You can go to "For You" or "Browse" to access the Apple Music library.
Step 2: Go to the top left corner. Then click on "Files > Preferences".
Step 3: Under the "Playback" section, change the settings of "Sample Rate for Audio" and "Bits Per Sample for Audio" to make sure you can stream or download music in lossless or hi-res lossless quality.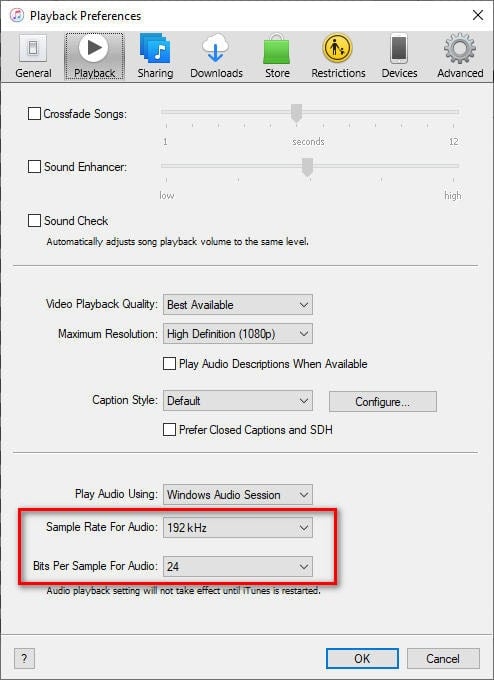 # How to Stream or Download Lossless Audio on Mac?
Step 1: On the Mac, open the Apple Music app. For older Mac OX, you can open iTunes and refer to the steps above.
Step 2: Then navigate to "Music" in the top left corner of the Mac screen. Choose "Preferences".
Step 3: Since then, go to the "Playback" column. Go to the "Audio Quality" option and choose to stream and download Apple music in lossless or hi-res lossless quality.
---
Part 3: Convert Apple Music to DRM-Free ALAC
While downloading lossless ALAC songs from Apple Music is officially permitted, why is a different way to extract songs from Apple Music still tempting? Let's sort it out. On the one hand, The frequent subscriptions to Apple Music are draining your savings and you have to stop. But you are dependent on the unparalleled listening experience provided by Apple Music. Then you are thinking of how to keep the purchased songs after canceling the subscription. On the other hand, you are desperate to transfer your favorite Apple Music playlists to other devices for offline playback or you want to add the downloaded Apple songs to other programs for editing. Apple Music will not be supportive of your personal behaviors. You can only end up using the help of a professional tool.
TuneCable Apple Music Converter reverses the situation by downloading DRM-Free ALAC songs from Apple Music with the authentic audio quality perfectly preserved. It particularly specializes in ripping Apple audios including songs, albums, playlists, podcasts, iTunes downloads, and audible audiobooks to a local Windows PC or Mac in unencrypted MP3/AAC/WAV/AIFF/ALAC/FLAC formats.
Things get easier after removing the restraints imposed on Apple Music tracks. You can:
1. Never lose the Apple songs even if you choose to be unsubscribed to Apple Music.
2. Unlimitedly play the ALAC songs when there is no network connection.
3. Easily transfer the ALAC Apple songs to a series of portable devices.
4. Import the Apple songs to ALAC-supported programs for editing or creating.
5. Share your favorite Apple Music playlists with your friends who are not subscribed to Apple Music yet.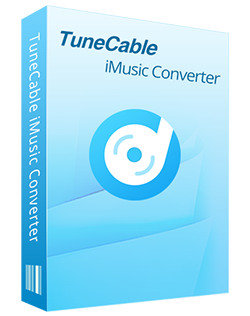 TuneCable iMusic Converter

🔹 Record iTunes songs/podcasts/audiobooks and Apple Music.

🔹 Convert Apple Music to MP3/AAC/WAV/FLAC/AIFF/ALAC.

🔹 Proceed iTunes audio at 10x speed with lossless quality.

🔹 Keep ID3 tag information like title, artist, album, etc.

🔹 Sort iTunes/Apple Music files by playlist, album, artist, etc.

🔹 Get tools (Format Converter, Tag Edit, etc.) & save lyrics.

🔹 Activate permanent playback of iTunes/Apple Music tracks.

🔹 Enable to transfer Apple Music tracks to any device for use.
Let's jump into the detailed steps to convert Apple music to lossless ALAC format.
Step 1 Launch TuneCable Apple Music Converter
Download and install TuneCable Apple Music Converter on your computer, then start the program. TuneCable Apple Music Converter can be run on both Windows PC and Mac. Unlike other Apple products, Apple Music supplements the support of Windows OS. Although, you need to get access to Apple Music via iTunes on the Windows PC. On the main interface, you are provided two download modes - app mode and web player mode. The app mde requires you to make sure the latest iTunes or Apple Music is installed on your computer, while the web player mode works via accessing the Apple Music web player. You should not worry about the output audio quality, as both modes save the original audio.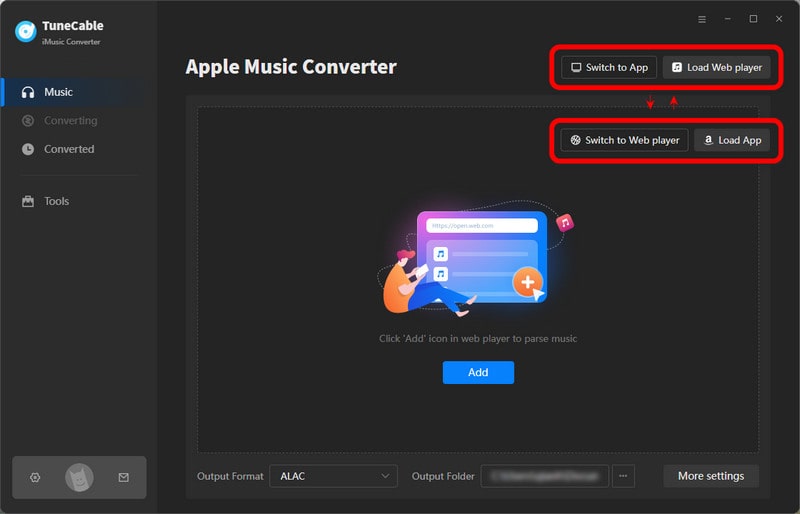 Step 2 Select the Wanted Tracks to Download
Under the app mode, click the "+Add" button in the middle of TuneCable. Then the Apple Music playlists, audios, audiobooks, and playlists in the iTunes Library will be loaded too. Select the wanted tracks, then click on "OK".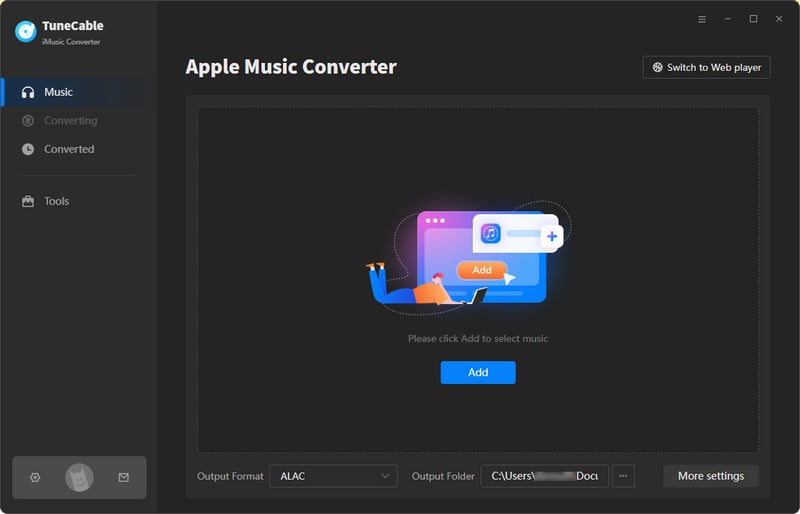 If you use the web player, open the playlist/album and hit on the "Click to add" button. The tracks will be loaded on a popup. Pick your songs and click on "Add".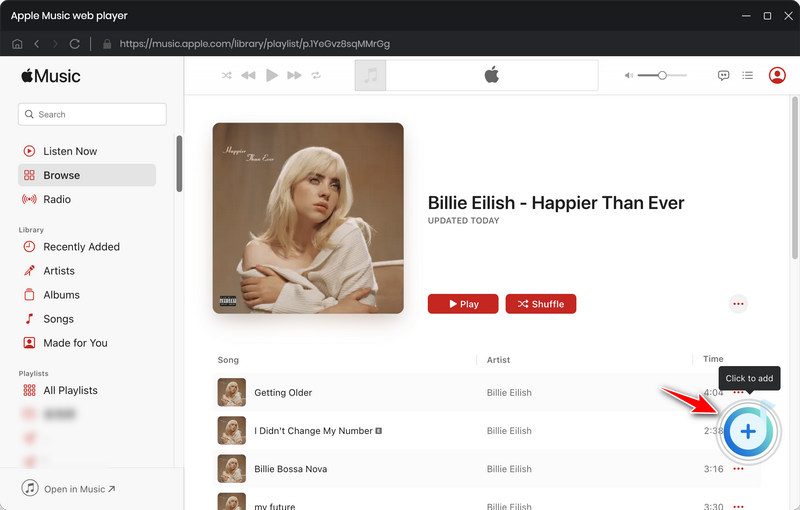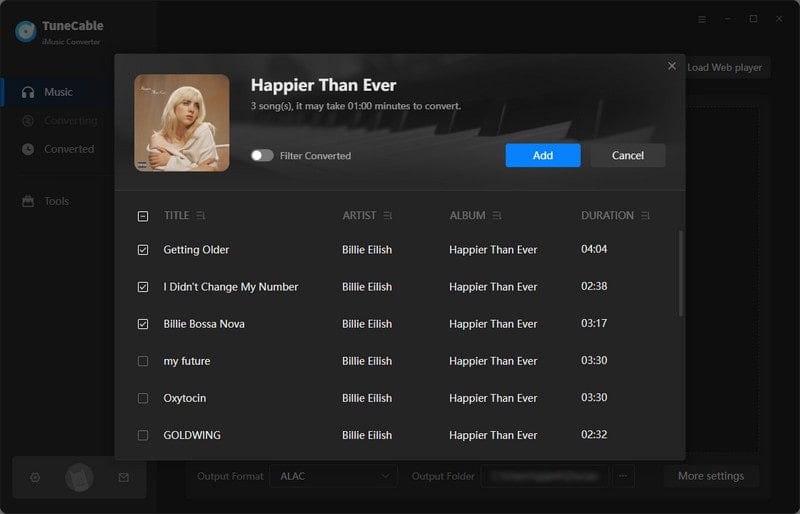 Tips: If the Apple Music tracks can not be loaded, please check if you've logged in to your Apple account in the Apple Music or iTunes before. If you want to download more songs from Apple Music, you can go to the music library of Apple Music then add the songs to the Apple Music playlists under the app mode. Then the playlists will be updated automatically the next time you open the TuneCable Apple Music Converter. Under the web player mode, you just need to repeat this step.
Step 3 Set ALAC as the Output Format
Before stepping into converting songs, check if you want to make changes to the output formats, bit rate, sample rate, output folder, etc. In the left bar, click on the "Settings" tab. Select "ALAC" as the output format then adjust the sample rate. To guarantee the original quality output, you can set the conversion mode as "iTunes Record" or "Web Download".
Conversion Mode: Intelligent Mode, iTunes Record/Web Download, YouTube Download
Output Format: Auto, MP3, AAC, WAV, FLAC, AIFF, ALAC
Bite Rate: 128kbps, 192kbps, 256kbps, 320kbps
Sample Rate: 44.1kHz, 48kHz, 96kHz, 192kHz
Output Folder: According to your preference
Output File Name: Track Number, Title, Artist, Album, Playlist Index, Year
Output Organized: None, Playlist, Artist, Album, Artist/Album, Album/Artist, Playlist/Artist, Playlist/Album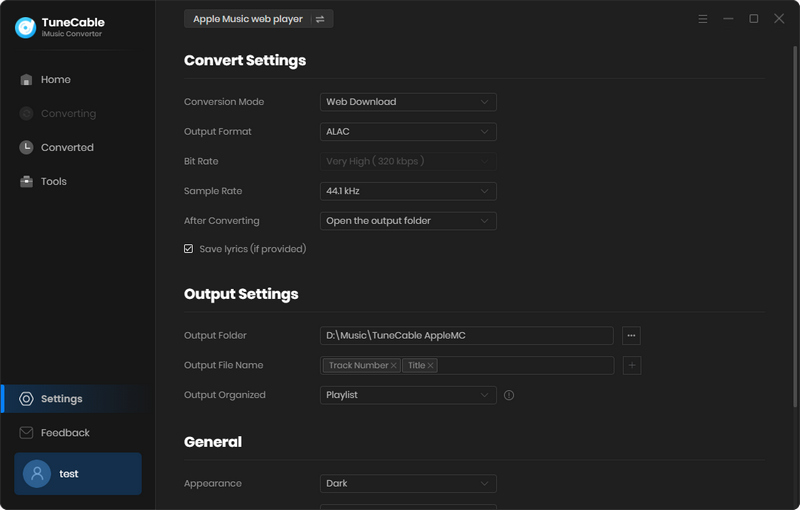 Step 4 Start Converting Apple Music to Lossless ALAC
Followed by the output settings, we are ready for the conversion. Click on the "Convert" button to perform the conversion. You will be prompted when it's successfully processed. If you set the output format as ALAC, the Apple songs will be converted to ALAC formats. Don't be suspicious if you see the output filename suffixed with m4a instead of alac. m4a is like a container for audio files and does not represent the real format of the files inside.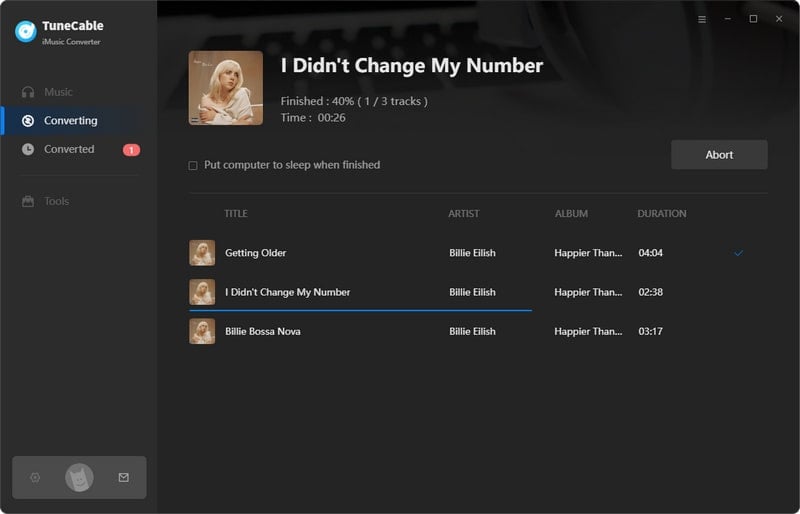 Step 5 Keep the Apple Songs in ALAC Formats Forever
Instantly, the output folder will pop up when the conversion is completed. You can also navigate to the output folder by heading to "Converted" and clicking on the file icon. Now, the songs or other audio from Apple Music are stored as local files genuinely. You can freely use them with numerous programs and play them via kinds of devices. You will never lose the downloaded Apple songs unless you choose to discard them.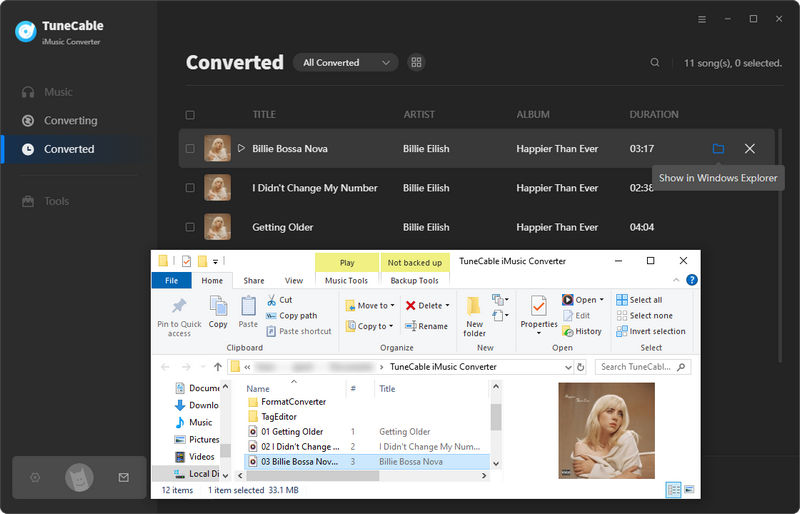 ---
Part 4: What Devices Support ALAC?
Although it consumes more cellular data, requires a more stable Wi-Fi network connection, and takes up more storage space, users place a high value on downloading Apple's lossless audio. However, even if you've got all prepared, you may ignore the device you use to relish Apple Music's playback. It should be noted that not all devices support playing Apple Music Lossless audio. But for professional fans, you should already know it. If you want to have a look at the supported devices for ALAC, check the details below:
Supported Devices: Apple Music Lossless audio can be listened to on Mac, Apple TV, iPhone, iPod, and HomePod. Learn more details on playing lossless ALAC quality on different Apple devices.
Unsupported Devices: AirPods, AirPods Pro, AirPods Max, AirPods, and other wireless Bluetooth are failed to support lossless ALAC audio. These devices use Apple AAC Bluetooth Codec to ensure excellent audio quality instead of using ALAC. And AAC audio isn't lossless.
---
The Verdict
Four parts in this tutorial illustrate what is ALAC and how to stream and download ALAC audios from Apple Music. Going through all parts, you may notice that the ultimate solution is to convert Apple songs and other audios into lossless ALAC formats by using TuneCable Apple Music Converter. Only by removing the restrictions on the Apple Music part, you can unlock the unlimited playback of Apple music. Then you will avail of keeping the lossless ALAC songs perpetually. Come and try it in your firsthand experience!