✅ Part 1: Where Are Apple Music Downloads Stored?
The location of Apple Music downloads will vary on different devices. And you should not expect free use of these Apple cached files. Even though you can find the root folder of a file, you lack the ability to change the encryption that remains on these files. If you need the encryption to become removable, you should check the next part of this post.
⇢ Locate Apple Music Downloaded Files On iPhone/iPad:
Apple Music downloaded files on your iPhone or iPad are stored in a location that is not easily accessible to users. The files are stored in an encrypted format that is only accessible through the Apple Music app. However, you can access your downloaded songs within the Apple Music app itself. Here's how:
Step 1: Open the Apple Music app on your iPhone or iPad.
Step 2: Go to the "Library" tab at the bottom of the screen.
Step 3: Select the "Downloaded" option. This will show you all of the songs and albums that you have downloaded to your device. You can play the songs directly from this screen, or tap on an album or playlist to see the individual songs.
Step 5: If you want to access the downloaded files on your device, you can use the Files app on your iPhone or iPad. Open the Files app, then navigate to the "On My iPhone" or "On My iPad" section. From here, you can find the "Apple Music" folder, which contains all of the downloaded music files. However, note that these files are still encrypted and can only be played through the Apple Music app.
⇢ Locate Apple Music Downloaded Files On Android Phones:
For Android users, there are fewer restrictions. It will be a little easier to access your files on an Android device.
Step 1: Open the "File Manager" app on your phone, then tap on the "Internal Storage" option.
Step 2: Then go to Android > Data > (App Package Name) like com.apple.android.music
Step 3: And you can also check the folder of Internal Storage > Music. But in general, in this Music folder, you can only find the local songs.
By the way, Android devices are allowed to have flexible storage by inserting a removable SD card. If you are meant to find the root folder of the Apple Music files and move them to an inserted SD card, here is what you should do:
Step 1: Launch your Apple Music App the go to "Menu > Settings > Download location".
Step 2: You will be prompted to select the SD card. Tap on "Yes" to change the location. This will route all presently downloaded files, and future downloads, to the SD card.
⇢ Locate Apple Music Downloaded Files On Windows PC:
Apple Music plans to replace the iTunes app with the Apple Music app. It's not available in all regions now. For Apple Music users, you can get access to the Apple Music library via the iTunes app on a Windows PC. Later, you need to get access to the Apple Music library via the Apple Music app. Anyway, it's not important. Through both apps, you can listen to your purchased music as well as your Apple Music subscription content. But if you want to find the root storage folder of the Apple Music downloads, you need to follow the steps below.
Step 1: Open the "File Explorer" then go to "C:\Users\[username]\Music\iTunes".
Step 2: Under this folder, you can view all iTunes downloaded files and caches.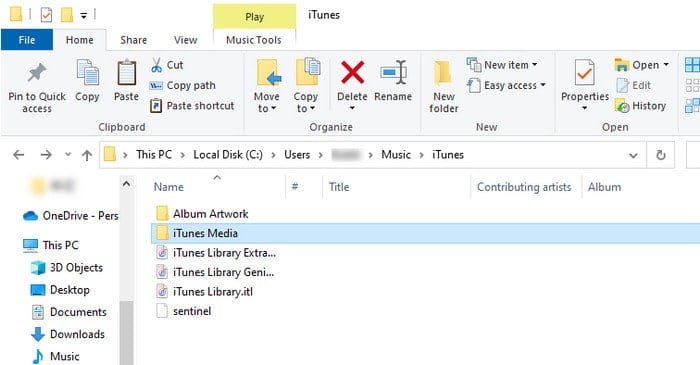 When you are thinking of changing the downloading path to another location, you can:
Step 1: Go to the iTunes menu, then head to "Edit > Preferences > Advanced".
Step 2: In the Advanced Preferences window, click "Change" to alter the saving path of iTunes media content.
Step 3: Then tap on the File option, and go to "Library > Organise Library". Check Consolidate Files. Hit on "OK". Soon after, all your new music, videos, and other Apple Music files will be backed up to the new disk.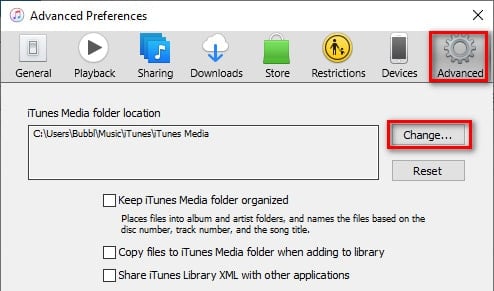 ⇢ Locate Apple Music Downloaded Files On Mac:
For iOS users, it's hard to access the root folder of downloaded files. On Mac, it's the only exception. Here are several ways to track down the downloaded Apple files on Mac.
Step 1: On the Apple Music app, tap on "Songs" in the sidebar. Then you can head to the item you need, then select "Song", followed by "Info". Another option is to head to the item you prefer, then select "File", followed by "Show in Finder".
Step 2: You can also check the Apple files by clicking "Go" on your Mac's desktop, and then clicking on "home". Lastly, tap on "music". From here, all your Apple Music files are available.
If you are still curious about how to move your Apple Music files to another location on your Mac, here is the answer:
Step 1: On the Apple Music app, go to "Music > Settings > Files".
Step 2: Then you can alter the saving path by clicking the "Change" button. After that, the Apple Music downloaded files will be saved to this path. But the existing songs will remain in their old location.
---
✅ Part 2: Remove Restrictions on Apple Music Downloaded Files
Apple Music is a music streaming service that uses a digital rights management system to protect copyrighted content. This means that the music you download or stream from Apple Music is encrypted and can only be played within the Apple Music app or on authorized devices.
TuneCable Apple Music Converter enables you to get rid of the restrictions by removing Apple Music's encryption and converting the files to common formats like MP3, AAC, WAV, FLAC, AIFF, or ALAC. By using an Apple Music Converter, you make it possible to listen to Apple Music tracks on non-Apple devices, to have offline access to their favorite tracks, or to keep a permanent copy of the music they stream from Apple Music.
Unlike other Apple Music helpers, TuneCable completes the conversion of Apple Music tracks and playlists without losing any sound quality and preserving the full ID3 tags for future use. Moreover, it offers several conversion modes to guarantee the success of the conversion.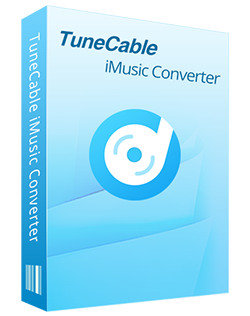 TuneCable iMusic Converter

🔹 Record iTunes music/podcasts/audiobooks and Apple Music.

🔹 Convert Apple Music to MP3/AAC/WAV/FLAC/AIFF/ALAC.

🔹 Proceed iTunes audio at 10X speed with lossless quality.

🔹 Keep ID3 tag information like title, artist, album, etc.

🔹 Activate permanent playback after the conversion.

🔹 Enable to transfer Apple Music tracks to any device for use.
Let's jump into the detailed steps to convert Apple Music files to general formats.
Step 1 Start TuneCable Apple Music Converter on Windows PC or Mac
Launch TuneCable Apple Music Converter after downloading it to your computer. If you prefer the app download mode, check if you've installed the latest iTunes or Apple Music on your computer. Then log in to Apple Music with your Apple ID. If you want to download any music playlist from Apple Music, you can add them to your library right now. After that, close the iTunes app or Apple Music app. If you choose the web player download mode, the Apple Music web playwer will pop up, and you need to log in to your Apple ID too. Both modes can save the original quality of Apple Music/iTunes songs at up to 10x the speed (1x for the app mode on Mac).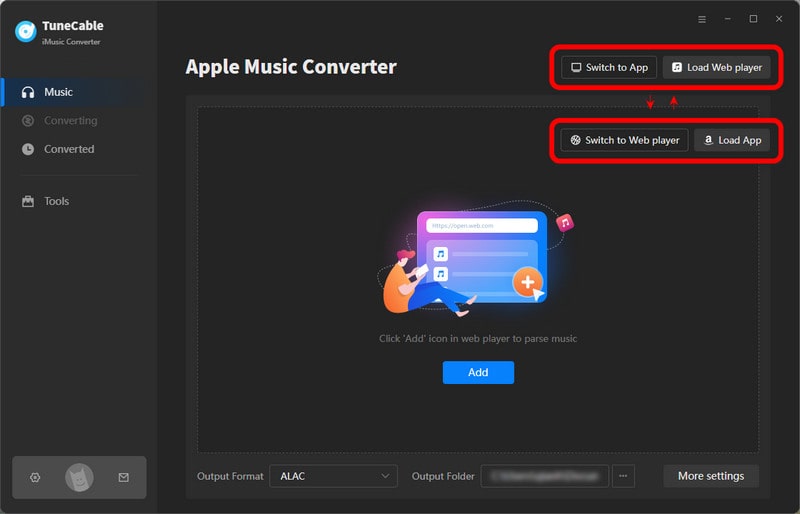 Step 2 Set the Output Format and Other Parameters
After selecting the download mode, you may conduct a conversion immediately. Actually, there is another critical step. Go to "Settings" tab and check available downloading options.
You should notice that the options of Bit Rate and Sample Rate vary while selecting different output formats. It's not a bug. The output format should be compatible with the device or app you are going to import. For the best quality of the downloaded Apple files, you can select "Auto" in the Output Format setting. It ensures that TuneCable downloads Apple songs with the original quality and format retained.
Conversion Mode: Intelligent Mode, iTunes Record/Web Download, YouTube Download
Output Format: Auto, MP3, AAC, WAV, FLAC, AIFF, ALAC
Bite Rate: 128kbps, 192kbps, 256kbps, 320kbps
Sample Rate: 44.1kHz, 48kHz, 96kHz, 192kHz
Output Folder: According to your preference
Output File Name: Track Number, Title, Artist, Album, Playlist Index, Year
Output Organized: None, Playlist, Artist, Album, Artist/Album, Album/Artist, Playlist/Artist, Playlist/Album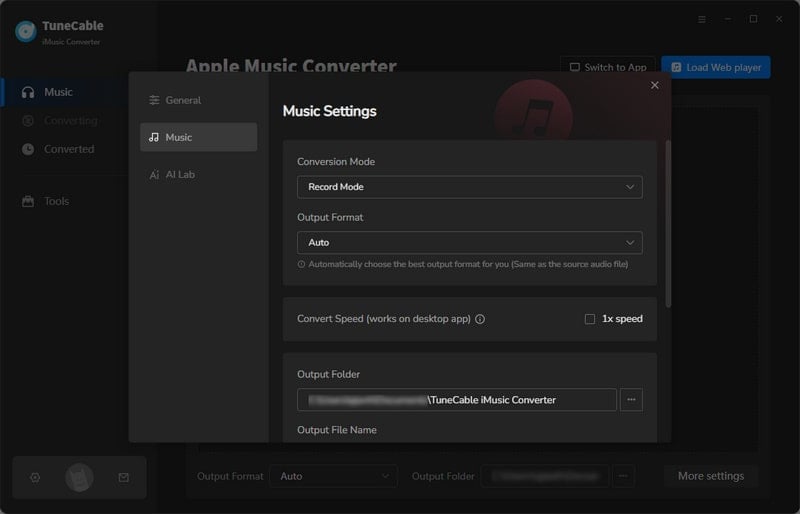 Step 3 Select the Wanted Tracks to Download
Under the app download mode, on the start-up interface of TuneCable, there is an "+Add" button in the middle. Click this button then a pop-up window appears. From here, you will see iTunes downloads, your collected Apple Music playlists, and even audiobooks from the Apple Music library. Find the wanted tracks in Apple Music playlists and click on "OK".
What should you do if you are intended to download more songs and playlists from Apple Music? You can go to Apple Music library, and then add songs or playlists to your library. Then TuneCable will update the playlists after restarting. Afterward, these newly updated tracks will be available to download.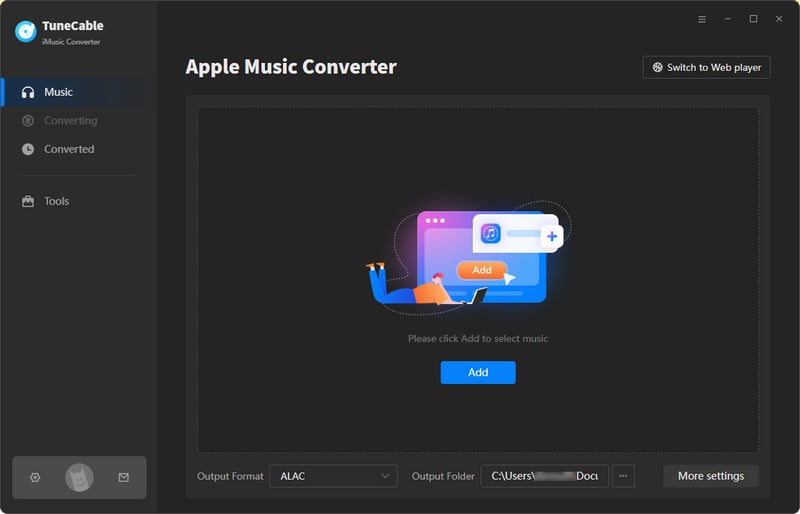 But if you are using the web player mode, you only need to open your target songs on the web player, and click on "Click to add". The songs will be shown on a popup, where you can pick songs. Then click on "Add".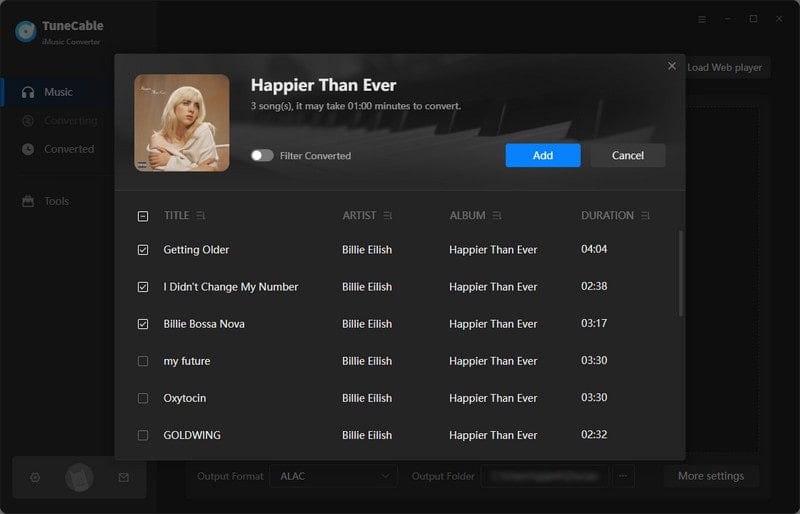 Step 4 Converting Apple Songs to Common Formats
If you want to add more songs to the task list, you can click on the "Add More" button in this interface. Lastly, hit on the "Convert" button to initiate the conversion process. It will be processed at a faster speed.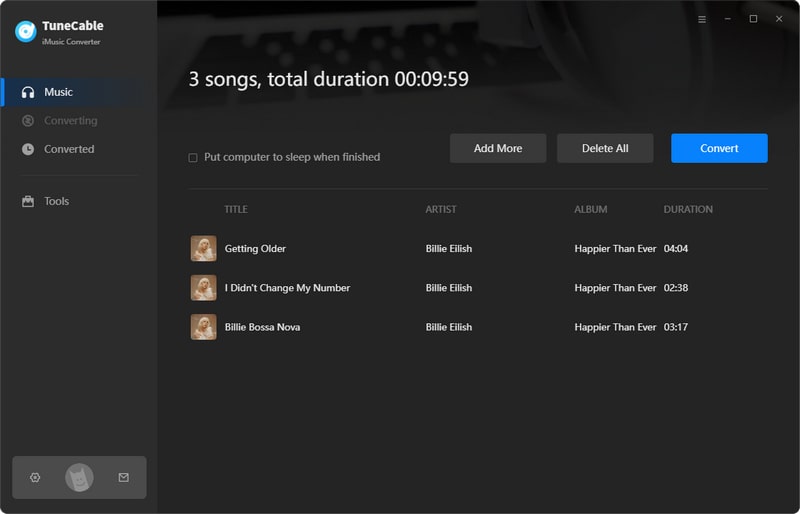 Step 5 Freely Use the Converted Apple Songs
When you are prompted that the Apple songs are downloaded successfully, you can open the output folder and check the Apple downloads. Or you can go to the "Converted" tab of TuneCable to check your download history. Now, you own these Apple songs for real and you can freely use them, such as burning the Apple music to CDs, adding the Apple music to programs, transferring the Apple music to other devices, or playing the Apple songs via other media players.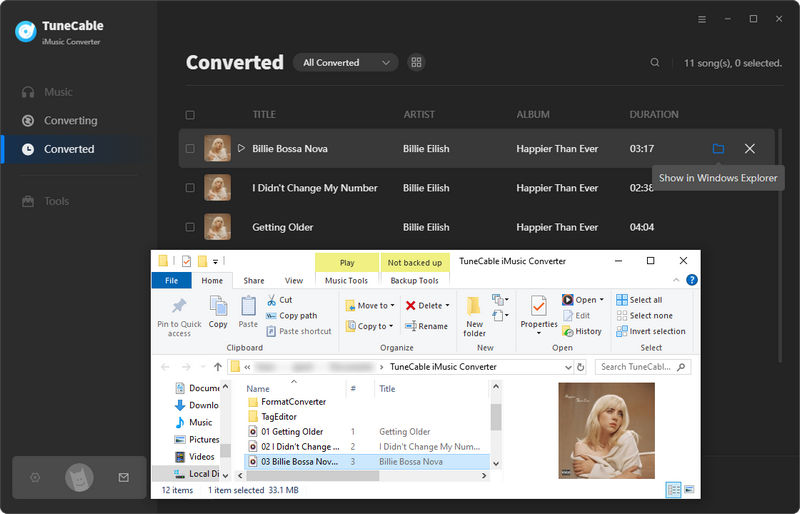 ---
The Closing Thoughts
Why do you insist on knowing where your Apple Music files are saved? You may consider making a full backup in case of playback errors or missing files or transferring the downloaded Apple songs between different devices. Regardless of what you are thinking about, the ultimate solution is to convert the Apple Music files to common formats and save them to a local disk. After the conversion process by TuneCable Apple Music Converter, you are not even urged to renew the subscription to Apple Music as you already download the desired Apple Music playlists to local files. If you like our share today please tell people around you how it works. Wish you good every day!