The MP3 player initially is designed for listening to music anywhere at any time. Later although it incorporates more functions like reading, photography even playing video and optimizes its appearance to a smart touch screen, the MP3 player fades out as smart phone is more full-featured and modern. Is it true that smart phone has kicked MP3 players out of electronic markets? Not exactly. Full-featured as the smart phone is, it is not as professional as an MP3 player in playing music and decoding music files. Secondly, the storage space of a smart phone is limited, there will be little space left after storing hundreds of tracks. Thirdly, the MP3 player is more light and compact and has long endurance. These are why there are still many music fanciers who choose MP3 players as their music partners.
In this article, we are going to show you ways of playing Tidal Music on MP3 players. Why do we talk about this topic? To play music on an MP3 player, there must be music files on it. But music apps don't allow users to access downloaded music files. In addition, through decades of development, the modern MP3 player is more sophisticated. But most of them still don't support downloading and installing music streaming apps, not to mention downloading music. Here's the question, how to play your favorite Tidal music on MP3 players? For the answer, read this passage carefully.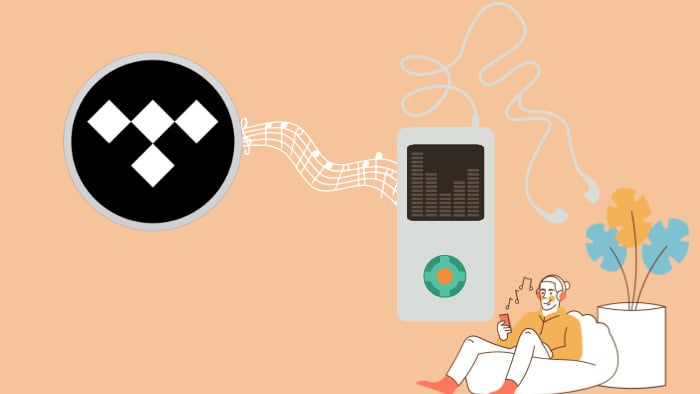 Detailed Steps to Play Tidal Music on MP3 Player
As we have mentioned before, music apps don't allow their users to access their downloaded music files, including Tidal. Tidal users can only listen to their downloads within the Tidal app. Can't you download Tidal music in a real sense? Sure, you can. You can use TuneCable Tidal Music Converter, which is a powerful tool that specializes in downloading and converting Tidal music to different formats. More importantly, it supports downloading Tidal music to common music files and transferring them to other devices.
Key Features of TuneCable Tidal Music Converter:
Download Tidal songs, playlists, and albums.
Extract songs with Tidal Free, HiFi and HiFi Plus plans.
Download Tidal tracks in MP3, AAC, FLAC, WAV, AIFF, ALAC formats.
Preserve the original audio quality and full ID3 Tags.
Download MQA/HiFi Tidal music without quality loss.
More tools: Format Converter, Edit Tag.

Step 1: Launch TuneCable Tidal Music Converter
For the first step, you need to download TuneCable Tidal Music Converter by clicking the button above or going to its official website. Install the program. Launch it, and the Tidal app will be started correspondingly. Then log in to the Tidal app with your account. To make this step successful, please make sure your computer has installed the Tidal app first.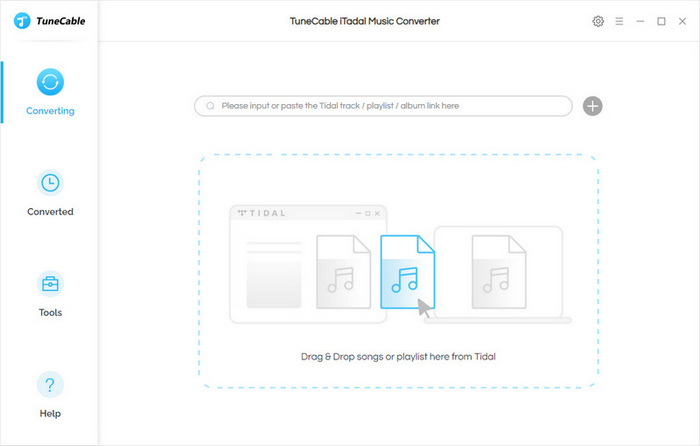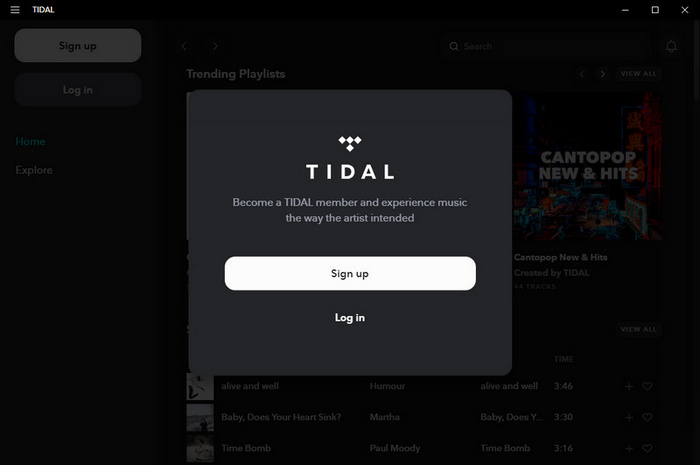 Step 2: Customize Output Settings on TuneCable
The reason why we suggest using TuneCable to download Tidal music is that TuneCable has rich features. It allows users to set the Output Format, Bit Rate, and Sample Rate, edit the Output File Name, decide how the output files are classified by the options of Output Organized and designate an Output Folder. Just click the "Settings"

button and customize the settings on the pop-up window.
Output Format: MP3, AAC, WAV, AIFF, ALAC, FLAC, AUTO.
Bit Rate: 128 kbps, 192 kbps, 256 kbps, and 320 kbps (depending on the format selected).
Sample Rate: 44.1 kHz, 48 kHz, 96 kHz, 192 kHz (depending on the format selected).
Output File Name: Track Number, Title, Artist, Album, Playlist Index, Year.
Output Organized: Artist, Album, Artist/Album, Album/Artist, None.
Some MP3 players support only MP3 format, while others support more like FLAC, and WAV. Check which format your players support and choose the output format. By the way, as TuneCable supports downloading MQA/Hi-Fi Tidal music without quality loss, you can choose FLAC to preserve lossless music, or "AUTO" to preserve the original audio quality.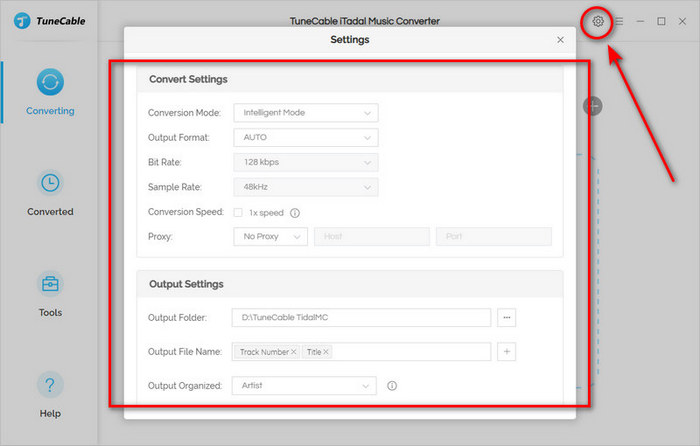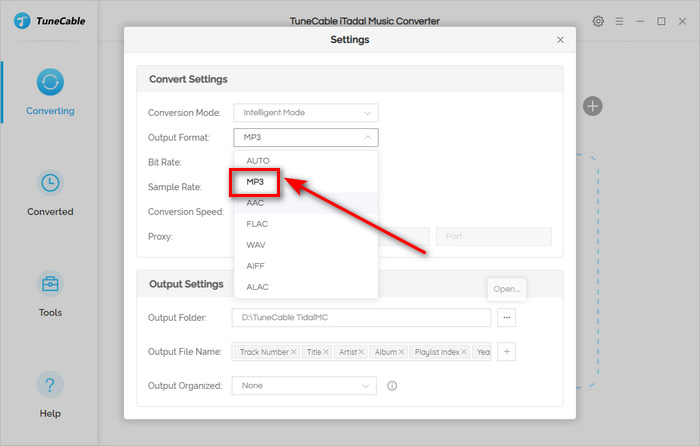 Step 3: Add Tidal Music to TuneCable
Click your Tidal main page upward, and navigate to the track you want to download. Long press the left mouse button and drag it to the square dotted box. TuneCable parses it. Then a window pops up. Click the "OK" button to confirm the operation. If you think it is inconvenient to add songs one drag by one drag, you can directly copy the URL of a playlist or an album, and click the "Parse" button. Then select the tracks you want and confirm to add.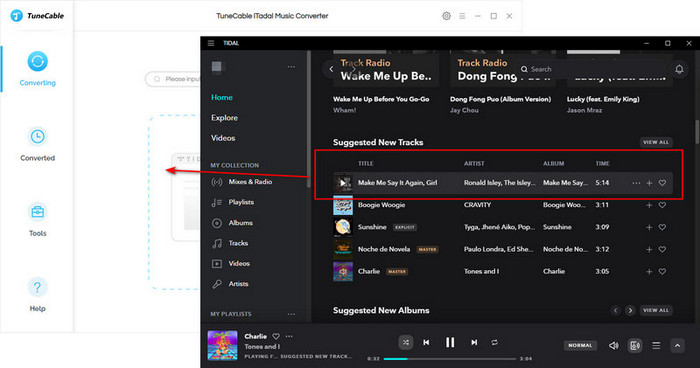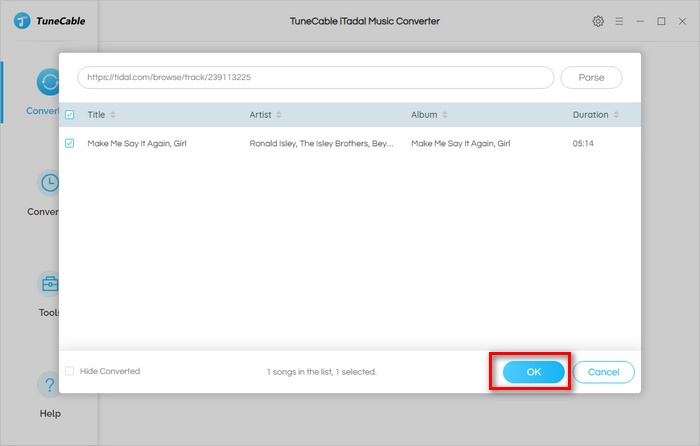 Step 4: Start to Download & Convert Tidal Music
After successfully adding the tracks you want, click the "Convert" button to start the conversion. Or if you wanna add more tracks, click the "+Add" button. Then wait for the conversion to finish.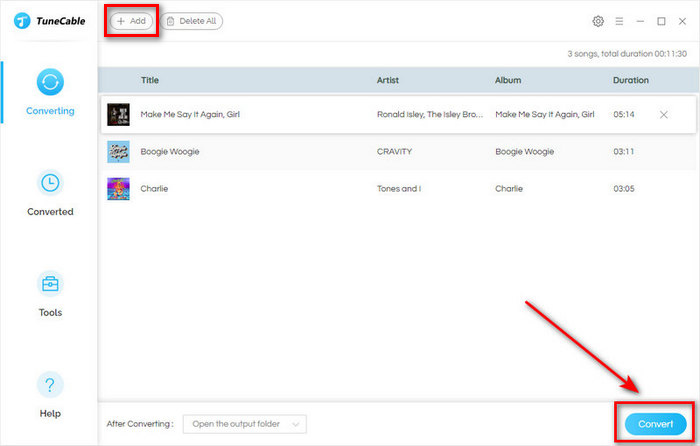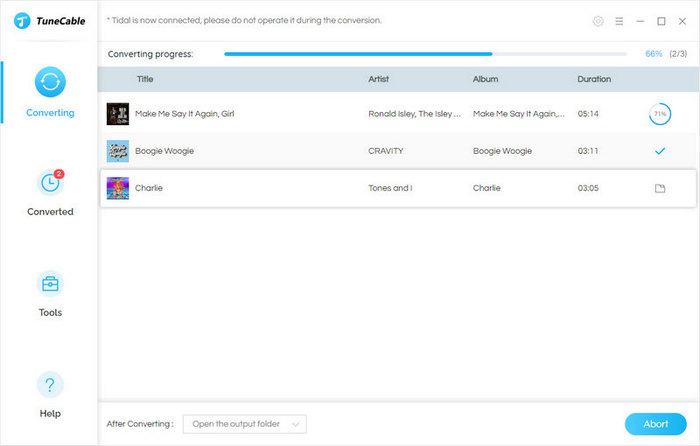 Step 5: Check the Tidal Downloads on the Computer
The window of the selected output folder will occur as soon as the conversion is finished. Check the properties. You will see that Tidal music is converted to common music files, which can be permanently saved on your computer and transferred to other portable devices just like transferring other common files.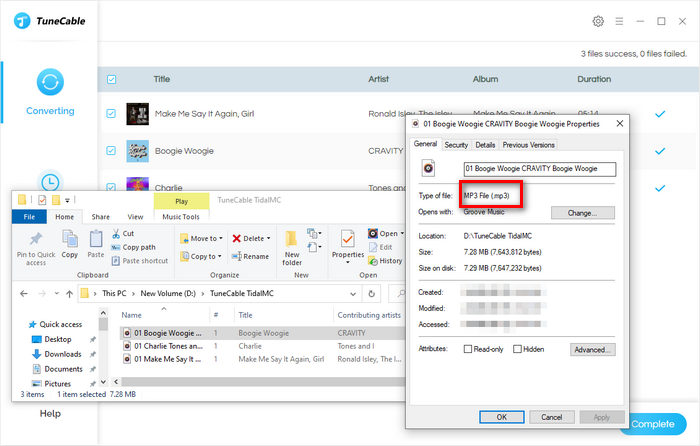 Step 6: Transfer Tidal Music to MP3 Player
Connect your MP3 player to your computer with a USB cable. Click the "This PC" icon to locate your MP3 player, which is always marked as a removable disc. Open it. Next copy the downloaded Tidal music files to your MP3 player folder. After confirming, safely remove your MP3 device from your PC. And you will find Tidal music on your MP3 player, which means successful transferring. Now you can play the downloaded Tidal music on your MP3 player.
---
Summary:
Having read the six steps listed above, you must have understood how to download Tidal music to your computer, how to transfer Tidal music to an MP3 player, and how to play Tidal music on an MP3 player. Of course, TuneCable Tidal Music Converter is a professional and powerful tool for downloading and converting Tidal music. And it can be seen that in addition to helping play Tidal Music on an MP3 player, TuneCable also plays an important role in downloading Tidal music to a computer or downloading Tidal MQA music. Just try it now!