🎄 Merry Christmas ☃️ May you be healthy, happy, and worry-free!🎊
Christmas is a Christian holiday that commemorates and celebrates the birth of Jesus Christ. Christmas is one of the most widely spread and celebrated festivals in the world, which lasts from December 24th to January 6th of the next year.
Suffering from work for the whole year, every Christmas, we refresh ourselves by spending lazy time with our family and friends. With the attendance of delicious and abundant food, delicate gifts, joyful Christmas decorations, and delightful Christmas songs, we savor the moment during the unique festival.
Without music, the festive atmosphere would be reduced by most. Every holiday has its own holiday songs, and Christmas is no exception. What is your favorite Christmas song? As Christmas approaches, for your sake, follow us to check the recommendations of Christmas hot songs in 2023 and download the preferred Christmas songs as local MP3 for free playback on any device via various programs.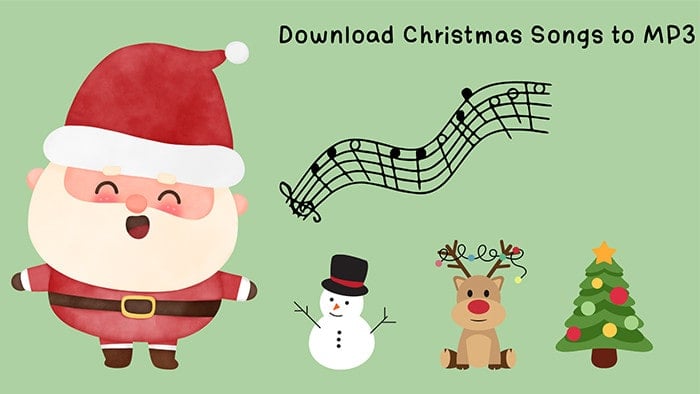 🎅 Part 1: Recommendations - Christmas Hot Songs in 2023
This part is about brief recommendations for several popular Christmas songs. And we will share where you can find more Christma songs to download. If you are not interested in this part, you can scroll down to get your preferred Christmas songs downloaded as local MP3 by following the steps in the next part.
🎄 Classical Christmas Songs:
The repertoire of Christmas songs is very rich. There are five of the most classic Christmas songs, and you'll hear these familiar melodies every Christmas. Hearing them, you will naturally feel the Christmas spirit.
1. Jingle Bells - This is a children's song written and composed by James Lord Pierpont. In 1857, the students of Boston Holiday School sang it in a church on Thanksgiving, and it soon became a popular classic Christmas song. The name of the song wasn't originally called Jingle Bells, but One Horse Open Sleigh. When it was reprinted in 1859, the name was changed to Jingle Bells. The song goes: "Jingle bells, jingle bells, jingle bells, Jingle all the way. Oh, what fun it is to ride, in a one-horse open sleigh..." The bright melody, joyful scene, and touching children's chorus make this song the most important Christmas repertoire in the past 150 years and the most famous song in the world.
2. We Wish You A Merry Christmas – This song originated in the western countryside of England in the 16th century, and is a traditional cheerful Christmas song. This Christmas carol originated from the British tradition. On Christmas Eve, everyone would give the carolers Christmas food, such as figgy pudding (figgy pudding), which is very similar to the current Christmas pudding (Christmas pudding). It is one of the few references in the West to celebrate the New Year. It is a traditional carol and is often the last song sung by carolers, in order to wish for a happy and joyous Christmas.
3. White Christmas – This song is sung by Bing Crosby. This song is popular all over the world. Artists from many countries have covered this song. Until now, this cross-century song is still played on the streets. It was included in the Guinness Book of World Records as the "best-selling single" in the United States and the United Kingdom and is one of the most famous Christmas songs in the world.
4. All I Want for Christmas Is You – This song is sung by Mariah Carey, written and composed by Mariah Carey and Walter Avancyv, and included in the album "Merry Christmas" on November 1, 1994. This song combines the cheerful atmosphere of Christmas and the anticipation and joy between lovers. It is a fast-paced love song and a soulful work by Mariah Carey. It turns thousands of words into a song, making people believe in the beauty of Christmas Snow Night and the existence of Santa Claus. While the song expresses the singer's love for his lover, it is also accompanied by the finishing touch of the sleigh bells, which outlines the festive atmosphere of Christmas with lights and festivities.
5. Last Christmas – This is a Christmas song released by the British pop duo Wham! in 1984. It describes how a person feels during Christmas. Although this song has been released for a long time, its popularity is astonishing. More than 200 artists (groups) of different genres and even different countries have sung this song.
🎄 Where to Find More Christmas Songs?
Despite there being many free websites to track down MP3 songs, you will not ignore Spotify whenever you are looking for a song. You can find almost all songs about Christmas on Spotify as it's hailed as the most popular streaming music app in the world. It collects types of audio files and won't let you down anytime. For instance, there are 348 most popular Christmas songs are compiled into the playlist "Worlds Best Christmas Playlist".
The recommendations above may be not necessary for you as you already know what's your favorite songs for Christmas. Next, we will orient you to the 100% successful method of downloading Christmas songs as local MP3 tracks.
---
🎅 Part 2: Download Christmas Songs as Local MP3 Songs
Downloading Christmas songs from Spotify is a practical way. However, offline playback is only attainable for Spotify Premium subscribers. Besides, the playback is limited to the Spotify app and the protection imposed on the downloaded Spotify files always holds you back. Once you are eager to transfer the Christmas songs to an MP3 player, share the with friends, set them as ringtones, add them to videos, or burn them to a CD, how do you cope with the situation? Spotify, and for that matter all streaming music platforms, have similar limitations. It's overt that it's out of your ability to make changes.
However, don't be restless. Success is not arbitrary. TuneCable team allows for the unlimited use of Spotify songs after making a big effort. TuneCable Spotify Music Downloader is crafted to lay the best plan to extract songs from Spotify and save them as local songs in MP3, AAC, WAV, FLAC, AIFF, or ALAC formats. There will be no restrictions to the converted Spotify songs and can be freely transferred to any device or used with multiple programs.
Both Spotify Free and Premium accounts can be applied to convert songs to plain MP3 files with the original sound quality and full ID3 tags retained. It only takes a few minutes to check the detailed steps, let's continue.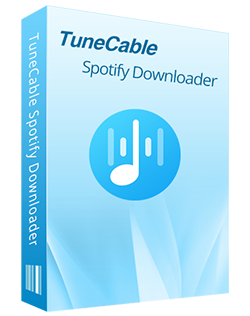 TuneCable Spotify Downloader

🔹 Download Spotify songs, playlists, albums, and podcasts.

🔹 Convert Spotify's music to MP3/AAC/WAV/FLAC/AIFF/ALAC.

🔹 Retain full ID3 tags & Spotify original audio quality.

🔹 Run at 10x faster conversion speed & batch download.

🔹 Sort Spotify music files by playlist, artist, album, etc.

🔹 Offer tools (Format Converter, Tag Edit, etc.) & save lyrics.

🔹 Activate the permanent playback of Spotify music.

🔹 Support Spotify Free or Spotify Premium account.
YouTube Video: Download Christmas Songs as Local MP3
Step 1 Download and Install TuneCable Spotify Music Downloader
Download and install TuneCable Spotify Music Downloader on your computer. There are two versions, Windows and Mac. You should get the corresponding version installed. Launch the program when it completes the installation. Meanwhile, you will see two options on the main interface. The app mode requires the Spotify app and saves up to 320kbps audio at 1x to 10x the speed, while the web player mode does not need the Spotify app and keeps the original Spotify audio at 10x fast speed. Pick a mode as you wish and log in to your Spotify account. If you are not subscribed to Spotify, you can just log in to Spotify with a Free plan.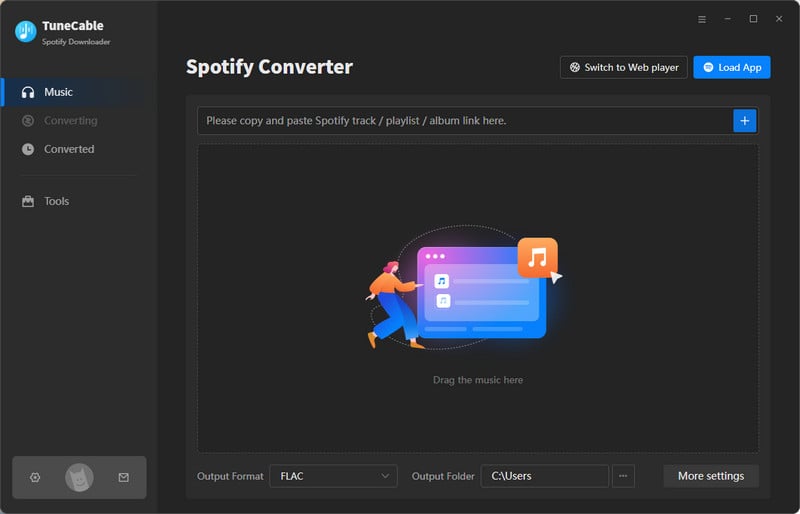 Step 2 Add Christmas Music Playlist(s) to Download
To add Christmas songs to the task list, go to the left sidebar of Spotify, and click the search button. And then you can input the keyword "Christmas" in the search box. Then you are allowed to locate the desired songs by Top, Genres & Moods, Playlists, Podcasts & Shows, Songs, Albums, Artists, Audiobooks, and Profiles.
If you use the web player mode, simply open the Christmas song playlist, and hit on "Click to add".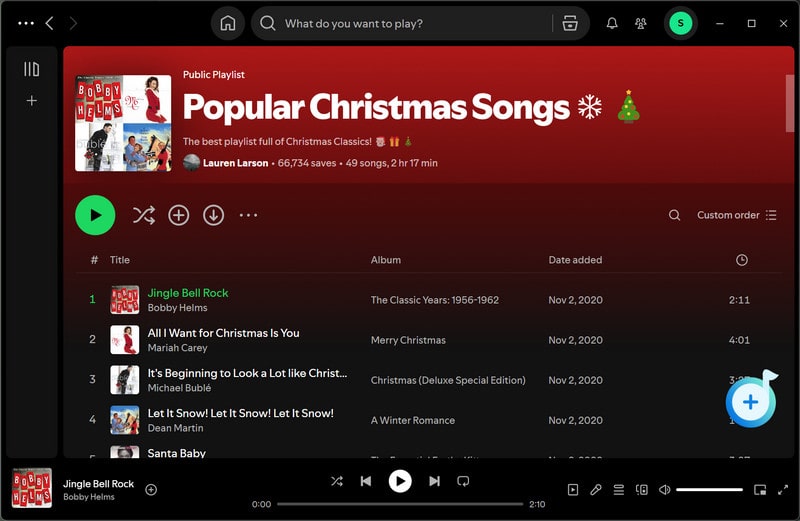 If you use the app download mode, you have three ways to add Christmas songs to TuneCable. Go to the preferred track, album, or playlist, and then drag and drop it to the main screen of TuneCable. Or you can right-click the "three dots" behind the song, album, or playlist, and then choose "Share". Choose to copy its link then paste the link into the TuneCable search box. Besides, you can open the playlist and hit on the "Click to add" icon floating in the bottom right.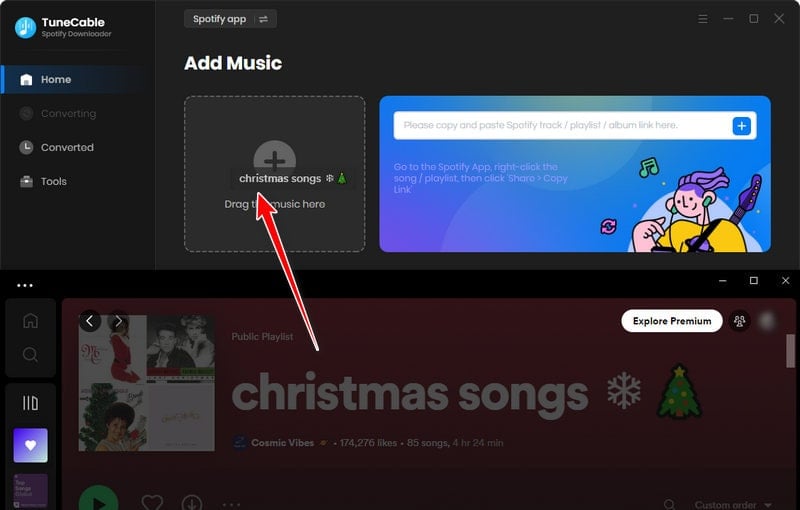 After the songs are loaded by TuneCable, a list will be displayed for further selection. Click "Add" after ticking off all wanted tracks.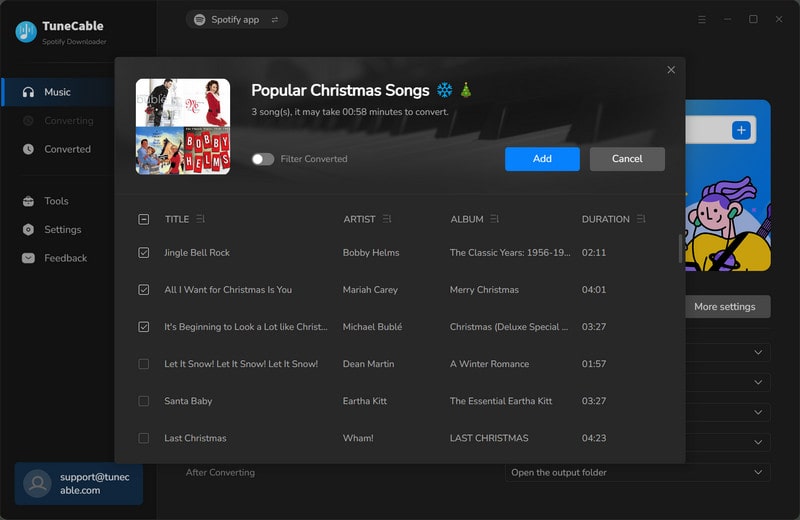 Step 3 Set Up the Output Settings of Christmas Music
If you are an old user, you may have adjusted the output settings before. But for fresh users, the proper adjustment to the output parameters is essential. Head to the "Settings" tab in the left bar.
In the setting panel, don't forget to select "MP3" in the "Output Format" setting when you are meant to convert Christmas songs to MP3 formats. All changes will take effect simultaneously.
Tips: If you want to store all songs by Playlist, Album, or Artist, you can head to the "Output Organized" setting and make a choice accordingly. When changing the output format, the options of the bit rate and sample rate vary. And in general, setting 320kbps in the "Bit Rate" for downloading mp3 files is good enough. Saving lyrics is supported now. Just make the settings to your preference.
Conversion Mode: Intelligent Mode, Spotify Record/Web Download, YouTube Download
Convert Speed: Can be adjusted from 1x to 10x under Spotify Record conversion mode
Output Format: Auto, MP3, AAC, WAV, AIFF, ALAC, FLAC
Bit Rate: 128kbps, 192kbps, 256kbps, 320kbps
Sample Rate: 44.1kHz, 48kHz, 96kHz, 192kHz
Output Folder: To your preference
Output File Name: Track Number, Title, Artist, Album, Playlist Index, Year
Output Organized: None, Playlist, Artist, Album, Artist/Album, Album/Artist, Playlist/Artist, Playlist/Album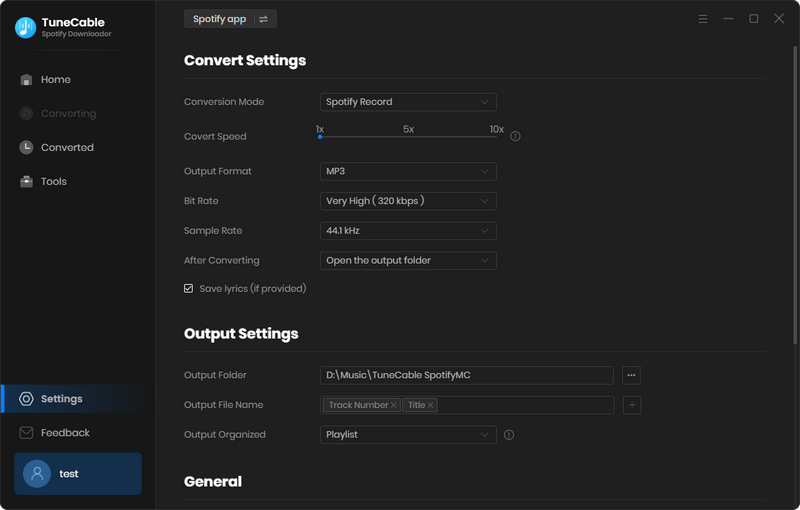 Step 4 Converting Christmas Songs to Local MP3 Songs
If you want to add more songs before the conversion, there is an "Add More" button in the upper right. And there is a delete button for removing useless tracks. If you are done with more changes, then you can hit on the "Convert" button. Afterward, the conversion will start. Please wait with patience. Under a stable network connection, the Christmas songs can be converted to plain MP3 files at a faster speed.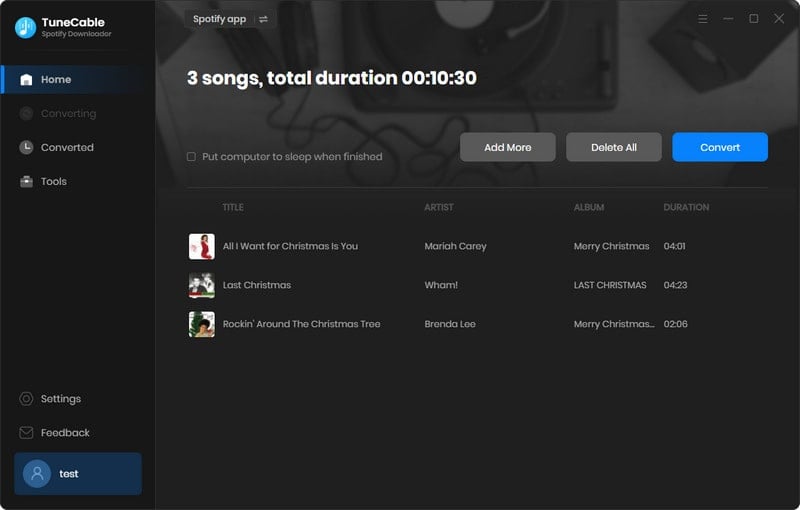 Step 5 Unlimited Use of Christmas MP3 Songs
When the conversion is finished, the output folder will pop up automatically. You can check the downloaded Christmas songs right now. They are saved as local files in common MP3 formats. TuneCable executes this mission flawlessly. Nothing prevents you from unlimited access to Christmas songs and using them at will. You can share them with your family or friends, play them with other media players, add them to videos as BGM, or keep them for other purposes.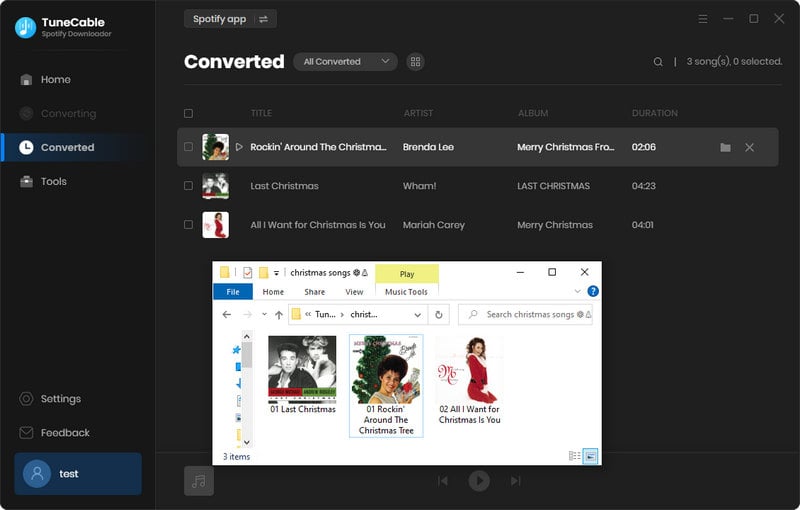 ---
🎅 Part 3: Transfer Christmas Songs to Android/iOS Device
Through the instructions in the previous section, you have already downloaded the required Christmas songs to your local computer. However, for some users, saving them on the computer is not enough. They need to transfer them to their mobile phones or tablets so that they can play them anytime, anywhere, or use them for other purposes, like setting Christmas music as a ringtone. In the following sections, let's learn about the relevant steps.
🎄 Transfer Christmas Songs to Android for Unlimited Use:
Step 1: Get your Android phone or tablet connected to your computer via a USB cable.
Step 2: On your Android phone, swipe from the top notification center, and choose "Connection mode" or "Settings". Select "MTP" or "File Transfer" as the connection mode. It's critical to ensure that you are allowed to transfer files between your connected Android device and your computer.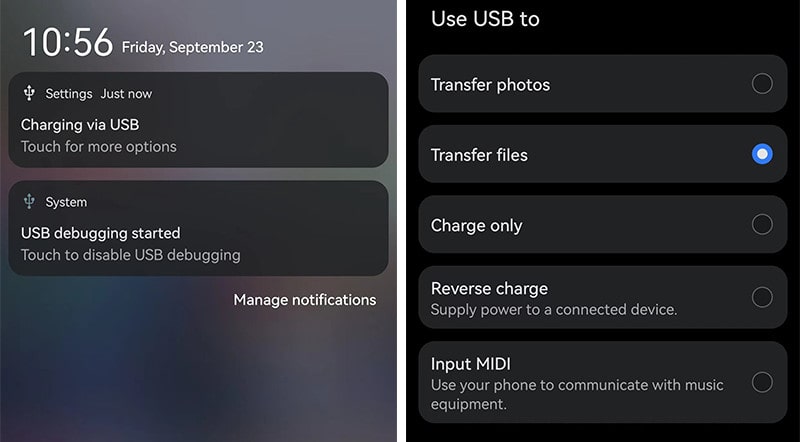 Step 3: After a successful connection, go to "This PC" and open your Android disk, go to its "Internal Storage" and find the "Music" folder.
Step 4: Drag and drop the converted Christmas songs to the "Music" folder.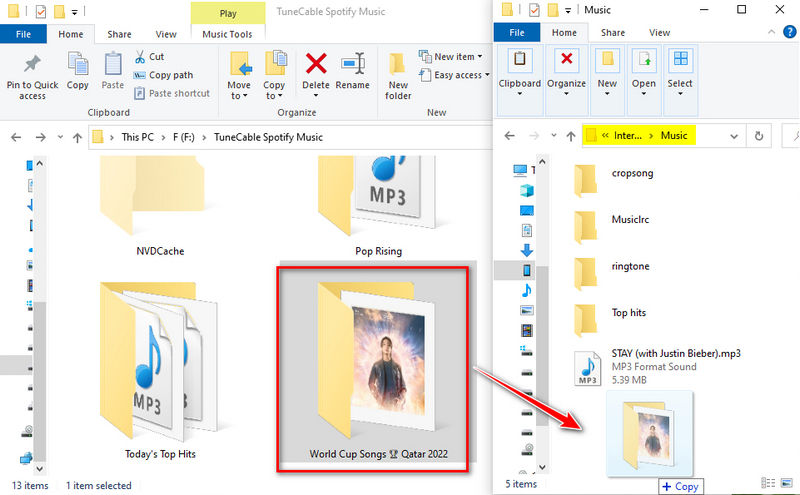 Step 5: Disconnect your phone, then you can open your Music app on your Android device and update your music library. Then you can see the newly imported Christmas songs. The MP3 format is fully compatible with your Android device. Hence you can feel free to enjoy the playback of Christmas songs via any music app or set them as ringtones.
🎄 Transfer Christmas Songs to iPhone/iPad/iPod for Unlimited Use:
Step 1: Open TuneCable, and go to the "Converted" column.
Step 2: Choose the downloaded Christmas songs you need, and click on the four-square icon above the tracks, and select "Export to iTunes" from the provided options. Soon after, you've uploaded the Christmas songs to iTunes Library (Apple Music Library on Mac)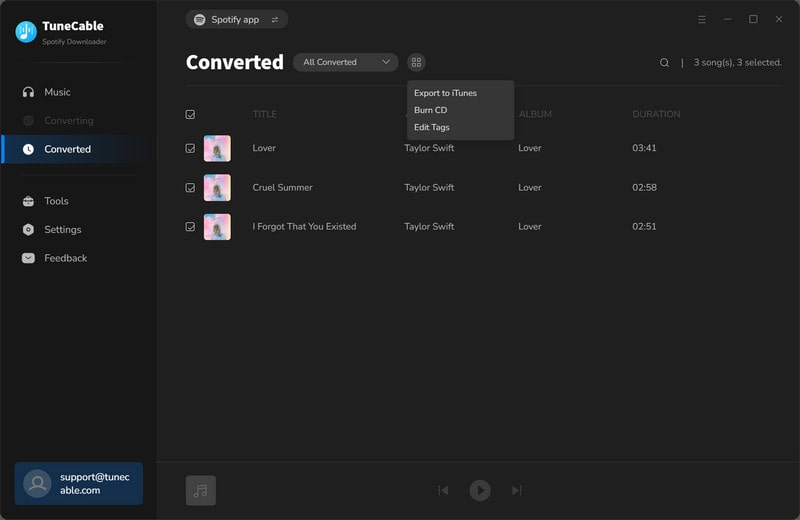 ☕ Tips: If you want to manually upload Christmas songs to iTunes, open iTunes, and then in the top-left corner, go to "File > Add File to Library". In the pop-up windows, navigate to the downloaded Christmas songs and import them to iTunes.
Step 3: After that, in the iTunes app (Music app on Mac), start syncing the Christmas songs to your iPhone for free playback or other purposes.
---
✅ Conclusion:
Nothing beats practice. If you are willing to stop and spend a few minutes to complete all the above steps, you will find that the conversion of songs is so simple. With TuneCable Spotify Music Downloader, you will not be worried about how to download Christmas songs or other music albums and playlists you are looking for. If you find this post helpful, please share it with the people around you. Start a free trial of TuneCable and have fun now!