✅ Part 1: What Makes TuneBoto the Perfect Solution to Amazon Music
TuneBoto Amazon Music Converter is truly the perfect solution for anyone who loves listening to music on Amazon Music but wishes for more flexibility. With its powerful features and user-friendly interface, this software is a game-changer for music enthusiasts. Equipped with the most advanced and cutting-edge decryption technology, TuneBoto is not only a tool that can unlock the unlimited playback of Amazon Music but also a comprehensive program in terms of audio quality saving and output file management. Let's look at its functions and features in detail.
⇢ Feature 1. Download Amazon's Music for Limitless Playback
The most important feature, also the primary feature of TuneBoto Amazon Music Converter, is the outstanding capability to unlock the limitless playback of Amazon Music. TuneBoto has the strong ability to download songs, playlists, albums, and even podcasts from Amazon Music to local Windows and Mac computers. While extracting music files from Amazon Music, TuneBoto utilizes its technology to remove DRM protection from the files, making it possible to get DRM-free Amazon Music tracks and play Amazon Music offline at any time.
An Amazon Prime or Amazon Music Unlimited account is supported by TuneBoto. TuneBoto is an especially helpful program for Amazon Prime users, who can only shuffle Amazon Music songs since November of 2022, as TuneBoto can turn off the shuffle mode for Prime users and unlock the free pick and play to Amazon songs. Additionally, TuneBoto applies two download modes, app mode and web player mode. You can download Amazon songs from either the Amazon Music app or the web player. It is available with or without the Amazon Music app, giving you more options. However, this feature is not yet encompassed by most Amazon Music converters in the market.
⇢ Feature 2. Convert Amazon Music to Various Popular Formats
Amazon Music streams songs mainly in MP3 and FLAC formats. What can you do if you are not satisfied with the formats? Don't worry. TuneBoto can help you. One of the standout features of the TuneBoto Amazon Music Converter is its ability to convert Amazon Music to various popular formats including MP3, AAC, FLAC, WAV, ALAC, or AIFF. This means that you no longer have to worry about compatibility issues with different devices or media players. You can easily convert your favorite Amazon Music songs and playlists to the format of your choice and enjoy them on any device you own.
⇢ Feature 3. Retain Lossless Audio Quality up to HD/Ultra HD
If you pursue the original audio quality and would like to enjoy Amazon Music songs with the same audio quality as they have on the Amazon Music app or web player, then you should feel confident with TuneBoto Amazon Music Converter. One of TuneBoto's impressive strengths lies in its ability to keep the original audio quality intact up to HD/Ultra HD while removing DRM encryption. All the songs will be output with lossless audio quality by TuneBoto. Get ready to enjoy your favorite tunes with the high-quality sound they were intended for.
⇢ Feature 4. Efficient Conversion Speed with Batch Functionality
Another TuneBoto's standout feature is its powerful conversion capability. Every music enthusiast must have playlists with tons of songs. That will take too long to download the songs at a regular speed. But you can always trust TuneBoto. By harnessing advanced technology, TuneBoto Amazon Music Converter efficiently converts songs without compromising on quality at up to 10 times fast speed. That means you can save all of your playlists within a shorter time.
Furthermore, TuneBoto Amazon Music Converter provides a batch conversion feature, enabling you to convert multiple songs or even entire albums in one go. This is a fantastic option for those who have extensive music libraries and want to convert their entire collection seamlessly. In a word, the conversion process is incredibly fast and efficient, allowing you to save time and effort and delivering a convenient music download experience.
⇢ Feature 5. Preserve Metadata and Enable Versatile Compatibility
With TuneBoto Amazon Music Converter, the music experience extends far beyond the conversion process. It diligently preserves the original ID3 tags of the converted tracks, including title, artist, album, cover art, track number, disc number, and year, etc., allowing users to maintain an organized personal library.
Furthermore, you are allowed to enjoy Amazon Music on multiple scenes with the help of TuneBoto. What is known to all is that Amazon Music is only accessible with its app and web player, making it rarely possible to play Amazon songs without mobile devices or computers. However, with TuneBoto Amazon Music Converter, you are free from limitations and restrictions.
After TuneBoto downloads Amazon Music tracks to your local computers, you get common audio files. What does that mean? It means you can freely use the music files and play Amazon Music songs anytime anywhere. On one hand, you can upload Amazon Music songs to Windows Media Player, burn them to CD, or import them to DJ software for mixing; on the other hand, you can transfer Amazon tracks to USB flash drives, SD cards, or MP3 players. Whether you're embarking on a road trip or hitting the gym, you can now enjoy an uninterrupted playlist wherever life takes you.
⇢ Feature 6. User-Friendly Interface and Handy Tools
Upon downloading TuneBoto Amazon Music Converter, users are greeted with an intuitive interface that makes navigation a breeze. Its clean layout exhibits a user-friendly design, allowing both tech-savvy individuals and novices to convert their music with ease. The setup process is straightforward, doesn't require any expertise, and within minutes, users can unlock a whole new level of music freedom. To learn how to use TuneBoto Amazon Music Converter, see part 2.
TuneBoto proves itself the perfect solution to Amazon Music with additional handy tools, which are not yet held by many of its competitors. TuneBoto offers three or four handy tools, namely, Format Converter, Tag Edit (an ID3 tag editor), Burn CD (only for the Windows version), and Export to iTunes. You can use the Format Converter to convert your local audio files into MP3, M4A, FLAC, WAV, OGG, and AIFF formats, use the Tag Edit to add ID3 tags to your local files or modify the converted Amazon songs, directly burn the converted Amazon songs to CD without the help of Windows Media Player or other programs, and transfer the converted Amazon songs to your iTunes library with one click.
⇢ Conclusion
In a nutshell, TuneBoto Amazon Music Converter offers a seamless and perfect solution for music lovers seeking the freedom to enjoy their favorite tunes on Amazon Music without limitations. With its user-friendly interface, efficient conversion capabilities, lossless audio quality output, preservation of metadata, and strong ability to download and convert Amazon Music songs, TuneBoto sets the stage for a truly enhanced music streaming experience. Unlock your favorite Amazon Music tracks and embark on a musical journey wherever and whenever you desire, all thanks to TuneBoto Amazon Music Converter.
---
✅ Part 2: How Does TuneBoto Amazon Music Converter Work
In this part, we will show how to use TuneBoto Amazon Music Converter to download Amazon tracks onto local computers. While getting the operation skills, you can also conclude the advantages and flexibility of TuneBoto - a perfect solution to Amazon Music. Before the begin, you need to download and install TuneBoto Amazon Music Converter on your device. It is free to download and offers a trial version.
Step 1 Setup TuneBoto Amazon Music Converter
After installing the TuneBoto program on your computer, simply click to run it. You are greeted with the main interface and two options. Pick a download mode here. The app mode requires the Amazon Music app and saves up to Ultra HD audio quality at 5x or 1x (for Mac) the speed, the web player mode, on the other hand, works via the embedded Amazon web player and keeps HD audio songs at 10x fast speed. Just select a mode as needed and then sign in to your Amazon Music account.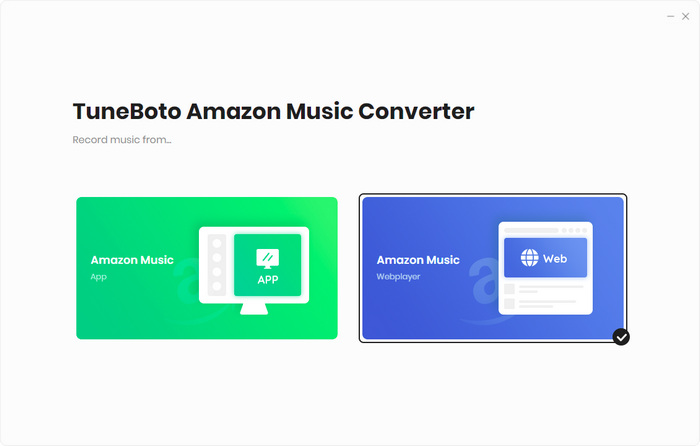 Step 2 Alter Output Parameters on Settings
This step shows another standout feature of TuneBoto - allowing users to specify Amazon output parameters to their preference. From the "Settings" panel, you can see lots of settings options, including Output Format (allows you to select an output format), Bit Rate, Sample Rate (the two allow you to decide the file size with different output quality), Output Folder, Output File Name (name the output file with provided options), and Output Organized (sort music files into folders based on the options). Here we list all the changeable options for your reference.
Conversion Mode: Intelligent Mode, Amazon Music Record/Web Download, YouTube Download
Output Format: Auto, MP3, AAC, FLAC, WAV, AIFF, ALAC
Bit Rate: 128kbps, 192kbps, 256kbps, 320kbps
Sample Rate: 44.1kHz, 48kHz, 96kHz, 192 kHz
Output Folder: Can be modified
Output File Name: Track Number, Title, Artist, Album, Playlist Index, Year
Output Organized: None, Playlist, Artist, Album, Artist/Album, Album/Artist, Playlist/Artist, Playlist/Album
Note: 'Auto' is the option that can inform TuneBoto to download Amazon Music tracks with the original format and audio quality saved. If you want to output HD/Ultra HD songs, you may select 'Web Download'/'Amazon Music Record' from Conversion Mode, and make sure the songs on the Amazon web player or the app are streamed at HD/Ultra HD quality.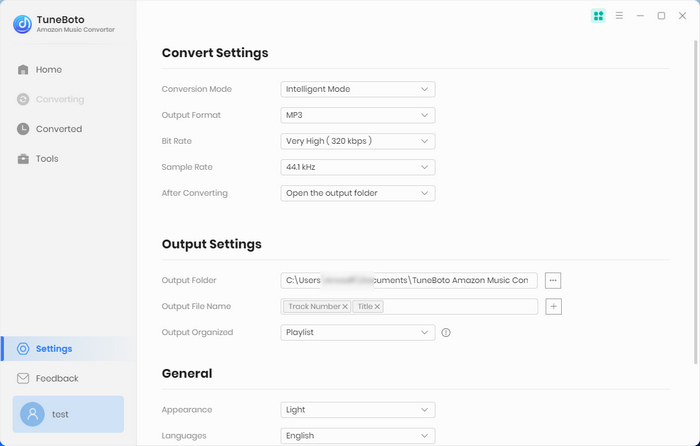 Step 3 Add Amazon Music to Download
The two download modes require different operations to add Amazon songs. Under the app mode, you can drag and drop the track/playlist/album right into TuneBoto, or copy and paste the link. If you use the web player mode, you need to open the playlist/album and click on "Click to add". The tracks will then be loaded on a popup. Pick your wanted songs and hit on "Add".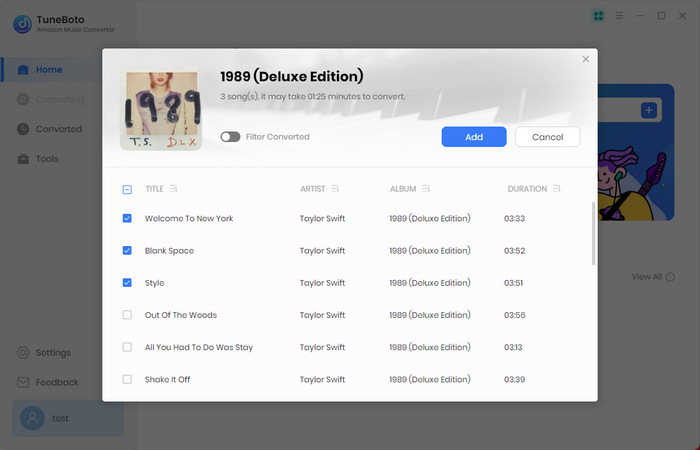 Step 4 Trigger Amazon Music Conversion
If you would like to add more songs to this download batch, simply repeat the previous step. Then click on "Convert" to start downloading Amazon songs at once.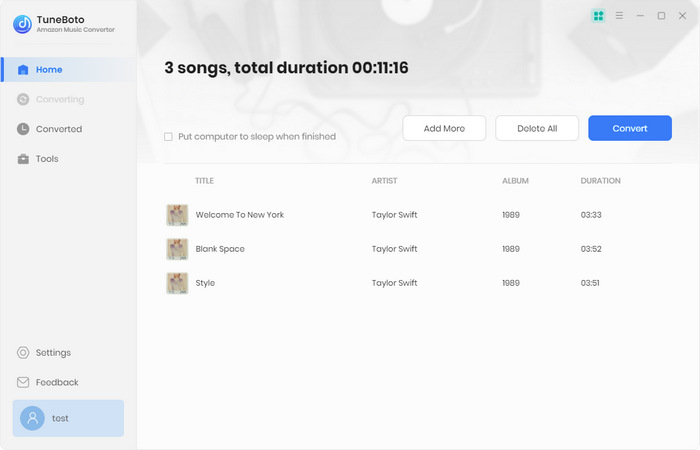 Step 5 Browse Downloaded Amazon Songs
The conversion takes not long, and it is complete very soon. Then you can head to the "Converted" module to check your downloads, and click on the file icon within the item to locate your output folder. To this step, you can freely play Amazon Music songs without limitations.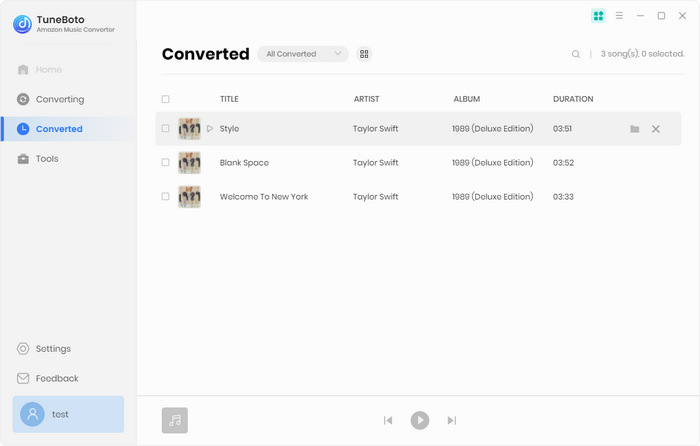 ---
✅ The Verdict
After going through the article reviewing TuneBoto Amazon Music Converter, you can easily draw a perfect conclusion to this professional program. Overall, TuneBoto Amazon Music Converter is a must-have tool for any Amazon Music subscriber, Amazon Prime or Amazon Music Unlimited users. It provides a seamless conversion process, excellent audio quality, and a user-friendly interface. Whether you want to enjoy your favorite tunes on multiple devices or simply want the convenience of offline listening, this software delivers everything you need. Say goodbye to limitations and unlock the full potential of your Amazon Music library with the perfect TuneBoto Amazon Music Converter.