✅ Part 1: What is KeepMusic YouTube Music Converter
KeepMusic YouTube Music Converter is a comprehensive music recorder tool that supports recording and downloading music from YouTube Music. If you want to download streaming music on your computer for offline listening, KeepMusic can help you record songs in MP3/AAC/WAV/FLAC/AIFF/ALAC format, and the ID3 tags will be added to the songs automatically. With KeepMusic, you can back up and store a batch of songs from any streaming service with original music quality preserved.
Viewing the lyrics of the songs that have been downloaded is another feature it offers. You may quickly download your preferred songs and playlists from YouTube Music and browse the lyrics while enjoying the music with Keepmusic YouTube Music Converter.
To guarantee you have the best experience possible, Keepmusic YouTube Music Converter also provides free updates, a free trial, and technical assistance.
Next, we will analyze KeepMusic YouTube Music Converter from various aspects.
✅ Part 2: Key Features of KeepMusic YouTube Music Converter
⇢ Feature 1. Convert YouTube Music to MP3:
One of the standout features of KeepMusic YouTube Music Converter is its ability to convert YouTube Music to multiple formats. This versatility ensures that you have the flexibility to save your favorite music videos in the format that best suits your preferences and devices. Whether it's MP3, AAC, WAV, FLAC, AIFF, or ALAC, KeepMusic supports a range of popular audio formats, enabling you to convert and enjoy your music in the format of your choice. This feature brings convenience to music enthusiasts who want to listen to your favorite tunes on various devices or platforms.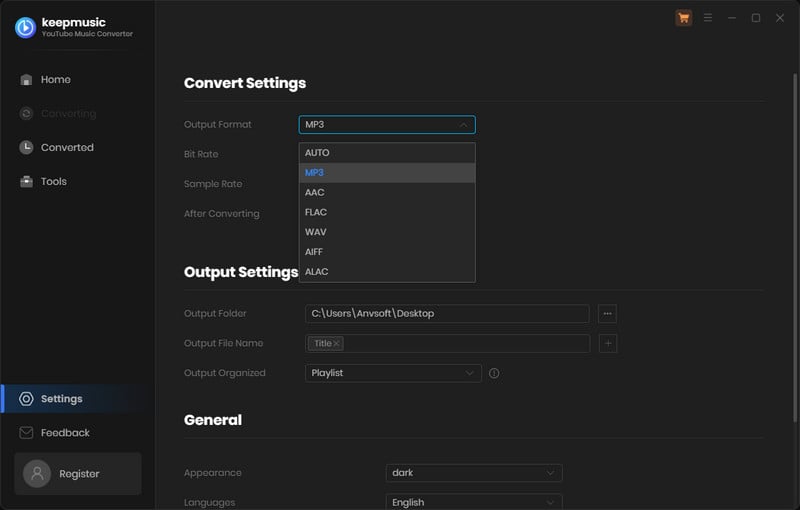 ⇢ Feature 2. Preserve Audio Quality of Source Output:
When it comes to converting YouTube Music to audio files, maintaining the source output audio quality is of utmost importance. And this is where KeepMusic YouTube Music Converter truly shines. With its advanced audio processing technology, KeepMusic is designed to preserve the original sound quality of the YouTube Music throughout the conversion process. Whether it's the crisp vocals, rich instrumentals, or delicate nuances of the music, you can trust that KeepMusic will deliver a faithful reproduction of the audio in the converted file.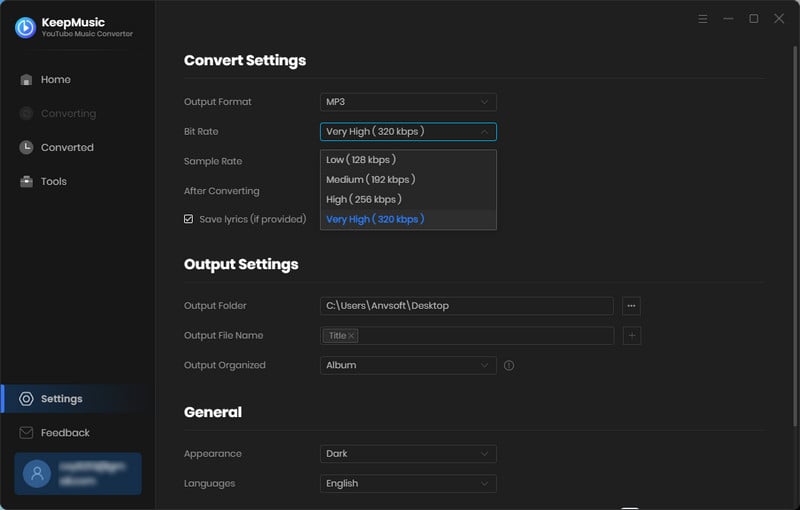 ⇢ Feature 3. Retain ID3 Tags:
ID3 tags contain information about the artist, album, track, and other relevant details. With KeepMusic, you can be confident that these important tags will be preserved when converting YouTube music videos into audio files. Whether it's the artist's name, album title, or even the genre, the ID3 tags will remain intact, allowing you to maintain a well-organized collection. This means you won't have to spend extra time manually updating the information for each converted file.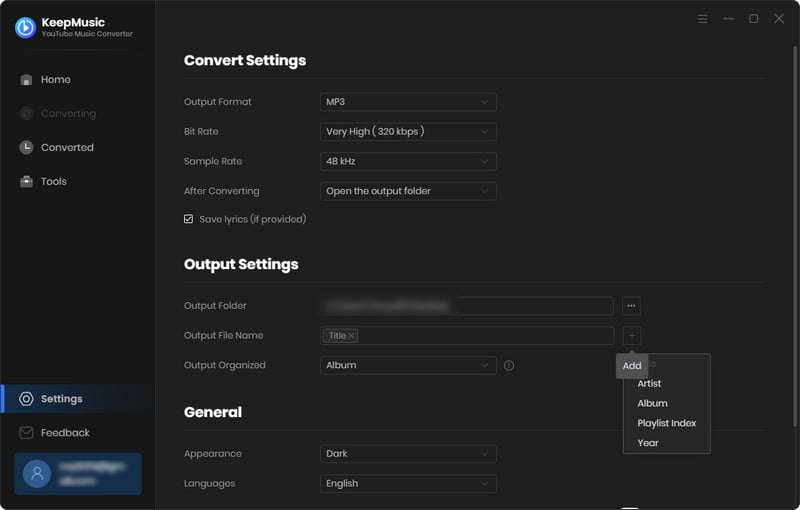 * You can choose Playlist Index in the Output File Name area if you want to maintain the converted files in the same sequence as your original playlist.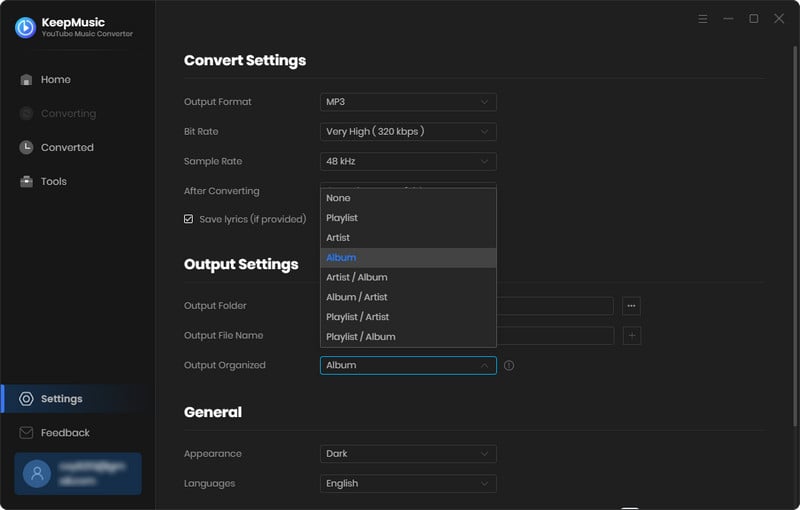 ⇢ Feature 4. Save Song Lyrics:
KeepMusic not only converts YouTube Music into audio files but also extracts and saves the accompanying lyrics for easy access. By saving song lyrics with your converted files, you can enjoy a complete package that combines the melodic beauty with the power of words.
⇢ Feature 5. 10X Faster Conversion Speed:
KeepMusic is designed to deliver conversion speeds that are up to 10 times faster than traditional methods. Whether you're converting a single track or an entire playlist, KeepMusic's 10X faster conversion speed ensures that the process is swift and hassle-free. It not only saves valuable time but also enhances productivity, allowing you to organize your music library and enjoy your favorite tunes effortlessly.
⇢ Feature 6. Burn YouTube Music to CD:
KeepMusic permits burning CDs from converted music with just one click. All you have to do to start burning a CD is insert a blank CD and click the "Burn CD" button. It also maintains high audio quality during the conversion and burning process, so you can enjoy crystal-clear sound on your CD.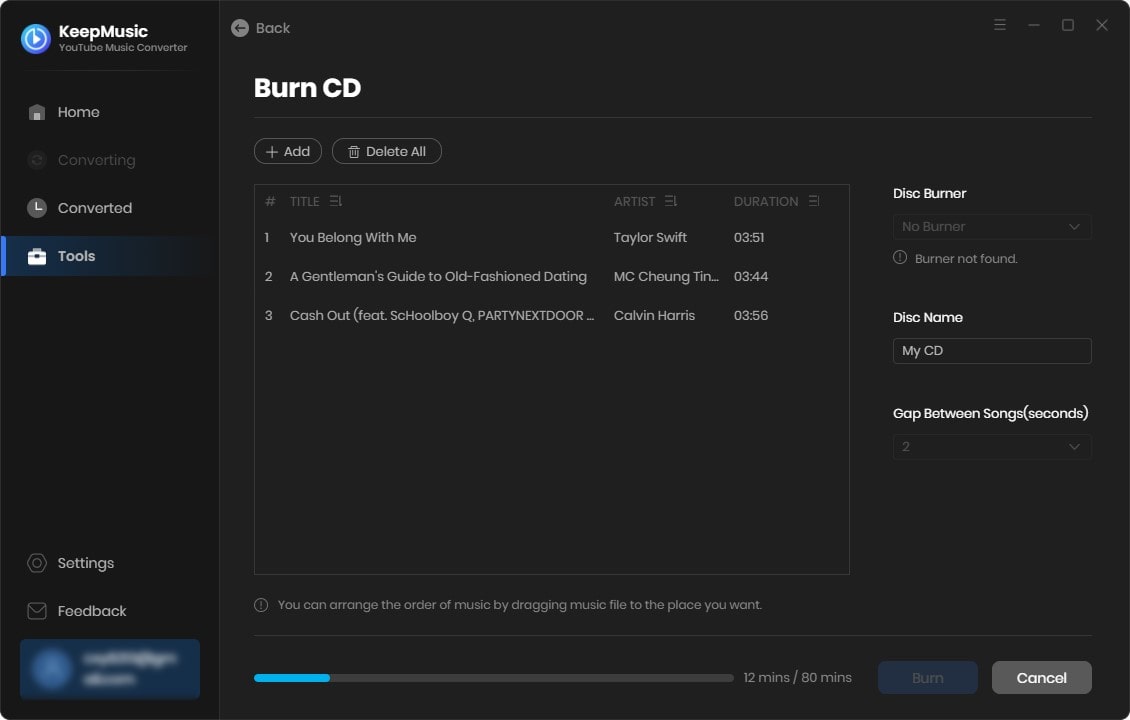 ⇢ Feature 7. User-friendly Interface:
KeepMusic provides you with a clear interface without any ads, and you can also easily change the appearance from dark mode to light mode according to your preference. KeepMusic YouTube Music Converter is more user-friendly than other music converters because it doesn't require the installation of any additional apps, including the YouTube Music app. Simply start KeepMusic, open YouTube Music Web Player, sign in to your YouTube Music account, select a playlist, choose MP3 format, and click Convert. The YouTube Music songs will then be exported as any format files that you want. With KeepMusic's user-friendly interface, converting YouTube music videos into high-quality audio files becomes a seamless and enjoyable experience.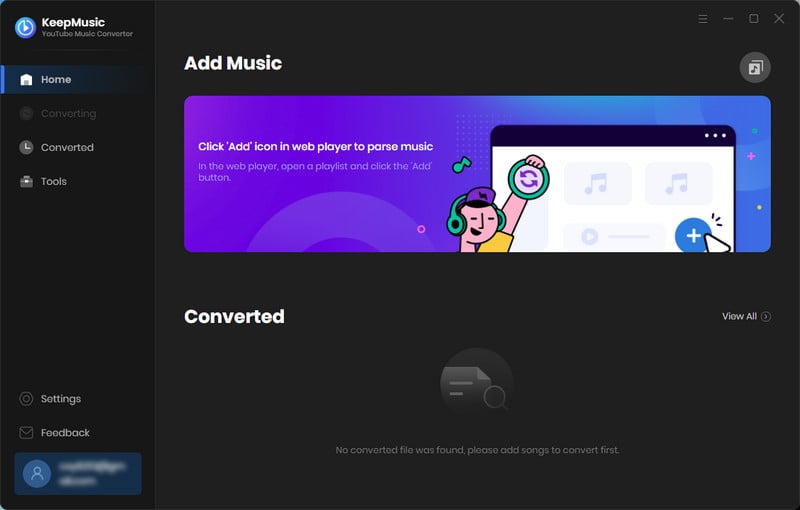 ⇢ Feature 8. Timely Support and Free Upgrade:
When you choose KeepMusic YouTube Music Converter, you gain access to its dedicated support team, ready to assist you with any inquiries or technical issues that may arise. Whether you have a question about a specific feature, need help troubleshooting a problem, or simply seek guidance on maximizing the potential of the software, its support team is just a message away. Furthermore, as part of its commitment to providing the best user experience possible, it offers free software upgrades to all users. This means that as it releases new features, enhancements, or bug fixes, you'll be able to enjoy them without any additional cost.
✅ Part 3: How KeepMusic YouTube Music Converter Works
In this part, we will show how to use KeepMusic YouTube Music Converter to download YouTube Music tracks onto local computers.
Step 1 Sign in
Install and run the KeepMusic YouTube Music Converter. Click on SIGN IN to login to your YouTube Music Free or Premium account thus accessing the YouTube Music library.
Note: KeepMusic YouTube Music Converter won't collect your account information but it is to extract the music source from YouTube Music.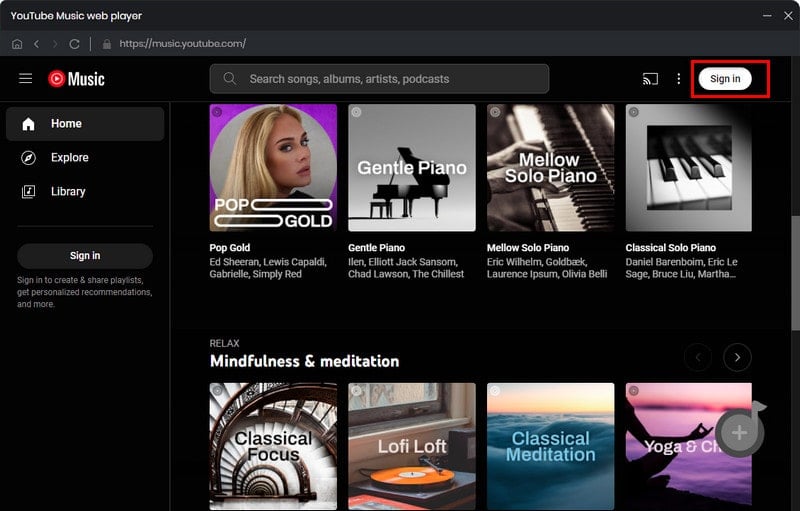 Step 2 Choose settings
Before downloading the song, you need to click the Settings to customize the output settings: Output Format, Bit Rate, Sample Rate, Output Path, and other parameters. The sound quality will be output in accordance with the level as you stream on the YouTube Music web player. In addition, KeepMusic YouTube Converter allows you to customize the name of the output files and save the output audio files in the same order as the original playlist.
Output Format: AUTO, MP3, AAC, FLAC, WAV, AIFF, ALAC
Bit Rate: 128kbps, 192kbps, 256kbps, 320bps
Sample Rate: 44.1kHz, 48kHz, 96kHz, 192 kHz
Output Folder: Can be modified
Output File Name: Track Number, Title, Artist, Album, Playlist Index, Year
Output Organized: None, Playlist, Artist, Album, Artist/Album, Album/Artist, Playlist/Artist, Playlist/Album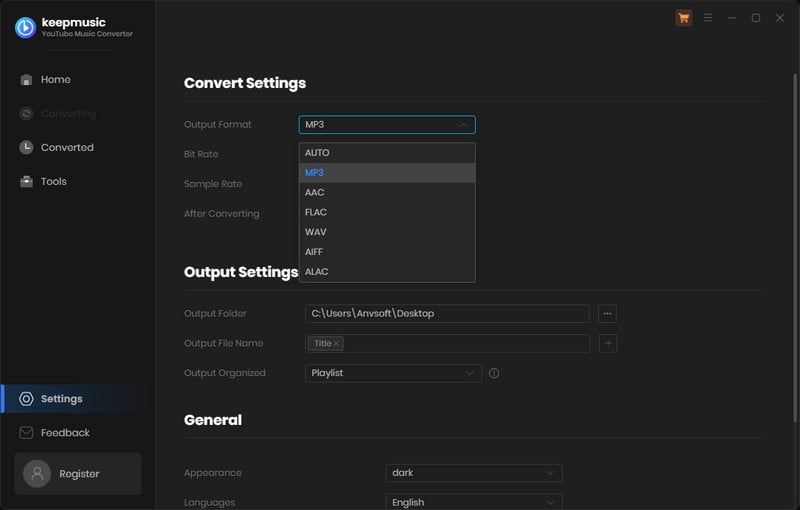 Step 3 Add YouTube Music to Download
Open a playlist, artist, album or podcast, then click on the Add button and select the songs that you'd like to convert. The playlist will be shown on the conversion panel. You then selectively or choose the songs in batches. You can also choose the whole playlist to convert.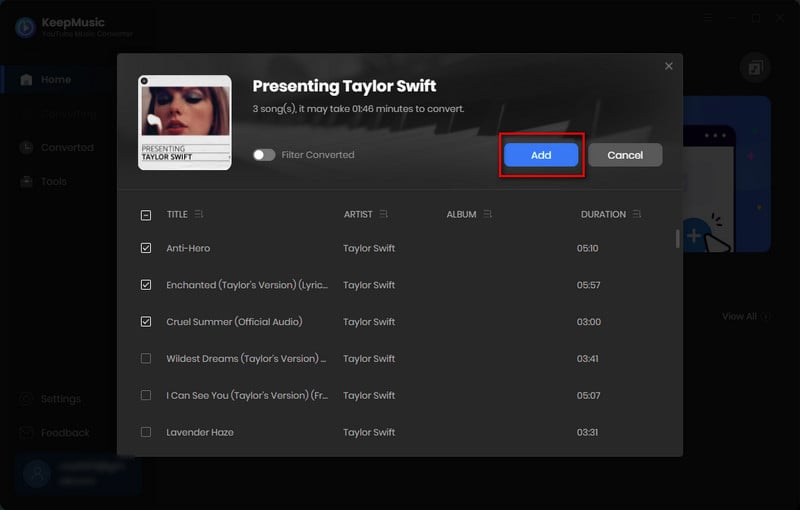 Step 4 Trigger YouTube Music Conversion
Click on the Convert button to start downloading songs.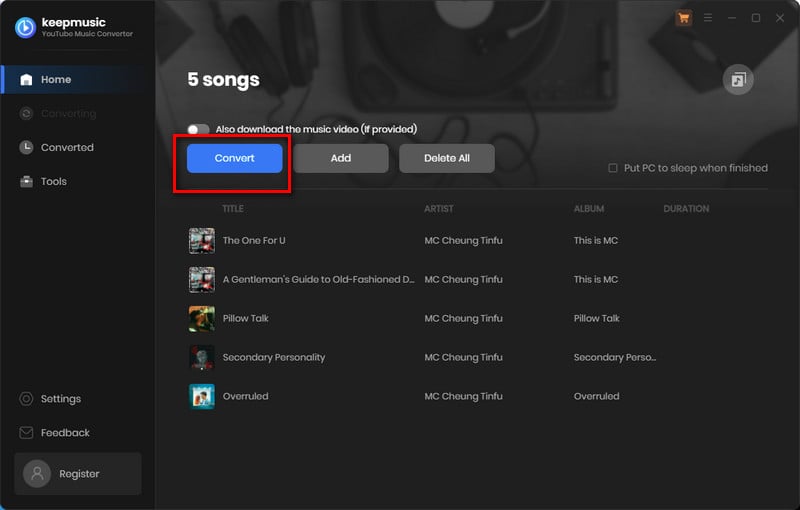 Step 5 Browse Downloaded YouTube Songs
After the conversion is completed, you can click on Converted to check the downloaded songs. Or by clicking the folder icon after the converted song, you can directly reach out to the local drive that saved all the converted YouTube Music.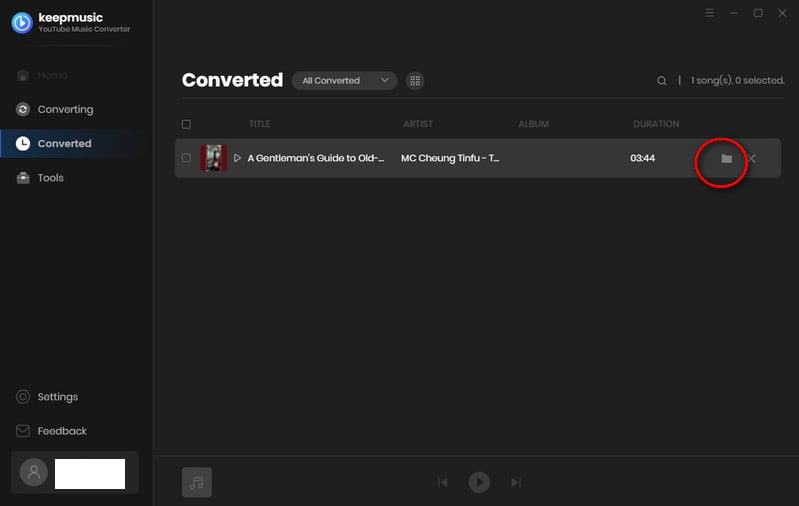 ✅ Part 4: Pros & Cons of KeepMusic YouTube Music Converter
Pros:
1. User-friendly UI
2. Two conversion mode
3. Super fast Conversion
4. Offer some additional features, including burning CDs, downloading lyrics if provided, format converter, tag editing, and so on.
Cons:
Nothing is perfect. Of course, KeepMusic has its own limit.
1. Versions below macOS 10.15 are not accepted.
2. Not available on mobile devices.
3. It is designed for YouTube Music users only, while some converters on the market work for multiple streaming services.
4. KeepMusic can be downloaded for free. But the free trial only enables users to convert the first minute for sample testing.
✅ Part 5: The Pricing of KeepMusic YouTube Music Converter
Users of KeepMusic YouTube Music Converter can choose from a variety of plans and prices to suit their needs. If you are interested in KeepMusic but are unsure of whether it will meet your needs, you can begin with a monthly membership. Buy Now.
Monthly Subscription: $14.95
Yearly Subscription: $59.95
Lifetime Subscription: $129.90
Free Trial Version: KeepMusic can be downloaded for free. The free trial enables users to convert the first minute for sample testing. You can then decide whether you want to buy a license to unlock the full version or not.
Discount for old users: If you prefer a lifetime plan, you can obtain a 15% discount when buying Sidify products. Please contact via email: [email protected].
Refund Policy: If you are not satisfied with the product, you can apply for a refund within 5 days.
✅ Part 6: Is KeepMusic YouTube Music Converter Free?
As previously mentioned, KeepMusic YouTube Music Converter is not free to download YouTube Music, but it is available for free trial, you can only convert the first minute of the songs. If you want to use the music without any limitations, you will need to buy a license.
✅ Part 7: How's the After-sales Service of KeepMusic YouTube Music Converter?
KeepMusic believes the feedback from the users that makes progress. KeepMusic values each of its users and has always advocated for timely technical support.
You can download the program for a free trial, or upgrade to become a paid user to get unlimited use. KeepMusic offers free updates, timely technical support, and a 5-day money-back guarantee.
✅ Part 8: Is KeepMusic a Reliable YouTube Music Converter?
When it comes to reliability in converting YouTube Music, KeepMusic YouTube Music Converter stands out as a trustworthy option. With its robust features and user-friendly interface, KeepMusic consistently delivers reliable and high-quality results. It ensures that the resulting audio files retain the original sound quality and fidelity. This means you can enjoy your favorite songs in the same immersive audio experience, even when offline.
KeepMusic's reliability also extends to its stability and performance. The software is built to handle the conversion process smoothly, without any crashes or interruptions. Whether you're converting a single song or performing a batch conversion, you can rely on KeepMusic to consistently deliver efficient and reliable results.
Another aspect that contributes to KeepMusic's reliability is its commitment to customer support and satisfaction. The dedicated support team is readily available to address any concerns or questions you may have, ensuring that your experience with KeepMusic is smooth and hassle-free.
In conclusion, KeepMusic YouTube Music Converter proves to be a reliable solution for converting YouTube Music. Its advanced conversion algorithm, stability, ongoing compatibility, and excellent customer support all contribute to its reliability. With KeepMusic, you can confidently convert your favorite YouTube music videos into audio files and enjoy them whenever and wherever you want.
---
✅ The Conclusion
Every aspect about KeepMusic YouTube Music Converter is included in this article. This post will provide the greatest response if you're interested in KeepMusic YouTube Music Converter but are unsure if it's worth a try. You should check out KeepMusic's official website or get in touch with customer support if you have any questions regarding their products. Please spread the word about this tutorial to people you know if you find it helpful.