Download PDF User Manual of TuneCable Spotify Music Converter for Windows

How to Register TuneCable Spotify Converter for Windows?
Step 1. You can directly click the "Registration Key" icon or click the top-right "Menu" button and choose "Register" in the drop-down list, and you will get the registration window.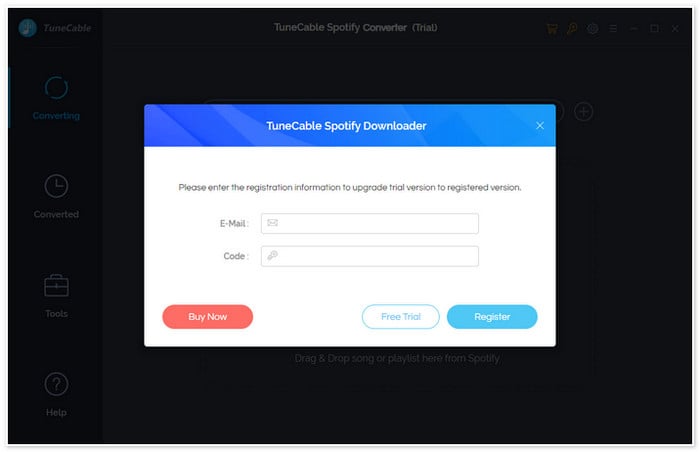 Step 2. Copy and paste the registration Email and Code into the registration popup dialog.
Note: The registration info is case-sensitive. And, please do not add a blank at the beginning or the end of the word.
How to convert Spotify Music to MP3/AAC/WAV/FLAC/AIFF/ALAC?
Step 1. Run Spotify Converter on Windows
Launch Spotify Converter on Windows. You will see the simple and intelligible interface of Spotify Converter.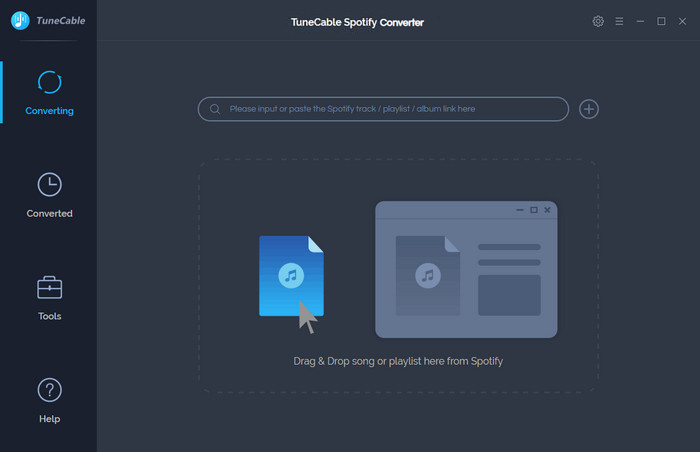 Step 2. Add Tracks or Playlist from Spotify to Spotify Music Converter.
Please drag and drop the playlist from Spotify Application to the rectangular box of the main interface directly, or you can copy and paste the link and click "Parse".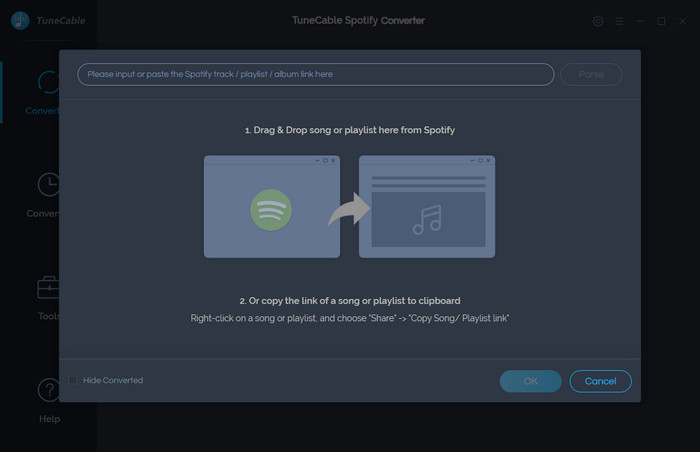 Step 3. Set Preferences of Spotify Converter
Click the "Settings" button on the main interface, and then there will be a pop-up window that allows you to set the output parameters.
TuneCable supports converting Spotify music files as MP3, AAC, WAV, FLAC, AIFF, or ALAC. More than that, the highest output audio quality can up to 320 kbps.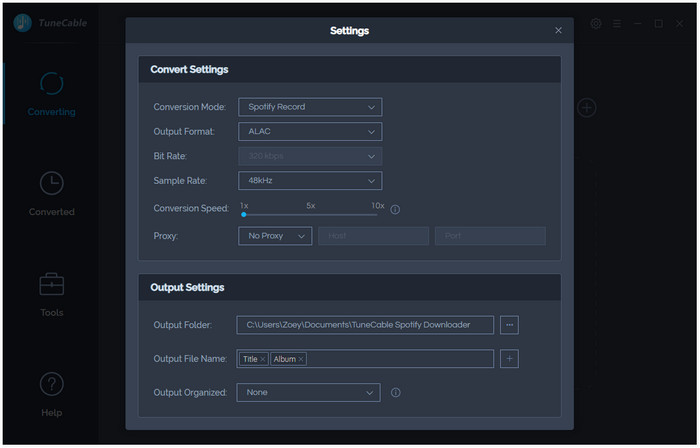 Step 4. Start Conversion
When finish settings, click the "Convert" button to start converting. After conversion, click "Converted" to find your converted Spotify music.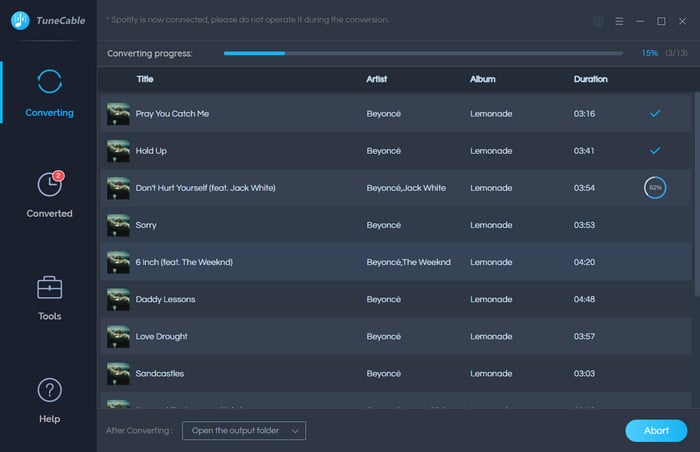 Handy Tools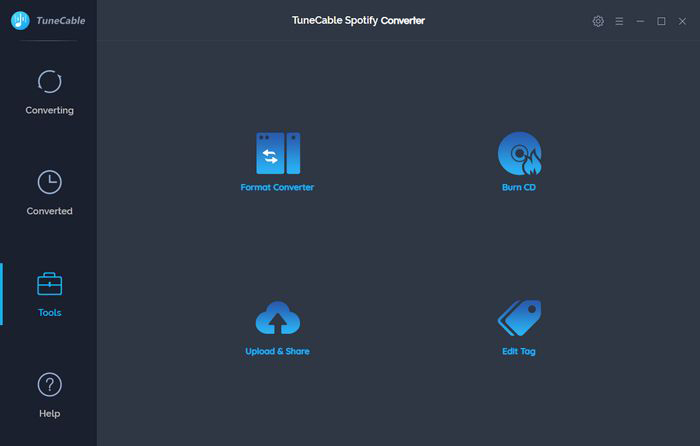 1. Format Converter
From the "Tools" menu, choose the "Format Converter" option. You can add music to the interface by clicking the "Add" button in the top left corner or by manually dragging and dropping them. MP3, M4A, FLAC, WAV, OGG, and AIFF are among the output formats that are supported.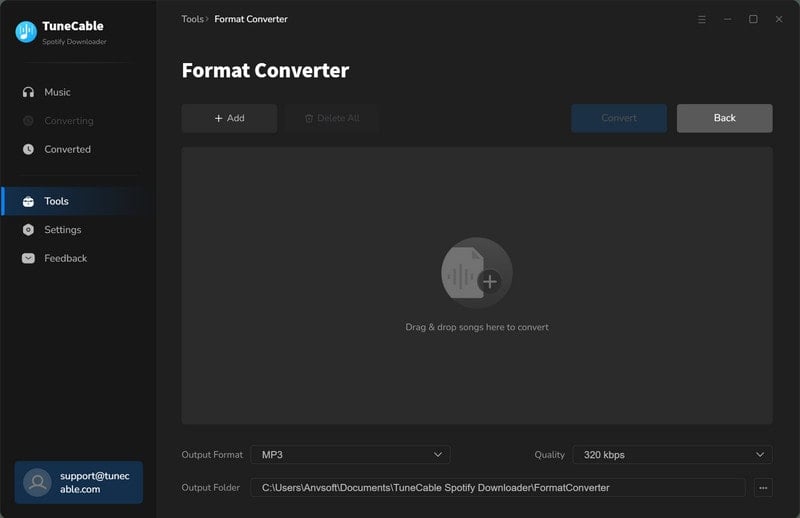 2. Burn CD
Once you have clicked into the "Burn CD" area, you can drag and drop your favorite songs into the margins or select the "Add" button to add them. You can customize the name of the disc as well as the gap between songs and you should note that you can add a maximum of 80 minutes of songs in total.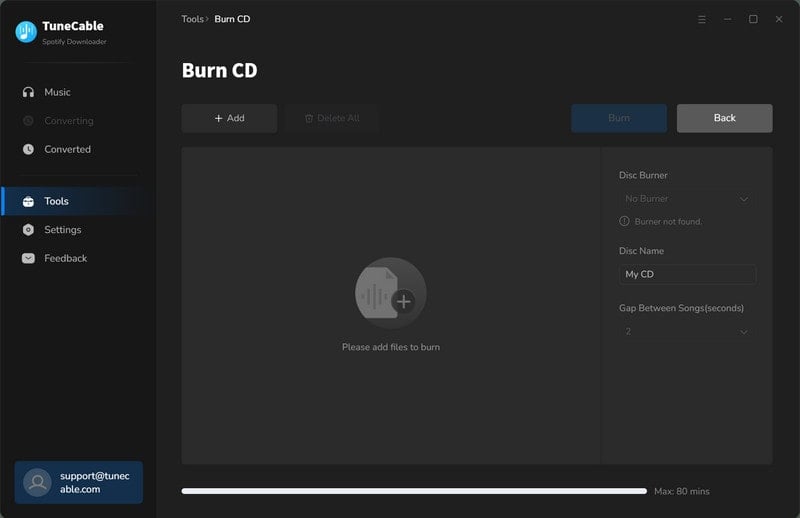 3. Upload & Share
The Upload & Share module allows you to upload songs from your local area to OneDrive in a very simple way. Just select a song to add and click the "Upload & Share" button.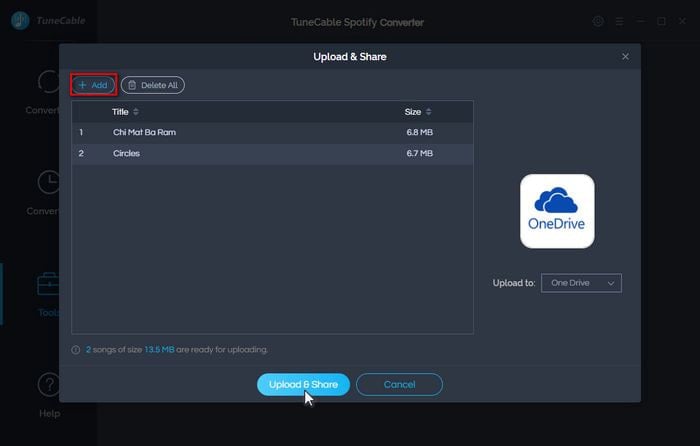 4. Edit Tag
To access the "Edit Tag" module, click "Tools" and then pick it. For the target file selection, click the "Add" button. Your native music files or converted songs can have their tags edited using this module. Included in this are the artwork, title, artist, album, genre, year, and track number. After making your edits, click Save.